KOLKATA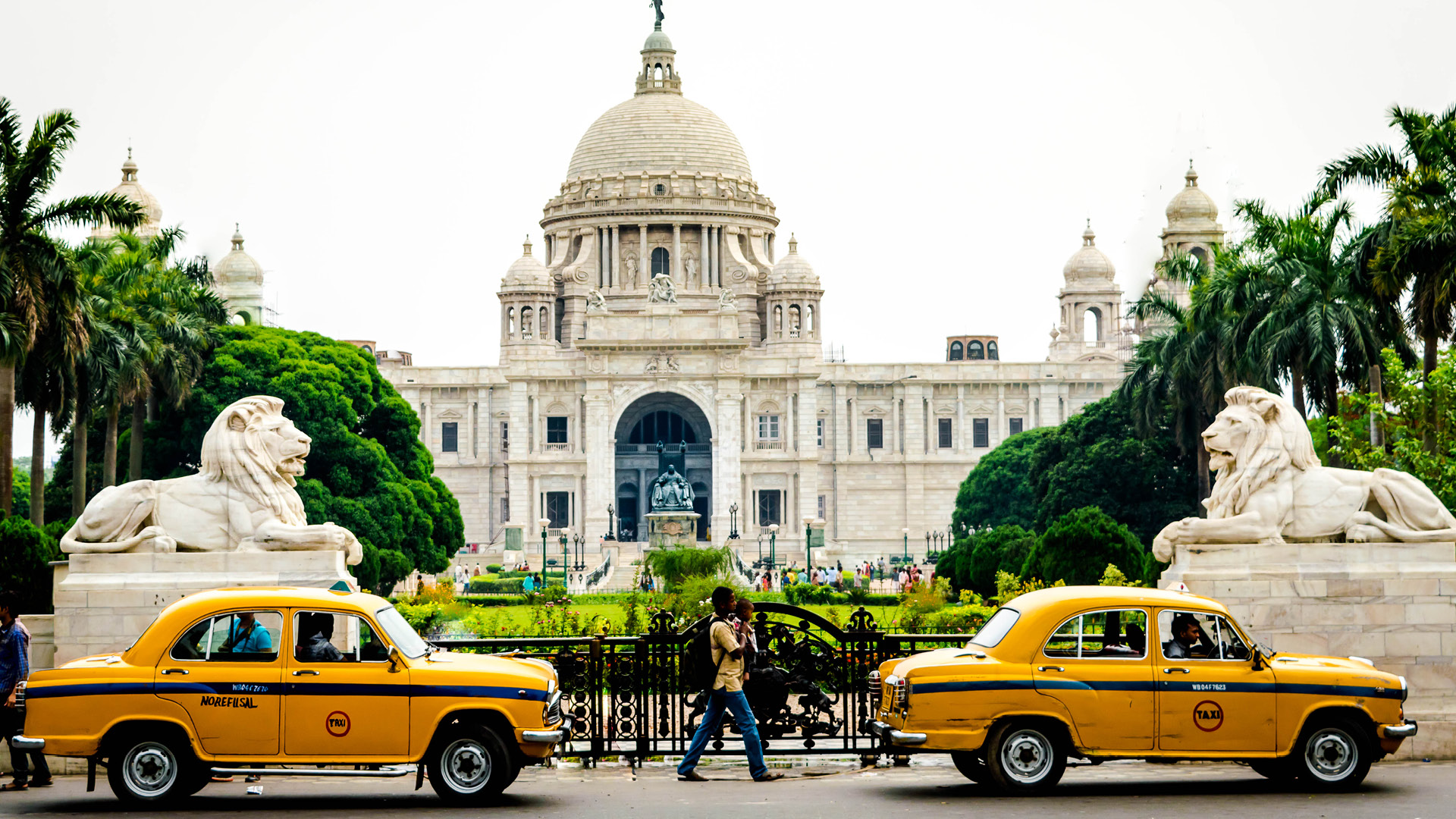 ABOUT KOLKATA :
The 'Paris of the East' is a medley moods style, cultures, politics, industry and commerce.

The East India Company first set up a trading post at Sutanati and builds the Old Fort William in 1996.

The city went on to become the showpiece capital of the British Raj.

Greatest colonial city of the Orient.

Remained the capital of British India till 1912.

Continued to be major industrial and cultural center.

The city of love, hope and joy, is ever fascinating, effervescent and teeming with life and traditions.
ACCESSIBILITY:
Airport : Netaji Subhas Chandra Bose International Airport (CCU), 25 kms distance from Kolkata city cnter.
Rail : Well connected with Howrah/Sealdha/Kolkata Railway Station.
Road : Well connected by road.
SIGHTSEEING AT A GLANCE:
| | |
| --- | --- |
| ATTRACTIONS | Victoria Memorial, The Maidan, Writers Building, Fort William, Shahid Minar (Ochterlony Monument), Birla Planetarium, Academy of Fine Arts, Rabindra Sadan, Jorashanko Thakurbari, Indian Museum, Marble Palace, National Library, Sovabazaar Rajbari, Town Hall, Netaji Bhawan, The Mother House,Nirmal Hriday, Howrah Bridge or Rabindra Setu, Vidyasagar Setu, Science City |
| SACRED SITES | Kalighat Kali Temple, Belur Math, Dakshineswar Kali Temple, Sitambara Jain Temple, Birla Temple, Armenian Church, St. Paul's Cathedral, St. Andrew's Church,St. John's Church, Nakhoda Mosque |
| GARDENS, PARKS & THEME PARKS: | Botanical Gardens, Eden Gardens, Horticulture Gardens, Zoological Gardens, Rabindra Sarobar, NICCO Park, Millenium Park, Aquatica, Nalban |
| FAIRS & FESTIVALS | Durga Puja, Deepavali, Milan Mela |
| SHOPPING | New Market. Flower Market |
For more information visit https://wbtourism.gov.in/
ATTRACTIONS OF KOLKATA
Victoria Memorial:
White marble marvel is Kolkata's most distinguished landmark of Kolkata.

In 1905, Lord Curzon conceived the idea of its construction and the foundation stone was laid by Prince of Wales (King George V).

Majestic 61 meters high white edifice with its formal gardens and water courses sprawls across an area of 26 hectares.

Located at the southern end of 'The Maidan.

Memorial house rare memorabilia from the colonial days and over 3,500 exhibits are displayed in its galleries.
The Maidan:
This huge expanse of green is known as the 'lungs of the city'.

The finest gift of the British to India.
Writers Building:
This 14 storeyed building to the north of BBD Bagh was built in 1880.

Clerks or 'writers' of British East India Company, who work and lived here.

Today, it houses the secretariat of West Bengal Government.
Fort William:
This irregular octagon shaped fort on the banks of river Hooghly was built in 1781, after the destruction of the old fort in 1756.

There is a museum displaying arms and armours, photographs of the Burma campaign and the Bangladesh Liberation.

Now it's a military area.

Arsenal inside it's worth watching, but for that prior permission of the commanding officer is required.
Shahid Minar (Ochterlony Monument):
The 52 meters tall tower, dominating the Chowringhee skyline, was built in 1828.

Commemorate the British East India Company's victory in the Nepal Campaign of 1814 – 1816.

In 1968, the minaret was named Shahid Minar in memory of the Indian freedom fighters.
Birla Planetarium:
It was established on 29th Sep. 1962.

One of the largest in the world.

Stars and constellations are projected on the domed ceiling of the planetarium in different languages.
Academy of Fine Arts:
This eminent center for arts was set up in 1933, at the initiative of Lady Ranu Mukherjee.

Eight galleries on its ground floor.

The largest gallery space in India

Display exhibitions by artists and groups from all parts of India and abroad.
Rabindra Sadan:
A theatre cum concert hall and Nandan over here.

A film center is located nearby.
Jorashanko Thakurbari:
This is the home of Tagores, since 18th century was a major center for Bengali arts and 19th century for culture.

It has now been converted into the Rabindra Bharati University.

A 45 minute light and sound program, based on the life and times of the Tagore family is held here in the evening.
Indian Museum:
This museum is popularly known as Jadu Ghar (Magic House) at J. Nehru Road.

The oldest institution of its kind not only in India but also in the entire Asia- Pacific region.

The museum has over 60 galleries dealing in six departments Art, Archaeology, Anthropology, Geology, Zoology and Botany.
Marble Palace:
This Gothic style mansion was built in 1835, by Raja Rajendra Mullick, a wealthy Bengali merchant.

It has ornate objects d'art and paintings, studiously collected from auctions and dispossessed households across the globe.
National Library:
It's housed in an elegant building which was originally the summer house of prince Azim-us-Shan, the viceroy of Bengal and Bihar.

Lord Curzon officially inaugurated the Imperial Library on 30th January, 1903.

The Metcalfe Hall was renamed as National Library in 1948.

The library has over 2 million books and ½ million documents.

The library has separate Indian language division for Assamese, Bengali, Gujarati, Hindi, Kannada, Kashmiri, Malayalam, Marathi, Oriya, Punjabi, Sanskrit, Sindhi, Tamil, Telugu and Urdu Languages.
Sovabazaar Rajbari:
The Rajbari construction was started after the win in the Battle of Plassey, at the heart of Gobindapur.

Maharaja Nabakrishna Deb built his Rajbari.

First Durga Puja was held here.
Town Hall:
Roman-Doric style hall was built by the architect Col. John Garstin in 1813.

Now public to use the hall under such terms and conditions as were fixed by the Government.
Netaji Bhawan:
The museum, archives and library of Netaji Research Bureau are located, is the ancestral house of Netaji Subhas Chandra.

Display in the museum includes large collection of photographs, personal belonging and letter of Netaji's.
The Mother House:
Headquarters of the international religious congregation of the Missionaries of Charity.

Mother lived, prayed, worked, and guided from hare for her religious family of sisters spread across the world.

Mother Teresa was buried on the ground floor of the Mother House.
Nirmal Hriday:
Nirmal Hriday (the home for dying) was established by Mother Teresa at Kalighat, for the destitutes.

Run by the Missionaries of Charity a new order formed by the Mother in 1950.
Howrah Bridge or Rabindra Setu:
Major landmark and gateway to the city of Kolkata.

97 meters high and 705 meters long bridge built over river Hooghly is the world's busiest bridge.
Vidyasagar Setu:
It lies to south of Howrah Bridge on the river Hooghly.

Construction work took 22 years and casted Rs. 3.88 billion.

457 meter long and 115 meter wide bridge is supported by 121 wire x cables and stands on four pylons, on a foundation that is 100 meter deep.
Science City:
Located at the intersection of the Eastern Metropolitan Bypass and the Park Circus Connector.

Only venture of its kind in entire Asia.

Popular sections are, space theatre, space flight simulator, recreated Jurassic forest aviary etc.
SACRED SITES OF KOLKATA:
Kalighat Kali Temple:
One of the most important shrines of goddess Kali.

A major site of Shakti worship in the country.

Temple was originally built in 1809 at Kalighat on the banks of river Hooghly.

Enshrines an awe-inspiring black stone idol of goddess Kali decorated with gold and silver.
Belur Math:
International headquarters of the Ramkrishna Mission.

Swami Vivekananda established the shrine in 1899, by placing the ashes of Sri Ramkrishna at this spot.

Unique architecture of the shrine reflects the message of religious fraternity, as it represent as church, a temple and a mosque, when viewed from different angle.

Houses articles associated with Sri Ramkrishna, Ma Sarada and Swami Vivekananda.
Dakshineswar Kali Temple:
Famous temple built in 1847, by Rani Rashmoni on the other side of Hooghly River.

Associated with Sri Ramkrishna, who attained enlightenment over here.

Main shrine known as the Navaratna Temple enshrines a silver lotus with thousand petals, on which is placed the idol of Goddess Kali, standing on the prostrate body of Lord Shiva.

Complex also has twelve temples dedicated to Lord Shiva.
Sitambara Jain Temple:
Magnificent temple is dedicated to Sheetalnathji, the 10th Jain tirthankar.

Built in 1867 and is a collection of four pagodas like shrine set in geometrical gardens and ponds.
Birla Temple:
Beautiful temple near Gariahat market.

Built in 26 years at a cost of about 180 million rupees and inaugurated in 1996.

Excellent architecture blends traditional artistry with modern technology.
Armenian Church:
Built in 1724, by Cavond, an Armenian.

One of the oldest churches in Kolkata.
St. Paul's Cathedral:
Built between 1839 and 1847 in Indo-Gothic style.

One of India's most important churches.

It's east of the Victoria Memorial at the South end of the Maidan.
St. Andrew's Church:
Foundation stone for St. Andrew's Church, Calcutta (Kolkata), built on the site of the Old Court House demolished in 1792.

Handsome Grecian building of the Church of Scotland was opened for public worship on March 8, 1818.
St. John's Church:
Third oldest church in Calcutta (Kolkata) only next to the Armenian.

Old Mission Church and built in 1787 by architect James Agg.

It's built with a combination of brick and stone.

Commonly known as the "Pathure Girja" (Stone Church).
Nakhoda Mosque:
Located to the north of BBD Bagh.

Largest mosque in Kolkata.

Present structure was built by Abdur Osman in 1942.
GARDENS, PARKS & THEME PARKS:
Botanical Gardens:
Famous garden at Shibpur, 10 kms from Howrah Railway Station.

Established in 1786, by Colonel Kyd.

Oldest botanical garden in the country.

It sprawls across an area of 273 acres.

35,000 varieties of fruits and flowers, besides 15,000 other plant specimens.

Star attraction is the 240 years old Banyan tree, which reaches up to a height of 24.5 meters and is spread over a circumference of 420 meters, making it the world's largest banyan tree.
Eden Gardens:
It sprawls over an area of 50 acres.

Named after Emily and Fanny Eden, sisters of Lord Auckland.

Beautiful garden to the North West corner of the Maidan has a tiny Burmese Pagoda set amidst a small lake.

It has several species of local trees.

Famous Eden Gardens Stadium also lies within the garden.
Horticulture Gardens:
Garden in the midst of Alipore was established in 1820, by William Carey.

Annual flower show is held here in February.
Zoological Gardens:
Extremely popular Zoo is about 3 kms south of Park Street in Alipore.

Founded in 1876 and has a large collection of birds and animals.
Rabindra Sarobar:
Pleasant picnic sport is located south Chowringhee.

An artificial lake where water sports are held.
NICCO Park:
Located at Salt Lake 9 kms from city center.

Provides mind boggling fun and entertainment to children's well as adults.
Millenium Park:
Located on the banks of River Hooghly at Strand Road.

An amusement park for people of all ages.

Main attraction is its nearness to the river Ganga.
Aquatica:
A Water Theme Park (all the rides & slides are related to water) in the whole eastern India named "Aquatica".

Spread across in area of 17 acres of land.
Nalban:
Beautiful lake one can enjoy an exclusive boating tour on one of the many boats available such as paddle boats, hovercraft or deluxe shikara.

Main attraction of this place is the four hundred acre picturesque lake which one can explore.
POPULAR SITES IN KOLKATA:
BBD Bagh (Dalhousie Square):
When Kolkata was the capital of the British Raj, Dalhousie Square held a coveted position and was the center of power.

Still is the Kolkata's commercial hub.

Renamed as BBD or Benoy-Badal-Dinesh Bagh after the three martyrs of Bengal.

Momentous square has a large Lal Dighi tank in the center, surrounded by several historical buildings.
College Street:
Holds the key of largest and world-class Universities in Kolkata.

Book Stalls are gradually placed in front of those Schools in College Street and in front of the Universities in College Street.

Book Stalls are there in both side of the Footpath of College Street in Kolkata to fulfill the demand of all types of Books.
Coffee House:
Once a meeting place of freedom fighters, bohemians and revolutionaries.

Today its crusty high ceilings and grimy walls ring with deafening student conversation but despite the dishwater coffee, it's perversely fascinating.
Esplanade:
Located in the heart of the city from Rani Rashmoni Avenue to the South Chowringee to the east.

One of the busiest portions.
Princep Ghat:
One of the oldest and most beautiful spots in the city of Kolkata.

Built in 1841 as a memorial to James Princep.

The Ghat was opened to public in the year 1843.

Even though the place is old yet it's still a fantastic spot to experience silent and peace.
Kumortuli:
Kumortuli is a traditionally potters quarter in northern Kolkata.

It is home to several talented potters who toil tirelessly to create idols out of clay.

These clay images are very popular and much sought after during the Hindu festive season.
Burra Bazar:
Expanded from a yarn and textile market into the commercial nucleus of Kolkata.

One of the largest wholesale markets in India.
RIDE ACTIVITY:
Hand Pulled Rickshaw Ride:
Hand pulled rickshaw has been a part of Calcutta (Kolkata).

A mode of human power transport by which a runner draws a two wheeled cart, where can seats one or two persons.
Tram Ride:
Tram is the Kolkata's old tradition at effect.

Kolkata is the only Indian city which maintains such rich heritage.

A horse drawn tram system opened in 1881.

Electric trams began playing in 1902.

Tramway provides a leisurely way of observing the historic parts of Kolkata and Sutanuti.
Metro Rail Ride:
The pride of Kolkata is the first sub-way railway system in the country.

Ranked among the best underground railway system in the world.
NIGHTLIFE IN KOLKATA:
Tantra:
Luxury bar and night club in Kolkata.

Two bars, a pulsating dance floor, a hangout area and ample of space to move and groove.

Innovative novel theme nights, with celebrities, fashion shows and special Sunday jam sessions make it the city's busiest address at night.
Underground:
Now underground is the island bar and the happening crowd.

DJ and theme nights also add to the clubbing crowds.
SHOPPING:
New Market:
Despite the appearance of new air-conditioned, American-style, shopping malls all over New Market.

Survived two devastating fires and regular flooding, remains at the core of the shopping experience in the city.

Over 2,000 stalls under its roof sell everything from clothing to wheeled luggage to electronics to a special cheese found nowhere else.

It can be crowded and chaotic, but if you are after a bargain, or even just an incredible experience, this market cannot be missed.
Flower Market:
East end of Howrah Bridge, Mullik Ghat flower market is a sensory overload of sights and smells that's very photogenic.

Around 2,000 flower growers from the surrounding areas come to sell their flowers and garlands and during the wedding and festive season.
CULTURE AROUND KOLKATA:
Bakkhali:
130 kms far from Kolkata.

Second most important beach of West Bengal after Digha.

The walk over the beach from Bakkhali to Frasergunj is a pleasant experience.
Barakpur:
24 kms from Kolkata.

It was once the cantonment of the British.

Named after the 'barracks', where troops have been stationed since 1772.

The town is associated with the Sepoy Mutiny of 1857.

Mangal Pandey, the famous martyr was hanged at Barrackpur's Latbagan.

A memorial to him was erected at Dhubighat.

Other attractions are Mangal Pandey Park, Gandhi Ghat and Rani Rashmoni's Kali Mandir.
Barddhaman:
95 kms far from Kolkata.

Historic site on the river Damodar is named after Mahavir Barddhaman.

Visiting site Bishnukumari, Vihjay Toran or Curzon Gate, Rose Garden, Meghnad Saha Planetarium and the Science Centre of the University.
Bandel:
48 kms from Kolkata.

Lies on the banks of river Hooghly.

First European settlement in Bengal.

Portuguese Church and the Monastery were built here in 1599 and destroyed by Shah Jahan 1640.

The church rebuilt in 1660 and in the oldest in the State.
Chandannagar (Chandannagore):
39 kms from Kolkata.

French colony on the banks of the river Hooghly is dotted with churches, convents and other relics of colonial past.

A picturesque promenade here is ideal for strolls.

Town is also known for the Jagaddhatri Puja.
Chunchura (Chinsurah):
45 kms from Kolkata.

It was under Dutch occupation between 1656 and 1825.

Fort Gustavus was built in 1628.

The national song of India at the Bandemataram House on Joraght.
Diamond Harbour:
48 kms from Kolkata.

Popular picnic sport near the confluence of Hooghly River and Bay of Bengal.

It was once the main port of East India Company.

Cruising over the river waters is quite interesting.
Hooghly:
47 kms from Kolkata.

Historical Hooghly was a flourishing trade centre of Bengal, even before kolkata.

British East India Company established a factory here.

Colonial era can be seen in numerous old buildings, churches and graveyards.

Famous Imambara was built here in 1836, by Hazi Mohammad Mohsin.
Sabujdwip:
75 kms from Kolkata.

Sabujdwip or the 'Green Island' set on the confluence of the Behula and Hooghly Rivers.

Ideal picnic spot.
Srirampur (Serampur):
24 kms from Kolkata.

Danish Settlement from 1616 to 1845 later became a centre of English Missionaries.

Played an important role in the Bengal Renaissance.

Old Danish building, including the Danish Governor's Palace, Roman Catholic Church and St. Olaf Church stand testimony to the bygone era.

Museum at Srirampur College, houses exhibits of missionaries.
Nabadwip:
114 kms from Kolkata.

Varanasi of Bengal is set on the confluence of the Bhagirathi and Jalangi Rivers.

Birth place of Sri Chaitanya (1486-1533).

Sri Chaitanya founder of Vaishnava sect and is the seat of Vaishnava culture in Bengal.

Raash festival held in Bengali Month Kartik-Agrahayan (November / December) is a major attraction for the pilgrims.
Mayapur:
120 kms from Kolkata.

The headquarters of ISKCON.

Contemporary face of Vaishnavism lies across the river from Nabadwip.

Here is a Stupa like white temple, Bengals to ISKCON.
Sagardwip (Gangasagar):
The sacred site 128 kms from Kolkata.

One of the holiest sites of Hindu pilgrimage.

Three day annual Ganga Sagar Mela, held here in mid of January on Makar Sankranti.

Attracts millions of devotees who take a holy dip at the confluence.

Kapil Muni ashram over here about 5,000 years ago.

Scenic Sagardwip is also an excellent site to view sunset and sunrise.