NEW DELHI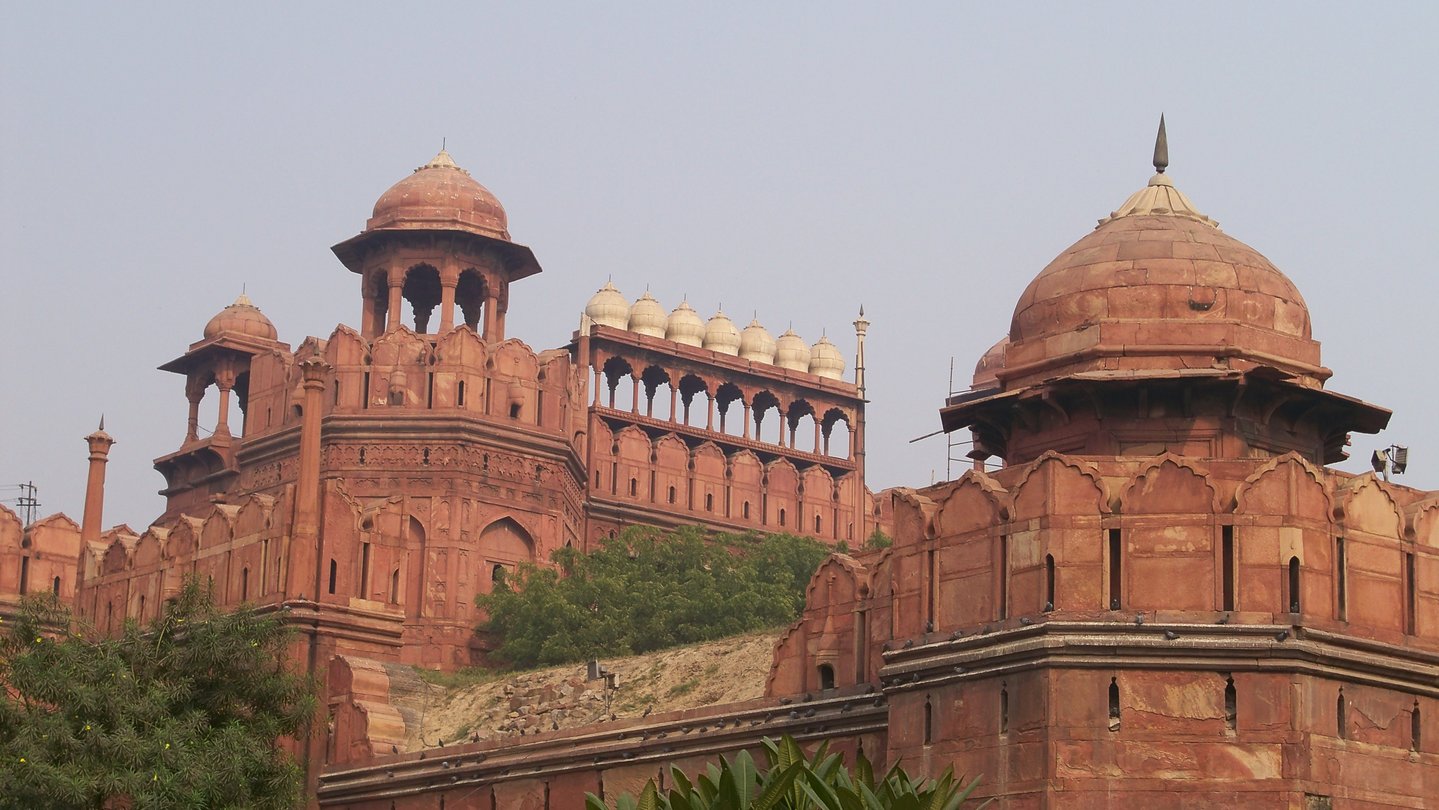 ABOUT NEW DELHI:
Delightful Delhi, the capital city of India, has traditionally been the seat of administrative power of India.

It is busting metropolis which is known to be devastated and rebuilt many times in written history.

Here several dynasties rose and fell, leaving monumental gifts to posterity.

The Qila Rai Pithora, bequeathed by a Rajput King; the Qutb Minar, grand gesture of an Afghan King; the Red Fort that Shah Jahan, the great Mughal built; the ruined Old Fort where once the wise King Sher Shah lived; the glories Jama Masjid, eloquent reminder of Mughal religious fervour; the tombs and mausolea in remembrance of ruling nobles and kings.

It is all here to see, this slow march of history, carved in stone.

The old 'Delhi' is not one but the seven cities Hindu and Moghul emperors gave India.

In its great buildings, standing or in ruins, may be seen the glories of the empires of ages past.

The New Delhi, the eight Delhi, Edwin Lutyens and Herbert Bakar gave India.

This is the Delhi of a world which plans its every move.

And Lutyens planned New Delhi, in all its geometrical symmetry, when city planning was still in its infancy.

But despite all the planning that has gone into it, Delhi still has a majestic beauty and an old world charm.

Far, away from New Delhi, a garden city that is one of the world's most elegant capitals, Old Delhi is ever present.

Today's Delhi blends its historic past with a vibrant present.

Great monuments old and not so old lie side by side besides crisp new office and residential buildings, harmonising the past with the present.

Thus the city is a real delight for the tourists who wish to learn about the past and present of India and Indian people.

Mirza Ghalib the world renowned poet and son of Delhi, has rightly described this amazing city as "the soul in the body of the world''.
MODE OF COMMUNICATION:
Airport: Indira Gandhi International Airport (DEL), New Delhi, 15 kms away from New Delhi city centre.
Rail: New Delhi Railway Station, New Delhi, 2 kms away from New Delhi city centre. Old Delhi Railway Station, Delhi, 5.5 kms away from New Delhi city centre.
Road: Well connected by road.
SIGHTSEEING AT A GLANCE:
FORT & MONUMENTS

Humayun's Tomb

India Gate

Jantar Mantar

Parliament House (Sansad Bhawan)

Purana Qila (Old Fort)

Qutab Minar

Rashtrapati Bhavan

Red Fort (Lal Qila)

Safdarjang's Tomb

HOLY CENTRE

Akshardham Temple

Bahai's House of Worship (Lotus Temple)

Bangla Sahib Gurudwara

Chhatarpur Temples

Digambar Jain Mandir

Hanuman Mandir

Hazrat Nizamuddin Aulia

Fatehpuri Masjid

Jama Masjid

Lakshmi Narayan Temple (Birla Mandir)

Sisganj Gurudwara

St. James Church

PARK & GARDENS

Buddha Jayanti Park

National Zoological Park

Raj Ghat

Shanti Vana (the Forest of Peace)

Vijay Ghat

An Urban Oasis

MUSEUM & AUDITORIUM

Crafts Museum (Thapar House)

Doll's Museum

National Gallery of Modern Art

National Museum

Nehru Memorial Museum (Teen Murti Houses)

FAIRS & FESTIVALS

Republic Day Parade

Makar Sankranti

Lohri

Flower show

Garden festival

Suraj Kund crafts mela

Holi

Janamashtami

Navratri

Durga Puja

Dussehra

Diwali

Phulwalon- ki- Sair
For more information visit http://web.delhi.gov.in/wps/wcm/connect/DoIT/delhi+govt/travel/places+to+visit
ATTRACTIONS OF NEW DELHI
Humayun's Tomb:
This World Heritage Monument built by Haji Begum, the widow of emperor Humayun.

Designed by Persian architect Mirak Mirza Ghiyas, served as a model for the world renowned Taj Mahal.

It was completed in 1565, eight years after the death of Humayun and is the first great example of the Mughal tomb – in – garden complex.

Several other members of Mughal royal family lie buried here and many tombstones can be seen on the terrace.
India Gate:
India's 'Arc d' Triomphe's stands majestically at the eastern end of Rajpath, the great Monument with wide lawns on either side of it that leads to Rashtrapati Bhavan.

Formerly known as the All India War Memorial, the 42 metre high arch was designed by Lutyens and built in 1931, in the memory of soldiers of the Indian Army who died in World War-I.

Names of 13,516 soldiers are inscribed on its walls.

In 1971, an eternal flame was lit here to honour the 'Amar Jawan', the immortal soldiers.

At night the view of floodlit Indian Gate is spectacular.
Jantar Mantar:
Unique observatory was designed and built by Mirza Raja Jai Singh II of Jaipur in 1719.

It is surrounded by stately palm trees and has a number of masonry instruments which were used to study the movement of constellations and stars in the sky.

The Samrat Yantra, a huge sun-dial shaped like a right angled triangle is the largest instrument here.
Parliament House (Sansad Bhawan):
Colonnaded circular building is 171 metres in diameter with 8.3 metres high 144 pillars surrounding it.

Magnificent wood panelled halls and one of the finest Parliament libraries in Asia are part of this stately building.
Purana Qila (Old Fort):
Grand old fort one of the most spectacular monuments of Delhi, is believed to have been built by the Afghan ruler Sher Shah Suri (1538 – 1545).

As one enters from the Zoo Side, one sees at the far end a small octagonal red sandstone tower, the Sher Manzil.

A little ahead is the Qila-i-Kunha mosque.

A Field Museum nearby exhibits artefacts discovered in the area.
Qutab Minar:
Most famous landmark of Delhi towering above the Lal Kot Monuments is one of the World Heritage Sites of UNESCO.

It is 72.5 metres tall and tapers from a base diameter of 14.4 metres to a peak diameter of 2.4 metres.

Five storeyed minar has three storeys built of red sandstone and two of marble and sandstone.

Each storey is clearly distinguished from the outside because of its projecting balconies.

Its foundation was laid by Qutb-ud-din Aibak (1193) and was completed by his son-in-law and successor Shamsuddin Iltumish.

Devanagari inscriptions on the minar mention that the it was damaged in 1326 and replaced the upper storey and added two floors, making liberal use of marble stone.

A unique 7 metre high Iron Pillar in the courtyard of Quwwat-ul-Islam mosque was perhaps a flagpole of a 4th – 5th century Vishnu temple.

It has remained completely rust free for over 1500 years and is tribute to ancient Indian metallurgy.

Other attractions nearby are – the Tombs of the Sultan Iltumish (1235), Alauddin, Balban and of Adham Khan, son of the emperor Akbar's wet nurse.
Rashtrapati Bhavan:
Spectacular official residence of President of India set on the eminence of the Raisina hill, sprawls over an area of 330 acres.

It was designed by Sir Edwin Lutyens and is one of the largest residential buildings in the world with 340 rooms, 37 salons, 74lobbies and largest, 1 km long corridor, 18 staircases and 37 fountains.

In the front is a large court and a Mughal style gardensin the back, which is open for public viewing in February.

The most magnificent room in the Rashtrapati Bhawan is the Durbar Hall, which lies directly under the main dome.
Red Fort (Lal Qila):
It was built in 17th century by Shah Jahan, when the Mughal capital was shifted from Agra to Delhi.

Shaped like an irregular octagon, the fort is about 2 kms in circumference.

River Yamuna once flowed besides its battlements.

Its handsome gates – Lahore, Delhi and Elephant are masterpieces of builder's art.

Within the ramparts are splendid ornamented building, pavilions, gardens, tanks, the Moti Masjid a marvel in marble and two museums, the Archaeological and War memorial.

Building worth visiting are – Naubat Khana, Diwan-i-Am, Diwan-i-Khas, Rang Mahal and Khas Mahal.

A Sound and Light show recreates the history of Delhi and this Fort.

The Red Fort was the last fort of Delhi; it witnessed the glory and fall of Mughals, the British rule and then the dawn of Indian independence.
Safdarjang's Tomb:
Graceful monument standing on a high terrace amidst an extensive garden was built in 1753 – 54 by Nawab Shia-ud-Daulah, son of Safdarjang, the second Nawab of Avadh and Prime Minister to Mughal emperor Muhammad Shah.
Akshardham Temple:
Massive temple complex of Swaminarayan sect is set amidst 100 acres of well laid out lawns and lotus shaped water bodies, on the banks of river Yamuna.

It was inaugurated on November7, 2005 by the President and Prime Minister of India and has become a must visit site of Delhi.

Akshardham is much more than a temple.

Gigantic structure was ornately carved by over 11,000 craftsmen working diligently for over 300 million man hours.

Main temple is 141 feet high, 316 feet broad and 370 feet long and has 239 exquisitely carved pillars and nine domes.

It enshrines 11 feet high gold plated idol of Lord Swaminarayan.

There are also idols of Lakshmi – Narayan, Shiva – Parvati, Radha – Krishna and Sita – Ram.

Over 20,000 other idols of disciples are carved on the inside and outside walls.

Finely carved floral motifs, 869 peacocks and 149 full-sized elephants also grace the magnificent temple complex.

About 2 kms long parikramas have over 1,152 beautifully carved pillars.

Exhibition halls studded with modern technologies like IMAX theatre, auto electrometric machines.

Sound and light shows exhibits an amazing world of Indian culture and heritage.

There is also Disneyland kind of 12 – minute boat ride which takes visitors through the vast magnitude of Indian culture.

Models of Ajanta and Ellora caves and thematic setting of our culture are brought to life through dummy depictions.

Mamooth edifice resembles the Akshardham of Gandhinagar (Gujarat) and over 2 billion rupees are said to have been spent to create this wonderland.
Bahai's House of Worship (Lotus Temple):
Lotus shaped shrine of the Bahai sect invites followers of all faiths to meditate and pray in silence.

Petals of the lotus are made of concrete clad with white marble which gives freshness and transparency to its surface.

Around the blooming petals are nine pools of water, which light up in natural light.

At dusk the sight of floodlit Lotus temple is simply spectacular.
Bangla Sahib Gurudwara:
Sacred Sikh shrine at Baba Kharak Singh Marg commemorates to visit of Guru Harkrishan Sahibji.
Chattarpur Temples:
Massive structures built in white marble are just 4 kms from Qutb Minar, worth a visit.

Main shrine is dedicated to Goddess Durga.
Digambar Jain Mandir:
Important Jain temple on the eastern end of Chandni Chowk is dedicated to Lord Adinath.

It was built in 1656, as a part of the city of Shahjahanabad and also has a well-known bird hospital.
Hanuman Mandir:
Small shrine near Connaught Place was built in 1724 by Maharaja Jai Singh of Jaipur.

It is one of the important Hindu shrines of the city and very popular among the devotees of Lord Hanuman.
Hazrat Nizamuddin Aulia:
Sacred Muslim Pilgrim site is dedicated to Sheikh Nizamuddin Chisti, 4th line of Chisti saints.

He was born in Budaun in Uttar Pradesh in 1236 and lived most of his life in Delhi.

Among his illustrious disciples were the Sultans, Alauddin Khilji and Mahammed bin Tughlaq and the celebrated poet, Amir Khusro.

Sheokh Nizamuddin died in 1325 and son after his burial at this spot the adjacent area became the coveted cemetery of Muslim nobility.

Every Thursday, after sunset Qawwals sing the melodious lyrics of Amir Khusro.
Fatehpuri Masjid:
Mosque was built in 1650, by Fatehpuri Begum, one of the wives of Emperor Shah Jahan.

Located on the western end of Chandni Chowk, the mosque is surmounted by a single dome and flanked by minarets.
Jama Masjid:
Red sandstone mosque was built by Shah Jahan between 1644 and 1650.

It is set on a high platform and can be reached by steps on the north, south and east sides.

Rectangular prayer hall has magnificent façade of arches decorated with marble frames and inscribed panels.

Towering minarets of the mosque dominate Old Delhi skyline and affords a fine view of the city.
Lakshmi Narayan Temple (Birla Mandir):
Massive temple dedicated to Narayana (the Preserver) and Lakshmi (the goddess of wealth), is the most popular Hindu temple of the city.

It was built in 1938, by an eminent industrialist Raja Baldev Birla and inaugurated by Gandhi ji.

The temple has a large number of idols representing various Hindu deities.
Sisganj Gurudwara:
It lies at Chandni Chowk and is associated with Guru Teg Bahadur, who was beheaded here in 1675, on the orders of Emperor Aurangzeb.
St. James Church:
It was built by James Skinner and consecrated in 1836 and is the oldest surviving church in Delhi.

The church is of a western classical design with a Greek cross plan.
Crafts Museum (Thapar House):
It showcases traditional and rural handicrafts.
Doll's Museum:
It is a part of Children's Book Trust and has an international collection of dolls which are dressed in their respective national costumes.

The museum is located to the east of Bahadur Shah Zafar Marg.
National Gallery of Modern Art:
Gallery has a fine collection of art from the 19th and 20th centuries.

There are over 2,000 paintings, sculptures and graphics.
National Museum:
One of India's most important museum's exhibit artefacts from Prehistoric and Indus Valley Civilizations, sculptures from the Maurya, Gandhara, Gupta and other periods, bronzes, miniature paintings, copies of murals, Central Asian antiquities, textiles and decorative art, an anthropological section and a handicrafts gallery.

Nearby is the National Archives with a wealth of documents and records.
Nehru Memorial Museum (Teen Murti House):
It was the residence of Nehruji, the first Prime Minister of India and now houses a museum and research library dedicated to him.

A sound and light show – 'Tryst with Destiny' is held here every evening.
Buddha Jayanti Park:
Serenity is the hallmark of this beautiful wooded park, landscape to commemorate the 2500th anniversary of Lord Buddha's parinirvana.

Park was originally conceived as a Japanese garden.

It has splendid statue of Lord Buddha and a flourishing Bodhi tree, which was a sampling of the original tree of enlightenment.
National Zoological Park:
It is one of the largest zoos in Asia.

Open enclosures provides a view of animals in natural surroundings.

In autumn, migratory birds flock to the trees in this huge park, adding their number of the large bird count in the zoo.
Raj Ghat:
A simple square platform of black marble marks the site where Mahatma Gandhi, the Father of Nation was cremated.

His last utterance 'Hey Ram' is inscribed at the base.

Extensive lawns create a peaceful atmosphere.
Shanti Vana (the Forest of Peace):
It is the site where Jawaharlal Nehru, the first Prime Minister of India was cremated.
Vijay Ghat:
Lal Bahadur Shastri, the second Prime Minister was cremated here.
An Urban Oasis:
90 acres Lodhi Gardens, one of the most beautiful parks of Delhi was recently named as 'Asia's Best Urban Oasis' by the prestigious Time Magazine.

These landscape gardens with several lotus ponds and fountains were built around the tombs of the Lodhi Kings.

Main structures at the gardens are Bara Gumbad Mosque, Sheesh Gumbad, Tomb of Sikandar Lodhi, Athpula etc.

The 2 kms long walk way was developed around 1936.