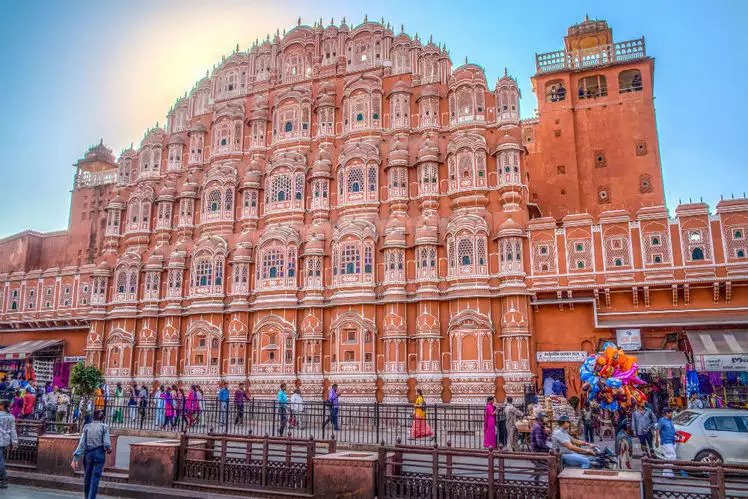 JAIPUR
ABOUT JAIPUR:
Jaipur, the "Pink City" of the India was the former capital of the Kachhawahas.

When, towards evening, the setting sun lights up the pink buildings, the effect is almost magical.

Founded in 1727, by Sawai Jai Singh and was named after him.

The designing of the city was entrusted upon a young and talented Bengali architect, Vidyadhar Bhattacharya.

Jaipur is perhaps the first planned city of India.

It was laid with great precision on the basis of principles of "Shilp Shastra", the ancient Hindu treatise on architecture.

City was built in the form of a rectangle divided into blocks (Chowkries) with roads and avenues running parallel to the sides.

In 1863, Jaipur dressed itself in Pink to welcome Prince Albert, consort of Queen Victoria and the colour become an integral part of the city.

Today, the city is a fine fusion of antiquity and modernity, excellent planning, unique architecture and colourful lifestyle of the city can excite even the most seasoned tourist.
MODE OF COMMUNICATION:
Airport:

Jaipur International

A

irport (JAI), Jaipur

, 15 kms away from Jaipur city centre.

Rail:

Jaipur Railway Station, Jaipur, 1 km away from Jaipur city centre.

Road:

Well connected with NH 8 and NH 11. 262 kms from Delhi and 240 kms from Agra.
SIGHTSEEING AT A GLANCE:
FORT & MONUMENTS

City Palace Complex

Jantar Mantar

Hawa Mahal

Govt. Central Museum (Albert Hall)

Gaitor

Jal Mahal

Statue Circle

Moti Dungri

Amber Fort

Jaigarh Fort

Nahargarh Fort

Samode Palace

PILGRIM CENTRE

Govind Devji Temple

Galtaji

Birla Temple

Jagat Shiromani Temple

GARDEN

Ram Niwas Garden

Kanak Vrindavan Garden Complex

Ghat Ki Guni

MUSEUM & AUDITORIUM

City Palace Complex

Govt. Central Museum (Albert Hall)

Ravindra Manch

Dolls Museum

Birla Auditorium

WILD LIFE
OTHERS

Swargasuli (Isar Lat)

Maharani Ki Chhatri

Sanganer

Tonk

Bagru

Abhaneri

Karauli

Viratnagar
ATTRACTIONS OF JAIPUR
City Palace Complex:
Built between 1729 to 1732 by Sawai Jai Singh in the heart of the old city are.

Complex is surrounded by a high wall and is divided into a series of courtyards, gardens and other building.

A splendid fusion of Rajput and Mughal styles of architecture.

Magnificent Chandra Mahal occupies the centre stage and is still the residence of erstwhile ruling family.

Outer courtyards have architectural beauties like Mubarak Mahal, Sarvatobhabra, Diwan Khana and Pritam Niwas.

The most interesting exhibits at city palace includes, the two huge silver urns known as Gangajalis, which are placed outside the Diwan-i-Khas or the Hall of Private Audience.

The silver urns finds mention in "Guiness Book of World Records", as being the largest silver objects in the world.
Govind Devji Temple:
Near Chandra, part of the City Palace complex.

It is dedicated to Lord Krishna.
Jantar Mantar:
This open air observatory is set outside the gateway of the City Palace Complex.

It was built in 1728, by Sawai Jai Singh II and is one of the five observatories built by him.

A specialized function for astronomical measurement.
Hawa Mahal or the 'Palace of Winds':
Hawa Mahal is the Icon of Jaipur.

It was built in 1799, by the poet king Sawai Pratap Singh for the royal ladies to enjoy the procession and day to day activities from the cool confinement of the majestic facade.

The five storeyed semi-octagonal structures have 953 inches and 152 windows, with overhanging latticed balconies, curvilinear roofs, domes and spires.
Swargasuli (Isar Lat):
Imposing minaret was built by Sawai Ishwari Singh in 1749, to commemorate a grand victory.

Dominates the skyline on the western side of the Tripolia Bazar and affords a fine view of the city.
Ram Niwas Garden:
Beautiful garden near Ajmeri Gate was built by Sawai Ram Singh in 1868.

It across an area of four acres and have a Zoo, a bird par, a playground, exhibition ground and a gymnasium.
Govt. Central Museum (Albert Hall):
Magnificent building built in Indo-Saracenic style is set in the lush Ram Niwas Garden.

Designed by Sir Swinton Jacob and inaugurated in 1863, by Prince Albert.

Albert Hall was opened in 1887 as a public museum and now functions as the State Museum of Rajasthan.
Ravindra Manch:
Located within the Ram Nivas gardens.

Rajasthani dance, music and plays are held here in the evenings.

A small art gallery exhibiting works of well-known modern artists and the sculptors of Rajasthan.
Dolls Museum:
Situated on the J L Nehru Marg, near Police Memorial.

A rich collection of beautiful dolls from all over the world.
Birla Auditorium:
It is the part of the Birla Science and Technology Centre at Statue Circle.

The audio-visual display at the planetarium with the help of computerised projection system is educative and entertaining.

There is an interactive science museum, a library, a computer centre, an information processing and dissemination cell etc.

The state-of-the-art main auditorium is one of the largest in the country, with a seating capacity 1,350.
Galtaji:
This ancient Hindu pilgrim site associated with sage Galava nestles low hills.

Sacred site is studded with temples, pavilions and holy kunds.

Temple of Sun God built by Diwan Kriparam is the most important shrine of Galtaji.
Birla Temple:
The Magnificent temple just below Moti Doongri.

Its excellent architecture and exquisite carvings on white marble.
Gaitor:
The royal crematorium at the foot hills of Nahargarh fort has cenotaphs.

Memorial of various distinguished members of the royal family of Jaipur.
Maharani Ki Chhatri:
Located just before the Ramgarh road crossing.

The funeral place for royal ladies.

Some exquisitely carved cenotaphs can be seen here.
Kanak Vrindavan Garden Complex:
The beautiful temple-garden complex lies on Jaipur – Delhi highway, near Jal Mahal.

It is a popular for picnic site.
Ghat Ki Guni:
This scenic narrow gorge along the Agra road.

Beautifully landscaped gardens built during the 18th and 19th centuries.

The important ones are – Sisodia Rani Gardens & Palace and Vidhyadhar Garden.
Jal Mahal:
In the midst of picturesque Man Sagar lake on the way to Amber Fort 6 kms from city centre.

Built by Sawai Pratap Singh in 1799.

Summer resort of the erstwhile royal family.
Statue Circle:
Located at a busy traffic junction, the Statue Circle in Jaipur city.

A popular famous circle of Pink City.

Itis a favourite place for evening walkers, morning joggers, etc.
Moti Dungri:
Small hill Moti Dungri looks like a drop of pearl.

Private property of the royal family.

This place is famous for temple of Lord Ganesh.
FAIRS & FESTIVALS OF JAIPUR
Teej Festival which is celebrated in Jaipur in the month of July-August for One to two days. In this festival married women take blessings of Lord Shiva and Parvati for a happy marital life. Teej is held during monsoon season as it welcomes the rains in many areas of the desert regions in Rajasthan. A procession of decorated elephants, horses and camels with the fleet lead of Goddess Teej (the incarnation of Parvati) is taken out from Tripoli Gate to Chaugan Stadium and folk music/songs are also played.
Gangaur Festival is celebrated in Jaipur in the month of March/April for 18 Days. During the festival, womens wear new clothes and jewelry. A procession takes place during this day starting from Zanani-Deodhi in Rajasthan and concluding at Talkatora. Women make clay idols and on the 7th day of the festival, they break the earthen pots and dispose the pieces into water. The idols are also immersed in water on this day. Ghewar, a typical Rajasthani sweet is widely enjoyed during this festival.
The Elephant Festival which is held in Jaipur in the month of February/March every year for one day. This is a very popular & major fair and festival of Jaipur. Lord Ganesha is a popular deity with an elephant head and because of this elephants have a huge significance in the fairs of Rajasthan. One of the most joyous celebrations during the Elephant Festival, a number of competitions is organised. Elephant race, polo, tug of war and elephant decoration are the main attractions.
Jaipur Literature Festival, Rajasthan is often described as one of the greatest literary shows on earth. The Jaipur Literature Festival is an annual literary festival which takes place in the Indian city of Jaipur every January. It is a week-long festival. The Festival is essentially an event of coming together of some of the world's greatest minds, historians, humanitarians, sports people, business leaders and entertainers from all walks of life who share the stage and put forward their ideas and thoughts. The literary extravaganza takes place at Diggi Palace, Jaipur. The popular activities are readings, debates, discussions with the greatest literary thinkers of our time.
Kite Festival of Jaipur is one of the most unique fairs and festivals of Rajasthan celebrated on 14th January, MakarSankranti for one day. The festival is all about flying kites and thousands of colorful kites dot the skies during this time. The occasion is popular in Jaipur and Jodhpur. On this day, people take bath in the Galtaji River and offer their prayers to the Sun God. The existent beauty of the city is accentuated with thousands of kites flying in the sky.Some traditional sweets are made during this time. For instance, Til Ke Laddu is one such delicacy made from sesame seeds. The Jaipur skyline gets pleasantly dotted with thousands of colourful kites. Almost everyone in the pink city sends their kites into the sky and challenges their opponents on a playful note.
Shri Mahavirji Fair is held in Jaipur in remembrance of Shri Mahavir Swami in the month of March-April for six days. This fair pays tribute to the 24th saint of the Jains & venue is the Mahavirji temple. The main attraction of the fair is the Rath Yatra which is essentially a chariot procession. The pilgrims then congregate at the temple and worship the image of Shri Mahavir Swami & seek the blessings of the divine saint with folded hands. To cater to these pilgrims, temporary shops are setup during the fair where all types of merchandise related to the fair are sold. The image of saint Mahavira is washed in the morning followed by puja and aarti in the evening. Rathyatra is also taken out on this eve and a gran procession follows the chariot to the Gambhiri River bank.
For more Information, kindly visit :- http://www.tourism.rajasthan.gov.in/jaipur.html
ATTRACTIONS AROUND JAIPUR
Amber Fort:
Just 11 kms from Jaipur city centre.

It was the capital of Kachhwaha's of the old state of Dhundhar for over six centuries, before the birth of Jaipur.

The mighty Amber Fort stands atop a range of craggy hills overlooking the Jaipur – Delhi highway.

Fort is a fine blend of Rajput and Mughal styles.

Original palace was built by Raja Man Singh.

Majestic Amber Palace complex is approached through an imposing gateway called as 'Ganesh Pol'.

It has magnificent halls, pavilions, gardens and temples built by Raja Man Singh.

The main sites here includes, Diwan-i-Am or the 'Hall for the Public Audiences', Sukh Niwas or the 'Hall of Pleasure', Jai Mandir or the 'Hall of Victory', Sheesh Mahal or 'Hall of Mirrors', Diwan-i-Khas or the 'Private Meeting Hall' and Jas Mandir or 'Hall of Glory' etc.
Jagat Shiromani Temple:
Beautifully carved shrine is located at the foothills of the Amber Fort just 11 kms from Jaipur city centre.

Enshrines an idol of Lord Krishna.

Regarded as one of the marvels of Indian temple architecture.
Jaigarh Fort:
Almost 15 kms from Jaipur city centre.

Hill-top fortress overlooks the palaces and the old town of Amber.

It was built by Maharaja Jai Singh II in 1726.

Few fortresses of medieval India which are still preserved, almost intact.

Within its rugged bastions are beautiful palaces, and gardens.

'Jai Ban', the world's biggest cannon on wheels is placed here.
Nahargarh Fort:
15 kms from Jaipur city centre.

Third hill-top fort guarding the Jaipur city.

Initially built by Sawai Jai Singh in 1734 and later enlarged by Sawai Ram Singh.
Sanganer:
12 kms from Jaipur city centre.

Small town is famous for the beautifully carved Jain temples and palace ruins.

Renowned for hand block printed textiles and hand-made paper.
Samode Palace:
40 kms from Jaipur city centre.

This quaint village is known for the Samode Palace of Nathawat family.

It is now a famous heritage hotel.

Other attractions are Samode Garden and Samode Haveli.
Tonk:
Town located 96 kms from Jaipur city.

Attractive points of Tonk are Sunehari Kothi - a magnificent hall and Arabic Persian Research Institute (APRI) - promotion and furtherance of Arabic and Persian studies.

Also famous for its leather and felt industry.
Bagru:
35 kms away from Jaipur city.

Well known for hand block printing on cloth known as Bagru Prints.
Sariska Tiger Reserve:
800 sq. kms park situated 107 kms from Jaipur city.

Sariska Comprises of hills and narrow valleys of the Aravali hill range.

Broad range of wildlife here is a wonderful example of ecological.
Abhaneri:
Village about 95 kms away from Jaipur city on the way to Jaipur-Agra.

There is a Harshat Mata Temple and it is the exampleof 10th century architectural and sculptural styles.
Karauli:
It is located 182 kms away from Jaipur city.

Well known for famous temples Shri Madan Mohan Temple, Shri Mahaveer Temple, Shri Kaila Devi Temple, Shri Balaji Temple etc.
Viratnagar:
It is located 75 kms away from Jaipur city on the way to Jaipur-Alwar highway.

There is some very unique and historical Venus.

A complex of rock shelter and natural cave shelters found here.