KEDARNATH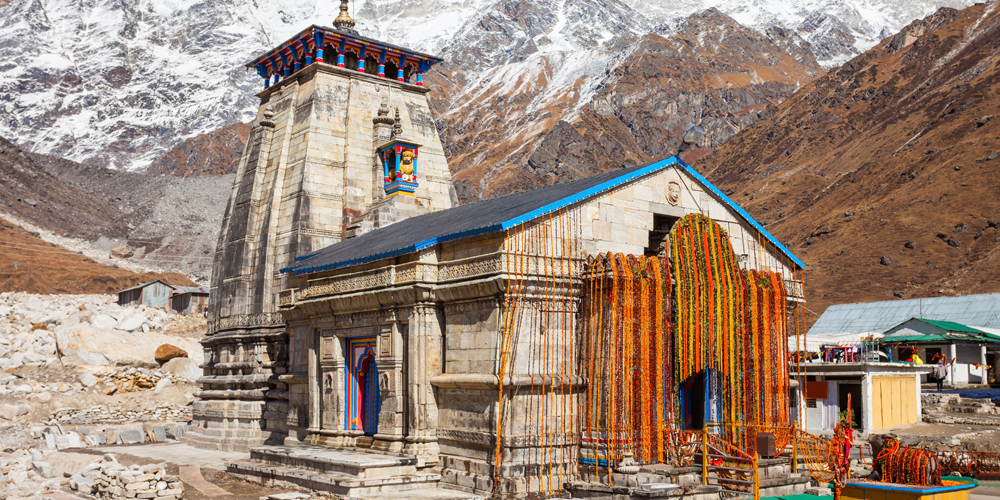 ABOUT KEDARNATH:
One of the holiest Hindu pilgrim sites is perched at an altitude of 3584 metres amidst towering snow-clad Himalayan peaks on the head of river Mandakini.
MODE OF COMMUNICATION:
Airport: Jolly Grant Airport, Dehra Dun (DED), 246 kms away from Kedarnath town.
Rail: Rishikesh Railway Station, Rishikesh, 229 kms away from Kedarnath town. Kotdwar Railway Station, Kotdwar, 260 kms away from Kedarnath.
Road: Well connected by road.
SIGHTSEEING AT A GLANCE:
SCENIC SITE

Chorbari Glacier

HOLY CENTRE

Kedarnath Temple Guptkashi Okhimath Gaurikund Koteshwar Temple Panch Kedars Son Prayag Rudra Prayag The Panch Prayag Dev Prayag Rudra Prayag Vishnu Prayag Nanda Prayag Karna Prayag

OTHERS

Shankaracharya Samadhi

FAIRS & FESTIVALS

Vinayak Chathurthi

Deepawali

Shravani Annakoot Mel

Special Samadhi Pooja
For more information visit https://uttarakhandtourism.gov.in/destination/kedarnath
ATTRACTIONS OF KEDARNATH
Kedarnath Temple:
8th century shrine built by Adi Shankracharya enshrines one of the twelve sacred Jyotirlingas here resembles a hump of a bull.

In front of the temple door is a large statue of Nandi as a guard.

The mandapa walls are adorned with idols of the five Pandavas and Draupdi.

There is also an image of Lord Ganesha.

The shrines closes for the winters on the first day of Kartik (October – November) and re-opens in Vaisakh (April – May).
Shankaracharya Samadhi:
It is located just behind the Kedarnath temple.

Adi Shankaracharya after establishing four sacred Dhams is said to have gone into his Samadhi here at an age of 32 years.
Chorbari Glacier:
River Mandakini emerges from here and later merges into the Alaknanda at Rudraprayang.
ATTRACTIONS AROUND KEDARNATH
Guptkashi:
39 kms away from Kedarnath town.

Pilgrim site famous for the ancient temples of Vishwanath and Ardhnareshwar.
Okhimath:
60 kms away from Kedarnath town.

It is the winter residence of Lord Kedarnath and the seat of the Rawal of Kedarnath.
Gaurikund:
Trekking base for Kedarnath, 14 kms away from Kedarnath town.

There is a temple dedicated to Gauri Parvati and hot water springs of medicinal value.
Koteshwar Temple:
3 kms away from Kedarnath town.

Cave temple of Lord Shiva lies on the banks of Alaknanda.

It is said that Shiva meditated here before going to Kedarnath.
Panch Kedars:
'Panch' or five Kedar lie in the valley between the rivers Bhagirathi and Alaknanda.

According to legends, after the battle of Mahabharta, the Pandavas repented the killings of their cousins Kauravas and came here seeking forgiveness from Lord Shiva.

But, Shiva eluded them and took refuge at Kedarnath in the form of a bull.

When Pandavas sighted him, he submerged into the ground leaving behind his hump, which is worshipped at the shrine of Kedarnath.

His arms are believed to have appeared at Tungnath, his face at Rudranath, navel at Madmaheshwar, his matted hairs and head at Kalpeshwar.

These five most sacred Shiva temples of Garhwal came to be known as the 'Panch Kedars'.
Son Prayag:
Sacred confluence of river Basuki and Mandakani lies on the main Kedarnath route, about 5 kms from Gaurikund and 20 kms from Kedarnath.

Trijuginarayan, 12 kms from Son Prayag is said to be the site of Lord Shiva and Parvati's marriage.
Rudra Prayag:
86 kms away from Kedarnath town.

Pilgrim site on the confluence of river Alaknanda and Mandakini is named after Rudra, an aspect of Lord Shiva.

According to a legend Lord Shiva appeared here as 'Rudra' to bless Narad Muni.

An ancient shrine is dedicated to Lord Shiva in the form of 'Rudra'.

Rudraprayag is of immense significance for the pilgrims of Chardham Yatra, as it is the junction for visiting Badrinath and Kedarnath Dham.
The Panch Prayag:
'Panch Prayag' or the five most sacred river confluences of the Garhwal Himalayas are of immense religious importance.
Dev Prayag:
It is set on the confluence of Alaknanda and Bhagirathi Rivers, on the Rishikesh – Badrinath route, about 87 km from Narendra Nagar.
Rudra Prayag:
On the confluence of Alaknanda and Mandakini Rivers.
Vishnu Prayag:
It is 12 kms from Joshimath on the confluence of Alaknanda and Dhauli Ganga Rivers.
Nanda Prayag:
It is the confluence of Alaknanda and Mandakini Rivers, about 21 kms from Karnaprayag, on the main route to Badrinath.

The famous Gopalji temple is situated here.
Karna Prayag:
It is situated on the sacred confluence of Alaknanda and Pindari Rivers and is known for the Karna Temple and the Uma Devi Temple.