VARANASI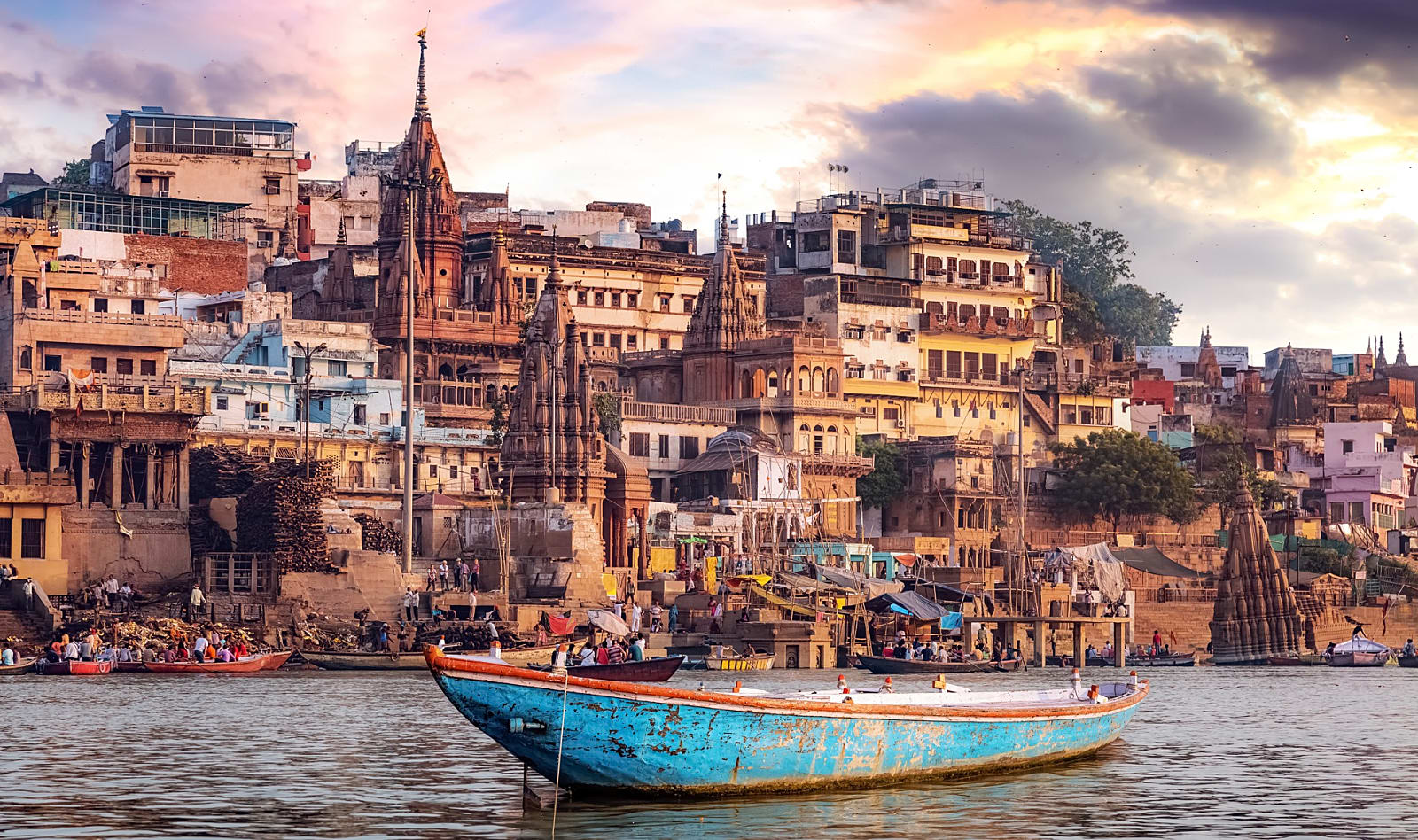 ABOUT VARANASI:
Varanasi or Banaras, the 'Abode of Lord Shiva' is one of the oldest living cities in the world.

It place in Hindu mythology is virtually unrivalled and is in fact, the microcosm if Hinduism.

According to legends, the city was created by Lord Shiva himself and the Puranic literature dates its existence to at least three millennia.

Early history of Varanasi is replete with hoary tales of plunder and destruction by conquerors and religious zealots.

Kashi, the mythological name of this eternal city is said to be derived from the word 'Kashi', meaning shrine or bright, as it was considered to be the 'city of light' or spiritual luminance.

Present name is a combination of Varuna and Asi, the town tributaries of Ganga flowing along the northern and southern borders of the holy city.

At Varanasi, Buddha and Mahavira preached and Shankracharya wrote his commentaries on Hinduism.

Patanjali, the Sanskrit grammarian wrote Mahabhasya and Tulsidas composed Ramcharitamanas.

And Kabir preached amity between religions.

Varanasi is also an important centre of education and has produced several world renowned academicians, musicians' artists.

It is a famous centre for fine arts and crafts.

Benarasi silk sari with zari brocading in gold and silver and fine metal wires is a priceless possession of any Indian woman.

It also has a rich repertoire of silver, brass, copper artefacts and trinkets as well as aromatic perfumeries.

There is no Indian attraction like Varanasi.

It is much more than just a mere city, but is a way of life.
MODE OF COMMUNICATION:
Airport: Lal Bahadur Shastri Airport (VNS), Babatpur, 22 kms away from Varanasi city centre.
Rail: Varanasi Railway Station, Varanasi, 2 kms away from Varanasi city centre.
Road: Well connected with NH 2, NH 7 and NH 29.
SIGHTSEEING AT A GLANCE:
HOLY CENTRE

The Ghats

Sri Kashi Vishwanath Temple

Gyanvapi Mosque

Alamgir Mosque

Bharat Mata Temple

Tulsi Manas Temple

Durga Temple

Sarnath

Dhamek Stupa

Chaukhandi Stupa

Mulagandha Kuti Vihar

Digamber Jain Temple

FORT & MONUMENTS
MUSEUM & AUDITORIUM

Archaeological or Sarnath Museum

OTHERS

Banaras Hindu University

Central Institute of Higher Tibetan Studies

FAIRS & FESTIVALS

Holi

Dussehra

Deepawal

i

Sharadiya Navratri

Ganga Mahotsav

Maha Shivratri

The Dhrupad Mela

Hanuman Jayanti
For more information visit https://varanasi.nic.in/
ATTRACTIONS OF VARANASI
The Ghats:
Major attraction of Varanasi are the 5 kms stretch of bathing and burning ghats that line the western bank of river Ganga.

About 100 big and small ghats were built during 18th and 19th century, some of them have withered away, while most of the ghats have withstood the vagaries of time.

High above the chain of stone steps of the ghats are pavilions and palaces, temples and terraces.

Every ghat has its own religious significance, but bathing in the five most important ones – Assi, Dasashvamedha, Harishchandra, Panchganga and Manikaranika in the same order on the same day absolves pilgrims from their sins.
Sri Kashi Vishwanath Temple:
Ancient temple of Lord Shiva in the heart of Varanasi enshrines the first of the twelve Jyotirlingas.

Lord Shiva is worshipped here as Vishwanath or Vishveswara, the 'Lord of the world'.

The shrine is the main centre of devotion for the pilgrims visiting Varanasi.

Temple has been a living embodiment of cultural traditions since time immemorial.

Original temple was destroyed by Aurangzeb and was rebuilt in 1776, by Maharani Ahilya Bai Holkar of Indore.

In 1835, the shikaras of the temple were gold plated by Maharaja Ranjeet Singh of Punjab and shrine also came to be known as golden temple.

Shrine of Annapurna Bhavani dedicated to goddess Shakti is located nearby.
Gyanvapi Mosque:
It lies adjacent to the Vishwanath temple and was built on the ruins of the original Vishwanath temple in 17th century, by Aurangzeb.

Foundation and rear of the mosque reveal rare specimens of the ancient temple art.
Alamgir Mosque:
Aurangzeb destroyed the Vishnu temple here and built the mosque on its ruins.

It is a blend of Hindu – Muslim architecture and religious sentiments and is also known as "Beni Madhav Ka Darera".
Bharat Mata Temple:
Unique temple was gifted by two nationalists Babu Shiv Prasad Gupta Khatri and Durga Prasad Khatri and inaugurated in 1936, by Gandhiji.

It enshrines one of the most perfect relief maps of Indian sub-continent and Tibetan Plateau, carved out of marble.
Tulsi Manas Temple:
Beautiful modern temple dedicated to Lord Rama is said to be located on the same place where Tulsidas, the great medieval seer and poet, lived and wrote the epic "Shri Ramcharitmanas".
Durga Temple:
19th century shrine is one of the finest temples of Varanasi.
Banaras Hindu University:
It was established in 1916, by Pandit Madan Mohan Malviya.

It is considered to be the largest residential university in Asia, sprawling over an area of about 2,000 acres.

The New Vishwanath Temple and the Bharat Kala Kendra located within the premises of the university are worth visiting.
ATTRACTIONS AROUND VARANASI
Sarnath:
10 kms away from Varanasi town.

It is considered to be the most important Buddhist pilgrim centre after Bodh Gaya.

Lord Buddha preached his first sermon at the fabled Deer Park over here after attaining enlightenment.

Later on, emperor Ashoka built magnificent stupas and other structures.

Golden period of Sarnath was around 640 A.D.

There were over 1500 priest, an imposing Stupa and a mighty Ashokan pillar.

Sarnath is a treasure house of Buddhist antiquities ranging from the times of Ashoka to the 12th century A.D.
Dhamek Stupa:
110 feet high Stupa marks the site where Buddha delivered his first sermon.

It was built around 500 A.D. and was rebuilt a number of times.

Geometrical and floral patterns on the stupa are typical of Gupta period.

Originally, there was a second stupa known as Dharmarajika Stupa.

It was dismantled in the 18th century by Jagat Singh of Benares.

Near the ruins of the stupa stands the majestic Ashoka Pillar Surmounted by the superb capital with Ashokan symbol of four back to back lions.

The capital is now exhibited at Sarnath museum and is the national emblem of modern India.
Chaukhandi Stupa:
Mulagandha Kuti Vihar:
Elegant shrine was built in 1930s, by the Mahabodhi Society.

It houses excellent murals and frescoes done by Japanese artists and ancient relics of Buddha.

Ancient Mulagandha Kuti temple is located among the brick ruins of Sarnath.

Other interesting modern temple at Sarnath is – Thai, Chinese, Tibetan, Burmese and Japanese monasteries.
Archaeological or Sarnath Museum:
It has a rich collection of Buddhist sculptures recovered from the ruins at Sarnath.

The main attraction is the superb capital from the Ashokan pillar depicting four back-to-back lions.
Central Institute of Higher Tibetan Studies:
Digamber Jain Temple:
Ramnagar Fort:
14 kms away from Varanasi town.

17th century fort overlooking the river Ganga is not far away from Assi ghat.

It was the residential palace of the former Maharaja of Varanasi and the personal collection of the erstwhile royalty can be seen here.

Ramnagar is also known for the Ramlila, based on Ramcharitmanas of Tulsidas and Dussehra celebrations.
Chunar:
40 kms away from Varanasi town.

Historical town is famous for its impregnable fort, which is said to be originally built by the legendary king Vikramaditya of Ujjain, in memory of his brother Raja Bhartihari, who had taken live Samadhi here.

Fort witnessed several battles and was associated Sher Shah Suri, who defeated Mughal emperor Humayun.

In 1575, Akbar recaptured the fort and was presided over by the Nawabs of Avadh.

It passed into the hands of British in 1764.

The fort has a sun – dial and a huge well.

It affords a fine view of the Ganga.

Chunar is also known for its sandstone, which has been used most famously in Ashokan pillars.