LUCKNOW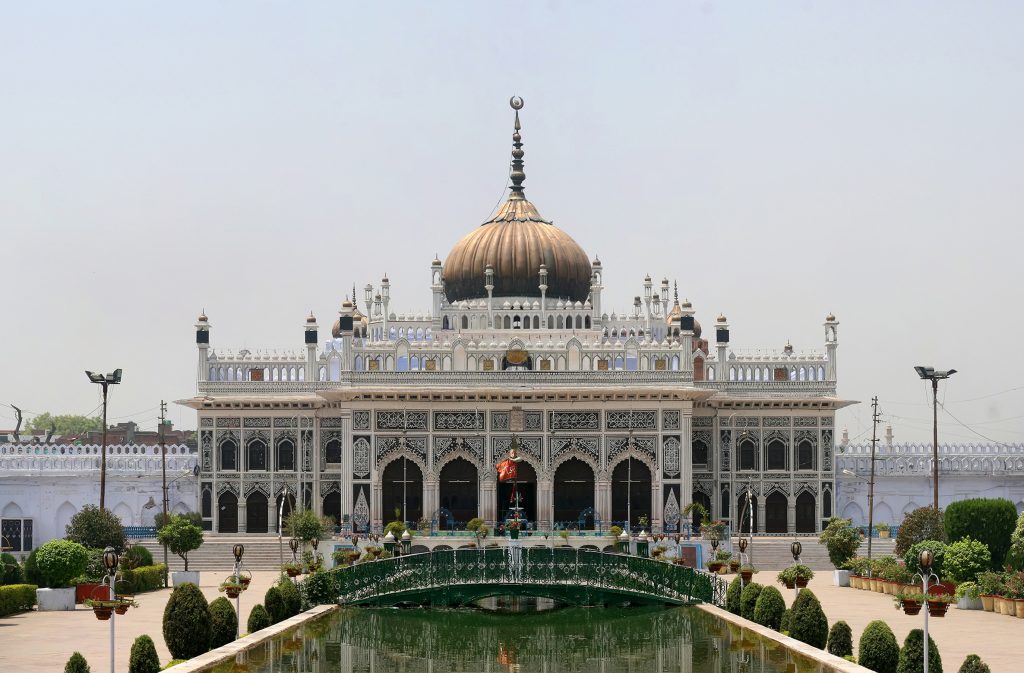 ABOUT LUCKNOW:
The land of 'Nawabs' synonymous with lavish extravagance is well known for its 'tehzeeb' or extreme delicacy and cultivated manners.

Fine living is a tradition and social etiquette an integral part of life.

Proverbial pehle aap – after you – is a legendary mannerism that echoes the inherent courtesy that a Lucknowi pays to every person regardless of station or rank.

Present day city was established by Nawab Asaf-ud-Daula, when he shifted his capital from Faizabad to Lucknow in 1775.

It emerged as an important political and cultural centre, rivalling Delhi in its patronage to art and literature.

In 1856, the British annexed Avadh, exiling the last Nawab, Wajid Ali Shah, on grounds of misrule.

Lucknow was one of the most volatile centres, during the Mutiny of 1857, as it was a key administrative and military centre of the British East India Company.

Today, the modern city of Lucknow sprawls on the both sides of river Gomti and is a fine blend of traditions and modernity.

It still retains the regal ambience and mannerisms, while adapting to the needs of modern world.

Lucknow is also famous for its elaborate cuisine and 'Chikankaari' or exquisite shadow-work embroidery on fine muslin cloth.
MODE OF COMMUNICATION:
Airport: Chaudhary Charan Singh Airport, Lucknow (LKO), 13 kms away from Lucknow city centre.
Rail: Lucknow Railway Station, Lucknow, 3 kms away from Lucknow city centre.
Road: Well connected by road.
SIGHTSEEING AT A GLANCE:
FORT & MONUMENTS

Asafi or Bara Imambara Chhota or Hussainabad Imambara Kaiserbagh Palace Complex La Martiniere Lucknow Residency Rumi Darwaza Shah Najaf Imambara Sikandar Bagh

MUSEUM & AUDITORIUM

State Museum/ Zoo

OTHERS

Kanpur Bithoor

FAIRS & FESTIVALS

Lucknow Festival
Vrindavan Sharadotsav
Holi
Diwali
Dusshera
Karva Chauth
For more information visit https://lucknow.nic.in/
ATTRACTIONS OF LUCKNOW
Asafi or Bara Imambara:
Architectural wonder was built by Nawab Asaf-ud-Daula in 1784, as a famine relief project.

Central hall with a 20,000 tonne roof is said to be the largest room (50 m. X 15 m.) in the world, unsupported by pillars.

It is also known for the 'Bhul Bhulaiyan', a series of intricate labyrinth on the upper floor, which should be visited only with an authorized guide.

Tomb of Asaf-ud-Daula is also located within the Imambara.

To the left is the majestic Asafi mosque.
Chhota or Hussainabad Imambara:
Beautiful structure near Rumi Darwaza was built between 1837 – 42 by Nawab Mohammad Ali Shah and has the tombs of it builder and his mother.

It has a golden dome and numerous turrets and minarets.

Exteriors are adorned with fine calligraphy, while the interiors have chandeliers, gilt-edged mirrors, colourful stucco, the king's throne and ornate tazias.
Kaiserbagh Palace Complex:
Nawab Wajid Ali Shah built the grand palace complex between 1848 and 1850, with a view to create the eighth wonder of the world.

Yellow buildings flanked by two Lakhi Gates were once used as the royal harem.

In the centre of the quadrangle is the beautiful Baradari.
La Martiniere:
Extraordinary structure beautifully blends Italian architectural style with the native Hindu and Muslim style.

It is perhaps the finest and the largest specimen of European funerary monument in the subcontinent.

It was built in 1793, by Major General Claude Martin, a French soldier and the richest European in Lucknow.

Magnificent edifice has four octagonal towers with numerous rooms and the exteriors are beautifully decorated.

It houses a fine school which was established way back in 1840.
Lucknow Residency:
It was built between 1780 – 1800, as the official residence of the British Resident.

Britishers residing in Lucknow took refuge over here for 87 days during the 1857 mutiny.

Today, it is a mute witness to one of the bitterest battle of 1857, with gaping holes made by cannon balls.
Rumi Darwaza:
This 60 feet high ornate gateway was built by Nawab Asaf-ud-Daula in 1784, under the famine relief project.

It is said to be constructed on the lines of one of the gates of Constantinople.
Shah Najaf Imambara:
White-domed mausoleum on the right bank of river Gomti is named after the sacred town of Najaf, near Baghdad.

It has the tomb of Ghazi-ud-din Haider flanked by the tombs of his wives.
Sikandar Bagh:
Charming summer house fortified by a high wall was named after one of the wives of Nawab Wajid Ali Shah.

It witnessed a bloody battle during the Mutiny of 1857.

Summer house now has the National Botanical Research Institute and its garden is open for public between 6 AM and 5 PM.
State Museum/ Zoo:
Sate museum is located within the zoo premises at Banarasi Bagh.

It exhibits a fine collection of artefacts and memorabilia.

Zoo has a rich variety of animals and is popular among kids.
ATTRACTIONS AROUND LUCKNOW
Kanpur:
65 kms away from Lucknow city.

Busting city on the banks of river Ganga is one of the major industrial centres of North India.

It is said to be founded by king Hindu Singh of the erstwhile state of Sachendi and later came under the British after the treaty of 1801, with Nawab Saadat Ali Khan of Awadh.

City emerged as one of the most important military stations of the British and was one of epicentres 1857 war of Indian independence.

Leading freedom fighters like Nana Sahib, Tantiya Tope, Azimoolah Khan and Brig.

Jwala Prasad was closely associated with the city.

Some of the attractions of Kanpur are – the mound of Jajmau, the magnificent Shri Radhakrishna Temple or J. K. Temple, Jain Glass Temple, Allen Forest Zoo, Phool Bagh, Nana Rao park and the impressive Kanpur Memorial Church (All Soul's Cathedral) etc.
Bithoor:
27 kms away from Lucknow city.

Peaceful town on the banks of river Ganga is an important historic and pilgrim centre.

According to Hindu scriptures Lord Brahma selected Utpalaranya (Bithoor) for the creation of mankind.

Bithoor came into prominence during 18th century under the rule of Nawab Shuja-ud-Daula.

Alms Ali Khan, his administrator erected a mosque near Lakshman Ghat on the right bank of Ganga.

It became the capital of the Pargana from 1811 to 1819.

After the departure of the courts, the palace was assigned as a residence to Baji Rao, the deposed Peshwa.

The palace of Nana Sahib was reduced to rubble by the British in 1857.

Bithoor was earlier known as 'Bavan Ghaton ki Nagri' or the city of 52 Ghats.

Today, there are only 29 ghats and the Brahmavart Ghat is considered to be the holiest.

It is said that Lard Brahma after creating man-kind installed a Shivalinga here, which is worshipped as Brahmeshwar Mahadeva.