AGARTALA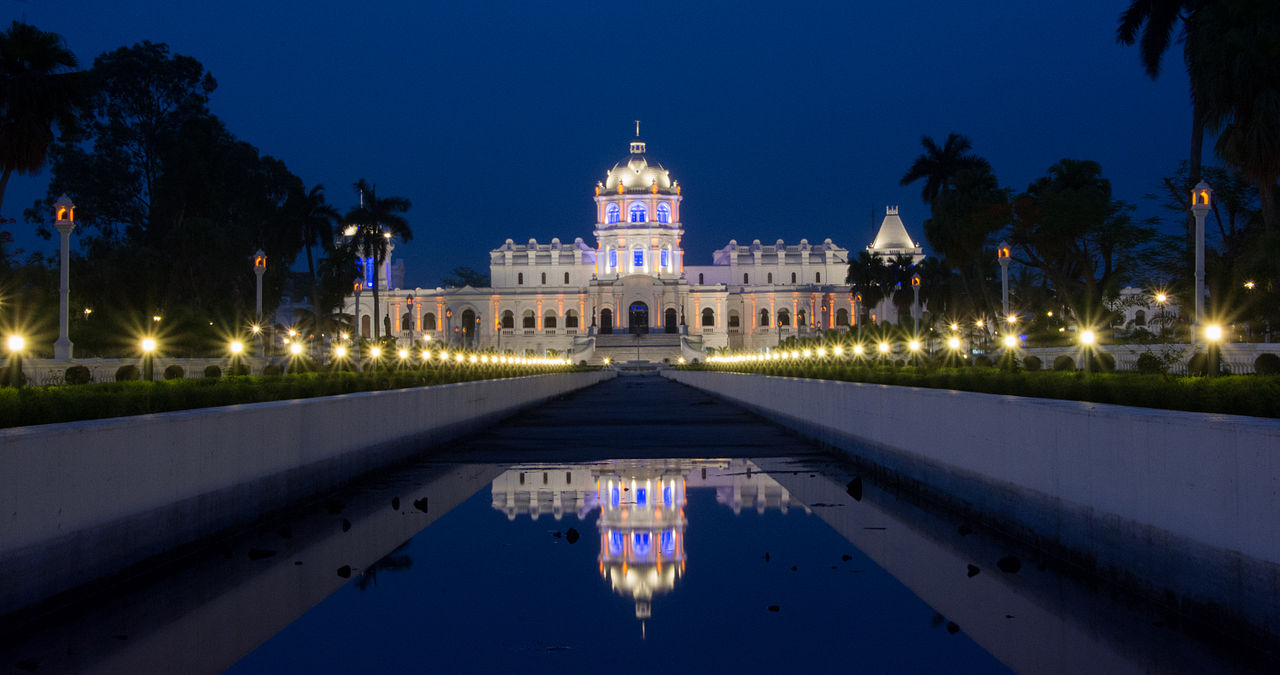 ABOUT AGARTALA:
Amazing Agartala, the capital of Tripura is set amidst scenic surroundings.

Studded with beautiful palace, lake, well laid out gardens.

Official buildings built in red brick.

Maharaja Bir Bikram Singh built an airport over here in 1930.
MODE OF COMMUNICATION:
Airport: Agartala Airport, Agartala (IXA), 10 kms away from Agartala city centre.
Rail: Manughat/ Kumarghat Railway Station, Manughat/ Kumarghat, 120 kms away from Agartala. It can be reached from Guwahati via Lumding in Assam.
Road: Well connected with NH 44.
SIGHTSEEING AT A GLANCE:
SCENIC SITE

Jampui Hills

FORT & MONUMENTS

Ujjayanta Palace Kunjaban Palace Neermahal

HOLY CENTRE

Jagannath Temple Temple of Chaturdasa Devata Kamalasagar Kali Temple Udaipur Tripurasundari Temple Unakoti

MUSEUM & AUDITORIUM

Tripura Govt. Museum

LAKE

Udaipur Neermahal

WILD LIFE

Sepahijala Wildlife Sanctuary Trishna Wildlife Sanctuary

OTHERS

Purbasha

FAIRS & FESTIVALS

Garia Puja

Asokastami Festival

Pilak Festival

Kharchi Festival

Neermahal Festival

Diwali Festival

Pous Sankranti Fair
For more information visit https://tripuratourism.gov.in/
ATTRACTIONS OF AGARTALA
Ujjayanta Palace:
Set in the heart of the town.

Built by Maharaja Radhakishore Manikya in 1901.

Three storied palace resembling the Victoria Memorial of Kolkata is surrounded by beautiful Mughal inspired gardens.

Palace is floodlit at night and is a sight to behold.

Now houses the State Legislature.
Kunjaban Palace:
Palace on the lush hillock was built in 1917.

The official residence of the Governor of the State.

In 1926, Rabindranath Tagore resided in the eastern apartment of the palace for some time and is said to have penned down many of his poems over here.

Southern side of the palace known as Rabindra Kanan has been opened for public viewing.
Tripura Govt. Museum:
Exhibits a fine collection of the archaeological finds of the region.

Museum has 4 galleries – Archaeological, Sculpture, Painting and Tribal Culture and has about 1645 artefacts.
Jagannath Temple:
19th century shrine is noted for its 4 storeyed sikhara or tower.
Purbasha:
Showcases the traditional handicrafts of the region.

An excellent place to shop cane and bamboo handicrafts and handlooms.
ATTRACTIONS AROUND AGARTALA
Temple of Chaturdasa Devata:
8 kms away from Agartala city near old Agartala.

Shrine is dedicated to 14 goddesses, which represented by their hands only.

A fine blend of Bengali and Buddhist architecture.

Famous for the Kharchi Festival, held in every July and attended by thousands of pilgrims.
Kamalasagar Kali Temple:
27 kms away from Agartala city.

Excavation of the Kamalsagar Lake was initiated in 15th century by Maharaja Dhanya Manikya.
On Kamalsagar Lake banks is a 16th century shrine of goddess Kali.
Udaipur:
52 kms away from Agartala city.

Beautiful historic town famous for its lakes.

It was former capital of Manikyas and still retains the aura of its glorious past.

Some of its attractions are, the Jagannath Dighi Lake and relics of Jagannath temple on its banks, the 17th century Mughal Masjid and Bhuvaneswari Temple.
Tripurasundari Temple:
3 kms away from Udaipur city and 55 kms away from Agartala city.

Tortoise domed temple built in 1501, by Maharaja Dhanya Manikya atop a hill is the most important attraction of Tripura.

One of the 51 Shakti Peeths of Hindu pilgrimage and dedicated to Tripurasundari (Parvati).

Adjoining Kalyansagar Lake has a large number of tortoises and fishes.

Tortoises are held sacred by the devotees of the temple, which is also referred to as the Koorma (tortoise) Peeths.

Temple is also known for Diwali celebrations.
Neermahal:
55 kms away from Agartala city.

Exotic lake palace set amidst Rudrasagar Lake is the only 'water palace' of Eastern India.

Built by Raja Bir Bikram Kishore Manikya in 1930 and is a fine example of Indo-Saracenic architecture.

Palace is reached by boat, near Melaghar.

Annual boat race is held at the lake.

It is also hub of migratory birds.
Unakoti:
8 kms away from Kailashahar and 178 kms away from Agartala.

Pilgrim centre known for the tribal rock carving dating back to 7th – 9th century.

Shiv – Shakti have been worshiped here since time immemorial.

Beautifully endorsed by the 30 feet high rock sculpture of Shiva's head, the Unakotiswara Kal Bhairava.

Largest bas-relief relic in the country, even bigger than the famous Mahabalipuram rock carvings.
Jampui Hills:
200 kms away from Agartala city.

Seat of "permanent spring" is endowed with bracing climate all over the year and spectacular scenic beauty.

Known for exotic orchids, ornamental trees and fragrant orange groves.
Sepahijala Wildlife Sanctuary:
25 kms away from Agartala city.

A delight for bird watchers.

Large colonies of local and migratory birds sprawl over an area of 18.53 sq. kms.

Important animals seen here are unique spectacled monkey, crab eating mongoose and 'sharmili billi'.

There is also an orchid and botanical garden, zoo and lake.
Trishna Wildlife Sanctuary:
100 kms away from Agartala.

Bison and golden langur are the main attractions.

Local and migratory birds can also be seen here.