WARANGAL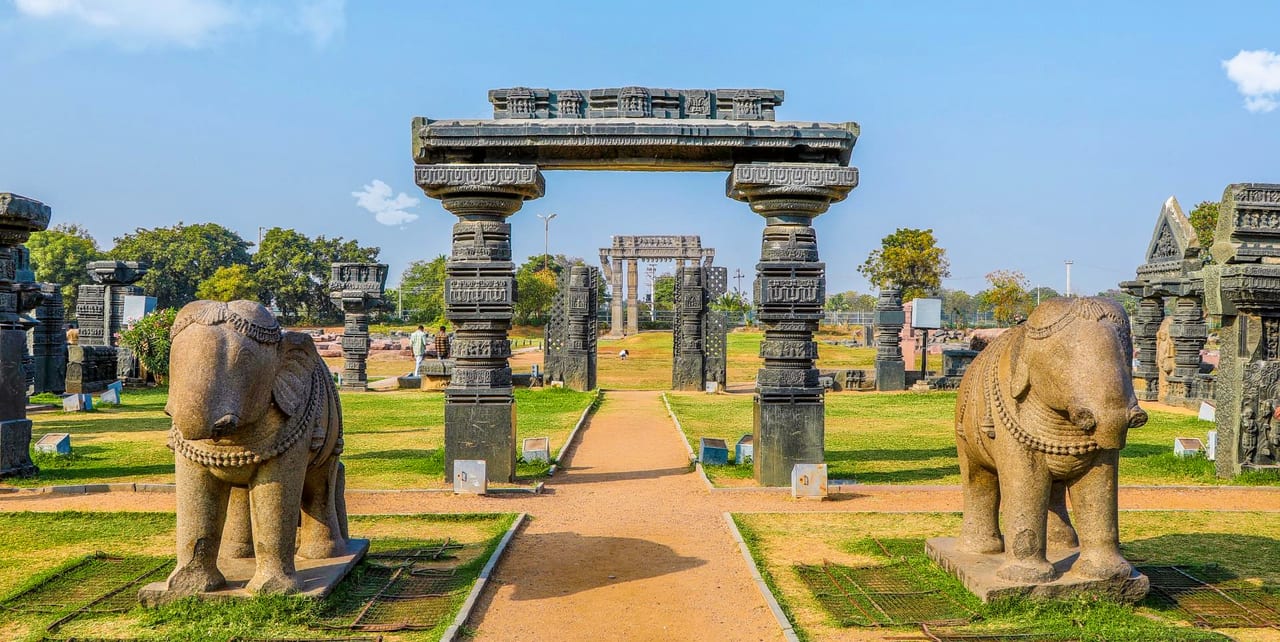 ABOUT WARANGAL:
Historic town earlier known as Orugallu was the glorious capital of the great Kakatiyas during 13th century A.D.

An important centre of Telugu culture and literature under the Kakatiya kings.

Fort city is studded with magnificent monuments and temples depicting some of the finest forms of architecture in South India.

Warangal is also well known for its durries (carpets) and rumals.
MODE OF COMMUNICATION:
Airport: Rajiv Gandhi International Airport, Shamshabad (HYD), 148 kms away from Warangal city.
Rail: Warangal Railway Station, Warangal, 4 kms away from Warangal city.
Road: Well connected by road.
SIGHTSEEING AT A GLANCE:
FORT & MONUMENTS

Warangal Fort Khush Mahal

HOLY CENTRE

Thousand Pillared Temple Sri Bhadrakali Temple Kolunupuka

WILD LIFE

Eturnagaram Sanctuary

FAIRS & FESTIVALS

Bonalu Festival

Bathukamma Festival

Shakambari festival

Sammakka-Sarakka Jatra

Eid-ul-Fitr

Sammakka Sarakka Jatra

Ugad

Sankranti

Vinayak Chathurthi
For more information visit https://telanganatourism.gov.in/partials/destinations/regions/warangal.html
ATTRACTIONS OF WARANGAL
Thousand Pillared Temple:
Star shaped temple at Hanamkonda is a master piece of Kakatiya architecture.

One of the most famous monuments of Andhra Pradesh.

Built in 1163, by Kakatiya king Rudra Deva and is dedicated to Lord Shiva, Vishnu and Surya (Sun).

Exquisitely carved pillars, splendid sculptures and a huge six feet high Nandi are noteworthy.
Sri Bhadrakali Temple:
8th century shrine set atop a hillock near Thousand Pillar temple.

Enshrines a 2.7 metres tall statue of the Goddess Kali.

Other shrines in the temple complex are dedicated to Lord Shiva, Subramaniyam Swamy, Anjaneya and Nava Grahas.

Dasara Navarathri festival is celebrated here for 9 days.
Warangal Fort:
Foundation of this magnificent fort was laid in 1199, by King Ganapathi Deva and was completed in 1261, by his daughter Rudramadevi.

It has 45 exquisitely carved towers and pillars.

Within the fort is the temple of Mother Earth known as 'Swayambhudevi Alayam'.

Near the shrine is the famous 'Ekshila', an ornately carved gateway resembling the gateway at Sanchi.
Khush Mahal:
Elegant edifice near the fort was built by Shitabh Khan.

It is a mute witness to the glories past of Warangal.

Idols excavated from surrounding area are displayed here.
ATTRACTIONS AROUND WARANGAL
Eturnagaram Sanctuary:
80 kms away from Warangal city.

Sprawls along the banks of river Godavari and is one of the oldest sanctuaries of Andhra Pradesh.

Key fauna includes tiger, leopard. Sloth bear, chousingha, black buck and many varieties of birds.

Best time for visit October to May.
Kolunupuka:
50 kms away from Warangal city.

Important Jain and Hindu pilgrim centre.

It was the capital of Kalyani Chalukyas in 11th century.

The birth place of Renukacharya, a great Veera Shaiva saint.

A number of ancient Jain and Hindu temples adorned with beautiful sculptures.