HYDERABAD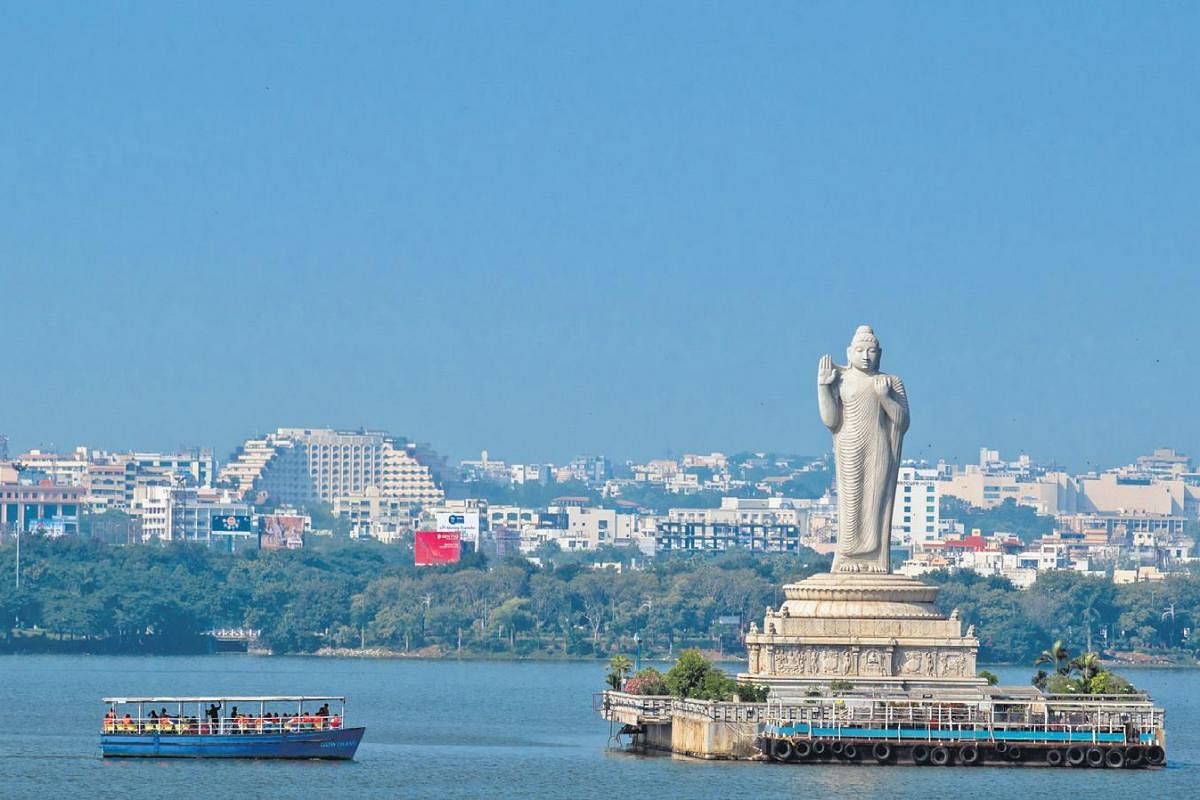 ABOUT HYDERABAD:
Hi-tech Hyderabad, the city of traditions and technology.

Founded in 1591, by Mohammed Quli Qutub Shah, the fifth Qutub Shahi Sultan of Golconda.

Magnificent city of minarets on the banks of the river Musi retains the medieval flavour and charm.

It has also emerged as a major educational and industrial centre as well as one of the IT capitals of India.
MODE OF COMMUNICATION:
Airport: Rajiv Gandhi International Airport, Shamshabad (HYD), 22 kms away from Hyderabad city centre.
Rail: Hyderabad Deccan Railway Station, Hyderabad, 3 kms away from Hyderabad city centre and Secunderabad Railway Station, Secunderabad, 8 kms away from Hyderabad city centre.
Road: Well connected by road.
SIGHTSEEING AT A GLANCE:
FORT & MONUMENTS

Charminar , Golconda Fort , Medak Fort

HOLY CENTRE

Mecca Masjid , Birla Mandir , Balaji Temple, Sanghi Temple , Keesaragutta,Yadagiri, Gutta Medak , Medak Church

MUSEUM & AUDITORIUM

Naubat Pahad and Salarjung Museum

WILD LIFE

Pocharam Wildlife Sanctuary

PARK & GARDEN

Lumbini Park, Public Garden , Nehru Zoological Park

LAKE

Hussain Sagar and Osmansagar (Gandipet)

OTHERS

Lad Bazaar , Tankbund , Qutub Shahi Tombs, Ramoji Film City, Shilparamam The Hi-Tec City

FAIRS & FESTIVALS

Diwali

The Deccan Festival

Muharram

Lumbini Festival

Sankranti
For more information visit https://hyderabad.telangana.gov.in/tourist-places/
ATTRACTIONS OF HYDERABAD
Charminar:
The icon of Hyderabad was built in 1591, by Mohammed Quli Qutub Shah to commemorate the end of plague in the city.

Imposing rectangular monument is built in Indo-Saracenic style.

Stands 53 metres high and 30 metres wide, with four grand arches, facing each of the cardinal points.

Four corners of the building are adorned with columns with exquisitely carved minarets crowned by a bulbous dome.

Each minaret towers to a height of 48.7 metres and has double balconies.
Lad Bazaar:
Oldest and most popular shopping centre of the right of Charminar.

Studded with colourful shops, famous for traditional bangles, bridal ware, heena and cosmetics.
Mecca Masjid:
Magnificent mosque near Charminar.

Named after the holy Mecca, as it has few bricks from Mecca.

One of the rooms off the courtyard enshrines the hair of Prophet Muhammad and other Islamic relics.
Birla Mandir:
White marble shrine of Lord Venkateswara is set atop Kala Pahad hillock, towards the southern end of Hussain Sagar Lake.

Decorated with intricate carvings depicting scenes from Ramayana and Mahabharata.

There are also several splendidly sculpted marble statues of Hindu Deities.
Naubat Pahad:
Birla Planetarium and Alliance Francaise are set atop this rocky hill near the Birla Mandir.

Sky shows are held at the planetarium.
Hussain Sagar:
Huge lake was built by Hazrat Hussain Shah Wali, during the regin of Ibrahim Qutub Shah in 1562.

Atop the centre of the lake is the world's tallest monolithic statue of Buddha, which is 17.5 high and weighs 350 tonnes.

Boat trips around the statue can be made from Lumbini Park.
Tankbund:
On the eastern site of the Hussain Sagar Lake is a popular promenade.

Fine view of the statue can be enjoyed from here.
Lumbini Park:
Well laid out park on the banks of Hussain Sagar Lake.

One of the most popular amusement sites.
Salarjung Museum:
Grand museum houses an extraordinary private collection of Mir Yusaf Ali Khan (Salar Jung III).

A great connoisseur of art and the prime minister to Nawab Mir Osman Ali Khan, Nizam VII.

One of the three national museums of India.

It has over 43,000 art objects collected from world over.
Public Garden:
Exquisite garden located in the busy Nampally area is said to be the largest of its kind of Asia.

Oldest park of city and is dotted with several majestic buildings.
Nehru Zoological Park:
Extends over an area of about 1.2 sq. kms and is one of the largest zoos of India.

Conducted tours in protected vans are taken to the Safari Park.
ATTRACTIONS AROUND HYDERABAD
Golconda Fort:
12 kms away from Hyderabad city centre.

Glorious remains of this once impregnable fort sprawl over a hill side about 1,000 feet above the surrounding countryside.

Forts name derived from the Telugu word "Golla Konda" meaning "Shepherd's Hill".

Originally, it was a mud fort built by the Kakatiya kings of Warangal in 1143.

Qutub Shah Dynasty held it from 1518 to 1687.

First three Qutub Shahi kings rebuilt Golconda over a span of 62 years.

Grandeur of this mammoth fort can be experienced from the top of the citadel.

Within the fort – an armoury, palaces, the store, courtyards, fountains, mosque, public and private meeting halls and temple.

Fort is noted for its magnificent acoustics, the structural grandeur of its palaces, factories and ingenious water supply system.

A sound and light show is held here in the evening.
Qutub Shahi Tombs:
Graceful group of Qutub Shahi tombs, about 1 km north of Golconda Fort's Banjara Darwaja.

Built by the Qutub Shahi dynasty.
Ramoji Film City:
Located near Hayathnagar on the Hyderabad – Vijayawada Highway, 25 kms from Hyderabad city.

The largest, most comprehensive and professionally planned film production centre of the world.

Film city sprawling over an area about 2,000 acres was conceived and developed as a 'one stop shop' for a film market.

It has better facilities than the best studios of Hollywood.

An excellent stop for entertainment, food and shopping.
Shilparamam:
14 kms away from Hyderabad city.

Crafts village at Madhapur nestles amidst beautiful rocky formations by the hillside with natural slopes and wild vegetation.

Set-up to preserve the dying art forms as well as to bring together the crafts persons and artists from every sphere.

Annual festivals of arts and crafts are held in March.

Cultural activities are organised during Dussehra festival (October/ November) and Sankrant Sandadi (January).
Osmansagar (Gandipet):
21 kms away from Hyderabad city.

Charming Lake covering an area of 46 sq. kms.

Built by Mir Osman Ali Khan in 1920, by barricading the water of Musi River.

Boating facilities are available here.
Balaji Temple:
Famous shrine of Lord Balaji Venkateswara is located at Chilkur near Himayatsagar at Gandipet.

Five hundred year old and is built in Kakatiyan style.
Sanghi Temple:
25 kms away from Hyderabad city.

Majestic temple complex dedicated to Lord Venkateswara.

A favourite gateway point for the tourists visiting Ramoji Film City.
Keesaragutta:
35 kms away from Hyderabad city.

Hindu pilgrim centre is known for Ramalingeswara and Lakshminarasimha shrines.

According to mythological legends, Lord Rama came here during his exile and was captivated by its natural beauty.
Yadagiri Gutta:
68 kms away from Hyderabad city.

Famous for the shrine of Sri Lakshmi Narasimha Swamy perched atop a hillock.

Presiding deity is believed to cute the incurable diseases of the devotees.
The Hi-Tec City:
Located at Madhapur on the outskirts of Hyderabad and 20 kms away from Hyderabad city.

Hi-tec or the "Hyderabad Information Technology Engineering Consultancy" City is a symbol of Hyderabad's leadership in the field of Information Technology (IT) in the country.

A fully integrated, ultramodern techno township that provides infrastructural facilities like office space, production areas, communication facilities, shopping centre, hotel convention centre, recreational zones and club houses.
Medak:
96 kms away from Hyderabad city.

Historic site and famous Christian pilgrim centre.

Name after 'Methuku', which means a particle of cooked rice.

The town is now well known for its magnificent cathedral.
Medak Church:
The single largest diocese in Asia and second largest in the world after the Vatican.

Built by Rev. Charles Posnett in gratitude for the end of a famine that lasted for three years.

Construction stared in 1914 and was opened on 25th December 1924.

Imposing structure in Neo-gothic style is 173 feet high, while the length and width are 200 feet and 100 feet respectively.

Tiles used here were brought from Italy, while the sound proof roof of the church is built of sponge material.

Church is also noted for its stained glass windows depicting various Biblical and Christmas celebration scenes.

It can accommodate about 5,000 people at a time.
Medak Fort:
Originally built in typical Hindu style during the regin of the Kakatiyas.

Later constructed by the Qutub Shahis in Muslim architecture.

Fort has wide ramparts with several natural bastions carved out of the boulders and rocks on the hillock.

The huge Mubarak Mahal within is worth visit.
Pocharam Wildlife Sanctuary:
Covers an area of 130 sq. kms, about 15 kms from Medak and 120 kms from Hyderabad.

Low hills and small water pools attracts large flocks of migratory birds.

Animals seen here are panther, sloth bear, wild boar, cheetal, nilgai, hyena etc.

Best season to visit is from October – May.