MAMALLAPURAM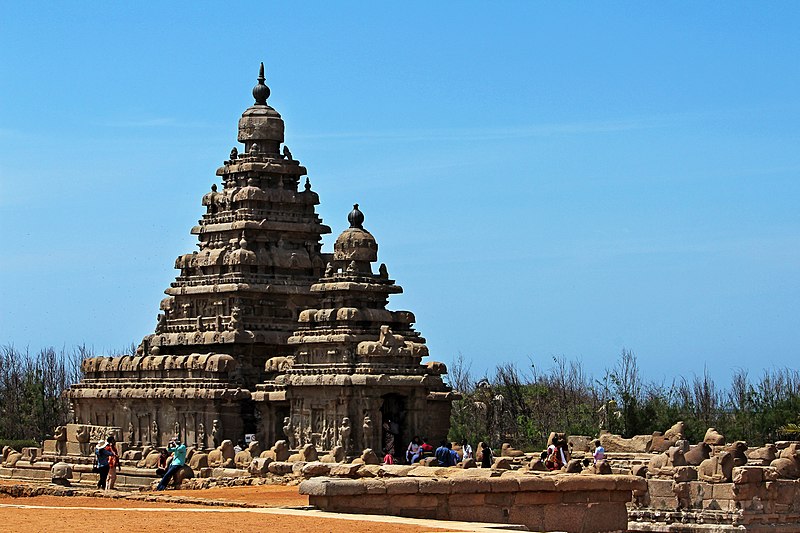 ABOUT MAMALLAPURAM:
A thriving sea port and trade centre between 7th and 10th centuries was the second capital of the Pallavas of Kanchipuram.

It was earlier known as Mahabalipuram after the demon king Mahabali, who was killed by Lord Vishnu.

Later on, the name changed to 'Mamallapuram' after its funder Narasimha Varman I (630 – 668 AD), who was bestowed with the title of 'Mamalla' or the 'great wrestler'.

Pallavas, the first important Tamil dynasty to emerge after the decline of the Guptas, held sway over southern India from the 3rd to the close of 9th century A.D.

They patronised and developed new styles in art and architecture, sculpture and painting.

Today, the town is referred as an 'open-air museum' and is a dream world of Tamil art, exhibiting and astonishing legacy of Pallava architecture.

Mamallapuram is also known for its silvery sandy beach, delicious sea food and exquisite handicrafts.
MODE OF COMMUNICATION:
Airport: Chennai International Airport, Chennai (MAA), 52 kms away from Mamallapuram town.
Road: Well connected by road.
SIGHTSEEING AT A GLANCE:
FORT & MONUMENTS

Arjuna's Penance Tiger Cave

HOLY CENTRE

Shore Temple Panch (Five) Rathas Ganesh Ratha Nithya Kalyana Perumal Temple Thirukkalukundram (Pakshitheertham)

MUSEUM & AUDITORIUM

Sculpture Museum

BEACHES

Mamallapuram Beach Kovilam (Covelong) Sadras

CAVES

Mandapams

HISTORIC SITE

Krishna's Butter Ball

WILDLIFE

Crocodile & Snake Bank Vedanthangal Water Bird Sanctuary

FAIRS & FESTIVALS

Mamallapuram Dance Festival
Pongal Tourist Festival
Sthalasayan Perumal Temple Festival
For more information visit https://chengalpattu.nic.in/tourist-place/mamallapuram/
ATTRACTIONS OF MAMALLAPURAM
Shore Temple:
Stately shrine set elegantly on the edge of the sea is a lone survivor among the seven magnificent temples built over here.

The construction originally started around the middle of the 7th century and was later rebuilt during the reign of Narasimha Varman II, also known as Rajasimha.

It is one of the oldest temples in South India and represents the first phase of structural temples constructed in Dravidian style.

This icon of the soaring aesthetic aspiration of the Pallavas has been listed among the World Heritage Sites of UNESCO and is one of the most visited monuments in Tamil Nadu.

Temple complex has three exquisitely carved shrines, which are approached through a paved forecourt.

A temple dedicated to Lord Vishnu is flanked by two Shiva temples, one facing the east and the other facing the west.

Both the Shiva temples are crowned by soaring spires, while the Vishnu temple has none, as it may have crumbled with time.

Vishnu temple was built by Narasimha Varman I or "Mamalla", while the Shiva temples were later built by his son Narasimha Varman II.
Panch (Five) Rathas:
This set of five magnificent monolithic rock temples located in a sandy compound are considered to be an architectural prototype in the evolution of Dravidian temple architecture.

Mini shrines studded with gopurams and vimanas, multi pillared halls and sculptured walls are chiselled out of big boulders in the form of temple chariot (Rathas).

Rathas are assigned to Pandavas, the heroes of Mahabharata and their wife Draupadi.
Arjuna's Penance:
It was built during the reign of Narasimha Varman I and is one of the world's largest and finest stone bas-reliefs.

It is sculpted across a huge whale back shaped rock, measuring 27 metres in length and 9 metres in height with a fissure in the middle.

On either sides of the rock cleft are carvings depicting denizens of the temple world of gods and demi-gods, of men, birds and beats and of nagas and nymphs.

All blending harmoniously into the theme of the penance of Arjuna, the hero of the great epic Mahabharata.

Some also believe that it depicts the penance of Bhagiratha, an ancestor of Lord Rama, who was sent on a mission of redeeming the souls of his ancestors.
Ganesh Ratha:
The oblong monolithic structure is the only Rath which has been completed.
Krishna's Butter Ball:
This huge boulder perched precariously on a hill slope near the Ganesh Ratha is an amazing marvel of nature.

It is believed that the Pallava Kings tried their best with the help of elephants, to move this boulder, but were unsuccessful.
Mandapams:
There are 14 caves and mandapams in and around the historic town.

Rock-cut cave temples are noted for unique architecture and exquisitely sculpted fine bas-reliefs, depicting mythological scenes.

Some of the important once are, Krishna Mandapam, Mahishasuramardhini Mandapam and Varaha Mandapam etc.
Mamallapuram Beach:
Beautiful beach lined by the lush Casuarina groves is another attraction of Mamallapuram.

One can enjoy swimming in the serene warm blue sea, laze around on the golden sands and admire the nature's beauty.
Sculpture Museum:
It has about 3000 exquisite sculptures made by local artisans in wood, metal, brass and even cement.

The museum is associated with the College of Traditional Art and Architecture which has produced many fine sculptors.
ATTRACTIONS AROUND MAMALLAPURAM
Tiger Cave:
Attractive monument lies at the outskirts of Saluvankuppam, a beautiful coastal village north of Mamallapuram on the Kovalam Road, 5 kms away from Mamallapuram centre of town.

It is set behind the façade of gigantic, prancing yalis (beasts) and has a shrine dedicated to goddess Durga.
Crocodile & Snake Bank:
15 kms away from Mamallapuram town.

The 'Crocodile Breeding and Research Centre' is run by Chennai Crocodile Bank Trust, to augment the crocodile population of India's wildlife sanctuaries.

It also has breeding programmes for turtle species found in India.

The Snake Bank is located adjacent to the Crocodile Bank and is managed by Irula Snake Catchers Industrial Cooperative Society.

Irulas tribes are known for the art of snake catching.
Kovilam (Covelong):
This small fishing village 38 kms south of Chennai and 15 kms from Mamallapuram has emerged as one of the finest beach resort in the country.

There ruins of a large historic fort, part of which have been converted into a luxurious resort – the Fisherman's Cave Resort of the Taj group.

Olive Ridley Turtles visit the beach every year between November and March to hatch their eggs.
Nithya Kalyana Perumal Temple:
16 kms away from Mamallapuram town.

It is considered to be one of the 108 sacred shrines called as Tirupathy.

The presiding deity is shown holding Goddess Lakshmi (also called as 'Thiru') on her left side and is known as Thiru-Idathu-Eanthai or Thiru-vidanthai.
Thirukkalukundram (Pakshitheertham):
16 kms away from Mamallapuram town.

Hindu pilgrim centre is well known for the small Vedagirishvara Temple of Lord Shiva, perched atop a 160 metre high hall.

Here the temple priest feeds a pair of legendary white eagles, which are believed to be saints.

These eagles visit the peak every noon at a particular time and are said to take rest here, on the way whilst travelling between the holy cities of Varanasi and Rameswaram.

Another attraction of the temple is the holy tank, which produce a conch once in every twelve years.
Sadras:
One of the finest beaches on Coromandel Coast, 13 kms away from Mamallapuram town.

It is also known for the ruins of the historic Dutch Fort and a Dutch cemetery.
Vedanthangal Water Bird Sanctuary:
53 kms away from Mamallapuram town.

Sanctuary established in 1858, is the oldest in the country.

It sprawls across 30 hectares of marshy land and has a lake, which is visited by over 1,00,000 migratory birds every year.

The regular visitors to the park are garganey teals, shovellers, pintails stilts and sandpipers.

Resident birds like coots, moorhens and terns can be seen all around the park.

Nesting season is between October and February and is also the right time to visit.

Park has two watch towers and one viewing platform.