KANNIYAKUMARI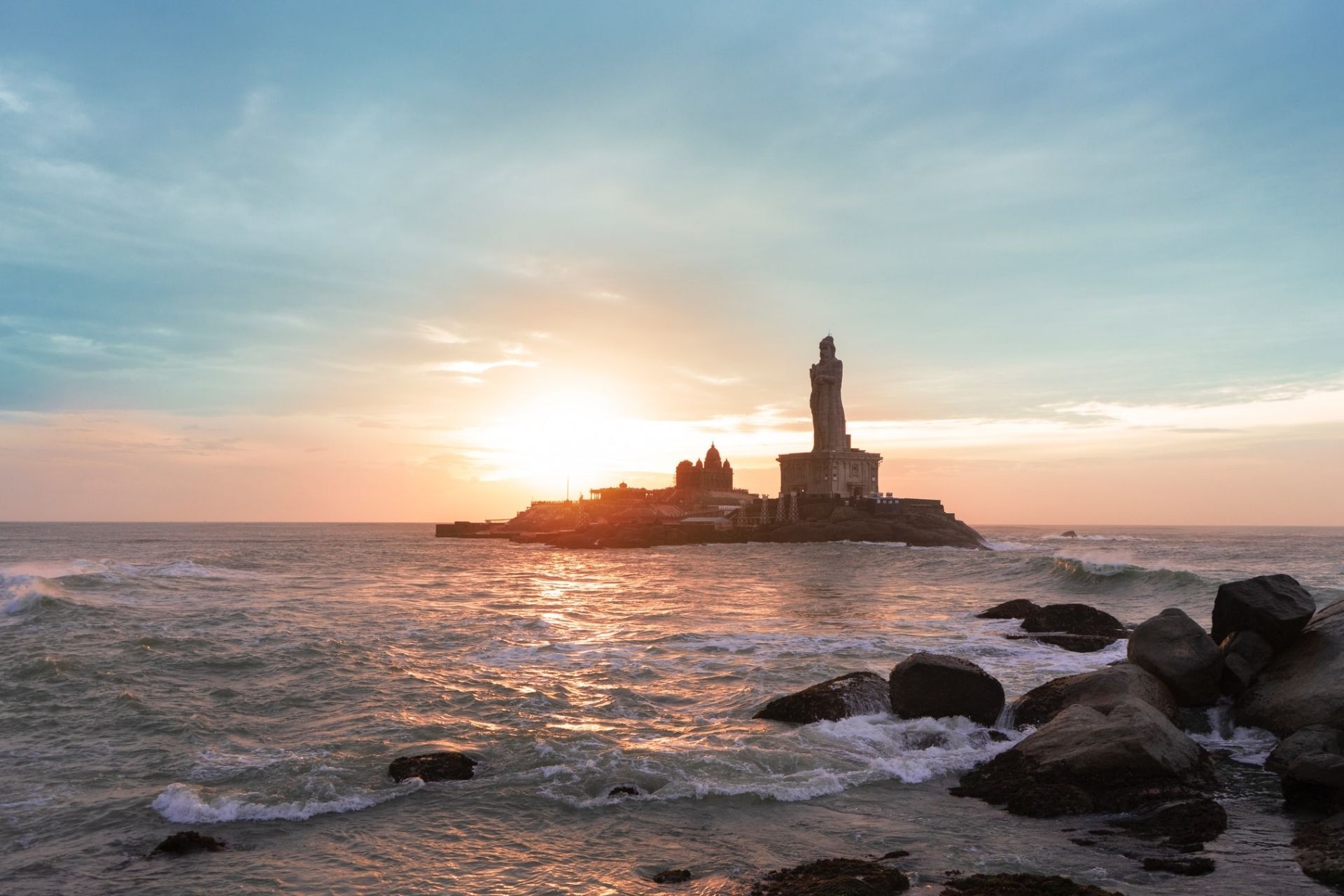 ABOUT KANNIYAKUMARI:
The 'lands end' of India is one of the most popular tourist spots of the country.

It nestles elegantly on the very tip of the Indian peninsula, at the confluence of the Bay of Bengal, the Arabian Sea and the Indian Ocean.

Town is at its best during the Chaitra Poornima (full moon days in April), when the Sun and Moon are face to face at the same horizon.

Other full moon days are also special, when one can view the sun-set and moon rise almost simultaneously.
MODE OF COMMUNICATION:
Airport: Trivandrum International Airport, Trivandrum (TRV), 87 kms away from Kanniyakumari city. Madurai Airport, Madurai (IXM), 173 kms away from Kanniyakumari city.
Rail: Kanniyakumari Railway Station, Kanniyakumari, 2 kms away from Kanniyakumari city centre.
Road: Well connected by road.
SIGHTSEEING AT A GLANCE:
| | |
| --- | --- |
| FORT & MONUMENTS | Vivekananda Rock Memorial Thiruvalluvar Statue Gandhi Memorial Kamaraj Memorial |
| HOLY CENTRE | Kumariamman Temple Guganathaswamy Temple Suchindram |
| SCENIC SITE | Padamanabhapuram |
| MUSEUM & AUDITORIUM | Govt. Museum |
For more information visit https://kanniyakumari.nic.in/

ATTRACTIONS OF KANNIYAKUMARI
Kumariamman Temple:
Legendary shrine is dedicated to the virgin goddess Kanniyakumari or Parvati.

According to a mythological legend, the shrine marks the spot where the goddess prayed for Lord Shiva to come and claim her hand in marriage.
Vivekananda Rock Memorial:
Memorial built in 1970 on a rock in the sea, marks the spot where Swami Vivekananda, the great philosopher – guide, meditated at the end of 1892, before his departure to Chicago (USA), for participating in the World Religious Conference in 1893.

It affords a fine view of the land's end.

Ferry services ply from the shore to the rock memorial at regular intervals.
Thiruvalluvar Statue:
133 feet high statue of Tamil saint poet Thiruvalluvar is set on a rock amidst sea near Vivekananda Rock Memorial.
Gandhi Memorial:
It marks the spot where the ashes of Mahatma Gandhi were kept in an urn for public viewing.

Memorial is built in such a way that every year on 2nd October, the birth anniversary of Mahatma Gandhi, the sun rays fall directly on spot where the urn of Mahatama's ashes were displayed.
Kamaraj Memorial:
Memorial on the sea shore commemorates Thiru K. Kamarajar, the former Chief Minister of Tamil Nadu.
Govt. Museum:
It has a rich collection of bronzes, coins, tribal objects, wood carvings and zoological and botanical specimens.

It also exhibits a "Temple Car" from Samythoppu and wales Bones from Manavalakurichy.
Guganathaswamy Temple:
Temple is said to have been built by Raja Chola, about 1000 years ago.
ATTRACTIONS AROUND KANNIYAKUMARI
Suchindram:
13 kms away from Kanniyakumari city.

Famous Thanumalayan temple here is dedicated to Trimurthy – Shiva, Vishnu and Brahma.

It is also noted for the magnificent gopuram, musical pillars and an 18 feet statue of Lord Hanuman.

Rich collection of art treasures from different periods is noteworthy.
Padamanabhapuram:
Capital of erstwhile Travancore state is set amidst lush hills and paddy fields lies 45 kms away from Kanniyakumari and 65 kms south – east of Thiruvananthapuram.

Impressive fort here has a Palace, Ramaswamy temple and beautiful buildings.

Padamanabhapuram Palace is a masterpiece of Kerala's unique wooden architecture.

Oldest parts of the palace dates back to 1550.

It houses important art relics, while the temple is adorned with exquisitely carved panels depicting scenes from the Ramayana.