KANCHIPURAM (KANCHI)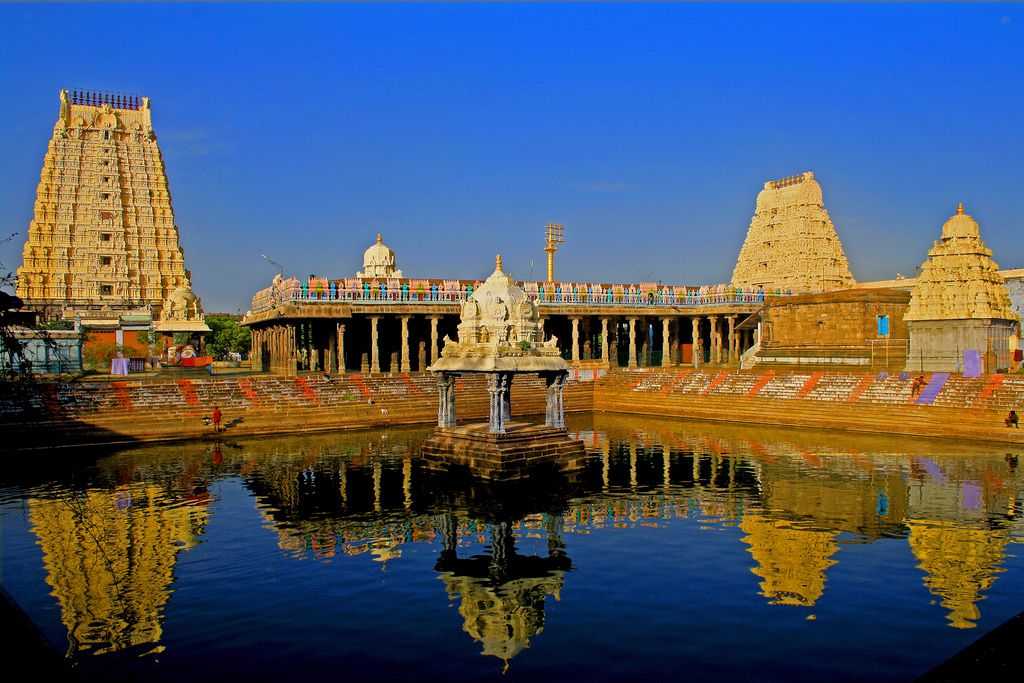 ABOUT KANCHIPURAM (KANCHI):
The 'Golden city of Thousand Temple', set on the banks of the Palar River is considered to be one of the seven sacred cities of India.

It was under the control of the Cholas as far banks as the 2nd century B.C. and a Pallava capital between the 6th and 8th centuries.

Kanchi was a major centre of learning, culture and philosophy.

It is also a world renowned silk centre.
MODE OF COMMUNICATION:
Airport: Chennai International Airport, Chennai (MAA), 60 kms away from Kanchipuram city.
Rail: Kanchipuram Railway Station, Kanchipuram, 2 kms away from Kanchipuram city centre.
Road: Well connected by road.
SIGHTSEEING AT A GLANCE:
FORT & MONUMENTS

Anna Memorial Vellore Vellore Fort

HOLY CENTRE

Kailasanathar Temple Ekambarnathar Temple Varadarajaswami Temple Kamakshi Amman Temple Vaikunta Perumal Temple Jaina Kanchi or Tiruparuttikunram Jalakanteshwar Temple

FAIRS & FESTIVALS

Karuda Seva

Chariot Festival

Brahmachavam

Tourism Festival
For more information visit https://kancheepuram.nic.in/tourism/
ATTRACTIONS OF KANCHIPURAM (KANCHI)
Kailasanathar Temple:
It is one of the earliest and most exquisite temples of Kanchipuram.

Temple was built in the 7th century by the Pallavas King Rayasimha.

Its sculptures, carved reliefs and the overall design and elegance are closer in style to the monolithic rock-cut temples at Mahabalipuram.

The main sanctum enshrines a unique 16 sides Shivalingam is black granite stone.
Ekambarnathar Temple:
Temple complex dedicated to Lord Shiva covers an area of about 20 acres and is one of the largest temples of the town.

It was originally built by the Pallavas in 7th century and remodelled extensively by the Cholas and Rayas.

58.5 metres high gopuram and a massive outer stone wall were built in 1609, by Krishnadevaraya of Vijayanagar Empire.

Temple has five corridors and a 1000 pillared hall.

Huge 'Prithvi (Earth) Lingam' inside the main sanctum is one of the Pancha (Five) Lingams of South India.

There are also 108 lingams carved out of a single stone.

An ancient mango tree here believed to be over 3500 years old has four branches representing the four Vedas and bear fruits with four different tastes.
Varadarajaswami Temple:
Large temple complex dedicated to Lord Vishnu was built in 10th century by the Vijayanagar Kings.

It has a massive outer wall and a beautifully sculpted Kalyanamandapam, called as 'thousand pillared hall'.

The exquisitely carved pillars depict various incarnations of Lord Vishnu.
Kamakshi Amman Temple:
Sacred shrine of goddess Kamakshi (Parvati) is said to be originally built before 7th century and was later re-built by the Cholas in 14th century.

It is set in the heart of the town and is one of India's three holiest places of Shakti worship.

Temple complex also has a shrine dedicated to Shankracharya, who founded the Kamakoti Peetam (monastery) and built a golden gopuram here.
Vaikunta Perumal Temple:
7th century shrine of Lord Vishnu was built by the Pallava King, Nadivarman II.

Its towering Vimana with images of Lord Vishnu in standing, sitting and reclining postures is noteworthy.
Jaina Kanchi or Tiruparuttikunram:
Sacred site on the outskirts of the town has a conglomeration of several fine shrines reflecting the rich religious legacy of Kanchipuram.

Beautiful painted Varddhman Temple and a smaller temple dedicated to Chandraprabha are noteworthy.
Anna Memorial:
It is the birth place of C.N. Annadurai, an eminent scholar and statesman.
ATTRACTIONS AROUND KANCHIPURAM (KANCHI)
Vellore:
64 kms away from Kanchipuram city.

The 'Fort City' of Tamil Nadu nestles amidst the Eastern Ghats and is well known for its Fort and Jalakanteshwara temple.

There is also a church built in an old British cemetery.

Historic city is now better known for its Christian Medical College, started by Dr. Ida Scuddar, a medical missionary.

It is rated among the best medical institutions of the country.
Vellore Fort:
16th century granite fort built by Sinna Bommi Nayak, a Vassal chieftain under the Vijayanagar Kings.

It is an excellent example of military architecture and has withstood several attacks.

A small museum within the fort showcases objects of historic value, recovered from the region.
Jalakanteshwar Temple:
Shiva temple within the ramparts of the fort is built in the late Vijayanagar style.

The temple is noted for its seven storeyed gopuram and the Kalyanamantapa.