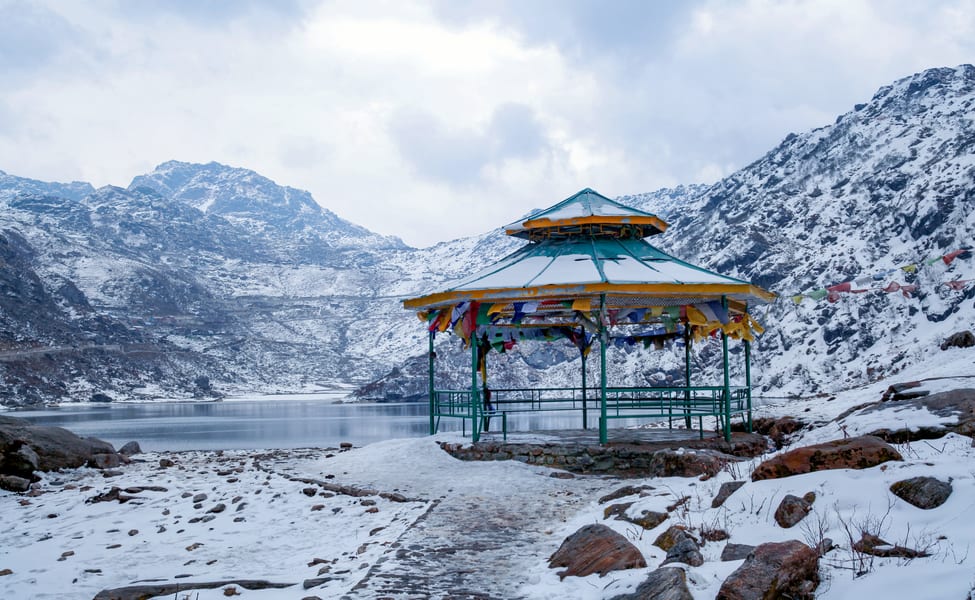 ABOUT GANGTOK:
Literally meaning a 'High Hill' is a charming hill resort perched on a ridge at a height of 5,500 feet.

The capital city of Sikkim.

A cosmopolitan town which offers the tourist all possible amenities

Magnificent views of the snow clad Kanchenjunga peak.
MODE OF COMMUNICATION:
Airport : Bagdogra Airport (IXB), 123Kms away from Gangtok, Sikkim
Rail : New Jalpaiguri railway station in Siliguri
Road : Well connected by road.
SIGHTSEEING AT A GLANCE:
MONASTRY

Dodrul Chorten (Stupa) Tsuklakhang (Palace Monastery)

OTHERS

Govt. Cottage Industries Institute Research Institute of Tibetology

Orchid Sanctuary Permanent Flower Show Hall M G Marg

FAIRS & FESTIVALS

International Flower Festival

Losoong Festival

Bumchu Festival

Maghey Sankranti Mela

Sonam Lhochhar Festival
For more information visit https://www.sikkimtourism.gov.in/
Govt. Cottage Industries Institute:
Women weaving Colourful woollen carpets, shawls and blankets.

Men carving beautiful, multi-hued wooden tables called as 'Choktses' can been seen here.

Exquisite handloom and handicrafts items can also be purchased here.
Research Institute of Tibetology:
World-renowned centre for Buddhist philosophy and religion.

A rich collection of Tibetan Books, over 200 icons, tangkha tapestries.

Many rare objects of Buddhist art.
Dodrul Chorten (Stupa):
Built in 1945, by the Ven Trulshi Rinpoche to invoke the gods to keep peace and tranquility in the state.

Beautiful structure rises like a great white bell surmounted by a golden pinnacle.

Houses of holy books, relics, mantras and other objects of religious importance.
Orchid Sanctuary:
Sanctuary houses over 250 species of exotic orchids.

Blooming season of orchids is from April-May, July-August and December-January.
Tsuklakhang (Palace Monastery):
Monastery built in traditional Sikkimese style.

Most accessible monastery from Gangtok.

It is known for numerous festivals and grand ceremonies.
Permanent Flower Show Hall:
Located near the White Memorial Hall.

Flower shows and exhibitions held here round the year and very popular.
M G Marg:
Main Street of Gangtok town.

Country's first litter and spit free zone.

No vehicular traffic is allowed into the Marg.

Shops on both sides of the road.

Gangtok Food and Culture festival held in month of December.
AROUND GANGTOK (EAST SIKKIM):
Enchey Monastery:
3 kms from Gangtok city center.

200 year old monastery built by the Nyingmapa sect of the Buddhist monks.

A conifer covered ridge festooned with prayer flags.

Chaam or religious masked dance is held here during month of January.
Ganesh Tok:
7 kms from Gangtok city center on Gangtok-Nathula Road.

Small temple of Lord Ganesha set on a hillock.

Affords a fine view of Gangtok and the peaks of Mt. Kanchenjunga and Mt. Siniolchu.
Hanuman Tok:
11 kms from Gangtok city center.

Shrine of Lord Hanuman.

Known for panoramic view of Gangtok and snow clad peak of Mt. Kanchenjunga.
Deer Park:
6 kms from Gangtok city center.

Home to the Himalaya spotted and musk deer.

Scenic view of mountains and valleys can also be enjoyed from here.
Tashi View Point:
9 kms from Gangtok city center.

Interesting picnic spot.

Famous for the fine view of Kanchenjunga peak.
Orchidarium:
14 kms from Gangtok city center.

Botanical Garden noted for rich variety of orchids.

Rare tropical and temperate plants are an excellent recreation.
Rumtek Monastery:
24 kms from Gangtok city center.

Seat of His Holiness the Gyalwa Karmapa of the Kargyu sect of Buddhism.

Largest Monastery in Sikkim.

Buddhist religious art objects found in the world.

A world renowned centre for Kargyu teachings.
Tsomgo Lake:
38 kms from Gangtok city center and at an altitude of 12,400 feet.

Lake is almost about 1 Km long, 15 meters deep.

Oval-shaped holy lake is noted for its mystical environs and the wild flowers.

Lake is considered sacred by the local people.

Lake looks different at different seasons.

Home of the Brahmini ducks and a stopover for many migratory birds.

Colourfully decorated yaks for rides in lake side.
Baba Mandir:
50 kms from Gangtok city center and 12 kms from Tsomgo Lake.

Sepoy Harbhajan Singh of the 23rd Punjab Regiment went missing while leading a pack in 35 year back.

A shrine be built in his memory and the name is Baba Harbhajan Singh Mandir.

Temple is believed to have wish-fulfilling powers.
Nathula Pass:
56 kms from Gangtok city center and 14,450 feet altitude, the road through the Tsomgo Lake.

One of the highest motorable roads in the world and surrounded by alpine flora.

Nathula Pass is basically India-Chain border.

International border from where you can see Chinese Soldiers.
Aritar:
115 kms from Gangtok city center.

A breathtaking view of Kanchenjunga and many natural riches.

Lampokari Lake surrounded by lush greenery.

Aritar Gumpa is one of the oldest monasteries in Sikkim.

Adventurous, there is short trek, rock climbing and paragliding.
Banjhakri Water Falls & Park:
9 kms from Gangtok city center.

Flora and natural beauty.

One can marvel at the view of the falls.
Bakthang Water Falls:
10 kms from Gangtok city center.

Water Falls view.

Main water source of Gangtok area.
Nehru Botanical Garden:
25 kms from Gangtok city center, just ahead of the Rumtek Monastery.

A mix tropical temperate plant and trees as well as a big greenhouse exotic orchid.

There is a small playground with swings.
Fambong Lho Wildlife Sanctuary:
25 kms from Gangtok city center.

Various species of wild animals and birds.

A large number of wild orchids, rhododendrons etc.
Gangtok Ropeway:
Cable car ride is available Secretariat to Nam-Nang.

Enjoy the panoramic view and thrilling rise.
Gonjang Monastery:
10 kms from Gangtok city center, near to Tashi View Point.

Founder is H.E. Tingkye Gonjang Rimpoche.

Monastery follows Jangter tradition of Nyingmapa school of Tibetan Buddhism.
Himalayan Zoological Park:
8 kms from Gangtok city center, just above Ganesh Tok.

A number of animals living in their natural habitat.

Might see the Red Panda, Sikkim's sate animal, barking deer, Tibetan wolves, panthers, civet cats or Himalayan Black Bear.
Pal Zurmang Kagyud Monastery:
20 kms from Gangtok city center.

Visiting for its religious and exquisite architecture.
Sa-Nagor Monastery:
5 kms from Gangtok city center on beautiful hill top.

Only monastery of the sakya Order of Tibetans Buddhism in Sikkim.
Sikkim Science Center:
Unique Humankind Gallery

Fun Science Gallery

Children's Corner

Taramandal

Activities for students

Science Park

Various educational activities
AROUND GANGTOK (NORTH SIKKIM):
Mangan:
67 kms from Gangtok city center.

Small town and headquarters of North District.

A transit point to other destinations of the region.
Chungthang:
Small town on the way to Yumthang.

The confluence if the rivers Lachen Chu and Lachung Chu.

From here one road leading to Lachen and another to Lachung.

The alpine regions of Lachen, Lachung and Yumthang Valley.
Dzongu:
70 kms from Gangtok city center.

Bordering the Kanchenjungha Biosphere Reserve.

5 kms ahead of Dzongu is the Sven Sisters waterfall.

Seven Sisters waterfalls falling down from dense forests.
LACHUNG:
A mountain village, 8,610 feet altitude.

Embraced by snowcapped mountain peaks.

Lachung is famous from apples, peaches and apricots.

One Monastery is there that is Lachung Gompa.
Yumthang Valley:
148 kms from Gangtok and 11,800 feet altitude.

Popularly known as valley of flowers.

A paradise for nature lovers.

Spring season, wild flowers such as primulas and Rhododendrons bathe the landscape in rich colours, making it a tourist hot spot.

Further up at a distance of 16 kms Yumesamdong (Zero Point) and 16,000 feet altitude.
Shingba Rhododendron Sanctuary:
Known for its abundance of Rhododendron shrubs and trees.

Rich in ground flora and other vegetation as well.

Here has 24 species of Rhododendron flowers which bloom from April to May end.
LACHEN:
8,500 feet altitude.

Starting point of most interesting treks in North Sikkim.

Gateway to the holy Gurudongmar and Tso Lhamu lakes.

Simple village life of the 'Lachenpas'.
Gurudongmar Lake:
190 kms from Gangtok and 17,800 feet altitude.

Most sacred lakes by the Buddhists and Hindus.

Lake used to remain frozen most of the year.
Thangu:
13,500 feet altitude.

A small village on the way to Gurudongmar Lake and Cho Lhamu (source of River Teesta).
Singhik:
Located around 4 kms away from Mangan.

Most magnificent view of Mt. Kanchenjungha and Mt. Siniolchu.

Surrounded by lush green hills and Teesta River flowing below it.
Phodong:
38 kms from Gangtok on the North Sikkim Highway.

Phodong Monastery with old mural paintings and frescoes were preserved.

Phensang Monastery was built by Lama Jigme Pawo in 1721.

Labrang Monastery is famous for architectural style.

Between Phodong and Labrang Monastery is Tumlong, third capital of Sikkim.
KABI:
20 kms from Gangtok, on way to North Sikkim.

A sacred grove rich with medicinal plants.
Seven Sisters Waterfalls:
32 kms from Gangtok on the way to North Sikkim.

Must see picturesque beauty of nature.
AROUND GANGTOK (WEST SIKKIM):
Soreng:
4 hours drive from Pelling and a picturesque village.

Famous for variety of flowers and birds.

A treakking route from Soreng to Dzongri.
Varsey:
10,000 feet altitude.

Singalila National Park in south and Kanchenjungha Biosphere Reserve in north.

Wide variety of bio-diversity.

Main attractions of Rhododendron Sanctuary are the rhododendrons which bloom in April-May.
Dentam:
10 kms from Varsey.

Surrounded by forest of rhododendrons.

Ideal place for bird watchers and nature lovers.
Sombaria:
3,700 feet altitude and 112 kms from Gangtok.

Close to Indo-Nepal border.

Ideal place for Bird Watching.

Major town on the trek route of Varsey.
Gyalshing:
10 kms from Pelling.

Transit point to various tourist destinations of the region.

Gyalshing Bazar is one of the oldest market if the region.
Legship:
Gateway of West Sikkim.

White water rafting and boating facilities at the Rangit Dam.

Shiva Mandir is situated on the banks of beautiful Rangit River.
Tashiding:
Small village on a hilltop near Pelling.

Tashiding monastery is highly revered among the Sikkim peoples.

Orange's orchards and cardamoms plantations around Tashiding.
Uttarey:
6,600 feet altitude near to Pelling.

On the way pass Singsor Bridge, second highest hanging bridge in Asia.

Famous for natural beauty and beautiful view to the Himalayan Mountains.
Rinchenpong:
5,576 kms altitude.

Famous for beautiful view of the Kanchenjunga range of mountains.

Natural beauty of the surroundings.
YUKSAM:
33 kms from Pelling.

Gateway of Kanchenjungha Biosphere.
Dubdi Monastery:
2 kms uphill from Yuksam.

Surrounded by verdant forest.

Visited only by trekking through steep slopes for about half an hours.

Ideal place for meditation.
Kongri-Labdang:
25 kms from Pelling.

One of the sacred lakes of the State.

Hidden under the rich forest cover.

Trekker's hut and Pilgrim hut is available.
Phamrong Waterfalls:
Located between Yuksam and Gerethang.

Highest waterfall of West Sikkim.

Magnificent scenario especially during monsoons.
Tashiding Monastery:
Famous for most holy Chorten known as 'Thong-WaRang-Dol'

Sacred water festival unique to this monastery only.
Pelling:
125 kms from Gangtok.

Second biggest tourist destination in the state after Gangtok.

Offers Kanchenjungha views and access point of this range tourist spots.

Perfect for nice nature.

Every year held Kanchenjungha festival with cultural folk dance and music.
Khecheopalri Lake:
25 kms from Pelling.