UDAIPUR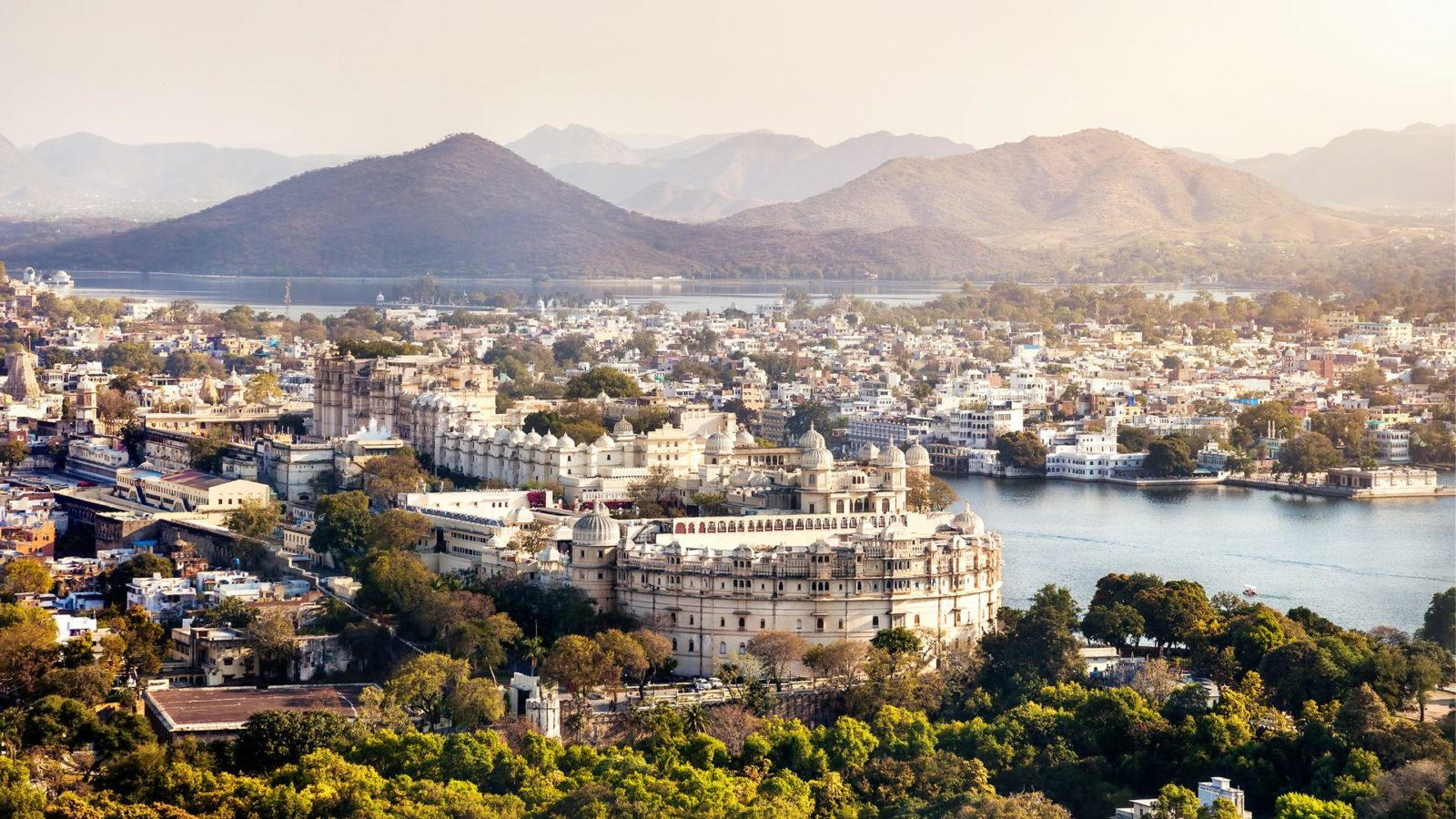 ABOUT UDAIPUR:
Udaipur, the 'City of Lakes' sprawling picturesquely on the slopes of a low ridge along the banks of Pichola.

Fatehsagar Lake was founded by Maharana Udai Singh in 1559.

It became the new capital of the Ranas of Mewar, after the death of Maharana Pratap in1597.

Beautiful city is surrounded by an amphitheatre of low hills.

Studded with placid blue lakes, white marble palace, graceful gardens and sacred shrines.

Amazing city is indeed a perfect blend of natural beauty and history.

Offering a great vacation to tourists with varied interests.
MODE OF COMMUNICATION:
Airport: Dabok Airport (UDR), Udaipur, 21 kms away from Udaipur city centre.
Rail: Udaipur Railway Station, Udaipur, 3 kms away from Udaipur city centre.
Road: Well connected by road.
SIGHTSEEING AT A GLANCE:
FORT & MONUMENTS

City Palace

Lake Palace or Jag Mahal

Jag Mandir

Sajjan Garh

Kumbhalgarh Fort

PILGRIM CENTRE

Jagdish Temple

Eklingji

Nagada

Nathdwara

Kankroli

Rishabhdeoji (Kesariyaji)

Jagat

Ranakpur

GARDEN

Saheliyon Ki Bari or the 'Gardens of the Maids'

Gulab Bagh or Sajjan Niwas Garden

MUSEUM & AUDITORIUM

Bhartiya Lok Kala Mandal

Ahar

LAKE

Lake Pichola

Fateh Sagar

Jaismand Lake

OTHERS

Pratap Memorial

Shilpgram

Haldighati

FAIRS & FESTIVALS
For more Information, kindly visit :- http://www.tourism.rajasthan.gov.in/fairs-and-festivals/mewar-festival.html
ATTRACTIONS OF UDAIPUR
City Palace:
Largest palace complex of Rajasthan is perched majestically on low ridge, towering above the placid waters of Pichola.

Construction of this 30.4 metres high and 244 metres long structure.

Initiated by Udai Singh and was built over a span of over three hundred years.

It is a conglomeration of eleven palaces, numerous courtyards, pavilions, terraces, corridors, rooms and hanging gardens.

Complex is approached through 'Hathi Pol' or the 'Elephant gate'.

The 'Bara Pol' or the 'Great Gate' brings you to the first courtyard which leads to the 'Tripolia Gate', with eight carved marble arches or torans.

Located inside are various attraction like, the Suraj Gokhada or the 'Balcony of Sun', Bada Mahal, Sheesh Mahal, Bhim Vilas, Mor Chowk or 'Peacock courtyard', the Zenana Mahal or 'women's quarters and Chini Chitrasala, Fateh Prakash, Durbar Hall and Shambhu Niwas etc.
Lake Pichola:
Picturesque Pichola surrounded by hills, palaces, temples, bathing ghats.

Embankments is about 4 kms in length and 3 kms wide.

Main attractions are its two island palaces Jag Niwas and Jag Mandir, set splendidly amidst the turquoise waters of the lake.

Majestic city palace sprawls along the eastern bank of the lake.

Visit Bansi Ghat (City Palace Jetty), for a boat ride.
Lake Palace or Jag Mahal:
Magnificent white palace on the Jag Niwas Island is one of the most beautiful palaces of the world.

Built in 1754, by Maharana Jagat Singh II.

Now has been converted into a luxury hotel.
Jag Mandir:
Construction of this island palace of Pichola was initiated by Maharaja Karan Singh and several additions were made by Maharana Jagat Singh.

Prince Khurram (Shahjahan) took refuge here when he rebelled against his father.
Jagdish Temple:
Magnificent temple of Lord Vishnu was built in 1615, by Maharana Jagat Singh I.

Shrine is approached through a steep flight of 32 steps, flanked by stone elephants.

External walls and the plinth are adorned with bas relief's friezes.

Main sanctum has a black marble statue of Lord Vishnu.
Bhartiya Lok Kala Mandal:
Unique museum of folk art exhibits a rich collection of folk dresses, ornaments, puppets, masks, dolls, folk musical instruments and paintings.

Famous puppet shows of Udaipur are also organised here.
Saheliyon Ki Bari or the 'Gardens of the Maids':
Well laid out garden flanking the embankment of the Fateh Sagar Lake.

Built for the forty eight young ladies-in-waiting, who accompanied a princess to Udaipur as part of her dowry.

Garden noted for their discreet and impeccable taste are studded with four lotus pools with dainty kiosks, marble pavilions and elephant shaped fountains.

Colourful flower beds, lawns are protected by a series of walls and shady trees.
Pratap Memorial:
Memorial atop Moti Magri or 'Pearl hillock' commemorates Maharana Pratap.

The most distinguished son of Mewar, whose chivalrous deeds have become legendary.

A fine bronze statue of Maharana Pratap on his loyal horse Chetak overlooks the serene waters of Fateh Sagar.

Adjacent to the memorial is a Japanese Rock Garden, known as Bhamashah Park.
Fateh Sagar:
It was built in 1678, by Maharana Jai Singh to the north of Lake Pichola and the two lakes are linked by a canal.

Lake enclosed on three sides by hills is named after Fateh Singh, who undertook renovations of the lake and rebuilt the dam.

Beautiful Nehru Park with a boat shaped café is set amidst the waters of Fateh Sagar.

It can be reached by boat.
Ahar:
Ancient capital of Sisodias and archaeological site has exquisite cenotaphs of the rulers of Mewar.

Government Museum here exhibits some of the finds like earthen pots, iron objects and other art items, dating back to 5,000 years.
Sajjan Garh:
'Palace for monsoon' is set atop a steep hill.

Affords a fine view of the lake city and its surroundings.
Gulab Bagh or Sajjan Niwas Garden:
Well laid out garden built by Maharana Sajjan Singh is noted for its majestic beauty.

An elegant building houses a library with rich and rare collection of old books and ancient handwritten manuscripts.
Shilpgram:
Rural arts and crafts village nestling amidst the Aravali ranges.

Craftsperson from the members of various states of India.

Provides a platform for the rural craftsperson representing various regions.

Shilpgram Utsav celebrated here provides a fine glimpse into the multifacets of Indian art and culture.
ATTRACTIONS AROUND UDAIPUR
Eklingji:
22 kms away from Udaipur city centre.

Splendidly sculpted temple complex was built in 734.

Dedicated to Lord Shiva, the family deity of the Mewar rulers.

Within the high walls of the complex are 108 exquisitely carved temples.

Main sanctum has a four faced black marble image of Lord Shiva.

Facing the main sanctum is a life size idol of Nandi, the bull and Bappa Rawal under a vaulted roof.
Haldighati:
40 kms away from Udaipur city centre.

Famous battle between Maharana Pratap and Mughal emperor Akbar in 1576 A.D. was fought here.

Site is marked by a cenotaph with delicate white marble columns.

It is dedicated to the indomitable hero Maharana Pratap and his loyal charger Chetak.
Nagada:
23 kms away from Udaipur city centre.

First capital of Bappa Rawal, the founder of the Sisodia dynasty of Mewar.

Famous for the Sas Baha ka Mandir dedicated to Lord Vishnu and the Jain temple.
Nathdwara:
48 kms away from Udaipur city centre.

17th century temple of Shri Nathji or Lord Krishna is one of the most important Vaishnavite pilgrimcentres in the country.

Magnificent black marble image of Lord Shri Nathji is believed to be over 600 years old and was brought here from Mathura in 1669.
Kankroli:
65 kms away from Udaipur city centre.

Impotent Hindu pilgrim centre of the region.

Temple here is dedicated to Lord Krishna.

Popularly called as Dwarkadhish, as it resembles the famous Nathdwara shrine.

Beautiful Rajsamand Lake, located nearby was built by Maharana Raj Singh in 1660.
Rishabhdeoji (Kesariyaji):
Located on Udaipur-Ahmadabad road, 65 kms away from Udaipur city centre.

15th century Jain temple of Rishabdeoji is an important Jain and Hindu pilgrim site.
Jaismand Lake:
48 kms way from Udaipur city centre.

Second largest artificial lake in Asia.

Built in 17th century by Maharana Jai Singh.

Extends to a maximum length of about 14.5 kms and width of 10 kms.

Three islands within the waters of the lake are inhabited by tribes.

Six marvellous marble cenotaphs and a temple of Narmadeshwar Mahadeo festoon the embankment.

Jaismand Wildlife Sanctuary near the lake makes an exciting excursion.
Jagat:
58 kms away from Udaipur city centre.

Popularly called as the 'Khajuraho of Rajasthan'.

Most important attraction is the exquisitely carved 10th century Ambika Mata temple.
Kumbhalgarh Fort:
84 kms away from Udaipur city centre.

Built by Maharana Kumbha between 1445 - 58.

Regarded as the second most important fort of Rajasthan after Chittaurgarh.

The gigantic for extends over 12 kms amidst a cluster of thirteen peaks of the Aravali ranges.

Encircled by a 36 kms long wall and defended by a series of battlements, bastions and soaring watch towers.

Within the ramparts of the fort are magnificent palaces, ruins of temples and gardens.

Badal Mahal or the 'Cloud Palace' is set at the highest point of the fort and affords a scenic view of the surrounding country side.

Kumbhalgarh sanctuary near the fort is inhabited by a rich variety of animal and bird life.

It is also well known of its archaeological importance.
Ranakpur:
98 kms away from Udaipur.

15th century magnificent shrine is one of the five most sacred sites of the Jains.

Temple complex built in faintly glowing amber stone reverberates an aura of peace, spirituality and tranquillity.

A marvel of architecture and a living testimony to the wonders that abiding faith and relentless pursuit of excellence can create.