MOUNT ABU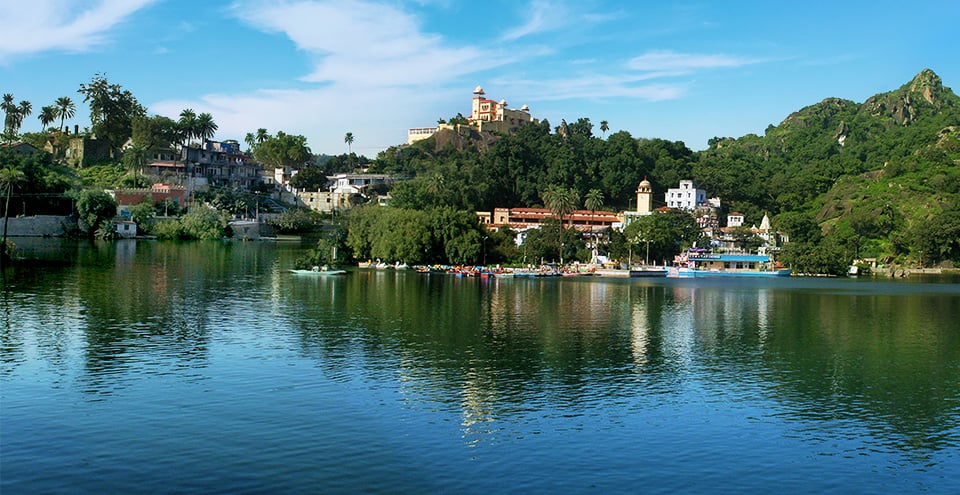 ABOUT MOUNT ABU:
Nestled amidst lush forested hills of Aravalli's is the only hill station of Rajasthan.

Equally important for pleasure seekers and devoted pilgrims.

Named after serpent Arbuda (Abu in short), the son of Himalayas, who come here to rescue Nandi, the wahan (Mount) of Lord Shiva.
MODE OF COMMUNICATION:
Airport: Maharana Pratap Airport, Udaipur (UDR), 185 kms away from Mount Abu.
Rail: Abu Road Railway Station, Abu Road, 28 kms away from Mount Abu.
Road: Well connected by road. 222 kms from Ahmedabad and 490 kms from Jaipur.
SIGHTSEEING AT A GLANCE:
FORT & MONUMENTS

Om Shanti Bhawan or Universal Peace Hall Achalgarh

PILGRIM CENTRE

Dilwara Jain Temple Temple of Raghunathji Gau Mukh Temple Adhar Devi or Arbuda Devi Temple Achalgarh Guru Shikar

MUSEUM & AUDITORIUM

Government Museum & Art Gallery

WILD LIFE

Mount Abu Sanctuary

LAKE

Nakki Lake

HILLY AREA

Guru Shikar

OTHERS

Toad Rock Sunset Point Honeymoon Point (Anadra Point) Trevor's Tank Abu Road

FAIRS & FESTIVALS

Summer Festival

Winter Festival
For more information visit https://www.tourism.rajasthan.gov.in/mount-abu.html
ATTRACTIONS OF MOUNT ABU
Dilwara Jain Temple:
Delightful Dilwara (Devalwara) or the 'Palace of Temples' is the major attraction of Mount Abu.

World renowned temples are noted for excellent architecture and exquisite carvings.

Main group consists of five temples, which were built between 11th and 12th centuries.

Pure white marble temple of Vimal Sah or Vimal Vasahi was built in 1031 and is the oldest of the temple group.

Dedicated to Adinath or Rishabdeo, the first Jain tirthankara.

Its impressive 48 pillared mandapa (portico) in front of the main sanctum.

Eight central pillars of the mandapa forms an octagon, which holds up a dome with circular rims and ornately carved pendant like roof.
Nakki Lake:
This shinning 'jewel' of the Abu hills is believed to be dug out by the god's with their nails (nakh) and thus the name Nakki.

Perhaps the only artificial lake in the country.

An altitude of 1200 mts. above sea level.

Boating facilities are available and one may choose motor boats, ordinary boats, shikaras and paddle boats to explore the serene waters of Nakki.

Embankments of the lake are dotted with magnificent summer villas of various erstwhile princely states of the country.

Most of them have been converted into guest houses and hotels.
Toad Rock:
Magnificent rocky out crop resembling a 'Toad' overlooks the placid waters of the Nakki Lake.
Temple of Raghunathji:
Sacred shrine near the Nakki Lake is associated with the great preacher Ramanandji.

Installed an image of Shri Raghunathji (Lord Rama), at the temple in 14th century.
Gau Mukh Temple:
Ancient site near the Nakki Lake is of immense religious importance.

An old tank which is filled by a natural spring, flowing a spout, shaped like a cow's head, hence the name Gau (cow) Mukh (mouth).

Splendidly sculpted hill temple of Arbuda, the mighty serpent is located nearby, amid scenic surrounding.

There is also a marble statue of Nandi, who was rescued by Arbuda from a chasm.
Sunset Point:
Splendid sunset point lies to the south-west of Nakki Lake.
Honeymoon Point (Anadra Point):
It affords great views of the verdant valley.

Superb plains, especially during the sunset time.
Om Shanti Bhawan or Universal Peace Hall:
Impressive building houses the famous Brahma Kumari's World Spiritual University.

It has a big hall devoid of any pillars and can accommodate a gathering of 3,500 people.
Adhar Devi or Arbuda Devi Temple:
The temple beautifully carved out of a huge rock can be reached by a flight of 360 steps.
Government Museum & Art Gallery:
It was set up in 1962, within the premises of Raj Bhawan.

A rich collection of archaeological finds dating back to 8th – 12th century, weapons, musical instruments, ornaments and garments, miniature paintings, sculptures and specimens of wood carving etc. are exhibited here.
Mount Abu Sanctuary:
Sprawls over a lush area of 288 sq. km., comprising of sub-tropical evergreen forests.

Jasmine sweeps through the sanctuary making it a paradise for nature lovers.

It is home to animal species like leopard, sloth bear, wild boar, sambar, chinkara and langur.

There are also more than 250 species of exotic birds.
Trevor's Tank:
Tank amidst densely wooded hills teems with rich variety of beautiful birds.

Most commonly seen birds are, pheasants, peacocks and partridges.
ATTRACTIONS AROUND MOUNT ABU
Achalgarh:
10 kms away from Mount Abu city.

14th century fort built by Rana Kumbha of Mewar.

Famous for the temples of Achaleswar Mahadev and the Kantinath Jain.
Guru Shikar:
15 kms away from Mount Abu city centre.

Guru Shikhar or the saint's pinnacle rises to a height of 1772 mts.

The highest peak of the Aravalli's.

It has a small Shaivite shrine and temple of Dattatreya.

A bird's eye view of the sylvan surroundings can be enjoyed from here.
Abu Road:
Medieval town set at the foot 28 kms away from Mount Abu city.

One can buy pure vermilion (sindhoor or kum kum), incense, oil lamps, beautiful marble images and fragrant flowers here.

Polished stones of jasper, agate, cornelian, amethyst and necklaces or bracelets of semi-precious stones are available.

Exquisitely carved ivory or bone statues, bowls and ornaments, scarves and skirts, printed or embroidered with mirror work are other worth purchasing articles.