KUMBHALGARH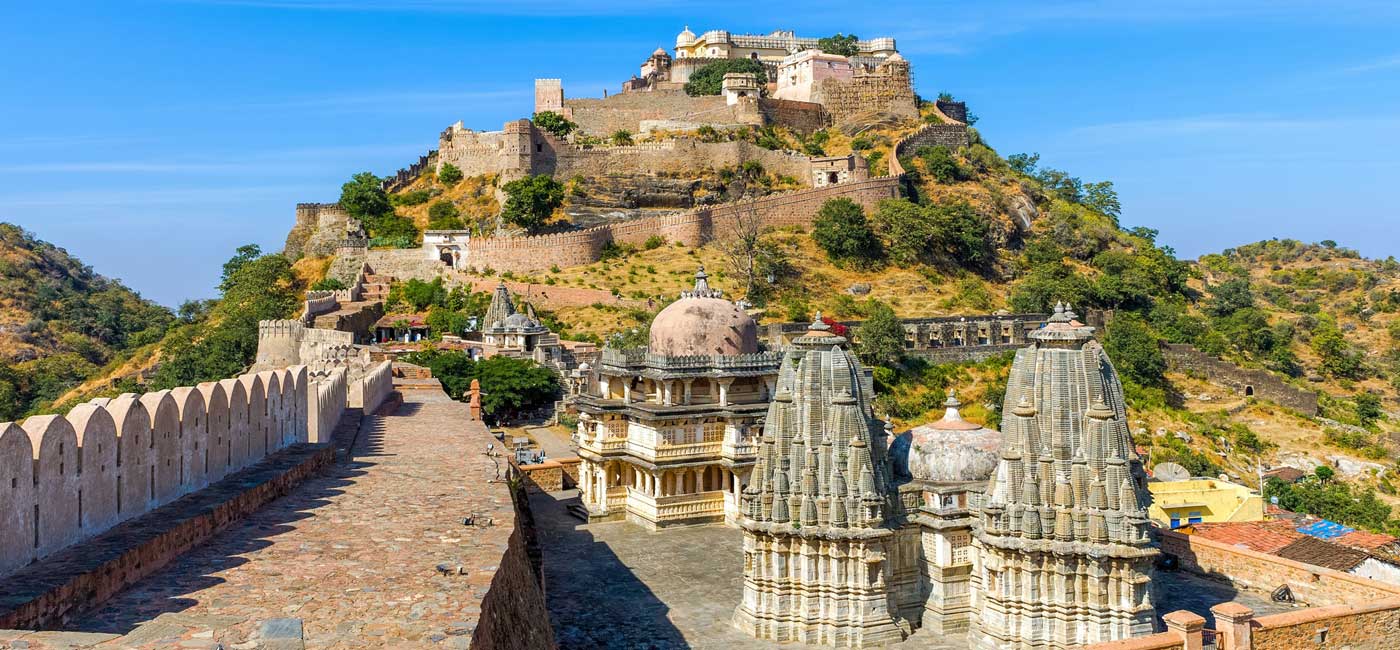 ABOUT KUMBHALGARH:
Kumbhalgarh

(literally "Kumbhal fort") is a Mewar fortress on the westerly range of Aravalli Hills, in the Rajsamand district near Udaipur of Rajasthan state in western India

.

It is a World Heritage Site included in Hill Forts of Rajasthan. Built during the course of the 15th century by Rana Kumbha

.

Kumbalgarh is situated 82 km northwest of Udaipur by road. It was the most important fort in Mewar after Chittorgarh Fort

.

The fort is among the largest fort complexes in the world, and the second largest fort in India after Chittor Fort

.

The fort of Kumbhalgarh has perimeter walls that extend 36 km (22 mi), making it one of the longest walls in the world

.

The frontal walls are fifteen feet thick. Kumbhalgarh has seven fortified gateways.There are over 360 temples within the fort, 300 ancient Jain and the rest Hindu

.

From the palace top, it is possible to see kilometers into the Aravalli Range. The sand dunes of the Thar Desert can be seen from the walls of Kumbhal fort

.
MODE OF COMMUNICATION:
Airport:

The nearest Domestic Airport is 66 Km. away from Kumbhalgarh is Udaipur( i.e. Dabok Airport), roughly two hour drive from Kumbhalgarh

. Also, t

he nearest International Airport is Sardar Vallabhbhai Patel International Airport 'Ahmedabad.', roughly five hour drive from Kumbhalgarh.

Rail: There is no railway station or rail head at Kumbhalgarh & the nearest rail head is at Rani, about 35 km away. Also, t

he nearest railway stations are Udaipur and Falna which are respectively 85km and 80km away from Kumbhalgarh

.
Road: Kumbhalgarh does not have its own bus stand, with the nearest one being located at Nathdwara 36 km away. Rajasthan State Government Roadways provides ordinary as well as deluxe buses which stop at Kumbhalgarh en-route to other cities. The town is connected to Udaipur, Ajmer, Jodhpur and Pushkar by state buses which ply frequently.
SIGHTSEEING AT A GLANCE:
| | |
| --- | --- |
| TEMPLE | Kumbhalgarh Jain Mandir, Devi Temple VEDI temple, Golerao Temple, Nilkanth Mahadev Mandir, Parshuram Mahadev, Jain Mandir, Parshwanath Digamber Jain Temple, Yagya Mandir, Baan Mata Temple, Laxmi Narayan Temple, Bhairav Mandir, Pitliya Shah Jain Mandir, Bayan Mata Ji Mandir. |
| PALACE & MUSEUM | Ganga Govrdhan Museum, Badal Mahal, Light &sound show plase. |
| LAKE & WILDLIFE SANCTUARY | Hammeripal Lake, Kumbhalgarh Ranakpur Wildlife Sanctuary. |
| FAIRS & FESTIVALS | Kumbhalgarh festival. |
For more information visit https://www.tourism.rajasthan.gov.in/kumbhalgarh-fort.html
ATTRACTIONS OF KUMBHALGARH
Kumbhalgarh Fort:
Kumbhalgarh Fort is one of the five hill forts of Rajasthan that were declared the UNESCO world heritage site in 2013. It is situated in Rajsamand district of Rajasthan, around 82 kilometres from Udaipur

.

It has the second largest wall (38km) after the great wall of China. Constructed on the foothills of Aravalli ranges, it is surrounded by thirteen hill peaks of the ranges and is perched at an elevation of 1,914 m

.

The magnificent fort is situated in the middle of a forest which has been turned into a wildlife sanctuary. It is the second-largest and the most important Mewar fort of Rajasthan after Chittorgarh palace

.

The fort is also the birthplace of Maharana Pratap, one of the most powerful kings of Mewar

.
Kumbhalgarh Ranakpur wildlife sanctuary :
Kumbhalgarh Wildlife Sanctuary is Sprawling over 578 sq km, encircling the fort which is surrounded by Aravallis, this wildlife sanctuary is home to varied flora and fauna.

The wildlife sanctuary has exotic wildlife species like wolves, leopards, sloth bear, nilgai, deer, chinkara and jungle cat which are the major tourist attractions in Kumbhalgarh

.

The forest is also home to more than 200 bird species as well such as grey jungle fowl, dove, peacocks, parakeets, wild breasted kingfishers and golden oriole etc.

It is also known for herbal plants such as Salar, Dhok, Khair, and Churel. One can trek, ride horses or indulge in super thrilling jeep safaris.
Badal Mahal:
Badal Mahal is also a part of the main fort. It is divided in two sections i.e. halls for ladies and men respectively.

The architecture of both these sections is astounding. Also, the view of the surrounding area from the top of the tower is spellbinding

.
Neelkanth Mahadeo Temple:
Neelkanth Mahadeo Temple is within the fort vicinity. It is dedicated to Lord Shiva whose 6 feet Lingam is in the temple which is being worshipped and maintained by the locals

.
It

is surely one of the most charming places to see in Kumbhalgarh and its sightseeing tourist must mesmerized

.
Mammadev Temple:
Mammadev Temple is located right below the Kumbhalgarh Fort and is known for its beautiful architecture and interiors

.
It is b

uilt by Rana Kumbha in 1460, this temple boasts of intricate sculptures and is definitely one of the best places to visit in Kumbhalgarh

.

The temple has two cenotaphs or 'chhatris' in memories of famous rulers Rana Kumbh and Prithviraj Chauhan. Moreover, there were four huge blocks in the temple with inscriptions of history and heritage of the Mewar clan.
Vedi Temple(Jain temple):
Vedi Temple is dedicated to Goddess Vedi, this beautiful Jain temple is located close to Hanuman Gate of the fort and built by Rana Kumbh

.

This temple was renovated by Maharana Fateh Singh in later years. Presently, this 3-storied temple is considered as the only surviving relic of all the sacrificial sites of India

.
Parshuram Temple:
The Parshuram Temple is a must-see attraction during your day trip to Kumbhalgarh

which is p

erched inside a cave, where Rishi Parshuram used to meditate.

Devoted to Lord Shiva, this cave temple has shrines of Lord Ganesh and nine holy kunds or ponds which never dry out

.

One needs to climb down approximately 500 steps to reach this amazing temple.
Mucchal Mahavir Temple:
Muchhal Mahavir Temple is Situated inside Kumbhalgarh Wildlife Sanctuary, this Jain temple is another beautiful sight

.

This is a pretty temple and the statues of elephants, guarding the main entrance is worth seeing and main deity is unique attraction of the temple.

The huge idol of Mahavira, located inside the temple has a mustache and hence, the name of the temple is Muchhal Mahavir Temple

.