JODHPUR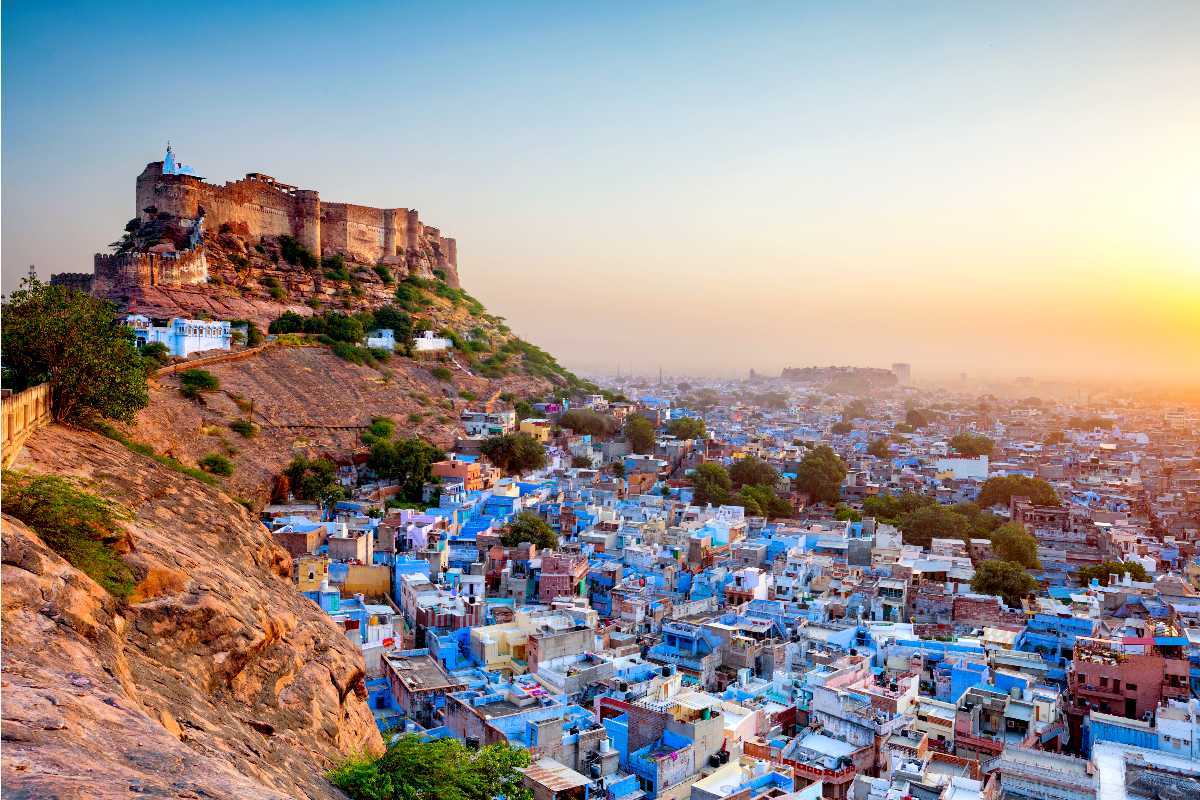 ABOUT JODHPUR:
A valiant sentinel in the desert, on the eastern fringe of the Thar Desert.

Founded in 1459, by Rao Jodha, the chief of Rathore clan of Rajputs.

A high stone wall nearly 10 kms in length.

Eight gates once protected the city.

Stands an imposing fort on a low range of sandstone hills, about 125 mts. above the surrounding plains.
MODE OF COMMUNICATION:
Airport: Jodhpur Airport, Jodhpur, (JDH), 6 kms away from Jodhpur city centre.
Rail: Jodhpur Railway Station, Jodhpur, 8 kms away from Jodhpur city centre.
Road: Well connected by road.
SIGHTSEEING AT A GLANCE:
FORT & MONUMENTS

Mehrangarh Fort Jaswant Thada Umaid Bhawan Palace

PILGRIM CENTRE

Mahamandir Temple

GARDEN

Mandore Gardens

MUSEUM & AUDITORIUM

Umaid Bhawan Palace Mehrangarh Fort Govt. Museum

WILD LIFE

Machiya Safari Park

LAKE

Kailana Lake

DESERT

Osian

OTHERS

Girdikot & Sardar Market Phalodi-Khichan Pali Nagaur Nimaj Sojat City

FAIRS & FESTIVALS

Dashehra Fair At Massoria Hill

Nau Sati Ka Mela

Rata Bhakar Wala Ka Mela

Baba Ramdev Ka Mela

Kaparda
For more information visit https://jodhpur.rajasthan.gov.in/
ATTRACTIONS OF JODHPUR
Mehrangarh Fort:
Magnificent Mehrangarh crowning a perpendicular cliff.

Ranks it as the best fortress in Asia.

Built by Rao Jodha in 1459, when he shifted his capital from Mandore.

It house a palace intricately adorned with long carved panels.

Latticed windows exquisitely wrought from red sandstone.

Apartments within have their own magic – the Moti Mahal (Pearl Palace), Phool Mahal (Flower Palace), Sheesh Mahal (Mirror Palace), Sileh Khana and Daulat Khana.

A rich collection of palanquins, howdas, royal cradles, miniature paintings of various schools, costumes, furniture and an impressive armoury.

Display of cannons on the ramparts is among the rarest in India.
Jaswant Thada:
It is imposing white marble memorial.

Built in the memory of Maharaja Jaswant Singh II in 1899.

Houses portraits of successive Marwar rulers.
Umaid Bhawan Palace:
Beautiful palace built by Maharaja Umaid Singh, (1929-1942) for 13 years to complete the palace.

A splendid example of Indo-colonial and art deco style of 30's.

Palace has been converted into a luxury hotel.

A portion of it remains for visitors to view an excellent museum.
Govt. Museum:
It lies in the middle of the Umaid public garden.

A rich collection of armoury, textiles, local arts and crafts, miniature paintings and portraits.
Girdikot & Sardar Market:
A narrow lane near Clock Tower is dotted with shops selling exquisite Rajasthani handicrafts.
Mahamandir Temple:
Great temple has 84 pillars ornately carved with designs.

Figures depicting various postures of Yoga.
ATTRACTIONS OF AROUND JODHPUR
Kailana Lake:
11 kms away from Jodhpur city centre.

Popular picnic site and sunset point.
Mandore Gardens:
9 kms away from Jodhpur city centre.

Old capital of Marwar is known for its extensive gardens with high rock terraces.

Garden is dotted with ornately carved cenotaphs or "Devals" of Jodhpur rulers set on a high plinth and crowned with souring spires.

Another attraction is the "Hall of Heroes" with has sixteen gigantic figures of Hindu and folk deities chiselled out of one single rock.
Osian:
60 kms away from Jodhpur city centre.

Medieval town of Thar was a great trading centre between 8th – 12th centuries.

Today, it is a desert oasis with Hindu and Jain temples, beautiful sculpted.

Largest of these are Sachchiya mata temple and Mahavir Jain temple which are both functional.

There are rows of sand dunes on western end of the village.

One can enjoy lovely sunsets and camel rides.
Phalodi-Khichan:
City of richly carved havelis and temples, 135 kms away from Jodhpur.

Khichan village nearby attracts a large number of migratory Demoiselle Cranes locally called as 'Kurjan' during winters.

Many folk songs are based on the beautiful birds who keep on coming here year after year.

Greeted by the villagers with great enthusiasm and love.
Machiya Safari Park:
12 kms away from Jodhpur city centre and just 1 km from Kailana Lake.

Park inhabited by deer, desert fox, monitor lizard, blue bulls, rabbits, wild cats, mongoose, monkeys etc.

Large number of birds, which can be seen from an exclusive bird watching point.
Pali:
77 kms away from Jodhpur city.

Pali is named after the Paliwal Brahmins who once inhabited the area.

The former capital of Jodhpur district.

Ancient Pali housed a highly evolved civilization.

There are very old temples Somnath and Naulakha.
Nagaur:
141 kms away from Jodhpur city.

Ahhichatragarh Fort built by Mughal Emperors Akbar and Shah Jahan.

Well planned Mughal Garden retains its old pleasant appearance even today.

City and buildings show distinct Muslim influence.

Best time to visit during the Ramdeoji Ka Mela and Tejaji Ka Mela (fair) in February and August respectively.
Nimaj:
12 kms away from Jodhpur city.

Has a temple, dedicated to goddess Durga.

Built in 9th century AD.

A unique art gallery showcasing some masterpieces of sculptural art.
Sojat City:
90 kms away from Jodhpur city.

Situated on the bank of the Sukri River near Pali town.

Fort has a big reservoir and several temples like Sejal Mata, Chaturbhuj and others.

A major attraction of this city is the plantation of 'mehandi' trees.