JAISALMER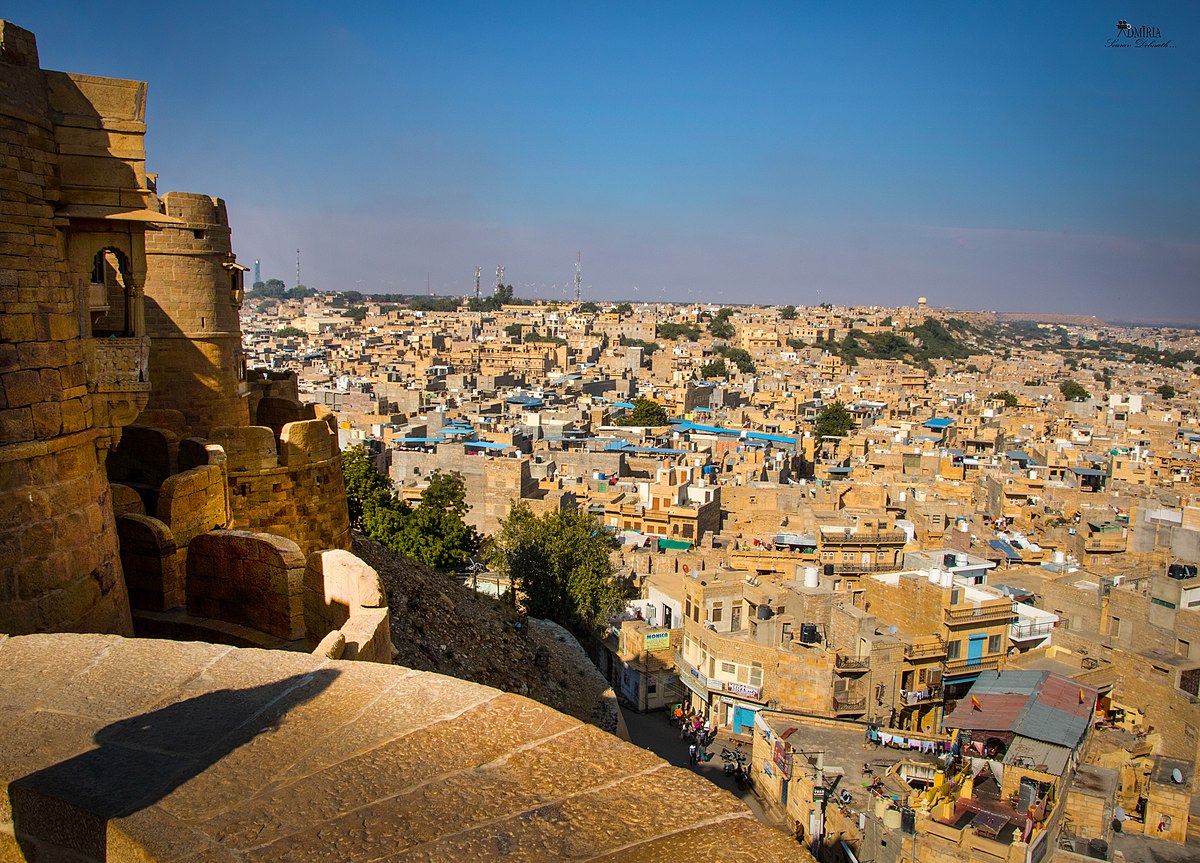 ABOUT JAISALMER:
Jaisalmer, the golden citadel of the Thar Desert has emerged.

One of the most popular tourist destinations in this part of the world.

Few places can match the magnificence and grace of this 'museum city'.
MODE OF COMMUNICATION:
Airport: Jodhpur Airport, Jodhpur (JDH), 285 kms distance from Jaisalmer city.
Rail: Jaisalmer Railway Station, Jaisalmer, 2.5 kms away from Jaisalmer city centre
Road: Well connected by road.
SIGHTSEEING AT A GLANCE:
FORT & MONUMENTS

The Fort or Sonar Killa Patwon Ki Haveli Nathmalji Ki Haveli Salim Singhji Ki Haveli Badal Vilas – Mandir Palace

PILGRIM CENTRE

Ludarva Baisakhi Ram-Kunda

GARDEN

Wood Fossil Park, Aakal

MUSEUM & AUDITORIUM

Folklore Museum or Sanskritik Sangrahalaya Government Museum

WILD LIFE

Desert National Park Sudashri Forest

LAKE

Gadisar or Gadsisar Lake

DESERT

Sam Sand Dunes Khuri Village & Sand Dunes

OTHERS

Pokran Barmer

FAIRS & FESTIVALS

Desert Festival
Gangaur Festival
For more information visit https://jaisalmer.rajasthan.gov.in/
ATTRACTIONS OF JAISALMER
The Fort or Sonar Killa:
Golden hued fort perched atop the 76 metre high Trikuta.

Built in 1156, by Rawal Jaisal, a Bhatti Rajput and descendent of the clan.

Fort built in Jurassic sandstone has its base encircled by a wall of solid stone blocks.

Bastions are in the form of half towers surrounded by high turrets and joined by thick wall.

Entire living area is well protected inside the ramparts of the fort.

Approached through the Ganesh Pol or the 'Elephant Gate' from the main market, followed by the Suraj Pol or the 'Sun Gate', Bhoota Pol or the 'Haunted Gate' and finally the Hava Pol or the 'Wind Gate'.

Palaces of the rulers built atop the main entrance form an imposing edifice crowned by a huge umbrella of metal mounted on a stone shaft.

Fort is dotted with many intricately carved haveli's (mansions), which have become the major attraction of the museum city.
Patwon Ki Haveli:
Largest and most elaborate haveli of Jaisalmer.

A classic example of Rajputana architecture.

Built by the five sons of Guman Chand Patwa, a rich brocade merchant.

Construction began in 1800 and was completed in 50 years.

Fabulous five storeyed structure has extensive corridors and chambers which are supported by intricately carved pillars.
Nathmalji Ki Haveli:
Haveli of Nathmalji, the Prime Minister of the erstwhile State in19th century.

Magnificent mansion was ornately carved by two brothers Lalu and Hathi and displays excellent craftsmanship.
Salim Singhji Ki Haveli:
Conspicuous mansion belonged to Salim Singh Mohta, the tyrannical Prime Minister during 18th century.

Upper story has an elaborate projecting balcony supported by carved brackets in cantilever style.
Jaisalmer Fort
Fort is also studded with several Hindu and Jain temple dating back to 12th – 15th century.

Rishabdevji Temple is one of the finest temples of the walled city.

Other important Jain temples are – Sri Sambhavnath Temple, Sri Ashtapadi Temple, Chintamani Paraswanathji Temple, Sri Sheetalnath Temple, Sri Shantinath Temple etc.

Gyan Bhandar or Library established as a part of Jain temples of the fort has some of the oldest and rarest manuscripts in the country.
Badal Vilas – Mandir Palace:
Excellent palace complex near the Amar Gate.

Present home of the erstwhile royal family.

Tazia Tower, the pagoda shaped tower rising from the Badal Vilas palace complex is an architectural marvel and landmark of the town.

Muslim Craftsmen of Jaisalmer built it as a 'token of love' and gift before migrating to Pakistan in 1947.
Gadisar or Gadsisar Lake:
Rain fed artificial lake was an important source of drinking water in the past.

Facility by gardens and sacred shrines.

Boating facility is also available.

Tilon-Ki-Pol, a beautiful gateway to the lake.

Ghats (steps) were built by a renowned courtesan and singer.
Folklore Museum or Sanskritik Sangrahalaya:
It is set on the banks of Gadisar Lake in Mehar Bagh Garden.

Exhibits the rich cultural heritage of Jaisalmer.
Government Museum:
Located on Police Line road.

A large collection of wood and marine fossils as well as sculptures dating back to 12th century from ancient townships of Kiradu and Ludarva.
ATTRACTIONS OF AROUND JAISALMER
Ludarva:
16 kms away from Jaisalmer city centre.

Ancient capital of Bhatti rulers is an important Jain pilgrim centre.

Magnificent Jain shrines here, testifies the glory of the bygone era.

Ornamental gateway 'Toran', at the entrance of the main temple is a master piece of craftsmanship.
Sam Sand Dunes:
42 kms away from Jaisalmer city centre.

No visit to Jaisalmer is considered complete without a trip to the Sam sand dunes.

Exciting camel safari amidst the dunes.

Viewing sunset from here is an unforgettable experience.
Desert National Park:
45 kms away from Jaisalmer city.

It is set in the backdrop of rugged terrain, with sweeping sand dunes and scrub covered hills.

Park is home to chinkara, black duck, desert fox, wolf and desert cat etc.

Star attraction is the great Indian Bustard, the tall and heavy endangered bird.

Birds seen here are sandgrouse, partridges, bee-eaters, larks and shrikes.

Migratory birds like demoiselle crane or 'Kurjan' also visit the park.

Spiny tailed lizard, monitor lizard, vipers, kraits etc. can also be spotted in the park.
Sudashri Forest:
75 kms away from Jaisalmer city.

Ideal site for observing the wildlife of the park.
Wood Fossil Park, Aakal:
17 kms away from Jaisalmer city centre on the Barmer Road.

Unique Fossil Park is a palaeontologist's delight.
Khuri Village & Sand Dunes:
45 kms away from Jaisalmer city centre.

Peaceful place with mud and straw decorated houses.

1 km away from patches of sand dunes is additional attractions for the tourists.
Pokran:
Located at the junction of Jodhpur, Jaisalmer and Bikaner Road.

Renowned for its furniture and crafts for interior decoration.

There is a fort and an assortment of weaponry, brocade clothes and various games of dice and dominoes on display.
Barmer:
153 kms away from Jaisalmer.

Famous for its woodcarving, furniture, items of interior decoration, carpets, block printing and embroidered items.
Baisakhi:
16 kms away from Jaisalmer city centre.

Religious palace for Hindus.

Temple dedicated to Lord Shiva.

Number of devotees comes on full moon day of Baisakh every year for a holy dip.
Ram-Kunda:
11 kms away from Jaisalmer.

Constructed during the reign of Maharawal Amar Singh in 17th Century.

Shrine is dedicated to God Rama and Krishna.