HANUMANGARH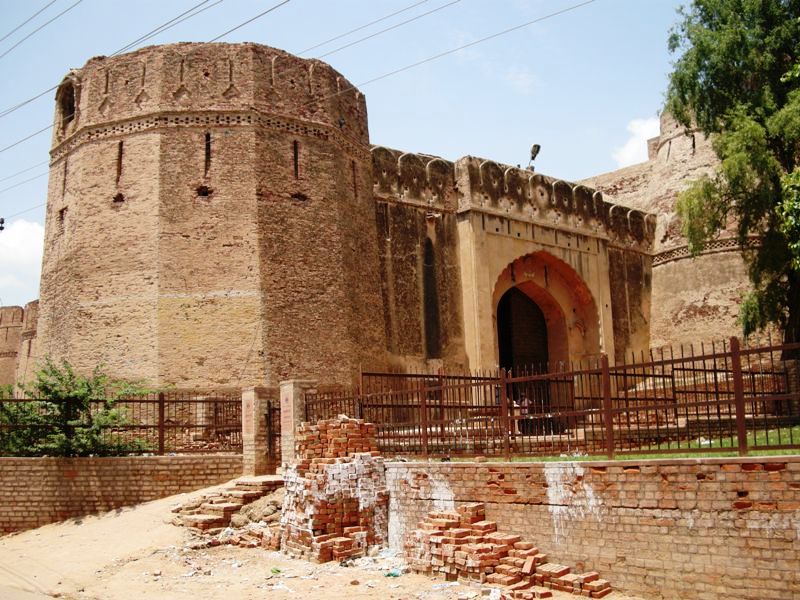 ABOUT HANUMANGARH:
The district headquarter Hanumangarh is situated on the bank of Ghaggar River which is the present form of the last mythological river Saraswati. Ghaggar River, which is called as 'Nali' in local dialect divides the district headquarter into two parts.

In the north of Ghaggar River, Hanumangarh Town and in the south the habitation of Hanumangarh Junction is situated.

Hanumangarh Town is the main centre of commercial activities and all the other main offices including office of the district collector are situated in this Town.

Earlier, Hanumangarh was the kingdom of 'Bhati' Rajputs. It was built by Bhupat son of Bhati King of Jaisalmer in 1295 AD.

It remained in the control of the Rajputs of Bhati clan and later occupied by Maharaja Sooraj Singh of Bikaner.

In 1805, the Bhattis were defeated at Bhatner by Raja of Bikaner Soorat Singh. Since this conquest occurred on Tuesday, which is considered as the day of Lord Hanuman, the Soorat Singh changed the name from Bhatner to Hanumangarh.

Hanumangarh is one of the northern most district of Rajasthan, located between 29° 5′ to 30° 6′ North Latitude and 74° 3′ to 75º 3′ east Longitude.

Hanumangarh district is surrounded by Churu in south, Sri Ganganagar in west, Punjab and Haryana in north and east respectively.

The Hanumangarh district has plain topography covered with a thick layer of alluvium and wind blown sand. It displays a general slope towards west with the gradient of about 4-5 metre per kilometer.

The major work of the district is farming; major crops include rice, millet, cotton, wheat, and vegetables.

The major languages spoken in Hanumangarh are Bagri, Punjabi and Hindi.

Hanumangarh Junction is one of the biggest and the oldest Railway Junctions in the area while Hanumangarh Town has the glory of old Bhatner Fort built by Bhati Jats.
MODE OF COMMUNICATION:
Airport : Hanumangarh is not well connected to other major cities of the country via regular flights. The nearest airport is in Ludhiana at a distance of 211kms. Chandigarh airport is 266 Km from Hanumangarh with daily flights from Mumbai, Delhi and other major metros around the country.
Rail : One can travel to Hanumangarh via road from Jaipur, Delhi, Ludhiana, Chandigarh and Jodhpur by hopping aboard a private bus or the ones run by the Rajasthan State Road Transport Corporation.
Road : Hanumangarh is well connected to Jalore, Agra, Delhi, Jaipur and Guwahati with a number of trains halting at the Hanumangarh Railway Station throughout the week.
SIGHTSEEING AT A GLANCE:
| | |
| --- | --- |
| FORT &MONUMENTS | Bhatner Fort, Kalloor Fort, Kalibangan Archaeological Site. |
| PILGRIM CENTRE & TEMPLES | Sila Mata - Sila Peer Temple, Brahmani Mata Temple, Temple of Dhuna Shri Gorakh Nathji, Temple of Shri Gogaji, Shri Kuldey Dadi Mandir, Temple of Mata Bhadrakaliji, Shaheed Sukha Singh Mahtab singh Gurdwara, Prachin Hanuman mandir, Shri Kabootar Sahib Gurdwara. |
| MUSEUM | Kalibanga Archaeological Museum. |
| LAKES | Talwara Lake. |
| SHOPPING | Season Shop, W.I.B. Departmental store, Soni Cloth Store, City Store, Ridhi Sidhi Handloom, New hissaria market, Sain Shoping Centre. |
| FAIRS & FESTIVALS | Gogamedi fair, Gangaur festival. |
For more information visit https://www.tourism.rajasthan.gov.in/content/rajasthan-tourism/en/tourist-destinations/hanumangarh.html
ATTRACTIONS OF HANUMANGARH
Bhatner Fort:
The Bhatner Fort, otherwise known as the Hanumangarh Fort, is located on the banks of the River Gaggar in the centre of Hanumangarh.

It is five kilometres from Hanumangarh Junction Railway Station and 230 km north-east of Bikaner, in the extreme northern part of Rajasthan.

It is considered to be one of the oldest Indian forts i.e. over 1700 years old.

The strength of this fort has been mentioned in the autobiography written by Timur called "Tuzuk- e- Timuri." Even Mughal Emperor Akbar described this fortification in his book "Ain- I- Akbari".

The Fort rests on somewhat elevated land with gigantic barricades. It has many towering gates surrounding the fort and many big rounded bastions that stand at intervals.

The entire foundation includes 52 kunds that were used to store rainwater that would suffice a huge battalion for a year.

Inside the fort there are many temples dedicated to Lord Shiva and Lord Hanuman. There are three statues, which bear inscriptions, and an ancient building called "Jain Pasara" is situated inside the fort.

There is also a tomb inside this fort, where Sher Khan is kept. Sher Khan was the nephew of Sultan Ghiyas-ud-din-Balban (1266 - 1290) as well as the Governor of the Fort.
Kalibangan Archaeological Site:
Kalibangan Archaeological Site is a part of the ancient Indus Valley Civilisation that is some 5000 years old. It has not only the relics of the Harappan settlements from the 2500 BC – 1750 BC, but also the Pre-Harappan settlements from the 3500 BC – 2500 BC.

The excavation of this site proves that a well - established life style existed before the Harappan civilisation in India. It was also discovered that for the ceramic industry, Rajasthan was a significant centre. The pottery of this place has similar designs with those of the Harappan civilisation.

The excavations at Kalibangan revealed Harappan seals, human skeletons, unknown scripts, stamps, copper bangles, beads, coins, toys, terracotta and shells, wheels, jewellery, utensils, toy carts, markets, remnants of wells, bathrooms, graves, a fort and streets.

This was also the site of discovering the most primitive ploughed field that dated back to 2800 BC. In 2600 BC, the first archaeologically recorded earthquake took place at this site, which marked the end of the Pre-.Harappan Civilisation.
Kalibangan Archaeological Museum:
The town of Kalibangan located in Tehsil Pilibanga, between the districts of Hanumangarh and Suratgarh. This town and its renowned Archaeological Museum is located on the southern shores of the River Ghaggar that is about five kilometres from the Pilibanga railway station.

The museum was established in 1983 to store and exhibit the materials that were excavated from the archeological site of Kalibangan between 1961 and 1969. Inside this museum, there are three galleries, one exhibits Pre-Harappan finds and the other two display Harappan artifacts.

The material displayed in the galleries are Harappan bangles, seals, terracotta objects and figurines, bricks, stone balls, grinders and collection of six fabric pottery that ranges from A – E from the Pre- Harappan era. Various pictures of the different bare structures are also exhibited here.
Temple of Shri Gogaji :
The temple of Shri Gogaji is located at a distance of about 120 km from the city of Hanumangarh and two kilometres from the railway station of Gogamedi. This temple is presided over by Gugga Jahar Peer who is more popularly known as Shri Gogaji.

This spiritual guru was born in the Rajput dynasty of Chauhans in Dadrewa village of the Churu Distict, approximately 900 years ago. Shri Gogaji was once a warrior who possessed spiritual powers. It is said that this temple was constructed around 950 years ago and it was Bikaner's Maharaj Shri Ganga Singh, who reconstructed this temple again in 1911.

The structure of the temple stands upon an elevated mound and is made of stone, lime, black and white marble and mortar. The architecture of this temple reflects a perfect blend of Muslim and Hindu styles.

Inside, a statue of Shri Gogaji is set up that has a lot of engravings on it which depicts Shri Gogaji as a warrior mounted upon a horse, having a lance in his hand and a snake encircling his neck. People from all communities visit this temple, which is open every day.

The major festival in this temple is Gogameri, when pilgrims from all parts of the country worship Gogaji or 'the God of Snakes'. The unique feature of this temple is that it has priests for both Hindus and Muslims.
Shri Kabootar Sahib Gurdwara:
Shri Kabootar Sahib Gurdwara is located at a distance of about 80 km in the town of Nohar. This temple was constructed to celebrate the historic visit of Guru Gobind Singh in the month of November.

Guru Gobind Singh, who was the Tenth Guru of the Sikhs and the founder of Khalsa Panth, when he visited Chhip Talai that was situated southeastwards of the town various pigeons or 'kabooter' as called in Punjabi used to assemble, so lots of people in this area used to feed these pigeons. During Guruji's stay in this place, one of his Sikh followers accidentally stepped on a pigeon injuring it. Since the people of this area practiced non-violence, they protested this act with anger.

To pacify the local residents, Guruji appointed a barber-cum-surgeon who treated the pigeon. After this, news spread that Guruji had brought a dead pigeon back to life with the help of his spiritual powers.
Gurdwara of Shri Sukha Singh Mehtab Singh:
The historically important Gurdwara of Shaheedan Da is located in the city of Hanumangarh. In the 18th century AD, when this gurdwara was constructed, it was named after two martyrs.

When the Emperor of Afghanistan, Nadir Shah was moving back to Persia after looting and plundering numerous Indian cities in 1739, his forces were attacked by the Sikhs who rescued many young women and goods that were stolen by the forces. After his return to Persia, Nadir Shah made Zakhrya Khan to act as the Governor of Lahore who vowed to destroy the Sikhs, for which he declared a reward to anybody who could bring the head of a Sikh.

Once a Massa Ranghar brought a cart full of heads of Sikhs to Zakhrya Khan, as a reward to which he was appointed the Chief of Amritsar. Taking charge of the Golden Temple of Amritsar, Massa Ranghar prohibited the Sikhs from entering this temple and started drinking and brought dancers at the pious temple. Then two Sikhs, namely, Bhai Mehtab Singh and Bhai Sukha Singh went to Amritsar to teach Massa Ranghar a lesson. As they carried bags full of coins, the watchmen didn't prevent them from entering the Golden Temple.

These two Sikhs came to Hanumangarh with Massa Ranghar's head and rested under a tree. Later on they were captured and tortured to death by the Mughals who wanted them to convert to Islam. They refused this offer and attained martyrdom. Every year, in this gurdwara on Amavasya, thousands of devotees attend the Yadgari Jod Mela.
Temple of Dhuna Shri Gorakh Nathji:
The Temple of Dhuna Shri Gorakh Nathji is situated about three kilometres from the railway station of Gogamedi. This temple is devoted to Lord Shiva along with his family, Goddess Kali, Shri Bhairuji and Shri Gorakh Nathji's Dhuna.

In this religious site, the Dhuna or the fireplace of Shri Gorkah Nath can be seen.

This temple, which is constructed of bricks, lime, cement and mortar, houses a standing image of Goddess Kali that is about three feet high and made of stone. At about the same height, there is an idol of Shri Bhairuji that is built of black stone. Close to this idol are all the statues of the entire family of Shiva.

Around the same place, many samadhis of different yogis are also situated. Guru Gorakh Nathji's popular Dhuna is placed at the top of mound. This temple is opened throughout the year.
Brahmani Mata temple:
The Brahmani Mata temple is situated on the Hanumangarh - Kishangarh Mega Highway, at a distance of about 100 km from the city of Hanumangarh.

It is located in the Pallu village of Rawatsar Tehsil. This temple stands on the remnants of the old Kalloor Fort.

During Navratras, a fair called Mata Brahmani Mela is organised here.
Sila Mata – Sila Peer Temple:
The old Sila Mata – Sila Peer Temple is a mark of communal harmony which is located close to the bus stand of Hanumangarh City, the idol of this temple is worshipped by Hindus, Sikhs and Muslims.

The Muslims revere the stone as Sila Peer and the Hindus worship it as Sila Mata.

It is popularly believed that the water and milk offered to the deity is capable of curing all skin diseases, if it can be applied. Every Thursday a fair is held here.
Temple of Mata Bhadrakali:
Temple of Mata Bhadrakali is Located at a distance of seven kilometres from the city of Hanumangarh, the temple of Mata Bhadrakaliji stands on the banks of River Ghaggar that is close to Amarpura Thedi Village.

The presiding deity of this temple is Mata Bhadrakali, which is one of the many avatars of Goddess Durga. This temple belongs to the Shakti Sect of Hinduism.

The temple is constructed of bricks, mortar and lime. It has a loft round shaped dome along with a verandah, a kitchen, a Sanctum Sanctorum and a hall for prayers.

The main idol of this temple is built with red stone that is 2.6 feet high and covered in ornaments.

The temple is open every day. However, it gets crowded on the 8th and 9th day in the month of Chaitra due to the mela that is celebrated here during that time.