CHITTORGARH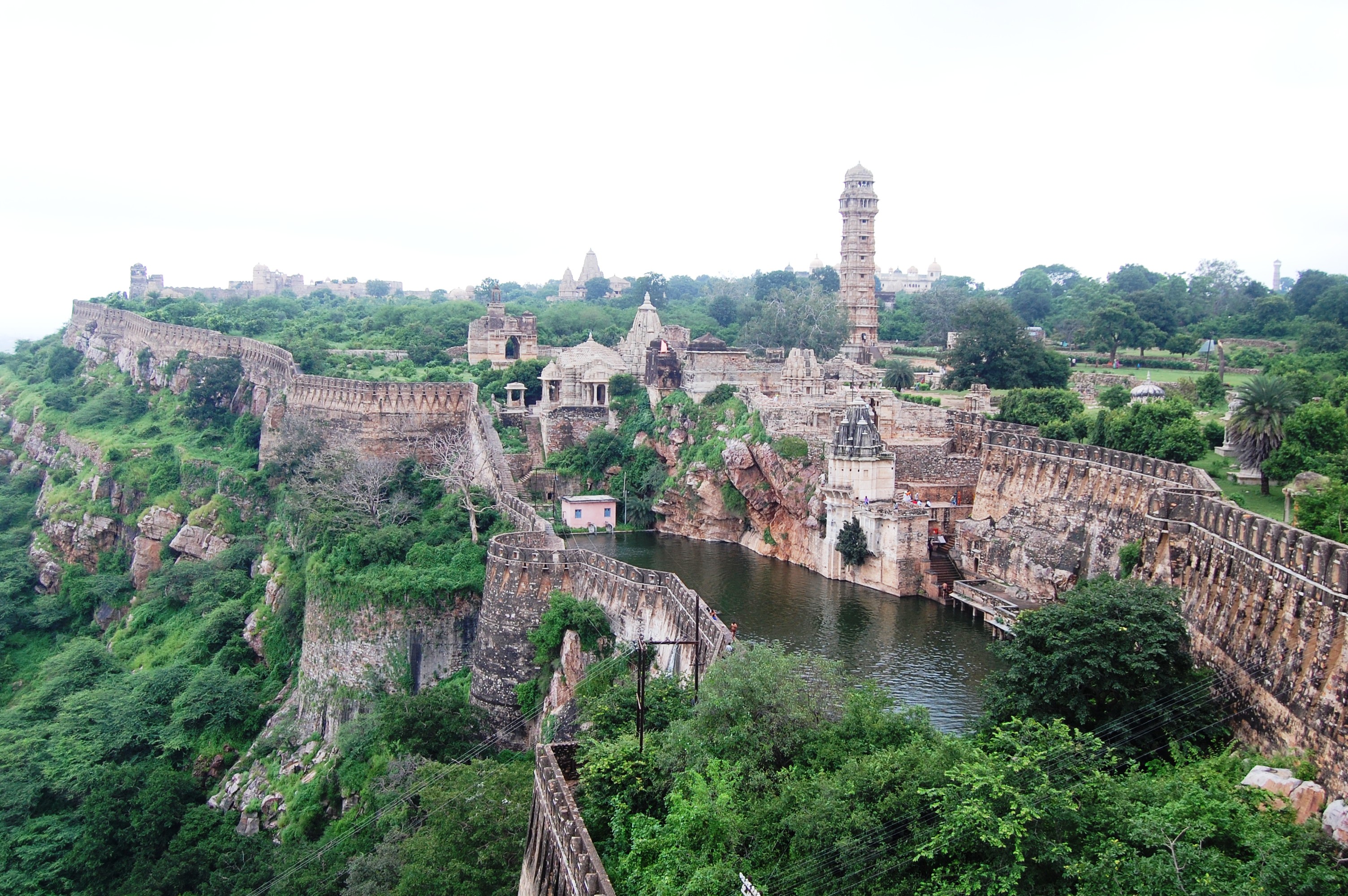 ABOUT CHITTORGARH:
Chivalrous Chittorgarh, the citadel of the brave, reverberates with tales of valour and romance.

Massive fort atop a hill is perhaps the best in the country.

It is said that Bappa Rawal, the legendary founder of the Sisodia clan, conquered Chittaur from Mauryas in the middle of 8th century.

Chittorgarh remained the capital of Mewar till 1567.

Udaipur becomes the new capital of Mewar.
MODE OF COMMUNICATION:
Airport: Maharana Pratap Airport, Udaipur (UDR), 90 kms distance from Chittorgarh.
Rail: Chittorgarh Railway Station, Chittorgarh, 2 kms away from Chittorgarh city centre.
Road: Well connected by road.
SIGHTSEEING AT A GLANCE:
PILGRIM CENTRE

Meera Temple Kumbha Shyam Temple Kalika Mata Temple

MUSEUM & AUDITORIUM

Govt. Museum, Fateh Prakash Mahal

FAIRS & FESTIVALS

Maharana Pratap Jayanti
Meera Mahotsav
Jauhar Mela
Gangaur
Teej Festival
Rang Teras
For more information visit https://chittorgarh.rajasthan.gov.in/
ATTRACTIONS OF CHITTORGARH
The Fort:
Formidable fort perched atop a 180 metre high hillock covers a huge area of 700 acres.

Originally built by the Mauryans in 7th century and later developed by the successive Mewar rulers.

Fort is approached through seven huge gateways or 'pols'.

Guarded by watch tower and massive iron spiked doors.
Vijaya Stambh or 'Victory Tower':
Erected by Rana Kumbha in 1440, to commemorate his victory over the combined forces of the kings of Malwa and Gujarat.

The nine storeyed tower rises to a height of 120 ft. (36.5 mts.) and has a girth of 30 ft. at the base.

Ornately carved with splendid sculptures of Hindu deities.
Kirti Stambh or 'Tower of Fame':
22 metre high tower was built in the 12th century.

Dedicated to Lord Adinath Rishabdeo, the first Jain tirthankar.

Intricately carved structure is full of figures from Jain pantheon.
Rana Kumbha's Palace:
Rani Padmini is said to have committed Jauhar in one of the underground cellars of the palace.

Palace although in ruins, reflects the tastes of Rana Kumbha, one of the greatest Mewar ruler.
Padmini Palace:
Zanana Mahal of the palace overlooks a pond of water.

Allaudin Khilji is said to have seen the reflection of Rani Padmini.
Meera Temple:
Dedicated to Meera Bai, a mystic poetess.

A great devotee of Lord Krishna.

She was married to Bhojraj, the son of Rana Padmini.
Kumbha Shyam Temple:
Temple of Varah (Boar), an incarnation of Lord Vishnu.

Built by Rana Kumbha in 1448.

Associated with Meera Bai.
Kalika Mata Temple:
Temple of Goddess Kali was originally built as a Sun Temple.

Built by Bappa Rawal in the 8th century.
Govt. Museum, Fateh Prakash Mahal:
Exhibits a rare and rich collection of sculptures from the fort and the temples.