BUNDI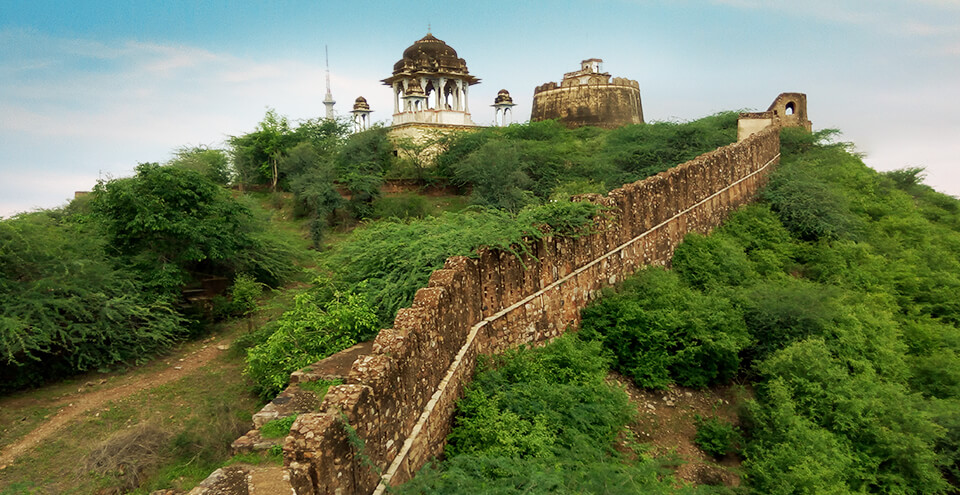 ABOUT BUNDI:
Beautiful town nestled in a verdant valley.

Surrounded by the Aravali hills on three sides.

Enclosed by huge walls with four gateways.

A picturesque lake in the centre adds to the beauty of Bundi.

A medieval fortress stands sentinel to this city – a mute witness to history and time.

Within the ramparts are majestic palaces, havelis, temples and intricately carved cenotaphs.

Bundi is also very well known for its exquisite paintings and murals.
MODE OF COMMUNICATION:
Airport: Sanganer Airport, Jaipur (JAI), 215 kms away from Bundi.
Rail: Kota Railway Station, Kota, 35 kms away from Bundi.
Road: Well connected by road. 36 kms from Kota.
SIGHTSEEING AT A GLANCE:
| | |
| --- | --- |
| FORT & MONUMENTS | Bundi Durg or Taragarh Garh Palace Chhatra Mahal Raniji-Ki-Baori Sukh Mahal Phool Sagar Shikar Burj Eighty Four Pillared Cenotaph |
| PILGRIM CENTRE | Nawal Sagar |
| GARDEN | Kahar Bagh |
| MUSEUM & AUDITORIUM | Chitrashala |
| LAKE | Nawal Sagar Jait Sagar Lake |
| FAIRS & FESTIVALS | |
For more information visit https://bundi.rajasthan.gov.in/

ATTRACTIONS OF BUNDI
Bundi Durg or Taragarh:
White coloured 'Star Fort' atop a thickly wooded hill.

Built in 1411, by Rao Raja Bar Singh.

There are several interesting monuments.

A huge reservoir within the fort.
Garh Palace:
Palace set elegantly down the hillside and is one of the finest examples of Rajput architecture.

Approached by a steep, paved carriage way, through the Hazari Pol or the 'Gate of the Thousand'.

Naubat Khana and the Hathi Pol are some of the places of interest inside the palace.
Chhatra Mahal:
Built by Maharao Shatrusal Singh Ji.

Famous for its murals in the miniature style.

Beautiful small pool and 'Hathiya Sal' (each pillar with four wooden elephants) are also notable.

Phool Mahal and Badal Mahal are worth visiting for their paintings.

Prior permission of the secretary at Motimahal is required for the visit.
Chitrashala:
The walls of this famous arcaded gallery are adorned with elaborate paintings depicting scenes from the 'Ragmala' and 'Raslila'.

It is a must visit site.
Nawal Sagar:
Serene square shaped artificial lake is interspersed by islets.

A temple of Varuna (God of the Wind) stands half submerged in the middle of the lake.
Raniji-Ki-Baori:
46 mts. Deep step well (Baori) outside the city walls has high arched gate and carved pillars.

Beautiful murals adorn its pillars, torans and gates.
Sukh Mahal:
Summer palace surrounded by a garden.

Built during the reign of Rao Raja Vishnu Singh on the banks of Sukh Lake.
Jait Sagar Lake:
Pristine lake nestled amidst lush hills was built by Jaita Meena.

Fleeting fountain in the lake is quite spectacular at night.

Terrace gardens and Smriti Kunj are the other attractions around the lake.
Phool Sagar:
20th century palace graced by formal gardens.

Artificial tank is the residence of the erstwhile ruler.
Shikar Burj:
Royal hunting lodge amid lush woods is a beautiful picnic spot.
Kahar Bagh:
Ancient garden near the Shikar Burj cenotaphs of the Bundi royal family.

Cenotaphs are noted for their rich architectural splendour.
Eighty Four Pillared Cenotaph:
Majestic memorial was built by Rao Raja Anirudh in the memory of his foster brother.

Cenotaph with 84 pillars along with a 'Shivlings' is an architectural marvel.