BIKANER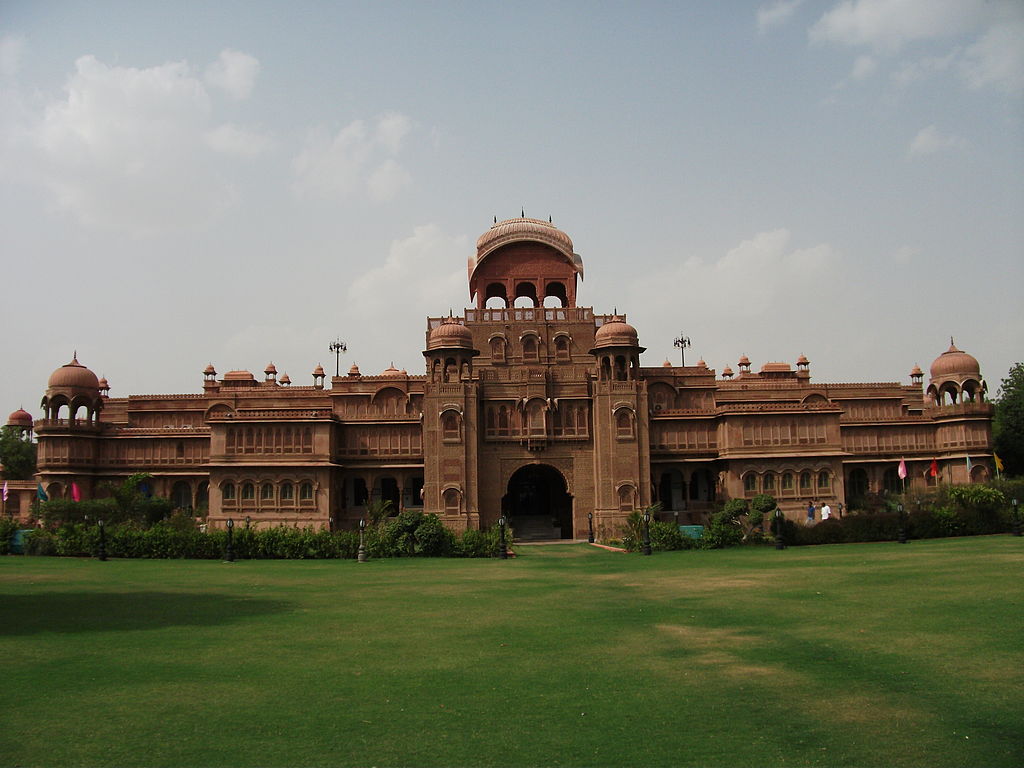 ABOUT BIKANER:
A beacon of rich culture and heritage amidst harsh desert surroundings.

Founded in 1488, by the Rathore Prince, Bika, the son of Rao Jodha of Marwar.

Located directly on the ancient caravan routes, which linked West/ Central Asia.

City studded with forts, palaces.

Mansion was once surrounded by a 7 kms embattled wall with five gateways.

Today, Bikaner is also famous for its delicacies like bhujias, papads and rasgillas.
MODE OF COMMUNICATION:
Airport: Jodhpur Airport (JDH), Jodhpur, 243 kms away from Bikaner city.
Rail: Bikaner Railway Station, Bikaner, 1 km away from Bikaner city centre.
Road: Well connected by road.
SIGHTSEEING AT A GLANCE:
FORT & MONUMENTS

Junagarh Fort Lalgarh Palace Havelis Gajner Palace

PILGRIM CENTRE

Bhandeshwar Jain Temple Raj Ratan Bihari & Rasik Siromani Temple Shiv Bari Temple Deshnok Kolyat

MUSEUM & AUDITORIUM

Rajasthan State Archives Ganga Government Museum

WILD LIFE

Gajner Wildlife Sanctuary

OTHERS

Devi Kund Camel Research Farm Katariasar Village

FAIRS & FESTIVALS

Camel Fair

K

apil Munni

Karni Mata Fair

Gangaur Festival
For more information visit https://bikaner.rajasthan.gov.in/

ATTRACTIONS OF BIKANER
Junagarh Fort:
Impregnable fort built by Raja Rai Singh in 1593.

Encircled by a moat and have many palaces, pavilions and temples.

Suraj Pol or 'Sun Gate' is the main entrance to the fort.

Within the ramparts are fine monuments like, Anup Mahal, Ganga Niwas, Rang Mahal, Har Mandir, Chandra Mahal, Durbar Hall, Gaj Mandir and Sheesh Mahal etc.

Fort has an excellent museum.
Lalgarh Palace:
Magnificent red sandstone palace.

Built by Maharaja Ganga Singh, in memory of his father Maharaja Lal Singh.

It has been converted into a luxury hotel.

Sri Sadul Museum is housed in one part of the palace.
Rajasthan State Archives:
Department is internationally acclaimed for its rich collection of administrative records of the Mughal period.

Created during the administration of the princely States of Rajasthan.
Ganga Government Museum:
One of the best museums in the state.

Rich treasure of antiquities from Harappan civilisation, Gupta and Kushan era etc.
Bhandeshwar Jain Temple:
15th century shrine is the oldest existing monument of Bikaner.

It is adorned with rich mirror work, décor, frescoes, and gold leaf paintings.
Raj Ratan Bihari & Rasik Siromani Temple:
19th century palatial shrine within Ratan Bihari Park.

Built by Ratan Singhji and Sardar Singhji.
Havelis:
Bikaner is also known for its ornately carved red sandstone havelis.

Mansions belonging to reputed business houses of the region.
Shiv Bari Temple:
6 kms away from Bikaner city centre.

19th century Shiva temple was built by Maharaja Doongar Singhji.

Fortified with high walls and has beautiful paintings.
Devi Kund:
8 kms away from Bikaner city centre.

It is the crematorium of the royal family.

Graceful white marble Chhatri (cenotaph) of Maharaja Surat Singh is a fine piece of architecture.
Camel Research Farm:
8 kms away from Bikaner city centre.

The farm is only one of its kinds in entire Asia.
ATTRACTIONS AROUND BIKANER
Deshnok:
Small town on the road to Jodhpur, 30 kms from Bikaner city.

Known for the unique shrine of Goddess Karni Mata.

Shrine is famous for the rats, which are venerated over here.
Gajner Palace:
Built by the great Maharaja Ganga Singh of Bikaner on the embankment of a lake.

Hunting and relaxing lodge, the maharaja and the family.

Around the palace is a thick forestation.

Has been converted into the hotel.
Kolyat:
Located 50 kms away from Bikaner city.

Temple complex of Kolyat and a holy place of pilgrimage for Hindus.

Complex has several temples, pavilions and bathing ghats.

Dip in the holy waters of the lake especially on Kartik Poornima (November).
Katariasar Village:
Located on the Jaipur Road, 45 kms away from Bikaner city.

Rich in ethnic rural and cultural life of the village.

Walk on the sand dunes is enjoyable.

Viewing the sun set with a desert landscape is heavenly.
Gajner Wildlife Sanctuary:
On the Jaisalmer road, 32 kms from Bikaner city.

Inhabited animals like nilgai, chinkara, black buck, wild boar, flocks etc.

Many more migratory birds can find here.

It can be visited by jeeps.