ALWAR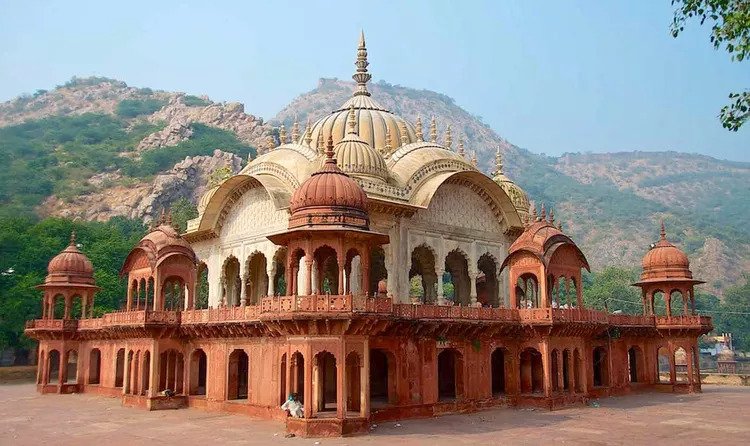 ABOUT ALWAR:
Alluring Alwar set in the lap of Aravalli ranges.

Ancient city is one of the oldest in the State.

Its numerous pre-historic and historic sites are an archaeologist's delight.

A paradise for nature lovers and wildlife enthusiasts.

Present town was founded in 11th century by Maharaja Alguhraj.

Its strategically important location lured the foreign powers, but, the adventurous and valiant people of Alwar always guarded their freedom zealously.
MODE OF COMMUNICATION:
Airport: Jaipur International Airport (JAI), Jaipur, 148 kms away from Alwar.
Rail: Alwar Railway Station, Alwar, 2 kms away from Alwar city centre.
Road: Well connected by road. 150 kms from Jaipur and 170 kms from Delhi.
SIGHTSEEING AT A GLANCE:
FORT &MONUMENTS

Bala Quila

City Palace

Vinay Vilas Palace

Moosi Maharani Chhatri

Siliserh Lake & Palace

GARDEN

Purjan Vihar or Company Garden

MUSEUM & AUDITORIUM

City Palace

Government Museum

LAKE

FAIRS & FESTIVALS

Alwar Festival

Sawan Teej

Choohar Sidh

Sahibki Ka Mela

Jagannath Fair

Bhartrihari

Matsya Utsav

Jagannath Fair
For more informationvisit https://www.tourism.rajasthan.gov.in/alwar.html
ATTRACTIONS OF ALWAR
Bala Quila:
Ancient fort perched on a steep cliff is said to be constructed by Nikumbh Rajputs in 928 AD.

Huge fort extends about 5 kms from north to south and 1.6 kms from east to west.

Provides a breathtaking view of the city below.
City Palace:
14th century palace set in the heart of the city.

A fine blend of Mughal and Rajput architectural styles.

Palace museum housed in one of its apartments exhibits a rich collection of rare manuscripts, paintings, objects made out of jade, ivory, silver etc.

A large collection of weapons.
Government Museum:
It has probably the richest treasure of Rajput.

Mughal paintings of 18th and 19th centuries.

Some rare and ancient manuscripts.
Vinay Vilas Palace:
Magnificent garden palace was the residence of Maharja Vinay Singh.

Today, the palace houses a college.
Moosi Maharani Chhatri:
Impressive cenotaph (Chhatri) on the banks of Sagar Lake was built in the memory of Bakhtawar Singh's mistress.

Picturesque 'Sagar' lake is a concrete catchment, with a pattern of stairs.

Tiny kiosks in perfect symmetry along the sides.
Purjan Vihar or Company Garden:
Beautiful garden was laid during the reign of Maharaja Shiv Dan Singh in 1868.
ATTRACTIONS AROUND ALWAR
Siliserh Lake & Palace:
Summer retreat of the erstwhile royal family lies on the Jaipur road, 13 kms away from Alwar city.

Amidst sylvan surroundings replete with nature's bounty.

Tranquil lake sprawls over an area of about 10.5 sq. kms.

Surrounded by thick forest.

Magnificent cenotaphs grace the embankment the lake.

A royal Hunting Lodge/ Palace was built by Maharaja Vinay Singh for his queen Shila in 1845.

It has now been converted into the Hotel Lake Palace.

Boating and sailing facilities are available.