AJMER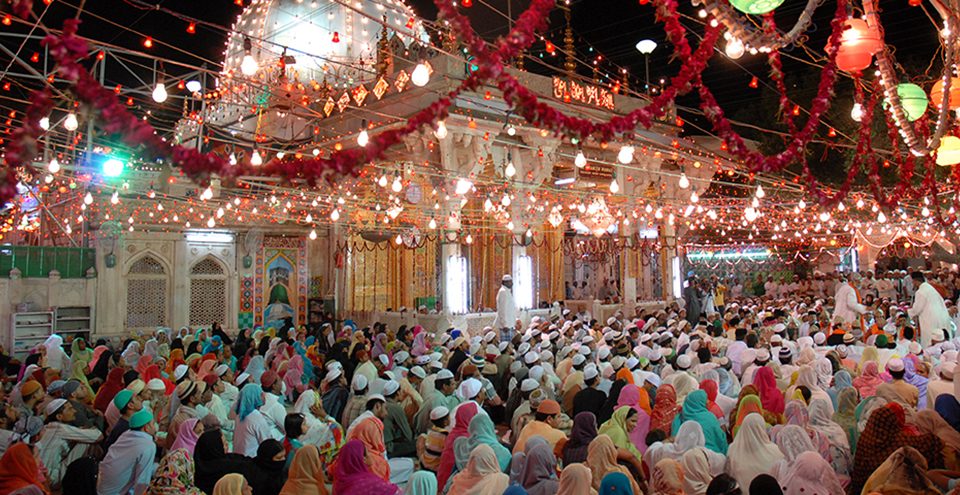 ABOUT AJMER:
Sacred secular town was founded in the 7th century by Raja Ajaipal Chauhan and become the famous bastion of the Chauhan Rajputs.

A popular pilgrimage centre for the Muslims as well as Hindus.

Ajmer is a centre of culture and education.

It was also a favourite residence for the great Mughals.
MODE OF COMMUNICATION:
Airport: Sanganer Airport, Jaipur (JAI), 131 kms away from Ajmer.
Rail: Ajmer Railway Station, Ajmer, 1 km away from Ajmer city centre.
Road: Well connected with NH 8.
SIGHTSEEING AT A GLANCE:
| | |
| --- | --- |
| FORT & MONUMENTS | Magazine Circuit House Taragarh Fort Man Mahal Pushkar Palace |
| PILGRIM CENTRE | Dargah Khwaja Sahib Adhai-Din-Ka-Jhonpra Nasiyan (Red Temple) Pushkar Brahma Temple Jagat Pita Shri Brahma Mandir Warah Temple Savitri Temple Temple of Rangji or Shri Vaikunthnath Ji |
| MUSEUM & AUDITORIUM | Rajputana Museum Mayo College |
| LAKE | Ana Sagar Visal Sar Pushkar Lake |
| OTHERS | Prithviraj Chauhan Smarak Kishangarh |
| FAIRS & FESTIVALS | |
For more information visit https://ajmer.rajasthan.gov.in/
ATTRACTIONS OF AJMER
Dargah Khwaja Sahib:
13th century Dargah is one of the holiest Muslim shrines in the country.

Millions of pilgrims from all over the world flock here to seek the blessings and pay homage to the Khwaja.

Dargah has a massive gate with silver doors, which were built by the Nizam of Hyderabad.

Tomb richly adorned with gold and silver lies in a magnificent domed chamber in the centre of the second courtyard.

Qawwals from all over the world come here to sing in the praise of the saint.

On the right side of the courtyard is the Akbari Masjid in white marble by Akbar.

There is another impressive mosque built by Shahjahan.

Other attractions in the shrine are the two massive 'degs' (cauldrons) in which the ritual rice is cooked.

The smaller 'deg' has a capacity of about 2240 kg. and the larger one can hold 4480 kg. of rice.

The six day celebration of the Urs or death anniversary of Khwaja is the most important event of Ajmer.

During this time millions of devotees from all sects and religions gather here.
Adhai-Din-Ka-Jhonpra:
The relic of an old mosque lies to the west of Dargah.

It was originally a Sanskrit college, within a temple enclosure and was destroyed by Mohammad Ghauri in 1193.

It is said that he ordered, the mosque to be made ready on this site for his prayer within two and a half days.

The archways are adorned with intricate carvings depicting 'Kuft and Jughra' inscriptions from the holy 'Koran'.
Magazine:
This innermost portion of the fort constructed by Akbar is the most important relic of Mughal history in the city.

Main entrance to the building faces Naya Bazar and is provided with balconies (jharokhas) on the both side.

Sir Thomas Roe, the British envoy, presented his credentials to Jahangir over here.
Rajputana Museum:
It was set up by the Govt. of India for preservation.

Study of unique and rare relics collected from the various states of Rajputana.
Nasiyan (Red Temple):
Famous Digambar Jain temple was constructed in 1865.

The Svarna Nagari Hall, behind the shrine exhibits gilt wooden representations of scenes from Jain mythology.
Mayo Collage:
This elite public school was established in 1875.

Providing education to the children of the royal families in the country.

Today, it is one of the premiere educational institutions of the India and is open to everybody.

There is a museum displaying historical objects of interest and biological preservation.
Circuit House:
Overlooks the Ana Sagar Lake and was formerly the British Residency.

Nearby, is the cenotaph and shrine of Swami Dayanand Saraswati, the founder of Arya Samaj movement, who breathed his last at Ajmer.
Ana Sagar:
Beautiful 12th century artificial lake is named after Anaji Chauhan.

Its huge embankment was erected with people's help.

The 'Baradari' or pavilions were constructed by Shah Jahan and the Daulat Bagh garden was laid by Jehangir.
Visal Sar:
The pristine lake amidst sylvan surroundings.

Built by King Visaldeva (1152-1163 AD)

Designed lake the sacred Pushkar Lake.
Prithviraj Chauhan Smarak:
The memorial on the way to Taragarh Fort commemorates Prithviraj Chauhan, the last Hindu emperor of India.

A life-size statue of the king is erected amidst well laid-out gardens.
Brahma Temple:
Constructed in the 14th century.

Temple dedicated to Lord Brahma.

Marble floor around the silver turtle is embedded with hundreds of silver coins.
ATTRACTIONS AROUND AJMER
Taragarh Fort:
8 kms away from Ajmer city centre.

The 7th century fort built by Ajaipal Chauhan is perched atop a hill.

Earlier known as Ajaya-Meru-Durg.

It is nearly 2-3 kms in circumference and has 9 impregnable gates.
Pushkar:
12 kms away from Ajmer city centre.

Picturesque pilgrim centre nestling amidst the rugged Aravali hills.

Considered to be one of the most sacred pilgrimages for Hindus and is referred as 'Tirth Raj' or the 'king of pilgrim centres'.

It is believed that a pilgrimage to the sacred 'Char Dhams' is incomplete without a holy dip in the sacred waters of Pushkar.

The sleepy town comes to life during the annual Pushkar fair held on Kartik Purnima.

It has emerged as a major tourist attraction of the region.

Tourists from all parts of the world gather here for this colourful fair.
Jagat Pita Shri Brahma Mandir:
There are over 400 sacred shrines in and around Pushkar, but the most important is the temple of Lord Brahma.

14th century shrine set on a high plinth enshrines a four faced image of Lord Brahma, known as 'Chaumurti'.

Nearby is a small image of milkmaid Gayatri.

Steps in the corner lead to a small cave dedicated to Lord Shiva.

The temple walls are also adorned with graceful peacocks, the celestial vehicle of Goddess Saraswati, the Goddess of wisdom and consort of Lord Brahma.
Warah Temple:
This second most important shrine of Pushkar.

Dedicated to Lord Vishnu in the form of Warah, the wild boar.

Built by Chauhan King Anaji (1123-1150).

Destroyed by Muhammad Ghauri after his victory over Ajmer.

In 1806, Gokul Chand Parikh, a Scindia minister renovated the shrine.
Savitri Temple:
Shrine of Lord Brahma's first wife is set on the hill behind the Brahma temple.

It can be reached by a long flight of steps and affords a bird's eye view of the lake and surrounding areas.
Temple of Rangji or Shri Vaikunthnath Ji:
Magnificent shrine built in South Indian style is noted for its towering 'Gopuram' (gateway).

Other important temples are – Apteshwar Mahadeo Temple, Baiji ka Mandir and Man Mandir.
Pushkar Lake:
Sacred reservoir is said to be created by the falling of lotus petal from the hand of Lord Brahma.

Lake is considered to be as old as the creation and one of the sacred 'Panch Sarovar' or Five Lakes.

Other four are Man Sarovar, Bindu Sarovar, Narayan Sarovar and Pampa Sarovar.

52 bathing ghats around the lake.

Devotees believe that a dip in the waters of the lake washes away the sins, especially during Kartik Poornima (Oct/ Nov).
Man Mahal:
It was built by Raja Man Singh-I of Amber, as a royal guest house.

Provides a fine view of the ghats.

Guest house has been converted into a hotel.
Pushkar Palace:
400 year old palace of Maharaja of Kishangarh.

It has been converted into a hotel.
27 kms away from Ajmer city.

One of the finest schools of miniature paintings.

Paintings of Bani Thani are most celebrated.

Kishangarh is now an industrial town for marble and textiles.