AMRITSAR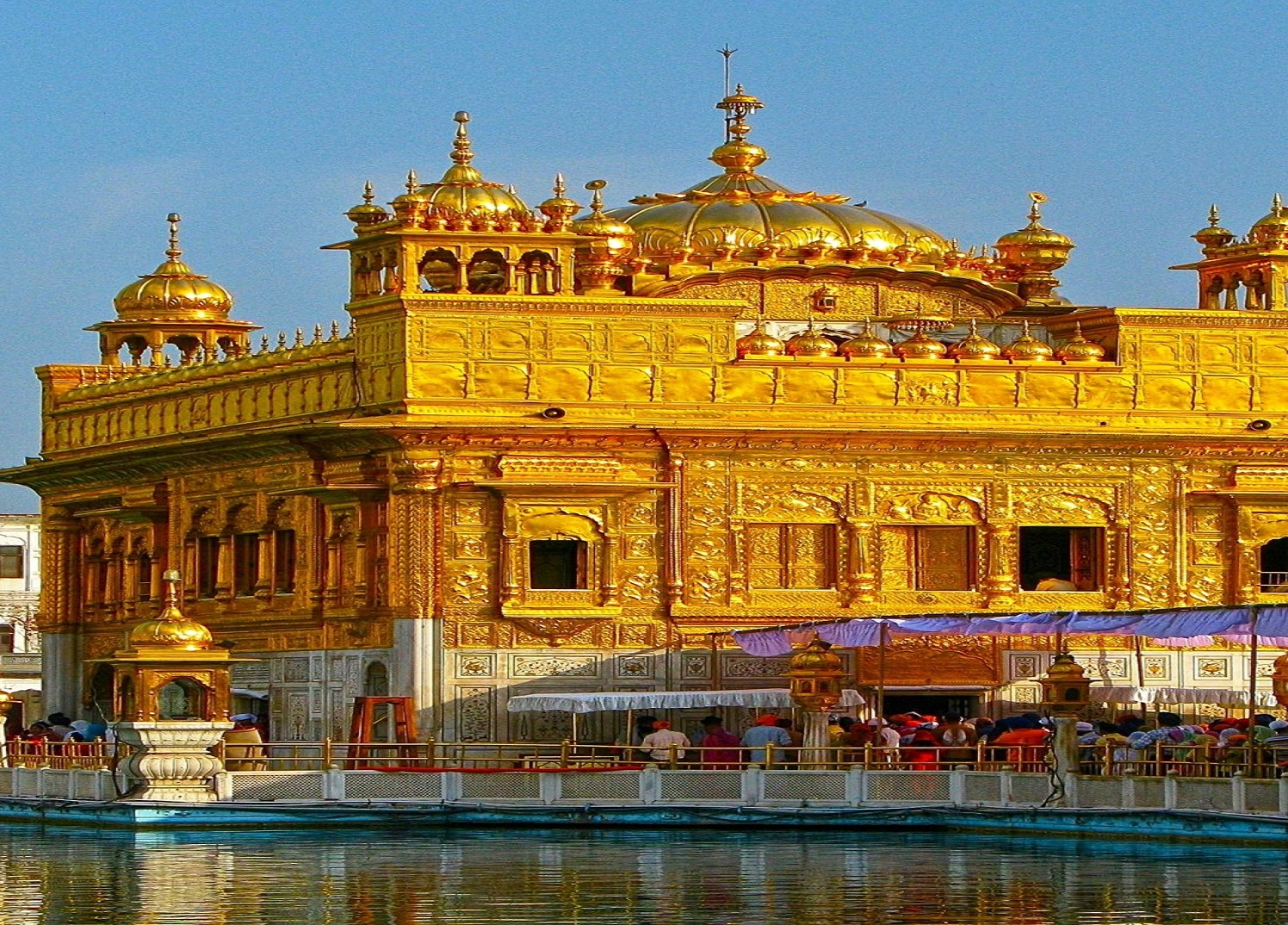 ABOUT AMRITSAR:
The 'Spiritual Capital of Punjab' is one of the most important Sikh pilgrim centres in the country.

It was founded in 1577, by Guru Ram Das and was later named as Amritsar, after the sacred pond – Amrit Sarovar or the 'Pool of Nectar'.
MODE OF COMMUNICATION:
Airport: Sri Guru Ram Dass Jee International Airport (ATQ), Amritsar, 12 kms away from Amritsar city centre.
Rail: Amritsar Railway Station, Amritsar, 2 kms away from Amritsar city centre.
Road: Well connected by road.
SIGHTSEEING AT A GLANCE:
HOLY CENTRE

Golden Temple Complex

Durgiana Mandir or Lakshmi Narain Temple

Ram Tirth

Tarn Taran

PARK & GARDEN

Jallianwala Bagh

Ram Bagh Garden

OTHERS

FAIRS & FESTIVALS

Lohri

Basant Panchami

Guru Purab

Baisakhi

Ram Tirath Fair
For more information visit https://amritsar.nic.in/tourism/
ATTRACTIONS OF AMRITSAR
Golden Temple Complex:
Magnificent temple complex set in the 'heart' of Amritsar is the holiest shrine of the Sikhs.

Its foundation was laid in 1588, by the fifth Sikh Guru Arjun Dev ji on a small island in the waters of Amrit Sarovar and was consecrated on August 16, 1604.

Temple was virtually destroyed in 1761, by Ahmad Shah Abdali, an Afghan invader.

It was restored between 1803 and 1830 by Maharaja Ranjit Singh, a great Sikh ruler.

Gurudwara complex is a fine blend of Hindu and Islamic architecture and is regarded as one of the most tastefully decorated shrines of the world.

Darshani Deori, the northern gateway with two splendidly carved silver doors is the main entrance.

It also houses the central Sikh Museum.

Main shrine called as Harmandar or Darbar Sahib is set in the middle of sacred Amrit Sarovar pond.

Original copy of Guru Granth Sahib, the holy book of Sikhs is kept covered under a jewelled canopy at the Darbar Sahib during the day and is returned ceremoniously to the Akal Takht at night.

Maharaja Ranjit Singh covered the dome of the shrine in gold and embellished the interiors with lavish decorations.

Guru-ka-Langar, the massive community kitchen overlooking the eastern entrance of the temple complex is a must visit site.
Jallianwala Bagh:
Beautiful walled garden near the Golden Temple complex is a major landmark in the history of India's struggle for independence.

Martyr's Memorial built in the shape of an eternal flame of liberty has become a pilgrim site for every Indian.

On April 13, 1919, Gen. R. Dyer ordered firing on a peaceful gathering here.

A section of wall with bullet marks is still preserved.

The exact number of deaths is still unclear, but the official figure show only 379 people killed and 1,200 injured.

The small Martyr's Gallery exhibits the pictures and newspaper reports as well as other first-hand accounts of this ghastly event.
Durgiana Mandir or Lakshmi Narain Temple:
This important shrine dedicated to Goddess Durga resembles the famous Golden Temple.
Ram Bagh Garden:
Small palace surrounded by a beautiful garden was built by Maharaja Ranjit Singh.

It houses a museum displaying weapons dating back to Mughals and portraits of various dynasties of Punjab.
ATTRACTIONS AROUND AMRITSAR
Ram Tirth:
11 kms away from Amritsar city.

It is believed to be the site of the Ashram of Maharishi Balmiki, the legendary sage who composed the great epic Ramayana.

Sita, the consort of Lord Rama is said to have stayed here and gave birth to the sons, Luv and Kush.

The pilgrim centre has an ancient tank and many temples.
Tarn Taran:
22 kms away from Amritsar city.

Famous golden domed Gurudwara at Tarn Taran was built by Sri Arjan Dev ji, the fifth Sikh Guru.

The water of the holy pool is said to possess miraculous powers, especially for those suffering from leprosy.
Wagah Border:
28 kms away from Amritsar city.

Spectacular ceremony of "Beating the Retreat" held every evening at Wagah border near Attari has become an important tourist attraction on both sides of the Indo-Pak border.