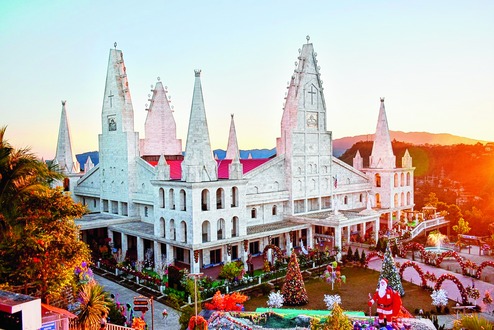 AIZAWL
ABOUT AIZAWL:
Attractive capital town of Mizoram.

It is set on a ridge at an altitude of 4,000 feet above sea level.

Overlooking the lush green Tlawng River valley on its east.

North are the beautiful craggy hills of Durtlang.

Tropic of Cancer passes through this tranquil hill resort.
MODE OF COMMUNICATION:
Airport:

Lengpui Airport,

Aizawal (AJL), 31 kms away from Aizawl city.

Rail:

Silchar Railway Station, Silchar, 184 kms away from Aizawl.

Road:

Well connected with NH 54.
SIGHTSEEING AT A GLANCE

SCENIC SITE

Bung & Paikhai

MUSEUM & AUDITORIUM

Mizoram State Museum

LAKE

Tamdil Lake

PARK & GARDEN

Mini Zoological Garden

OTHERS

Bora Bazar Luangmual Handicraft Centre
ATTRACTIONS OF AIZAWL
Mizoram State Museum:

It is set in the centre of the town.

Houses of historical relic's ancient costumes, textiles, exquisite artefacts and traditional implements.
Bora Bazar:

Main shopping area of Aizawal provides glimpses of Mizo lifestyle.

Mizo's in their traditional costumes trade their wares.

Women weaving shawls can be seen at work, at the "Weaving Centre''.
Mini Zoological Garden:

Zoo at the Durtlang Hills is home to animals and birds found only in the hills of Mizoram.

Durtlang Hills affords a panoramic view of Aizawl.

Must visit site for a breathtaking view of the hills.
FAIRS & FESIVALS OF MIZORAM
Chapchar Kut Festival - is celebrated every year in the 2nd of March in spring season celebrated for one day long. Standing in the ground were hundreds of Mizo damsels and energetic young-men dressed in their colourful attires all poised to perform the colourful Cheraw dance, thus heralding the start of the festival for the day. Chapchar Kut literally means - a festival held during the period when the bamboos and trees that have been cut down are being awaited to dry to be burnt for jhumming. The gaiety and fervour of Chapchar Kut still shines through with plenty of dancing and music to keep everyone in good spirits. People dance, perform skits, play musical instruments to celebrate their beloved festival with the aims of bringing camaraderie among the people .Chapchar Kut takes place on the Assam Rifles ground in Lammual and involves around 15,000 performers and most of the spectators also get involved in proceedings - particularly Chai, the last dance of the festival.
Mim Kut is a religious Festival held in Mizoram. Mim means maize or corn. It is observed after the maize or corn is ripe. It is usually celebrated during the months of August and September, after the harvest of maize. The festival takes place for 2-3 days, where people enjoy the festival with songs and dance and enlightens their spirit by preparing local dishes and drinking rice beer. The major highlight of this festival is that the people of Mizoram invoke the dead souls and offer tribute to them as it is believed that they visit the place where they used to live. In the offerings, they offer maize, vegetables, clothes, necklaces etc. On the second day of the festival, the local people serve bread lunches to each other and enjoy a great meal prepared from these bread items. As Mim Kut is a period for lamentation, it is also known as Tah Kut, which means 'festival of weaping'. If want to explore the beauty of the Mim Kut festival, can visit Mizoram and witness as well as enjoy this religious festival.
The Pawl Kut festival of Mizoram in which Pawl means "Straw" hence pawl kut means a straw harvest festival. It is typically celebrated in December before the advent of spring after harvest which brings in more colors to the carnival for two days and is an important festival in Mizoram. It is a colorful harvest festival that is accompanied by ballet, songs and dance.The people of Mizoram celebrate it by eating meat and eggs.There are lots of fun activities, dancing, and singing events organized by the local people where both male and female enjoy their hearts out and dance to the glory. During this festival, people donate food to the poor, which is also one of the customs of this festival. The Pawl Kut Festival in Mizoram is usually followed by a day of rest known as 'Eipuar Awim Ni'. After the advent of Christian Missionaries, these festivals are gradually vanishing. Thus people celebrate Pawl Kut as an act of thanksgiving to the Almighty for giving a bountiful harvest.
Every year in the month of November, one of the popular cultural festivals in Mizoram "Thalfavang Kut" (winter festival) were held on Friday and Saturday at Hmuifang Tourist resort with pomp and gaiety. This Mizo festival is being regularly being held in Hmuifang organized the Tourism Department of Mizoram to promote Tourism. Different Mizo dances like Cheraw, Sawlakai, Siktuithiang lam and Chheihlam are showcased in the festival. Various communities and tribes gather around and pitch in their collections in the form of a feast as they merrily spend the time The festival being filled with eye-catching cultural display, so the main objective of the festival is to draw tourists in from within and outside the State. Also, attractive photo exhibition, Kite-flying; Handloom Show & Sale also adds to the mesmerizing colour to this cultural event. Delicious foods items are also made available for the participants in the event.
Christmas celebrated on 25th December every year in Christian-dominated Mizoram with traditional fervor and merrymaking. Prayers and worship service held at different churches across the state since Christmas eve to celebrate the birth of Jesus. All the churches, missionary schools and institutions are also decorated with colourful buntings and lights. Christmas carols and free gospel street concerts marked the Christmas Eve programme, while mass singing of Christmas songs in traditional tunes & composers like Patea, Kamlala, Damhauha is being continued till evening. Community feasts are organised by some church denominations and contributions made by the people and NGOs to hospitals and the destitute homes. Also, People from a village or a locality congregate and eat together in feasts where pork and beef are the main dishes besides chicken, fish, vegetables and green salad. The food is prepared by villagers themselves. These cooks are known as 'Fatus' who are experts in cooking in their own way. Thus Mizoram "The Christian dominated state" soaked in yuletide spirit with sounds of Christmas carols and songs echoing from the streets, churches and almost every household across the State.
ATTRACTIONS AROUND AIZAWL
Bung & Paikhai:

15 kms away from Aizawal town.

These cool breezy places are popular picnic and recreational sites.
Luangmual Handicraft Centre:

7 kms away from Aizawl town.

"Khumbeu" the ceremonial bamboo hat made of waterproof wild 'Hnahthial' leaves.

One of the most popular items of this centre.
Tamdil Lake:

85 kms away from Aizawl town.

Largest Lake of Mizoram.

Excellent picnic site of the region.

It has facilities for boating.