AIZAWL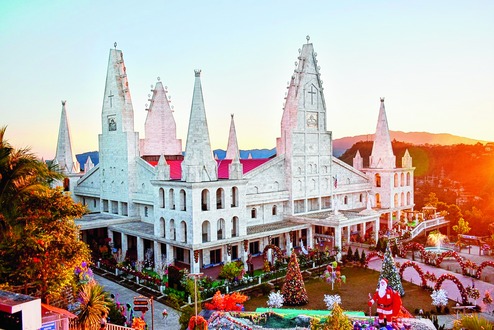 ABOUT AIZAWL:
Attractive capital town of Mizoram.

It is set on a ridge at an altitude of 4,000 feet above sea level.

Overlooking the lush green Tlawng River valley on its east.

North are the beautiful craggy hills of Durtlang.

Tropic of Cancer passes through this tranquil hill resort.
MODE OF COMMUNICATION:
Airport: Lengpui Airport, Aizawal (AJL), 31 kms away from Aizawl city.
Rail: Silchar Railway Station, Silchar, 184 kms away from Aizawl.
Road: Well connected with NH 54.
SIGHTSEEING AT A GLANCE
SCENIC SITE

Bung & Paikhai

MUSEUM & AUDITORIUM

Mizoram State Museum

LAKE

Tamdil Lake

PARK & GARDEN

Mini Zoological Garden

OTHERS

Bora Bazar Luangmual Handicraft Centre

FAIRS & FESTIVALS

Chapchar kut festival

Mim kut festival

Pawl kut festival

Thalfavang kut festival

Christmas
For more information visit https://aizawl.nic.in/tourism/
ATTRACTIONS OF AIZAWL
Mizoram State Museum:
It is set in the centre of the town.

Houses of historical relic's ancient costumes, textiles, exquisite artefacts and traditional implements.
Bora Bazar:
Main shopping area of Aizawal provides glimpses of Mizo lifestyle.

Mizo's in their traditional costumes trade their wares.

Women weaving shawls can be seen at work, at the "Weaving Centre''.
Mini Zoological Garden:
Zoo at the Durtlang Hills is home to animals and birds found only in the hills of Mizoram.

Durtlang Hills affords a panoramic view of Aizawl.

Must visit site for a breathtaking view of the hills.
ATTRACTIONS AROUND AIZAWL
Bung & Paikhai:
15 kms away from Aizawal town.

These cool breezy places are popular picnic and recreational sites.
Luangmual Handicraft Centre:
7 kms away from Aizawl town.

"Khumbeu" the ceremonial bamboo hat made of waterproof wild 'Hnahthial' leaves.

One of the most popular items of this centre.
Tamdil Lake:
85 kms away from Aizawl town.

Largest Lake of Mizoram.

Excellent picnic site of the region.

It has facilities for boating.