NASHIK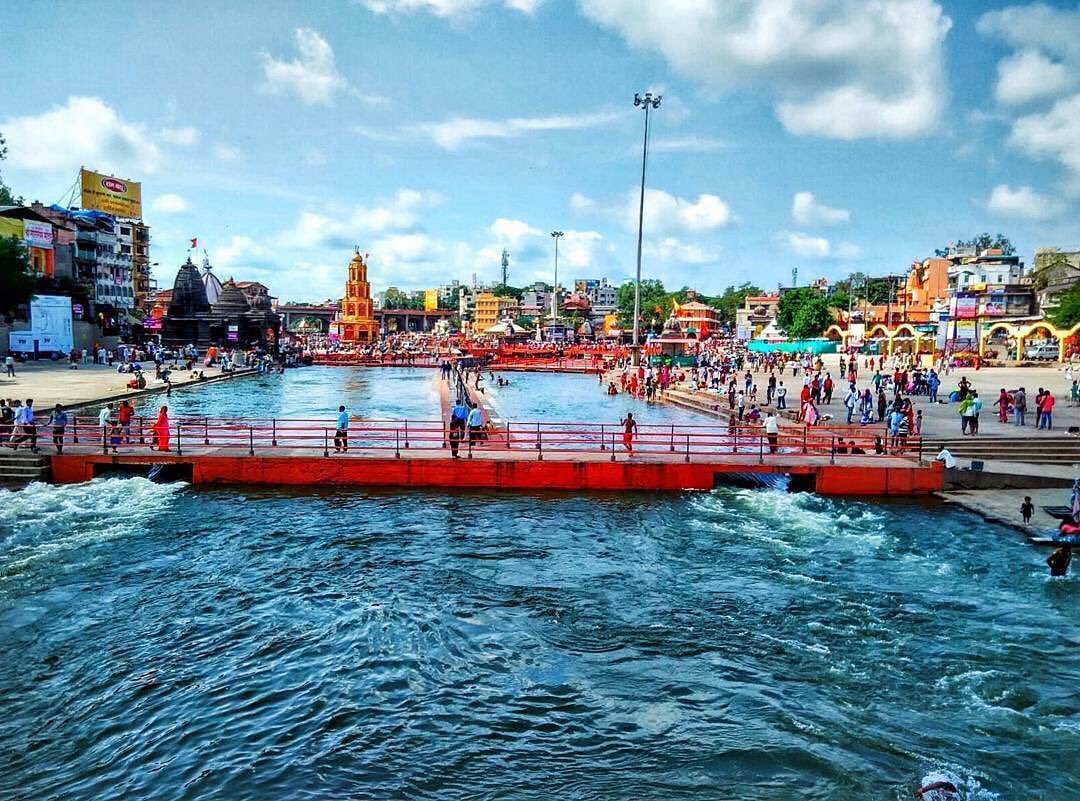 ABOUT NASHIK:
One of the most important pilgrim centres of Maharashtra is set on the banks of the sacred Godavari River.

It is believed that Lord Rama stayed here for some time during his 14 years exile.

The temple town has over 2000 small and big temples and bathing ghats lining the banks of the river.

Nashik is the venue of the holy Kumbh Mela, which is held once in every 12 years.

The city also famous educational and industrial centre.
MODE OF COMMUNICATION:
Airport: Chhatrapati Shivaji International Airport, Mumbai (BOM), 185 kms away from Nashik city.
Rail: Nashik Railway Station, Nashik, 9 kms away from Nashik city centre.
Road: Well connected by road.
SIGHTSEEING AT A GLANCE:
HOLY CENTRE

Ramkund Muktidham Temple Kalaram Temple Shirdi

SCENIC SITES

Bhandardara Jawhar

MUSEUM & AUDITORIUM

Coin Museum

FAIRS & FESTIVALS

Makar Sankranti
Diwali Festival
Rath Yatra
Kumbh Mela
For more information visit https://nashik.gov.in/tourism/
ATTRACTIONS OF NASHIK
Ramkund:
Sacred tank built in 1696, by Chitrarao Khatarkar is believed to mark the site where Lord Rama and Sita used to bathe during their stay over here.
Muktidham Temple:
Famous temple has a very unusual architecture.

It is believed that visiting the shrine is like undertaking the pilgrimage of four sacred dhams.
Kalaram Temple:
70 feet high temple built in the black stone in 1794, by Gopikabai Peshwa, resembles the famous Trimbakeshwar Temple.

It enshrines beautifully ornamented sandy black idols of Lord Rama, Sita and Laxman.

Temple is surrounded by several smaller temples like, Vithal Temple, Ganapati Temple and Maruti Temple.
Coin Museum:
It was established by the Indian Institute of Research in Numismatic Studies amidst scenic surroundings.

Museum exhibits a well-documented record of the history of Indian numismatics, through photographs, artefacts, line drawings, replicas and real coins.
ATTRACTIONS AROUND NASHIK
Trimbakeshwar:
39 kms away from Nashik city.

Important pilgrim site is famous for the temple of Trimbakeshwar and the source of the sacred Godavari River located nearby.

Temple enshrines one of the twelve Jyotirlingas in the country.

A big fair is held on the occasion Shivratri.

The massive Sinhasta fair or Kumbh Mela is also held here once in twelve years.

According to mythological legends, when Amrit (the nectar of immorality) was recovered from the ocean, there was a battle between the Gods and demons for it.

During the flight few drops of amrit fell at Allahabad, Nashik (Trimbakeshwar), Haridwar and Ujjain.

Since then the Kumbh Mela is organised at these places, once in every 12 years.
Shirdi:
112 kms away from Nashik city.

This 'abode' of Sri Sai Baba is one of the most important pilgrim centres of the State.

Sri Sai Baba, the great teacher and saint lived and died here and is believed to be the incarnation of Guru Dattatraya.

He preached religious tolerance and universal brotherhood and is revered by devotees of all faiths.

His followers from all parts of India and abroad flock to the sacred shrine round the year.

Main temple has a life like marble statue of the saint installed on a high pedestal.

Thursdays are of special importance, as on this day Sai Baba attained 'Nirvana'.

Annual fairs are held here on Ramnavami, Guru Purnima and Dusshera.
Bhandardara:
80 kms away from Nashik city.

Quiet little hill resort is dominated by Mt. Kalsubai, the highest peak (1,646 metres) in the Sahyadri range.

Wilson dam is probably the only one to be constructed at a height of 150 meters.

The Arthur Lake is the largest and loveliest lake to be situated at such a height.
Jawhar:
60 kms away from Nashik city.

A beautiful hill resort and also known as the 'Mahabaleshwar of Thane district'.