KHAJURAHO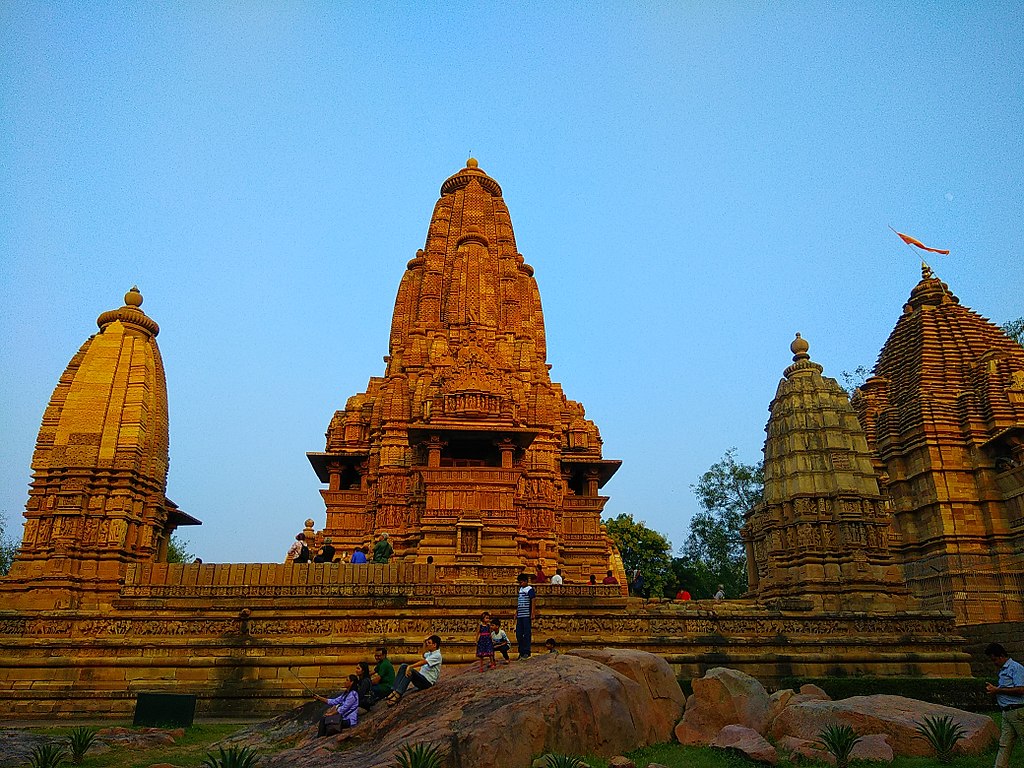 ABOUT KHAJURAHO:
The world Heritage Site is situated with ornately carved shrines built by the Chandelas.

Over 85 temples were built between 950-1050 AD, in a truly inspired burst of creativity.

Today, only 22 temples have survived, which constitute one of the world's great artistic wonders.

Each shrine stands on a high, masonry platform , with a marked upward direction in the structure, further enhanced by vertical projections to create the effect of grace and lightness.

Temple walls are embellished with exquisite stone carvings which portray every facet and mood of life, from the erotic to the divine, the commonplace to the shrine.

Temples are geographically divided into three groups – western, eastern and southern.

Western Group –

Kandariya Mahadeo, the largest and most typical temple is dedicated to Lord Shiva.

Chaunsath Yogini is the only granite temple and the oldest surviving shrine of the group.

Other important shrines in the western group are Vishwanath, Lakshmana, Varah and Matangeswara etc.

Eastern Group –

Parsvanath Temple, Ghantai Temple, Adinath Temple.

Southern Group –

Duladeo Temple, Chaturbhuj Temple etc.
MODE OF COMMUNICATION:
Airport: Khajuraho Airport, Khajuraho (HJR), 6 kms away from Khajuraho city centre.
Rail: Harpalpur Railway Station, Harpalpur, 99 kms away from Khajuraho. Satna Railway Station, Satna, 120 kms away from Khajuraho. Jhansi Railway Station, Jhansi, 175 kms away from Khajuraho.
Road: Well connected by road.
SIGHTSEEING AT A GLANCE:
| | |
| --- | --- |
| MUSEUM & AUDITORIUM | State Museum of Tribal & Folk Art |
| WILDLIFE | Panna National Park |
| OTHERS | Sound & Light Show |
| FAIRS & FESTIVALS | Khajuraho Festival |
For more information visit https://www.mptourism.com/destination-khajuraho.php
ATTRACTIONS OF KHAJURAHO
Sound & Light Show:
Spectacular show held at the western group of temples, narrates the life and times of Chandela kings.
State Museum of Tribal & Folk Art:
A rich collection of tribal and arts and artefacts are exhibited at the Chandela Cultural Complex.

State Museum displays items of terracottas, metal craft, woodcraft, tribal artefacts etc.
Khajuraho Dance Festival:
Festival of classical dance is celebrated in February/ March.

Eminent dancers perform against the backdrop of floodlit temple.
ATTRACTIONS AROUND KHAJURAHO
Panna National Park:
32 kms away from Khajuraho.

Jungles spread along river Ken amidst Vindhya ranges are home to some of the best wildlife species in India.

Panna National Reserve was created in 1981 and declared a Project Tiger Reserve in 1944.

Most famous inhabitants are wild cats as well as deer and elephant.

Other animals seen here are – wild dog, hyena, sloth bear, crocodile etc.

Best time to visit November to February.