INDORE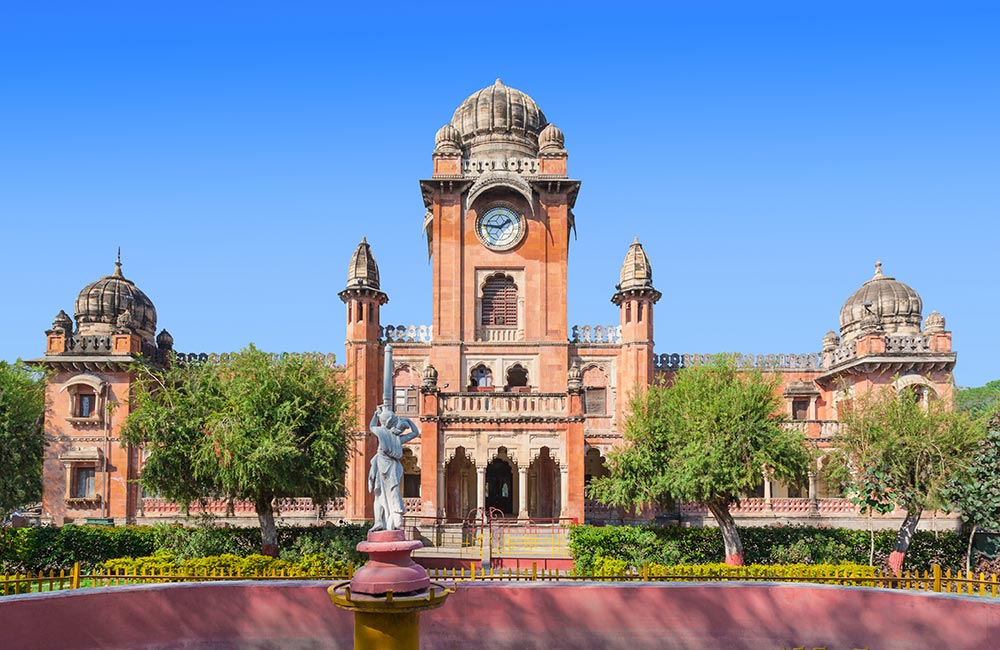 ABOUT INDORE:
The seat of Holkars is set on the banks of river Saraswati and Khan in the heart of picturesque Malwa plateau.

It was planned and built by Rani Ahilya Bai and named after the 18th century Indreshwar temple.

Formerly a major textile trading centre, the city has emerged as a throbbing mini metropolis with a cosmopolitan culture.
MODE OF COMMUNICATION:
Airport: Devi Ahilyabai Holkar Airport, Indore (IDR), 6 kms away from Indore city centre.
Rail: Indore Railway Station, Indore, 2 kms away from Indore city centre.
Road: Well connected by road.
SIGHTSEEING AT A GLANCE:
FORT & MONUMENTS

Dhar Vedh Shala (Observatory) Kaltadeh Palace

HOLY CENTRE

Bawangaja Maheshwar Omkareshwar Ujjain Mahakaleshwar Temple Bade Ganeshji Ka Mandir Harsiddhi Temple Gopal Mandir Chintaman Ganesh Temple

FAIRS & FESTIVALS

Ameer Khan Festival
Malwa Utsav
Dussehra
Diwali/ Deepawali
Holi

Anant Chaudas

Rangapanchami
Ganesh Chaturthi
Makar Sakranti
Ahilya Utsav
For more information visit https://www.mptourism.com/destination-indore.php
ATTRACTIONS AROUND INDORE
Bawangaja:
175 kms away from Indore city centre.

Important Jain pilgrim centre with temples dating back to the early 15th century.
Dhar:
47 kms away from Indore city centre.

It was the glorious capital of Paramara kings, of whom Raja Bhoj is the best known.

City came under the Muslim influence with the rule of Delhi Sultanate.

Exhibits a fine blend of Hindu, Afghan and Mughal architectural styles.
Maheshwar:
Ancient pilgrim site on the banks of river Narmada, 90 kms away from Indore city centre, finds mention in epics Ramayana and Mahabharta.

Glory was revived by Rani Ahilya Bai, who built and renovated a number of shrines here.

Main attractions are Rajgaddi and Rajwada, the ghats and the temples of Kaleshwara, Rajarajeshwari, Vithaleshwara and Ahileshwar.

Rani Ahilya Bai also introduced the famous Maheshwari sarees well known for its unique weave, patterns and colours.
Omkareshwar:
Located on the confluence of river Narmada and Kaveri, 77 kms away from Indore city centre.

Holy Island shaped like the sacred Hindu symbol 'OM' is set amidst scenic surroundings.

Shri Omkar Mandhata temple of Lord Shiva is the main attraction here.

It enshrines one of the twelve Jyotirlingas.
Ujjain:
Lies on the banks of river Shipra, 55 kms away from Indore city centre.

One of the oldest and holiest of the Indian cities.

Ancient centre of learning is sanctified with the memories of Sandipani, Kalidasa, Asoka and Vikramaditya.

It is also the venue of mammoth Kumbh Mela, held once in twelve years.
Mahakaleshwar Temple:
Famous shrine of Lord Shiva enshrines one of the twelve Jyotirlingas in the country.

It was destroyed by Altamish of Delhi in 1235 and was restored in 19th century by the Scindias.
Bade Ganeshji Ka Mandir:
Located near the Mahakaleshwar temple and is known for the large ornate statue of Lord Ganesh.
Harsiddhi Temple:
It houses the famous image of the goddess Annapurna.
Gopal Mandir:
19th century shrine was built by the queen of Maharaja Daulat Rao Scindia.

Silver plated doors of the sanctum were originally taken from the temple at Somnath to Ghazni in Afghanistan and then to Lahore.

Gates were rescued by Mahadji Scindia and installed in the temple.
Chintaman Ganesh Temple:
Ancient temple on the opposite bank of the river Shipra has artistically carved pillars in the assembly hall.
Vedh Shala (Observatory):
It was built by Raja Jai Singh II of Jaipur in 1730, when he was the Governor of Malwa under the Mughal Emperor Muhammad Shah.

Ujjain has been India's Greenwich since the 4th century BC., as it stands on the first meridian of longitude for Hindu astronomers, who believed that the Tropic of Cancer also passed through the site.
Kaltadeh Palace:
This 'Water Palace' of the Mandu Sultans was built in 1458, on an island in the Shipra River.

Its central dome is a fine example of Persian architecture.