GWALIOR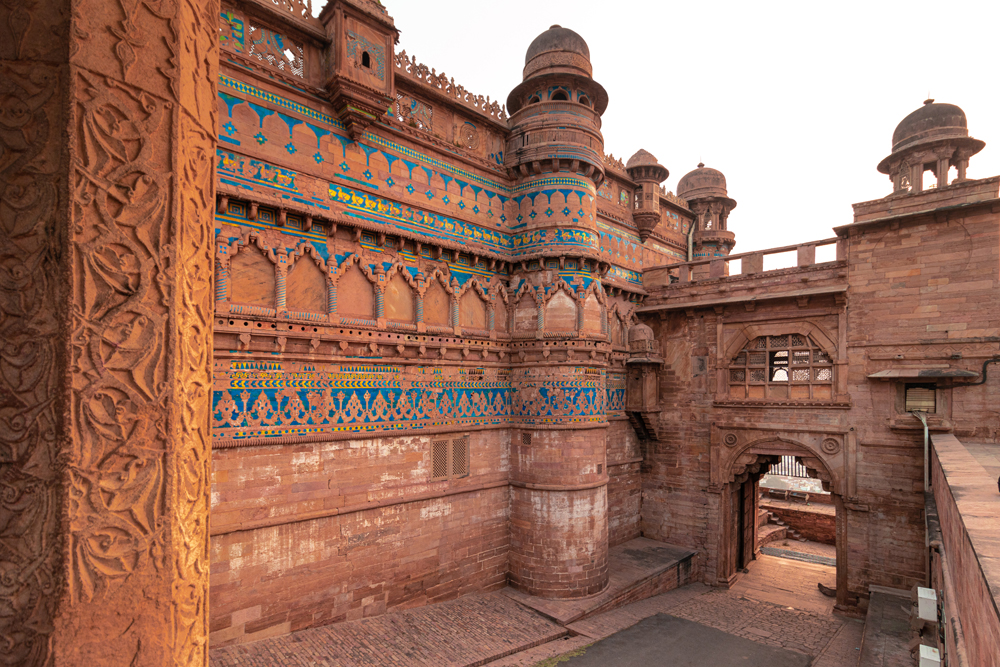 ABOUT GWALIOR:
The ancient capital city has been a cradle of great dynasties and a living heritage of heroism.

Its antiquity dates back to 8th century, when Suraj Sen, a chieftain, founded the city and named it after Gwalipa, a legendary saint who cured him of a deadly disease.

Gwalior, the city of palaces, temples and monuments witnessed the rule of great Rajput clans like Pratiharas Kacchwahas and Tomars.

Tradition as a royal capital continued until the formation of independent India, with the Scindia's having their dynastic seat here.
MODE OF COMMUNICATION:
Airport: Gwalior Airport, Gwalior (GWL), 11 kms away from Gwalior city centre.
Rail: Gwalior Railway Station, Gwalior, 1 km away from Gwalior city centre.
Road: Well connected by road.
SIGHTSEEING AT A GLANCE:
FORT & MONUMENTS

The Fort Man Mandir Palace Gujari Mahal Tansen's Tomb Jai Vilas Palace Orchha

HOLY CENTRE

Teli-Ka-Mandir Sas Bahu Ka Mandir Sun Temple Sun Temple Orchha

SCENIC SITES

Shivpuri

MUSEUM & AUDITORIUM

Jai Vilas Museum Kala Vithika and Municipal Museum

OTHERS

Scindia School Memorials

FAIRS & FESTIVALS

Tansen Samaroh or Tansen Sangeet Samaroh

Bhavbhuti Samaroh

Krishna Rao Samaroh
For more information visit https://www.mptourism.com/destination-gwalior.php
ATTRACTIONS OF GWALIOR
The Fort:
Magnificent fort atop Gopachal, a sandstone precipice 91 metres above the surrounding plain was built by Raja Mansingh Tomar.

It dominates the city like a great monolith and was described as 'the pearl amongst the fortresses of Hindu', by Mughal emperor Babur.

Imposing outer walls still stand, two miles in length and 35 feet high.

A steep road winds upwards to the fort, flanked by statues of the Jain tirthankaras, carved into the rock face.

Fort is dotted with various monuments which are marvels of medieval architecture.
Man Mandir Palace:
Most impressive building in the fort was built by Raja Man Singh between 1486 and 1517.

It witnessed many battles, jauhars and imprisonments.
Teli-Ka-Mandir:
9th century Pratihar Vishnu temple has a peculiar plan and design.

Its roof is in Dravidian style, while the decorations inside are in Indo-Aryan style.
Sas Bahu Ka Mandir:
9th and 11th century 'Mother and Daughter-in-law' pair of temples are dedicated to Lord Vishnu.
Gujari Mahal:
Elegant palace was built in 15th century by Raja Mansingh Tomar for his 'Gujari' queen, Mrignayani.

Today, it houses an archaeological museum.
Scindia School:
One of the finest schools in India.
Tansen's Tomb:
One of the nine gems at Emperor Akbar's court is a fine example of early Mughal architecture and a part of Gwalior's living cultural heritage.

Annual music festival is held here on a national scale in November/ December.
​​​​​​​Jai Vilas Palace:
Palace designed on the plan of an Italian palazzo is a fine blend of the Italian, the Tuscan and the Corinthian styles.
Jai Vilas Museum:
Offers an unparalleled glimpse into the rich cultural and lifestyle of princely India.

Some of the rich treasure exhibited here are –

Napoleon's golden table (one of the three in the world).

A carpet showing Rana Pratap on horseback.

A silver mini train with cut-glass wagons, which served guests as it chugged around on miniature rails on the table.

A glass cradle from Italy used for baby Krishna on Janamashtami festival.

Silver dinner sets and swords of Aurangzeb and Shah Jahan.
Memorials:
Gwalior is also dotted with memorials of the earliest freedom fighters like Tantya Tope, Rani Laxmi Bai of Jhansi and several Scindia princes.
Kala Vithika and Municipal Museum:
Kala Vithika houses a treasure of arts, while the natural history section of Municipal museum is worth visiting.
Sun Temple:
Newly constructed temple near the Residency at Morar.

Built on the lines of famous Sun Temple at Konark in Orissa.
ATTRACTIONS AROUND GWALIOR
Orchha:
124 kms away from Gwalior city.

Medieval town was founded by Rudra Pratap along Betwa River.

Retains the rich legacy of Bundela rulers, who built fine palaces and temples during 16th – 17th centuries.

Magnificent fort complex is dotted with spectacular palaces and temples.
Shivpuri:
112 kms away from Gwalior city.

Summer capital of the Scindia rulers of Gwalior is set amidst thick wooded hills, which were once inhabited by tigers and elephants.

Magnificent palaces, hunting lodges and cenotaphs reflect the grandeur of the bygone era.