LEH - LADAKH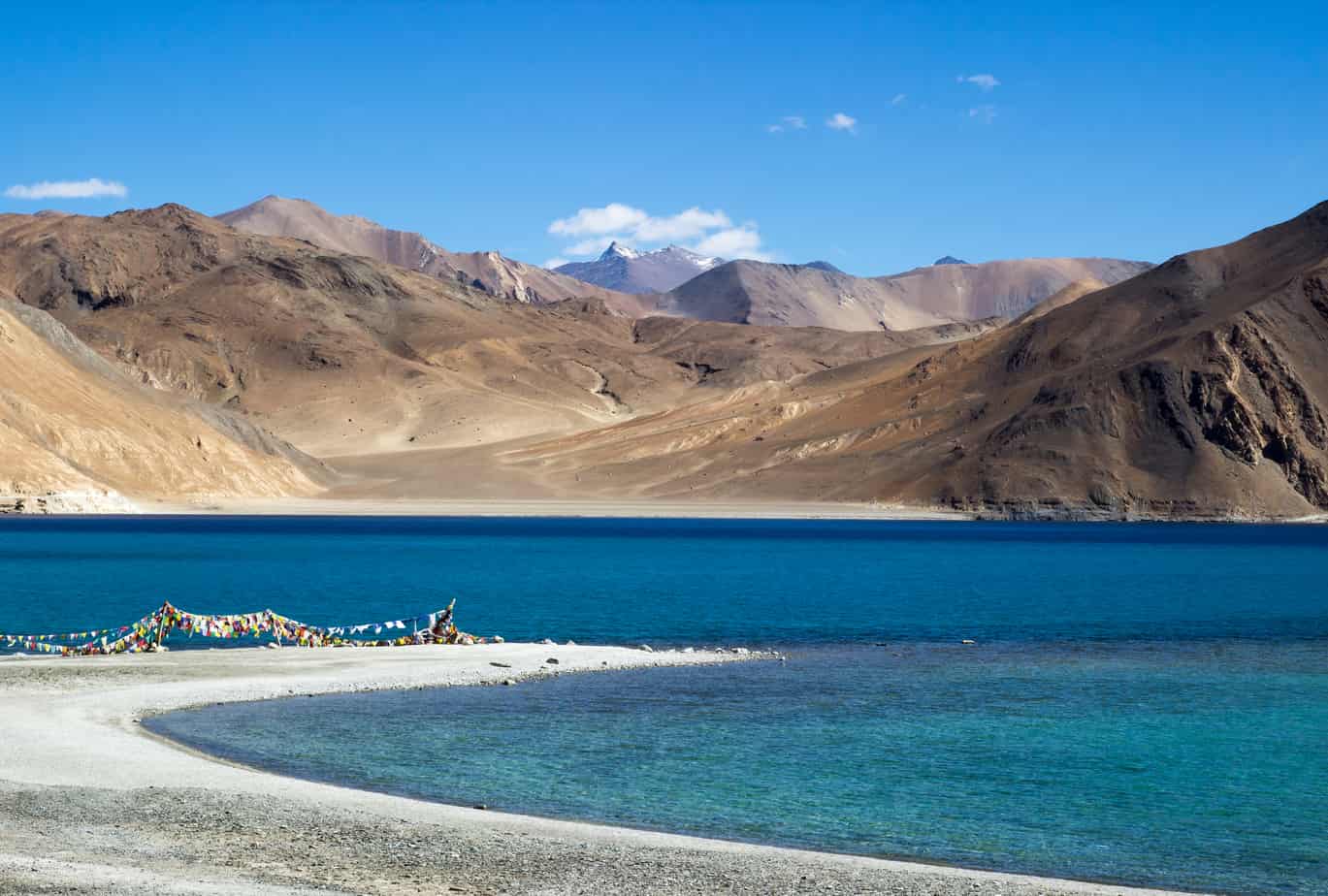 ABOUT LEH (LADAKH):
Leh, the ancient capital of Ladakh region is perched at an altitude of 3,350 metres.

Amidst starkly beautiful mountains, which gently blend into an oasis of lush fields.

Breathtakingly beautiful town is laden with palace and monasteries.

It was a flourishing caravan trade centre between Punjab and Central Asia and between Kashmir and Tibet.

Today, Leh has emerged as an important tourist destination providing an unusual holiday.

An ideal base for trekking, mountaineering, camping and white water rafting.

Region of upper Indus Valley around Leh is the cultural heartland of Ladakh.

Studded with a number of Buddhist monasteries (gompas) and magnificent palaces.
MODE OF COMMUNICATION:
Airport: Srinagar International Airport, Srinagar (SXR), 400 kms away from Leh and Satwari Airport, Jammu (IXJ), 700 kms away from Leh.
Rail: Jammu Tawi Railway Station, Jammu, 690 kms away from Leh.
Road: The most exciting way of reaching Leh is by road from Srinagar (387 kms). It takes about 2 days' time to reach Leh from Srinagar. Visitors normally rest for a night at Kargil (204 kms), which is the midway point.
SIGHTSEEING AT A GLANCE:
SCENIC SITE

Changspa

HOLY CENTRE

Leh Monastery Namgyal Tsemo Leh Mosque Shanti Stupa Samkar Gomopa Alchi Monastery Hemis Monastery Phiyang Shey Spituk Monastery Thikse Monastery

FORT & MONUMENTS

Leh Palace Namgyal Tsemo Phiyang

WILD LIFE

Hemis High Altitude National Park

PLAY GROUND

Choglamsar

OTHERS

Ladakh Ecological Centre

FAIRS & FESTIVALS

Ladakh Festival
Sindhu Darshan
For more information visit https://leh.nic.in/tourism/
ATTRACTIONS OF LEH (LADAKH)
Leh Palace:
Nine storeyed majestic palace was built by Sengge Namgyal, the ruler of Ladakh during early 17th century.

It is said to have served as the model for the famous Patola Palace in Lhasa (Tibet)

Within the palace are old wall paintings depicting the life of Lord Buddha.

Small corridors have over 100 years old tanks or painted scrolls, statues and other armaments.
Leh Monastery:
Perched high above the valley-crags.

Dominates the palace and the town, symbolising the supremacy of the Spiritual King.

Monastery has a solid golden statue of Buddha, painted scrolls, ancient manuscripts and wall paintings.
Namgyal Tsemo:
Another hill rising above Leh town is occupied by a small fort and monastery complex of Namgyal Tsemo peak.

Built in the 16th century by King Tashi Namgyal and is believed to be the earliest royal residence in Leh.

Nearby is a Gonkhang, the shrine of the guardian deities and a temple dedicated to Maitreya (the Future Buddha).

Both the shrines house excellent murals.
Leh Mosque:
Magnificent mosque is a fine example of Turko – Iranian architecture.
Ladakh Ecological Centre:
It lies on the western edge of the town.

Engaged in development of agriculture, solar energy, health and environmental awareness in the region.

A small library and a shop selling local handicraft.
Shanti Stupa:
Splendid Shanti Stupa or the "Peace Pagoda" atop a hill.

Built in 1980, with the help of Japanese Buddhists.
Changspa:
Settlement on the outskirts of Leh is known of its exotic scenic beauty and colourful bazar.

Moravian church lies on the way to Changspa.
ATTRACTIONS AROUND LEH (LADAKH)
Samkar Gomopa:
3 kms away from Leh town.

19th century monastery is the only one built on valley level.

Seat of the yellow sect of the Buddhists and has a rich collection of miniature statues of pure gold and a number of wall paintings.
Choglamsar:
7 kms away from Leh town.

The main Tibetan refugee settlement in Ladakh.

Sporting activities like polo and golf can be enjoyed here.
Alchi Monastery:
70 kms away from Leh town.

12th century gompa on the banks of Indus.

One of the most beautiful gompas of Leh region.

Alchi is famous for its exclusive wall paintings.
Hemis Monastery:
43 kms away from Leh town.

Nestled atop a green hill is the biggest and wealthiest monastery of Ladakh.

Built in 1630, during the reign of Sengge Namgyal.

Masked dance performance is worth seeing during celebrations of the birth anniversary of Guru Padmasambhava in June.

Monastery has gold statues and stupas adorned with precious stones.

A rich collection of tankas, including the largest tanka in Ladakh which is unfolded only once in every 12 years (Last displayed in 2004).
Hemis High Altitude National Park:
35 kms away from town.

Unique Park covering an area of 600 sq. kms.

Inhabited by some of the most exotic and endangered animal species like – shapu, bharal, ibex, snow leopard etc.
Phiyang:
20 kms away from Leh town on the Leh-Kargil road.

Built by Tashi Namgyal in the later half of the 16th century.

Palace like gompa belongs to the Red Cap sect of the Buddhists.
Shey:
15 kms away from Leh town.

Ancient capital of Ladakh is believed to have been the seat of power of the pre-Tibetan kings.

Abandoned palace has a temple enshrining a 7.5 metre high copper statue of Buddha, plated with gold.

Statue dates back to the 17th century and is perhaps the largest of its kind.
Spituk Monastery:
8 kms away from Leh town.

15th century monastery atop a hill is said to be the oldest establishment of Gelugpa sect in Ladakh.

Built in Tibetan style and houses a library of Tsongkapa, the sects founder.
Thikse Monastery:
20 kms away from Leh town.

One of the largest and architecturally the most impressive gompas in Ladakh.

Monastery is mainly known for its exotic murals and wall paintings.