PALAKKAD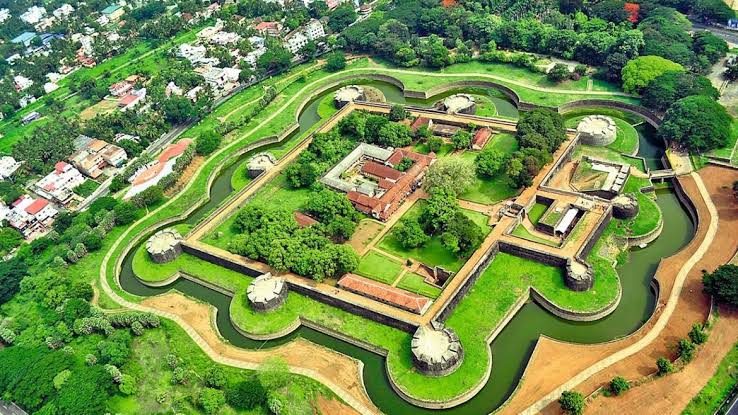 ABOUT PALAKKAD:
Picturesque Palakkad, set in the foot of Western Ghats is the 'Gateway to Kerala' from the north.

Played a significant role in the cultural history of southern India and is dotted with number of temples, mosques and churches.
MODE OF COMMUNICATION:
Airport: Coimbatore International Airport, Coimbatore (CJB), 55 kms away from Palakkad town, Cochin International Airport, Kochi (COK), 160 kms away from Palakkad town.
Rail: Palakkad Railway Station, Palakkad, 3.5 km away from Palakkad centre of town.
Road: Well connected by road.
SIGHTSEEING AT A GLANCE:
SCENIC SITE

Malampuzha

FORT & MONUMENTS

Palakkad Fort

HOLY CENTRE

Kalpathy Siva Temple

WILDLIFE

Parambikulam Wildlife Sanctuary Silent Valley National Park

OTHERS

Ayurveda

FAIRS & FESTIVALS

Kalpathi Rathotsavam
Vela at Manappulli Kavu
Kanniyarkali
Nenmara Vallengy Vela
Pavakkoothu
Kaalapoottu
Konganpada
Pattambi Nercha
For more information visit http:// https://palakkad.nic.in/tourist-places/
ATTRACTIONS OF PALAKKAD
Palakkad Fort:
Majestic granitic fort set in the heart of the town was built by Hyder Ali of Mysore in 1766.

It was taken-over by the British in 1790 and is one of the best preserved forts of the State.

There is an open-air auditorium and a museum inside the fort.
Kalpathy Siva Temple:
Famous temple on the banks of river Kalpathy is known for the annual car festival held in November.
ATTRACTIONS AROUND PALAKKAD
Malampuzha:
12 kms away from Palakkad town.

Charming town amidst picturesque surrounding is famous for the Malampuzha Dam.

Around the reservoir are beautiful rose gardens and amusement park of the children.

'Yakshi', the work of Kerala's famous sculptor Kanai Kunhiraman is displayed in the garden.

Boating, fishing and various water sports facilities are also available here.
Parambikulam Wildlife Sanctuary:
110 kms away from Palakkad town.

Covers an area of 285 sq. kms around the Parambikulam, Thunacadavu and Peruvaripallan dams.

It is a part of the neighbouring Anaimalai Sanctuary in Tamil Nadu.

Key fauna – gaur (bison), sambar, spotted deer, Nilgiri langur, lion tailed macaque, sloth bear etc.

Boat cruises are available at the Parambikulam reservoir.

Best time to visit February to April.
Silent Valley National Park:
Park is located 80 kms from Palakkad town in the lush Kundai Hills which has perhaps the last substantial stretch of evergreen rain forests in the country.

It is a safe haven for the rare lion tailed macaque, tiger and elephant.

Best time to visit from September to March.
Ayurveda:
Ayurveda, 'the Science of Life' is India's natural system of medicine.

Contribution of Kerala to the theory and practice of Ayurveda is enormous.

Celebrated Ashta Vaidyans, who belonged to the Namboothri community, are still active in the field.

Kottakkal Arya Vaidya Sala, at Kottakal, about 12 kms from Malappuram attracts patients from all over the country and abroad.

Kerala Ayurvedic physicians have earned high reputation in the field.

Quality Ayurvedic treatment, including massage with herbal oils, is a available at hotels and resorts.

State has emerged as a popular destination for health motivated travellers.