ALAPPUZHA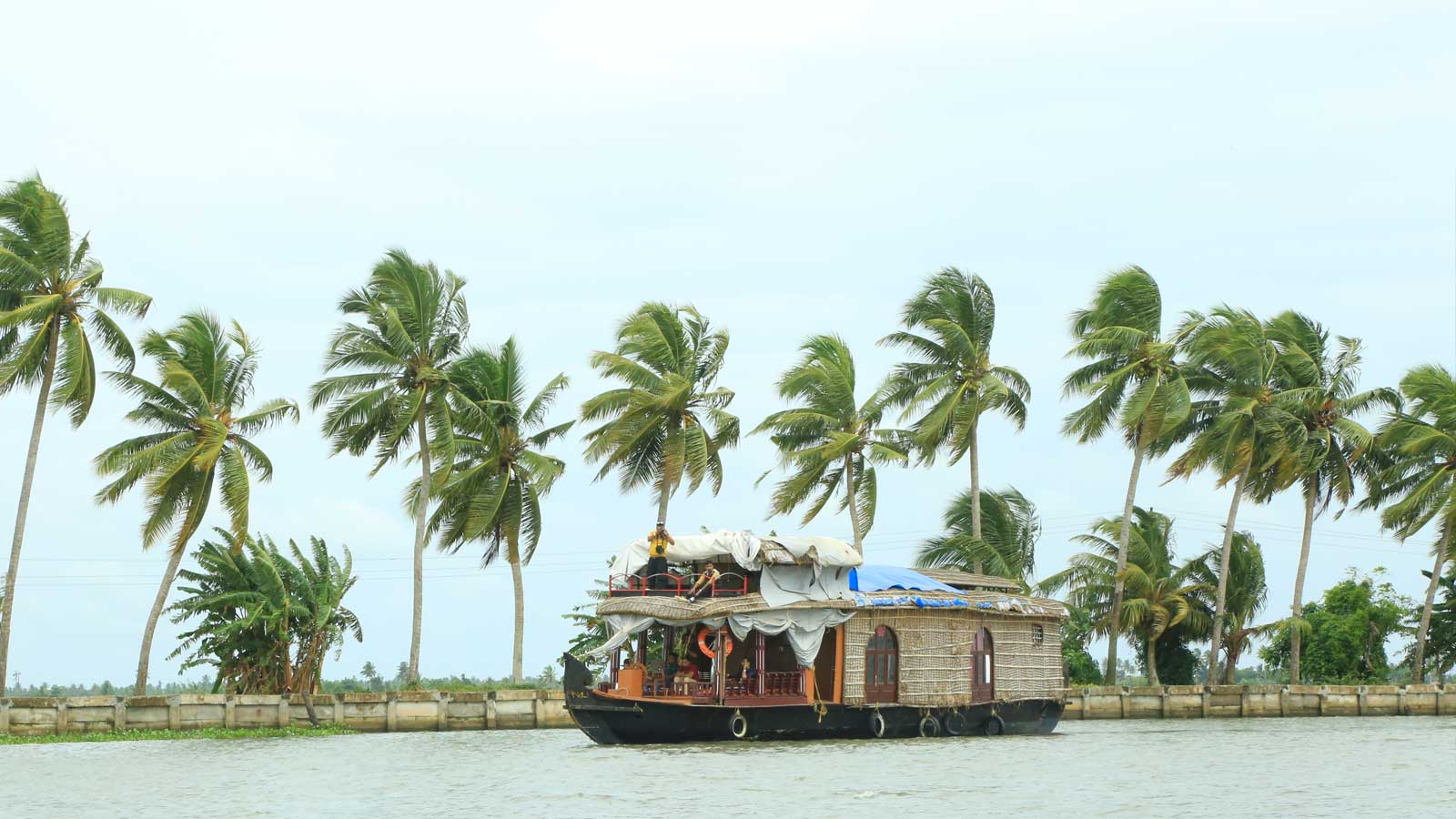 ABOUT ALAPPUZHA:
Alluring Alappuzha, the 'Venice of the East' is endowed with exceptional natural beauty and has emerged as a major tourist destination of the State.

Serene Vembanad Lake covering an area of 204 sq. kms stretches from Alappuzha to Kochi.

Kayamkulam Lake with an area of 59.57 sq. kms extends to the districts of Alappuzha and Kollam.

These lakes are widely used for the inland water transport of cargo and passengers in the region.

It provides a perfect introduction to the amazing backwaters of the State.
MODE OF COMMUNICATION:
Airport: Cochin International Airport, Kochi (COK), 64 kms away from Alappuzha city centre.
Rail: Alappuzha Railway Station, Alappuzha, 3 kms away from Alappuzha city centre.
Road: Well connected with NH47.
SIGHTSEEING AT A GLANCE:
HOLY CENTRE

Mullakkal Rajarajeswari Temple Ambalapuzha Aranmula Mannarsala

BEACHS

Alappuzha Beach

OTHERS

Nehru Trophy Boat Race

FAIRS & FESTIVALS

Champakulam Moolam Boat Race

Chettikulangara Kumbha Bharani

Nalukulangara Pooram

Nehru Trophy Boat Race

Payippadu Vallam Kali
For more information visit https://alappuzha.nic.in/
ATTRACTIONS OF ALAPPUZHA
Nehru Trophy Boat Race:
It is held annually on the second Saturday of August at the Vembanad Lake and is the most important tourist event of Alappuzha.

Boats sponsored by different villages compete fiercely in the competition.

Highlight of this prestigious event is "Chundan Vallam", the 130 feet long snake boats, with over 100 rowers, 4 helmsmen and 25 cheer leaders decorated with colourful silk umbrellas.

Punnamada Kayal is the starting point for the race.
Alappuzha Beach:
Beautiful beach with a distinct colonial ambience has and old lighthouse.

1,000 feet long pier which was built in 1862, by Captain Hugh Crawford.
Mullakkal Rajarajeswari Temple:
Shrine of Goddess Rajarajeswari is set in the heart of Alappuzha town.

Important festivals celebrated here are nine day 'Navrathri' and 'Thaipooyakavadi'.
ATTRACTIONS AROUND ALAPPUZHA
Ambalapuzha:
14 kms away from Alappuzha town.

Sri Krishna Temple built in traditional Kerala architecture is one of the most important shrines of Kerala.

It is known for 'Palpayasam' – a sweet milk porridge prepared everyday as an offering to the deity.

It is also ritual of Pallimpana performed by Valans (sorcerers) once in every twelve years.
Aranmula:
Located on the banks of river Pamba, 20 kms away from Alappuzha town.

Pictureque Hindu pilgrim centre famous for its rich culture and heritage.

It was declared as a 'Heritage Village of India' by the Indian National Trust for Art & Cultural Heritage (INTACH).

Main attractions are Parthasarathy Temple and Aranmula Vallomkalli, the famous Snake Boat Race held every year in the month of Chingam (August – September).
Mannarsala:
Charming site near Haripad on the Alappuzha – Kollam route, 32 kms away from Alappuzha town.

Famous for the ancient temple of Sree Nagaraja, the King of Serpents.

Nagaraja, the presiding deity is said to be endowed with the form of Hari (Lord Vishnu) and spirit of Lord Shiva.