MYSORE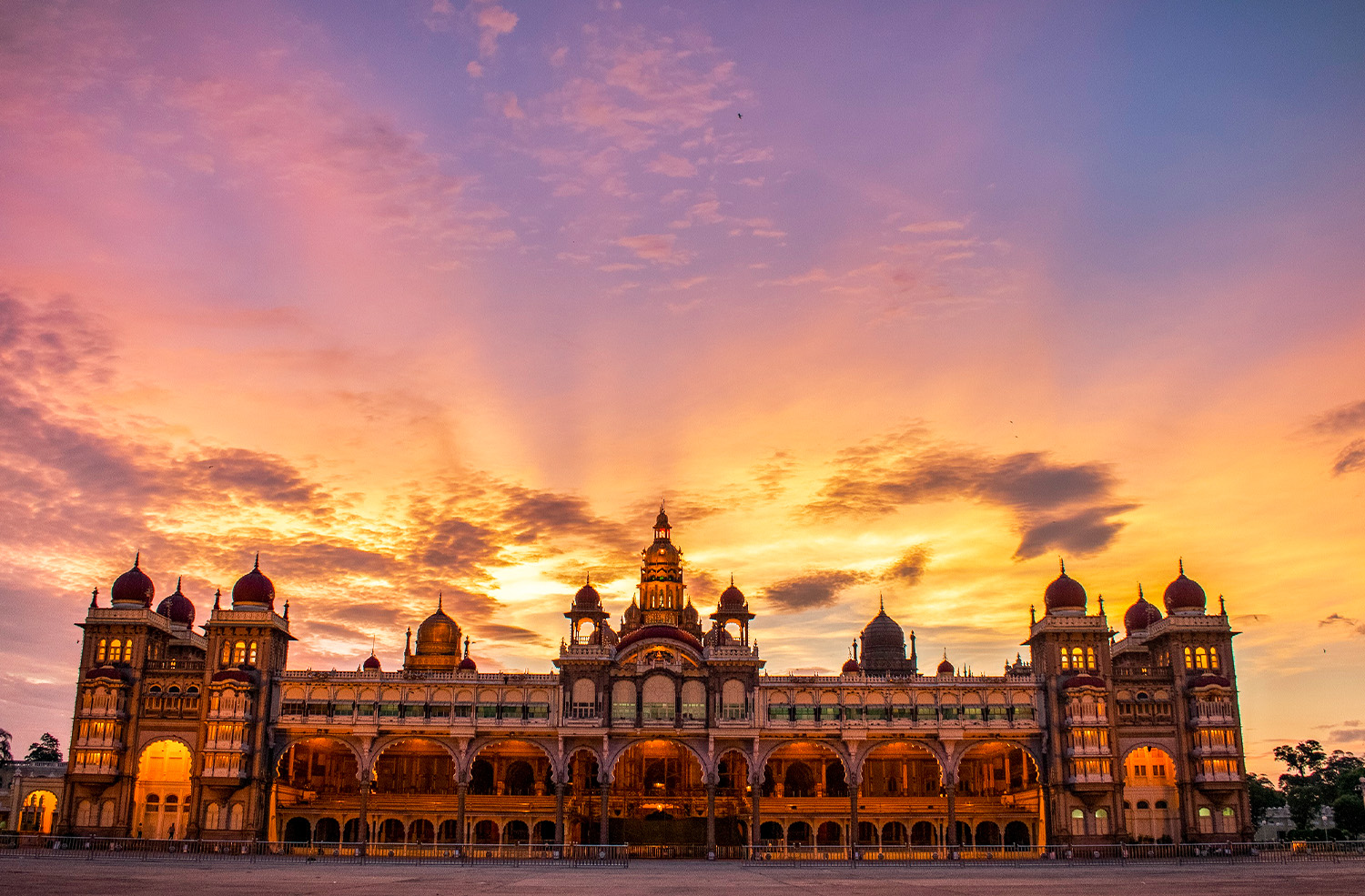 ABOUT MYSORE:
Majestic Mysore, the city of palaces and parks is the 'cultural capital' of Karnataka.

Historical town has legendary origins and its name is said to be derived from the word "Mahishasurana Ooru", which means the town of Mahishasura.

According to a mythological legend, Mahishasura, the demon king, once lived here and was killed by Goddess Chamundeshwari.

Ganga kings ruled here till 10th century and were succeeded by the Cholas, Hoysalas and the Vijayanagar kings.
Mysore became the glories capital of the Wodeyar's, feudatories of the Vijayanagar Empire, who declared independence in 16th century with the decline of Vijayanagar Empire.

Wodeyar rule was disrupted for some time, when Hyder Ali took over the reigns of Mysore in 1765.

Tipu Sultan, developed the kingdom rapidly, but was defeated by the British in 1799 and Mysore was given back to the Wodeyar's.
MODE OF COMMUNICATION:
Airport: Bengaluru International Airport, Bengaluru (BLR), 139 kms away from Mysore city.
Rail: Mysore Railway Station, Mysore, 2.5 kms away from Mysore city centre.
Road: Well connected by road.
SIGHTSEEING AT A GLANCE:
| | |
| --- | --- |
| SCENIC SITE | Sivasamudram |
| FORT & MONUMENTS | Mysore Palace Lalitha Mahal Palace Srirangapattana |
| HOLY CENTRE | St. Philomen's Cathedral Chamundi Hill Somnathpur Talakkad Melukote Billigiri Rangana (B R) Hills |
| MUSEUM & AUDITORIUM | Sri Jayachamarajendra Art Gallery Rail Museum Folklore Museum |
| WILD LIFE | Ranganathittu Bird Sanctuary Kabani River Lodge Billigiri Rangana (B R) Hills Bandipur National Park |
| PARK & GARDEN | Mysore Zoo or Sri Jayachamrajendra Zoological Gardens Brindavan Gardens & Krishnarajasagar Dam |
| HISTORIC SITE | Talakkad |
| WATERFALLS | Sivasamudram |
| FAIRS & FESTIVALS | |
For more information visit https://www.karnatakatourism.org/mysore-dasara/
ATTRACTIONS OF MYSORE
Mysore Palace:
Magnificent three storeyed palaces in the heart of the town.

It was built between 1897-1912 on the foundation of an old palace which was partially destroyed in a fire in 1897.

Palace has splendid square towers at cardinal points, crowned with domes.

Main attractions are – 'Durbar Hall' with its ornate ceiling and sculpted pillars and the Kalyanamandapam (Marriage Pavilion), noted for its chandeliers, cast-iron pillars, Belgian stained glass arranged in peacock designs in the domed ceilings and glazed tiled flooring.

Palace is also known for its rich collection of priceless articles like, a golden howdah (elephant seat), fine paintings and a 200 kg gold throne encrusted with precious stones.

About 97,000 electric bulbs light up the palace in the evening on Sunday, Public Holidays and during the Dassara celebrations.
Sri Jayachamarajendra Art Gallery:
Art Gallery is housed in the Jaganmohan Palace, one of the most beautiful buildings of Mysore.

A museum established here in 1915, has a fine collection of ceramics, sandalwood, ivory, stone, antique furniture and ancient musical instruments.

It also treasures valuable art collection like traditional Mysore gold leaf paintings and paintings of renowned artists like Travancore ruler, Raja Ravi Varma and the Russian painter Svetoslav Roerich etc.
Rail Museum:
Exhibits locomotives and coaches of the erstwhile royal family of Mysore.

There are also paintings and photographs describing the story of the railways.
Folklore Museum:
Museum at Jayalakshmi Vilas mansion has a rich collection of over 650 folklore articles.

It is perhaps the biggest of its kind in Asia.
Mysore Zoo or Sri Jayachamrajendra Zoological Gardens:
It was set up in 1892, during the rule of Chamrajendra Wodeyar.
St. Philomen's Cathedral:
Imposing twin towered Gothic structure with beautiful stained glass windows.
ATTRACTIONS AROUND MYSORE
Lalitha Mahal Palace:
9 kms away from Mysore city centre.

Charming white coloured double storeyed palace was built by Maharaja Krishnaraja Wodeyar in 1931, to accommodate the royal guests from overseas.

It has now been converted into a luxurious heritage hotel.
Chamundi Hill:
13 kms away from Mysore city centre.

Chamundeshwari Temple perched atop the hill is believed to be 2,000 years old, but the present structure dates back to 11th century.

It is dedicated to Goddess Chamundi, the patron deity of the Wodeyar's.

On the half way up there is a 4.8 metres tall monolith of 'Nandi', the bull, carved out of a single black rock.

There is also a gigantic statue of Mahishasura atop the hill, which was vanquished in the battle by Goddess Chamundi.
Brindavan Gardens & Krishnarajasagar Dam:
19 kms away from Mysore city centre.

Massive dam near the confluence of Kaveri, Hemavathi and Lakshamanatirtha Rivers.

It was designed and constructed by the famous architect M. Vishveswaraya in 1932, during the regin of Maharaja Krishnaraja Wodeyar IV.

Dam is about 2621 metres long and 39 metres high, while the reservoir covers an area of 130 sq. kms.

Beautiful terraced Brindavan Garden, built at the foot of the dam is famous for its illumination and musical water fountains.

Well-lit gardens in the evenings look like a fairyland.
Ranganathittu Bird Sanctuary:
16 kms away from Mysore city.

A rich variety of water birds like cormorant, egrets and spoonbills etc.

Sanctuary is mainly known for herons, who visit the islands for nesting and breeding.

Their chicks are generally hatched in July and August.

Best time to visit May to November.
Srirangapattana:
16 kms away from Mysore city.

18th century island capital of Haider Ali and his son Tipu Sultan is flanked by two branches of river Kaveri.

Battle scarred ramparts of the fort reflects the heroics of Tipu, who valiantly fought the British and delayed their hegemony over Mysore.

Within the fort are a mosque and the magnificent Ranganatha – swamy temple, dating back to 9th century, an evidence of secular and tolerant nature of Tipu.

Tipu Sultan's summer palace, Daria Daulatbagh and his mausoleum are located outside the fort.

Palace is noted for its gilded wall panels, ornate arches and 18th century frescoes.
Somnathpur:
35 kms away from Mysore city.

Sacred Somnathpur is one of the three jewels of Hoysala temple architecture; the other two are Belur and Halebid.

Prassana Chennakesava Temple here was built in 1268.

Built during the reign of king Narasimha III, at the instance of his minister Somanatha Dandanayaka.

Like other Hoysala shrines, it is set on a raised plinth with a star shaped ground plan, but unlike the Belur and Halebid temples, it was actually completed.

Temple complex has a triple – shrine (trikutachala), each with its own stunningly beautiful vimana and sukhanasi (vestibule) and a spacious common navaranga mandapa.

Outer walls are exquisitely carved narrating episodes from Ramayana, Mahabharata and Bhagvatha.
Kabani River Lodge:
80 kms away from Mysore city.

Jungle resort on the eastern fringes of famous Nagarhole Sanctuary has emerged as a popular tourist destination.

Lush forest along the Kabani River teems with wildlife and birds and a nature lovers paradise.
Talakkad:
45 kms away from Mysore city.

Historic and religious centre on the left bank of Kaveri was the capital of Gangas from 5th to 10th century.

In 1116, Hoysala king Vishnuvardhana attacked Talakkad, under the Cholas and attained victory.

Celebrate his victory, Vishnuvardhana built five temples dedicated to Lord Vishnu, one of them is the Kirtinarayan temple.

Talakkad is also known for the five Shivalinga or the 'Panch lingas' enshrined in beautiful temples.
Sivasamudram:
Island town endowed with exceptional scenic beauty is 44 kms from Mandya and 80 kms from Mysore.

Famous for the two picturesque falls – Gaganachukki and the Bharacukki created by the branches of river Kaveri.

Ranganatha and Someshwara Shiva temple are two important shrines of the island.
Melukote:
48 kms away from Mysore city.

Melukote or the 'High Fort' is well known for the Panchanarayana temples.

Five shrines dedicated to Lord Vishnu and built by the Hoysala king Vishnuvardhana.

Famous Cheluvarayaswami temple atop Yadavagiri hill enshrines a fine statue of Lord Vishnu, holding the Shanku (conch), Chakra (a dise like weapon) and a Gadha (mace).
Billigiri Rangana (B R) Hills:
B R Hills are a delight for wildlife, trekking and adventure sports enthusiasts.

Terrain is dotted with peaks and hill top temples.

Billigiri Rangana Temple dedicated to Lord Rangaswamy is the most important shrine.

Ratha (chariot) festival is held here in April.

Other places worth seeing are – Dadda Sampige Mara, the 2,000 year old giant tree and BRT Wildlife Sanctuary.
Bandipur National Park:
80 kms away from Mysore city.

Sprawls in the foothills of the Nilgiris and is one of the finest wildlife centres in the country.

Park was set-up in 1931, by the Mysore Maharajas and was brought under the 'Project Tiger' in 1974.

Covers an area of 874.20 sq. kms, adjoining the famous Mudumalai sanctuary in Tamil Nadu and Wayanad sanctuary in Kerala.

Lush forest full of teak, rosewood, hone, mathi, bamboo and sandal trees teems with elephant, tiger, leopard, panther, dhole (wild dog), bison, spotted deer, sambar, crocodile, cobra, python etc.

Birds like peafowl, partridge, quail, hornbill, ibis, eagle etc. can be seen here.

Visitors can take a safari on an elephant back or hire a vehicle to go round the park.

Best time to visit May to June and September to November.