BADAMI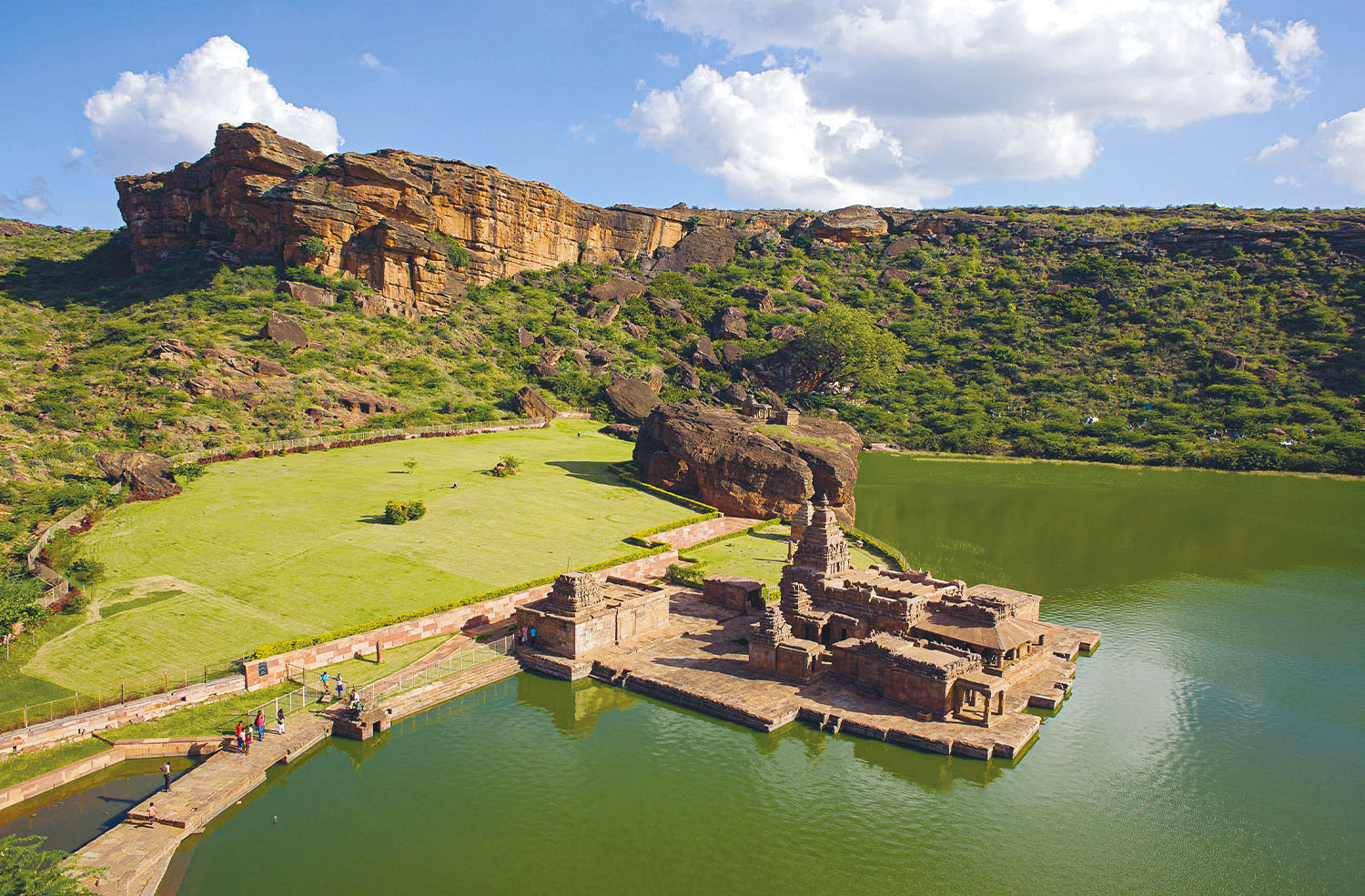 ABOUT BADAMI:
Beautiful capital of early Chalukyas from 540 to 757 AD.

Nestles in a spectacular gorge surrounded by gold-rust sandstone cliffs.

Indeed a treasure house of architecture and sculpture and has some of the earliest and finest example of rock cut caves and free standing temple architecture.
MODE OF COMMUNICATION:
Airport: Goa International Airport, Dabolim (GOI), 290 kms away from Badami city.
Rail: Badami Railway Station, Badami, 5.5 kms away from Badami city centre.
Road: Well connected by road.
SIGHTSEEING AT A GLANCE:
FORT & MONUMENTS

North Fort Pattadkal

HOLY CENTRE

Caves Jambulinga Temple Buddhist Temple Aivalli (Aihole) Temple of Durga Banashankari Temple Mahkuta Pattadkal

MUSEUM & AUDITORIUM

Archaeological Museum

FAIRS & FESTIVALS

Chalukya Utsava (festival)

Banashankari Devi Fair
For more information visit https://www.karnatakatourism.org/
ATTRACTIONS OF BADAMI
Caves:
Famous four cave temples carved into a cliff on the southern side are full of splendid sculptures.

6th century Cave No. 1 is dedicated to Lord Shiva is the oldest and has sculpture of 18 armed Natraja, the dancing Shiva.

There are also figures of Ardhanarishvara, Harihara, Nandi, Parvati and Garuda etc.

Cane No. 2 is dedicated to Lord Vishnu and is simpler design.

Some of the fine sculptures hare are of Varaha, the boar incarnation of Lord Vishnu, Naga and Trivikrama.

Large and beautiful Cave No. 3 is dedicated to Lord Vishnu and enshrines an enormous four armed figure of Lord Vishnu seated on his serpent couch.

Cave No. 4 carved during 7th-8th centuries is the only Jain temple in Badami.
Jambulinga Temple:
Ancient temple complex in the heart of the town dates back to 699 A.D.

There are shrine of Lord Shiva, Vishnu and Brahma, which open into a common mandapa.
Buddhist Temple:
Located in a natural cave near the ancient Bhutnath Lake.
North Fort:
Within the fort are temples, relics of a granary, a treasury.

A watch tower providing an insight into the history of Badami.
Archaeological Museum:
Houses specimens from Badami, Aivalli and Pattadkal.
ATTRACTIONS AROUND BADAMI
Aivalli (Aihole):
43 kms away from Badami city.

'Cradle of Indian Temple Architecture' on the banks of river Malprabha.

It was the capital of Chalukyas between the 4th and 7th centuries.

Chalukyas experimented hare with the idea of building temples and one can see temple architecture from its nascent stage to more complex edifices.

There are over 140 exquisitely carved temples; most of them are dedicated to Lord Vishnu.
Temple of Durga:
7th century shrine is the largest and finest monument of Aivalli.

Its semi-circular apse surrounded by an open colonnade and remains of curvilinear sikhara are quite unique.

Main figures at the shrine are – Chamunda Devi trampling the buffalo demon, Narasimha and aspects of Lord Shiva.

A small museum behind the Durga temple, exhibiting works of Chalukyan sculptors.
Banashankari Temple:
5 kms away from Badami city.

One of the most ancient temples of Karnataka.

Harishchandra Teertha, a large sacred pond in front of the shrine is a fine example of Chalukyan temple architecture.
Mahkuta:
5 kms away from Badami city.

Shaiva pilgrim centre set amidst lush surroundings.

Famous for the Mahakuteshwara temple dedicated to Lord Shiva.
Pattadkal:
20 kms away from Badami city.

Second capital of Badami Chalukyas, set on the banks of river Malaprabha is yet another grand show case of Chalukya style of architecture.

Cluster of magnificent temples at the foothills has been listed by UNESCO as a 'World Heritage Site'.

Most of the shrines date back to 7th and 8th centuries, but the earliest temples were built here 3rd and 4th centuries.

These temples represent the evolution of South Indian style of temple architecture.

There are 10 main temples and the largest among them is the Virupaksheshvara temple.

It has a huge gateway with intricate inscriptions depicting scenes from Ramayana and Mahabharata.

In front of the temple is a 2.6 metres high sculpture of Nandi.