JAMMU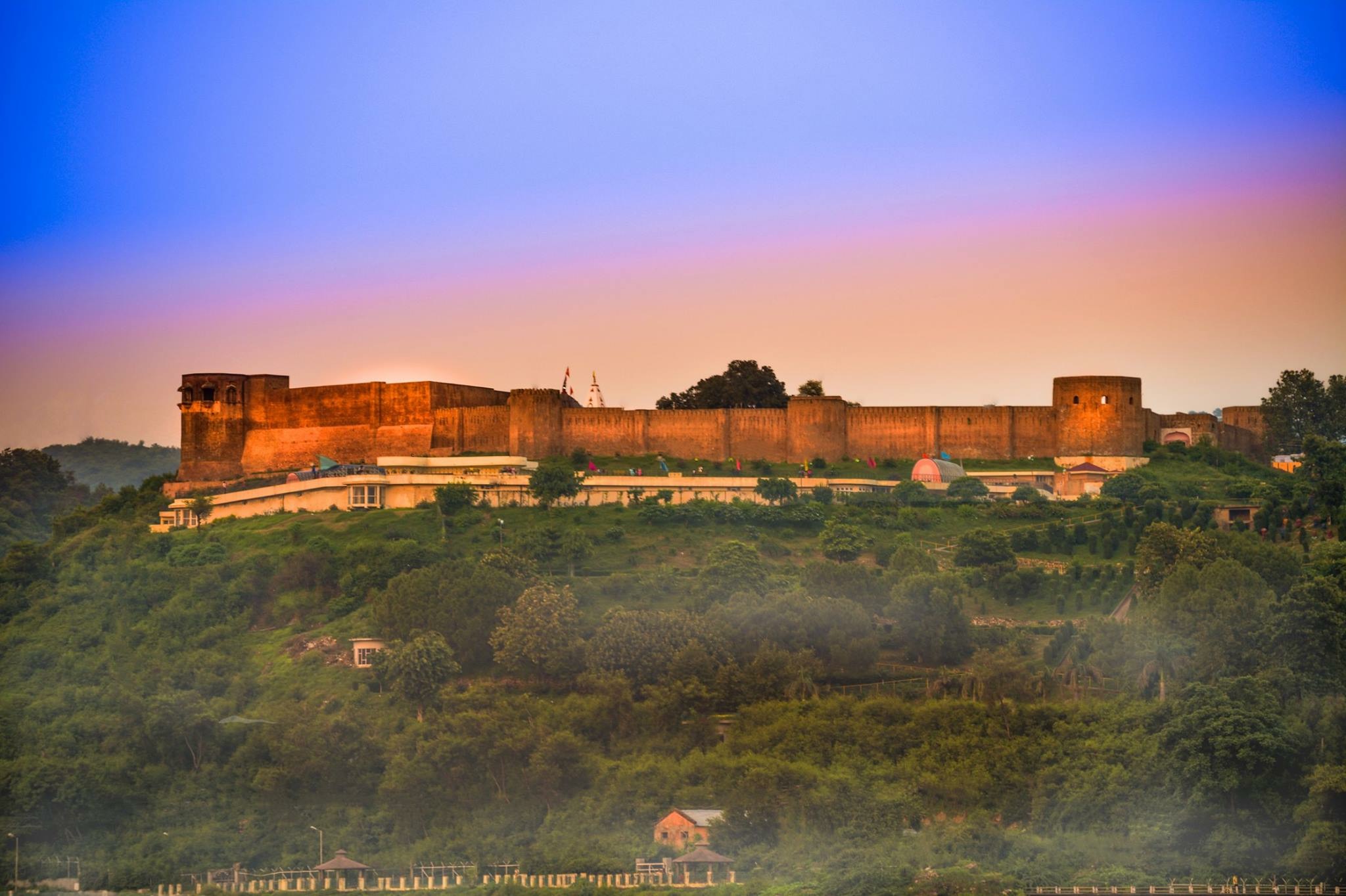 ABOUT JAMMU:
Winter capital of the State sprawls on the banks of river Tawi with Trikuta mountain range in the backdrop.

Antiquity if this city of ancient temples and magnificent palace is shrouded in myths and legends.

Raja Jambu Lochan, a Rajput king of later Vedic period founded his capital here and named it as Jambupura.
MODE OF COMMUNICATION:
Airport: Satwari Airport, Jammu (IXJ), 6 kms away from Jammu city centre.
Rail: Jammu Tawi Railway Station, Jammu, 5 kms away from Jammu city centre.
Road: Well connected with NH 1A.
SIGHTSEEING AT A GLANCE:
SCENIC SITE

Patnitop

HOLY CENTRE

Raghunath Temple Ranbireshwar Temple Peer Khoh Bahu Fort Patnitop Vaishno Devi

FORT & MONUMENTS

Bahu Fort Amar Mahal Museum & Library Mubarak Mandi Palace Complex

MUSEUM & AUDITORIUM

Amar Mahal Museum & Library Mubarak Mandi Palace Complex

LAKE

Mansar Lake

FAIRS & FESTIVALS

Lohri

Baisakhi

Bahu mela

Chaitre chaudash

Purmandal mela

Jhiri mela
For more information visit https://jammu.nic.in/tourism/
ATTRACTIONS OF JAMMU
Raghunath Temple:
Magnificent temple complex set in the heart of the city.

One of the most important and the largest shrines of northern India.

Construction was started in 1835, by Maharaja Gulab Singh, the founder of Jammu and Kashmir kingdom.

Completed by his son Maharaja Ranbir Singh in 1860.

Complex consists of 17 temples and the main shrine is dedicated to Lord Raghunath (Rama).
Ranbireshwar Temple:
Biggest Shiva temple in North India was built by Maharaja Ranbir Singh in 1883.

Enshrines a large number of Shivalingams.

Central lingam in black stone is seven and a half feet high and the twelve crystal lingams measure from 15 cms. to 38 cms.
Peer Khoh:
Ancient cave temple on the circular road.

A naturally formed Shivalingam, which is highly revered by the devotees.
Bahu Fort:
Ancient fort set majestically on a rock face, overlooks the gently flowing Tawi River.

Well known for the temple of Goddess Maha Kali, which is considered net only to the famous Mata Vaishno Devi Temple.

Beautiful Baghi bahu garden is located at the base of the fort.
Amar Mahal Museum & Library:
Magnificent red-brick palace is perched elegantly on a hill overlooking the Tawi River.

It was built by Raja Amar Singh.

Now houses a museum exhibiting excellent miniature paintings from Kangra School, paintings of contemporary Indian artists and portraits etc.

The highlight of the museum is the 120 kg solid gold Dogra throne, which was used by the erstwhile Maharaja.

Library at the palace has a collection of over 25000 books.
Mubarak Mandi Palace Complex:
Palace complex is a blend of Rajasthani and Mughal styles of architecture with influence of even Baroque European style.

Affords a fine view of the Tawi River on one side and the city on the other and had served as the residence of erstwhile Dogra rulers.

Pink Hall now houses the famous Dogra Art Museum with a rich collection of rare paintings.
ATTRACTIONS AROUND JAMMU
Patnitop:
112 kms away from Jammu on the Jammu-Srinagar highway.

Panoramic Patnitop sprawls on a lush plateau, at an altitude of 2024.

Charming resort amidst thickly wooded forests is probably the best developed tourist centre of Jammu.

Commands awe-inspiring views of the scenic surroundings and is dotted with a number of beautiful picnic sites.

During winters Patnitop receives good snowfall and provides opportunities for various snow games like skiing.

600 year old temple of Naga (cobra) at Ishadhari is highly revered by the devotees.

Three must visit sites on the outskirts of Patnitop are – Chinar Garden, Picnic Spot and Skating Garden.
Mansar Lake:
60 kms away from Jammu.

Lovely lake amidst thickly wooded forest is a popular excursion point.

Boating facilities are available here.

A food and crafts festival is also organised here by J & K Tourism around the festival of Baisakhi.
Vaishno Devi:
Sacred abode of Goddess Vaishno Devi is perched at a height of 5,200 ft. on the holy Trikuta Hills.

Cave shrine of Mata Vaishno Devi is regarded as one of the holiest Hindu Temples of the country.

Katra, 48 kms from Jammu is the base camp for visiting the holy cave.

From Katra, one has to trek a distance of 13 kms to reach the shrine.

Holy pilgrimage formally commences from Darshini Deori, at the northern end of the old Katra Bazar.

Journey has to be undertaken by foot, ponies or on palkhis or dolis (palanquins).

Mata Vaishno Devi Shrine Board manages the shrine and the yatra with great efficiency, making the pilgrimage an unforgettable experience.

Holy cave enshrines three natural rock images (pindian) of the Goddess (Mata) in her three forms – Maha Saraswati, Maha Lakshmi and Maha Kali, which represent creative, preservative and destructive aspects of the divine energy.

According to legends, the darshan of Mata is rendered incomplete without visiting the Bhairon Temple, located 2.6 kms from the main sanctum.