SHIMLA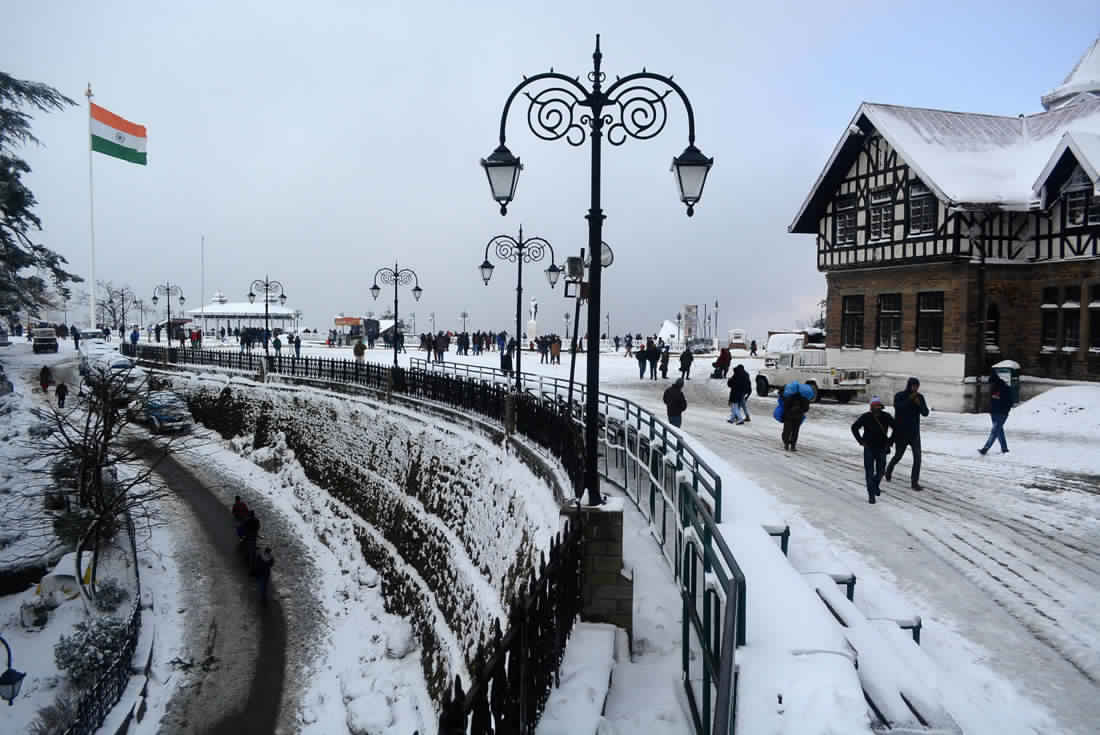 ABOUT SHIMLA:
Scenic Shimla, the biggest hill station of the world.

The capital of Himachal Pradesh is perched at a height of 2,100 metres.

Stunning beauty and charm of Shimla was first discovered by a British officer, Lt. Rose during the Gorkha war.

Named after the temple of Goddess Shamla, which was situated here amidst thickly wooded forest.

Shimla become the favourite hill resort of the British.

The summer capital of India during the British Raj.
MODE OF COMMUNICATION:
Airport: Jubbarhatti Airport (SLV), Shimla, 23 kms away from Shimla city centre.
Rail: Shimla is connected with the famous toy train. Nearest broad gauge Railway Station Kalka, 90 kms away from Shimla.
Road: Well connected by road.
SIGHTSEEING AT A GLANCE:
SCENIC SITE

Chail

The Ridge

Kufri

Fagu

Narkanda

Kasauli

HOLY CENTRE

Christ Church

Kali Bari Temple

Jakhoo Temple

Mashobra

Naldehra

Tattapani

Narkanda

MUSEUM & AUDITORIUM

WILD LIFE

PLAY GROUND

OTHERS

The Mall Road

Lakkar Bazaar

Indian Institute of Advanced Studies

The Palace

FAIRS & FESTIVALS

Ice Skating Carnival Shimla

Rhyali Festival Shimla

Shimla Summer Festival

Baisakhi

Bhoj Fair

Christmas

Diwali

Lavi Fair

Lohri

Navaratri

Sipi Fair

Bharara Fair

Pathar-ka-khel-Halog

Mahasu Jatar

Nalwari Mela

Baba Nath Fair

Rohru Fair
For more information visit https://himachaltourism.gov.in/destination/shimla/
ATTRACTIONS OF SHIMLA
The Ridge:
Large open apace in the heart of the town is a major attraction of Shimla.

Tourist converges here while taking leisurely walks through the Mall and Lakkar Bazar and enjoy the scenic beauty and charm of Shimla.
Christ Church:
Second oldest church in the northern India.

Built between 1846 and 1857.

One of the major landmarks of the town.

Set on the edge of the Ridge and noted for its Neo-Gothic architecture and immense historical value.
The Mall Road:
Main shopping area of Shimla is also dotted with fine eating out places.

Gaiety Theatre here is a replica of an old British theatre and is the cultural hub of Shimla.

No vehicular traffic is allowed on the Ridge, Mall Road and Lakkar Bazar.
Lakkar Bazar:
It lies near the Ridge and is popular for wood articles and souvenir's.

Roller Skating Rink here is also visited by the tourists.
Kali Bari Temple:
It lies near the Scandal Point towards General Post Office.

Idol of Goddess Shamla is enshrined here.
Jakhoo Temple:
Lord Hanuman shrine set atop the Jakhoo Hill (2455 metres), the highest peak of Shimla.

It affords breath taking views of Shimla and its surrounding.

Temple can be reached on foot from the Ridge near Christ Church.
State Museum:
It lies on the western edge of the town.

Exhibits ancient sculpture and 'Pahari' miniature paintings of the State.
Indian Institute of Advanced Studies:
This prestigious institute established in 1964 is housed in the old Viceregal Lodge.

One of the finest British colonial buildings.

Structure was built in 1888 and is a fine blend of Scottish Boronial and English renaissance architectural styles.

Interiors are noted for excellent woodwork and was the first building with electric light in Shimla.

The Viceregal Lodge was the summer seat of British Government till 1940s.
ATTRACTIONS AROUND SHIMLA
Chail:
43 kms away from Shimla town.

Tiny hill resort amidst verdant forests was established by Maharaja Bhupinder Singh of Patiala.

Chail is stretched over three hills – Rajgarh Hill is the Palace, on the Pandava Hill is the Old Residency and Siddh Tibba known for the temple of Baba Sidhnath.
The Palace:
Magnificent green-roofed palace amidst thick deodar trees was built in 1891.

It has been converted into a premium Heritage Hotel.
Cricket Ground:
Built atop a hill in 1893 at an elevation of 2444 meters.

Highest cricket and polo ground in the world.
Chail Wildlife Sanctuary:
Key fauna – ghoral, barking deer, sambar, red jungle fowl, khalij and cheer pheasants.
Kufri:
16 kms away from Shimla town.

Tiny picturesque hamlet is very popular among tourists.

During winters a large number of winter sports enthusiast flock to this fine skiing resort.

There is also a small zoo.

The Himalayan Nature Park here provides eco-treks and camping site.
Fagu:
Scenic site lies on the Hindustan-Tibet Road, 22 kms away from Shimla town.
Mashobra:
12 kms away from Shimla town.

Surrounded by thick forests and is known for the Goddess Durga temple.
Naldehra:
22 kms away from Shimla town.

The abode of Lord Nal is known for the thick cedar forest.

World's highest nine hole par 68 golf course.

An ancient Nag temple is also located here.
Tattapani:
Small village 25 kms away from Naldehra and 65 kms away from Shimla town.

Known for hot water springs and temples.
Narkanda:
60 kms away from Shimla town.

Charming skiing resort affords breath taking views.

Hatu Park (8 kms) and ancient shrine of Hatu Mata are worth visiting of spectacular views.
Kasauli:
Lies in Solan district and is 12 kms away from Dharampur, located on the Kalka Shimla highway 75 kms away from Shimla town.

Captivating Kasauli nestled at a height of 1927 metres.

Noted for its colonial charm, lush tranquil surrounding full of deodar and pine trees, scenic views and cleanliness.

Founded by the British forces in 1841 and developed as a cantonment sanatorium.

Pasture Institute established here in 1900, is the oldest of its kind in the country.