MANALI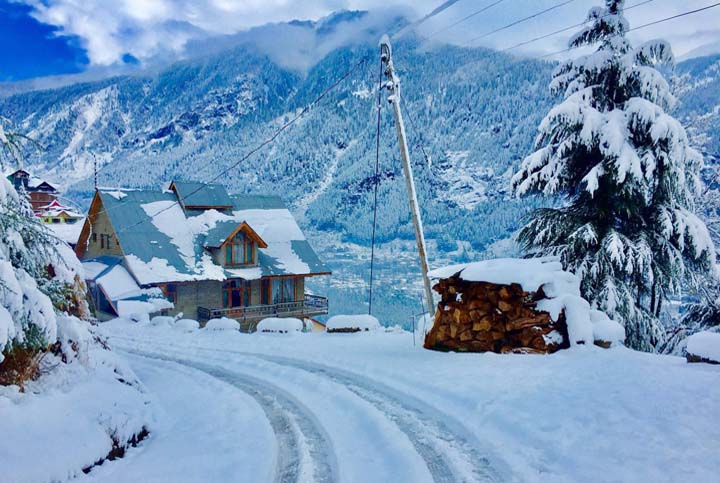 ABOUT MANALI:
Magnificent Manali, one of the most popular hill resorts of the country.

It is set picturesquely on the confluence of Manalsu and Beas rivers.

Surrounded by snow clad peaks and thick forest and fruit laden orchids.

Mythological legends indicate that the name Manali is derived from 'Manu-alaya', the home of Manu, the great Hindu law giver.
MODE OF COMMUNICATION:
Airport: Chandigarh International Airport (IXC), Chandigarh, 312 kms away from Manali.
Rail: Kalka Railway Station, Kalka, 280 kms from Manali city, Chandigarh Railway Station, Chandigarh, 305 kms away from Manali city, Pathankot Railway Station, Pathankot, 310 kms away from Manali city.
Road: Well connected by road.
SIGHTSEEING AT A GLANCE:
SCENIC SITE

Solang Valley

Rohtang Pass

HOLY CENTRE

Hadimba Devi Temple

Manu Temple

Tibetan Monasteries

Vashista Hot Spring & Temple

Jagatsukh

OTHERS

FAIRS & FESTIVALS

Dhungri Fair

Winter Carnival
For more information visit https://himachaltourism.gov.in/destination/manali/
ATTRACTIONS OF MANALI
Hadimba Devi Temple:
Pagoda style shrine surrounded by thick deodar trees.

Dedicated to goddess Hadimba or Hirma Devi.

Built in 1553, by Raja Bahadur Singh and is the main attraction of Manali.
Manu Temple:
It is the only temple dedicated to the legendary sage.
Tibetan Monasteries:
There are 3 monasteries, two of them are in the town and one at Aleo on the left bank of Beas River.

Tibetan handicraft and carpets can be purchased here.
Mountaineering Institute:
It lies on the left bank of river Beas.

Imparts training courses in trekking, mountaineering, skiing and water sports.
Vashista Hot Spring & Temple:
The village on the left bank of river Beas towards Rohtang Pass.

Known for hot springs and temple of Vashist Muni.
ATTRACTIONS AROUND MANALI
Jagatsukh:
6 kms away from Manali town.

It was once the capital of Kullu state.

Known for the ancient temples of Lord Shiva.

Sandhya Gayatri built in Shikhara style.
Solang Valley:
13 kms away from Manali town.

Valley extending from Solang village to Beas Kund is a veritable paradise for nature lovers.

Breathtaking views of snow clad peaks.

Glaciers make it one of the finest picnic spots in the Kullu valley.

Winter skiing festival is organised in the valley.
Rohtang Pass:
51 kms away from Manali town.

Gorgeous gateway to Lahaul Spiti, Pangi and Leh valley is set at an altitude of 3979 meters.

Highway to Keylong/ Leh passes over this pass of about 1 km.

Opens for vehicular traffic generally from May to October.

Breathtaking beauty of the mountains flanking the pass, the glaciers and Chandra river flowing down the Lahaul valley leaves a lasting impression on the visitors.