DHARAMSHALA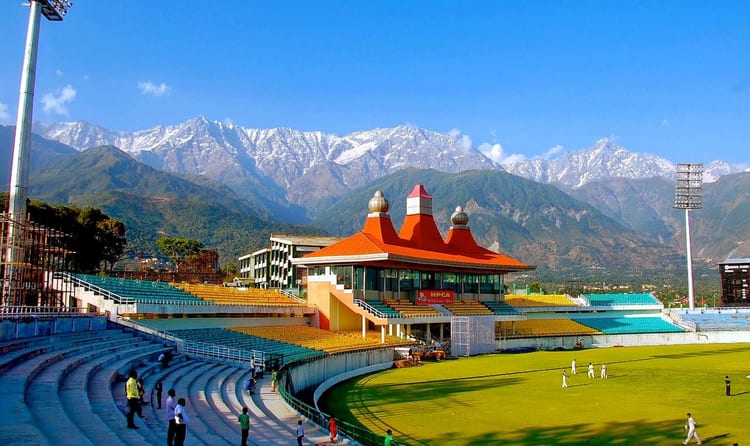 ABOUT DHARAMSHALA:
'Scotland of India' is one of the 80 hill resorts established by the British.

It is set elegantly set on the spur of the Dhauladhar range.

The snow line easily accessible as compared to other hill resorts.

McLeod Ganj and Forsyth Ganj, the suburbs of Upper Dharamshala still retain the British flavour, while the Lower Dharamshala is a busy commercial centre.

Known for being the headquarters of His Holiness the Dalai Lama and referred as the "Little Lhasa in India".
MODE OF COMMUNICATION:
Airport: Sri Guru Ram Dass Jee International Airport (ATQ), Amritsar, 210 kms away from Dharamshala city.
Rail: Nearest narrow gauge Railway Station Kangra. Nearest broad gauge Railway Station Pathankot, 85 kms away from Dharamshala.
Road: Well connected by road.
SIGHTSEEING AT A GLANCE:
SCENIC SITE

HISTORIC SITE

HOLY CENTRE

St. John's Church

McLeod Ganj

Bhagsunag

Chamunda Devi Temple

Kangra

Brajeshwari Devi Temple

Jwalamukhi Temple

Nurpur

MUSEUM & AUDITORIUM

Kangra Art Museum

Baijnath

WATERFALL

LAKE

OTHERS

FAIRS & FESTIVALS

Dal Fair

Chaitra/ashwin navratra mela
For more information visit https://himachaltourism.gov.in/destination/dharamshala/
ATTRACTIONS OF DHARAMSHALA
War Memorial:
It lies near the entry point of Dharamshala.

It was erected in memory of the post-independence war heroes of Himachal Pradesh.
Kangra Art Museum:
Exhibits rich art and crafts of the Kangra Valley.
St. John's Church:
Church on the road between McLeod Ganj and Forsythe Ganj.

A memorial of Lord Elgin, one of the Viceroy's of India.
McLeod Ganj:
Headquarters of HH the Dalai Lama.

Places worth seeing are the Monastery, Tibetan Institute of Performing Arts and Tibetan Handicraft Centre.

There is a large presence of Tibetan community and McLeodganj teems with Tibetan restaurants, antique and curio shops.
Bhagsunag:
Beautiful site 2 kms from McLeodganj has an old temple and water spring.

About 0.5 kms from here is the spectacular Bhagsunag waterfall.
Dal Lake:
Pretty Lake amidst forest of Deodar is 2 kms from McLeodganj.
ATTRACTIONS AROUND DHARAMSHALA
Chamunda Devi Temple:
16 kms away from Dharamshala city.

Famous temple is on the banks of river Baner with Dhauladhar in the backdrop.

On the rear side is a sacred Shivalinga.
Kangra:
17 kms away from Dharamshala.

Historic town set on the confluence of the Bener and Majhi streams, overlooks the torrent of Banganga River.

This capital of the Kangra rulers attracted many invaders.

It was conquered by the forces of Jahangir in 1620, and was re-captured by Raja Sansar Chand Katoch in the 18th century.

Kangra is famous for its temples, fort and paintings.
Brajeshwari Devi Temple:
Shrine noted for its legendary wealth was invaded in 1009, by Mahmud of Ghazni.

It is said that he looted the rich treasures of the temple.

Earthquake of 1905 completely destroyed the shrine and was rebuilt in 1920.
Nagarkot:
3 kms away from Kangra.

Fort mostly in ruins with stood the onslaught of the forces of Mahmud of Ghazni and Mughal emperor Jahangir.

Earthquake of 1905 almost ravaged the fort.

Splendid view from its ramparts is truly awesome.
Jwalamukhi Temple:
30 kms away from Dharamshala city.

Unique shrine of Jwalamukhi, the 'goddess of the flaming mouth'.

One of the most impotent pilgrim centres of northern India.

There is no idol in the shrine and an eternal flame rising from the rocky sanctum is worshipped here.

'Shaktipeeth' is believed to be the site where the tongue of Goddess Sati, the consort of Lord Shiva fell.
Palampur:
35 kms away from Dharamshala city.

Picturesque Palampur set amidst tea plantations.

Pine trees in endowed with exceptional scenic beauty and bracing climate.
Baijnath:
16 kms away from Dharamshala city.

Sacred shrine built in 'Nagari' style is dedicated to Lord Shiva as Vaidyanath, the 'Lord of Physicians'.

Shivalinga enshrined within the sanctum is said to be one of 12 jyotirlingas in India.

A large fair is held here on Shivaratri festival.
Nurpur:
66 kms away from Dharamshala city.

Known for an old fort, a temple of Brij and Nurpuri shawls.

Jahangir named the town after his wife Nurjahan.