PINJORE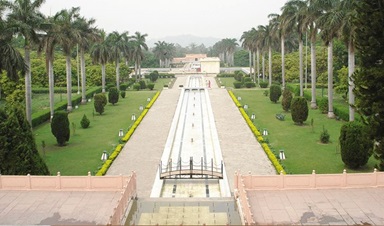 ABOUT PINJORE:
Picturesque Pinjore, the ancient town perched on the foot hills of Shivalik is famous for the Yadavindra gardens.

It is believed that the Pandavas came here during their exile and the place came to be known as Panchpura.
MODE OF COMMUNICATION:
Airport: Chandigarh Airport, Chandigarh (IXC), 25 kms away from Pinjore town.
Rail: Pinjore Railway Station, Pinjore, 4 kms away from Pinjore centre of town.
Road: Well connected by road.
SIGHTSEEING AT A GLANCE:
HOLY SITES

Kalka Mansa Devi Temple

PARK & GARDENS

Yadavindra Gardens

FAIRS AND FESTIVALS

Baisakhi Celebrations

Mango Mela

The Pinjore Heritage Festival
For more information, please visit: https://haryanatourism.gov.in
ATTRACTIONS OF PINJORE
Yadavindra Gardens:
Famous garden of Pinjore is the oldest surviving Mughal Gardens in India.

It was built in 17th century by Nawab Fidai Khan, a famous architect and builder, who was appointed as the Governor of the Punjab by Aurangzeb.

He adopted the concept of descent into the vista of beauty, unlike the famous Shalimar and Nishat gardens of Kashmir, where one ascends the steps, one terrace after another.

Ornamental waterway in the centre with fine fountains is flanked by the traditional palm, cypress and magnolia trees and well laid out lawns and flowers beds.

After the death of Nawab Fidai Khan, the garden was ignored and abandoned.

Later on, the royalty of Patiala revived the garden.

Finally, Haryana Tourism fully recovered the pristine glory of the garden and renamed in honour of late Lieut. Gen. Yadavindra Singh, the erstwhile Maharaja of Patiala.

Mango groves, orchids of citrus fruits and litchi are maintained in the inner gardens.

Rang Mahal, Sheesh Mahal and Jal Mahal, the original palaces over here have also been opened for the tourists.

The Fountain and Light display during evenings on the weekends, Baisakhi and Mango Mela is a big tourist attraction.

Beautifully illuminated gardens, shopping arcades, gift shops, etc. are added attractions for the tourist.
ATTRACTIONS AROUND PINJORE
Kalka:
5 kms away from Pinjore town.

Famous for the sacred shrine of Goddess Kali, one of the 'Shakti Peeths' and Railway Station building built during the British time.

Popularly toy train to Shimla originates from here.
Mansa Devi Temple:
The Sacred 'Siddh Peeth' of goddess Mansa Devi lies 8 km from the Chandigarh bus stand and 3 km from Mani Majra.

A large number of devotees visit the shrine.