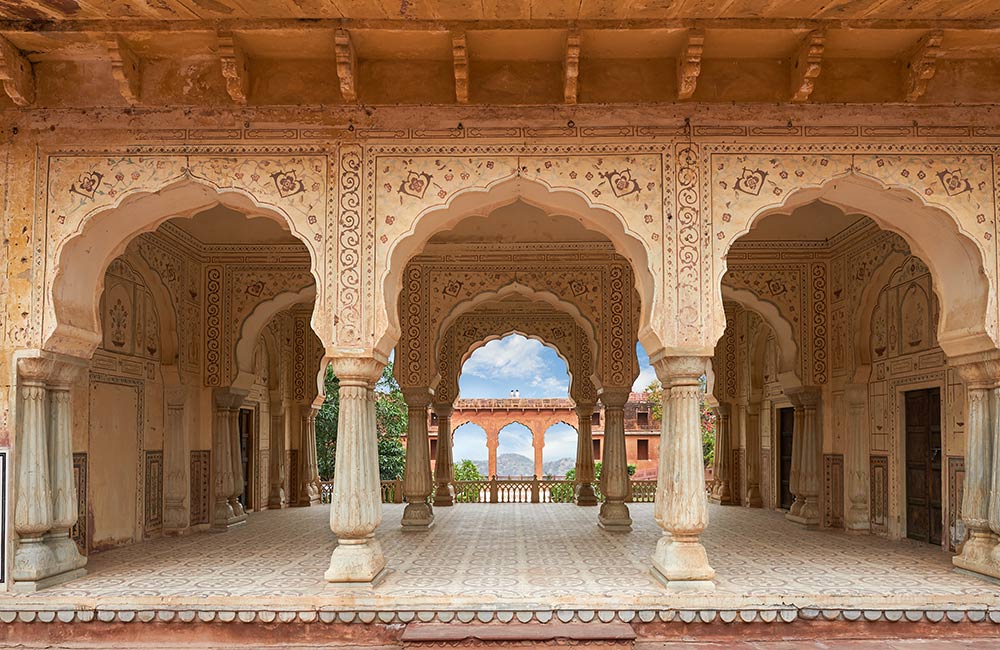 FARIDABAD
ABOUT FARIDABAD:
The most industrialised and populated city of Haryana is said to be founded in 1607.

City is believed to be named either after Sheikh Farid, the treasurer of Mughal emperor Jehangir or Baba Farid, a famous Sufi saint.
MODE OF COMMUNICATION:
Airport:

Indira Gandhi International Airport, Delhi (DEL)

, 36 kms away from Faridabad.

Rail:

Faridabad Railway Station, Faridabad, 2 kms away from Faridabad city centre.

Road:

Well connected by road.
SIGHTSEEING AT A GLANCE

HOLY CENTRE

Baba Farid's Tomb

PLAY GROUND

Aravalli Golf Course

LAKE

Badkhal Lake

OTHERS

Hodal
ATTRACTIONS OF FARIDABAD
Aravalli Golf Course:

Beautiful golf course is located on the Delhi-Agra National Highway No. 2.

Resort run by Haryana Tourism also has Golfing huts and a Club house.

Other facilities include, Restaurant, Bar, Conference hall and Billiards.
Baba Farid's Tomb:

A popular pilgrimage for local people.

It is believed that Faridabad named after this eminent Sufi saint, who is said to be the founder of the city.
FAIRS AND FESTIVALS OF FARIDABAD
SURAJKUND INTERNATIONAL CRAFTS MELA
A splash of colours, rhythm of drum beats and joy de-Vivre merge at Suraj Kund in Faridabad, Haryana during the fortnight of February each year. The Curtains go up on the acclaimed annual Suraj Kund International Crafts Mela from 1st February onwards, a celebration of Indian folk traditions and cultural heritage. Occupying a place of pride on the international tourist calendar, more than a million visitors through the mela during the fortnight including thousands of local and foreigners. The Suraj Kund Mela is unique as it showcases the richness and diversity of the handicrafts, handlooms and cultural fabric of India which is the largest crafts fair in the world. The Mela is organized by the Suraj Kund Mela Authority & Haryana Tourism in collaboration with Union Ministries of tourism, textiles, Culture and external affairs. At least 20 countries & all the states of India will be participating in the Mela.
The flower festival happens during the spring season on the banks of badhkal lake is one of the most beautiful festivals in the town. People in a huge number of as much as 20000 both local and foreigners visit the festival for enjoying the natural beauty of flowers. Many businesses running in the lines of flowers purchasing are set over here. A high amount of import and export is done as well.
Gangore festival is celebrated duting spring season from March to April to Worship Gauri considered as the deity of abundance. The procession is taken out with the water immersion of Gangore and Ishar Images.
Dedicated to Goddess Saraswati considered to be the deity of education and a popular pilgrimage of local people. Basant Panchami is celebrated by flying kites. From foods to dresses, the area is made full of Yellow as it is considered to be an auspicious color. The culture and lifestyle of Faridabad is only to be experienced. It is vast and varied in terms of its beauty. Faridabad is certainly an astonishing place to be.
For more information, please visit: https://haryanatourism.gov.in
ATTRACTIONS AROUND FARIDABAD
Badkhal Lake:

Beautiful lake resort nestled amidst the Aravalli hills is just 8 kms away from Faridabad and 32 kms away from Delhi.

Charming lake attracts a large number of migratory birds during the winters.
Hodal:

Dabchick Tourist Resort on the Delhi – Agra highway, 60 kms away from Faridabad.

It has facilities of restaurant, bar, filling station, gift shops and animals for joy rides.