JAMNAGAR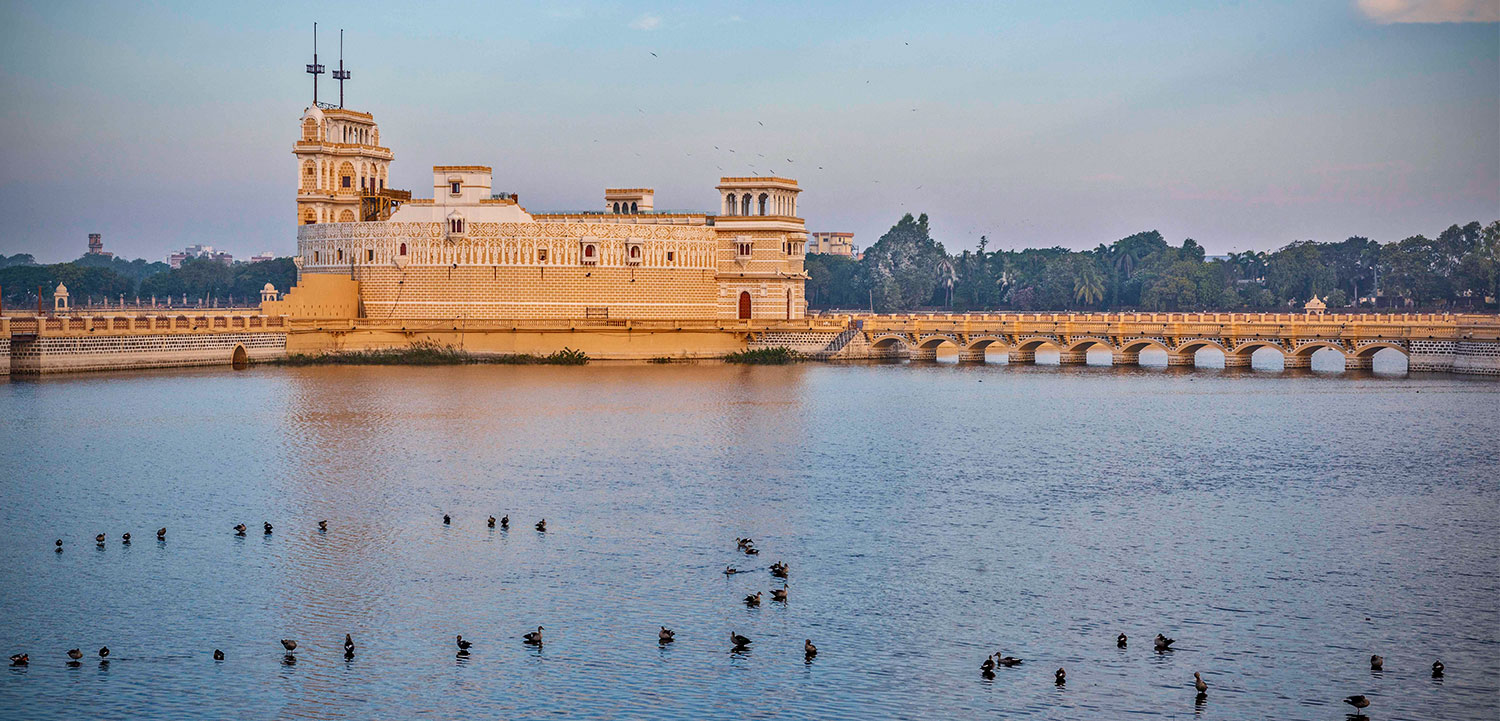 ABOUT JAMNAGAR:
It was founded by Jam Raval in 1540 and was the capital of the former princely State of Navanagar.

Famous cricketer Jam Ranjitsinhji hailed from the city and under his rule new parts of the city was developed as per European town planning principles.

Town is also known as "Chhoti Kashi", as it is studded with several Hindu and Jain shrines.

Jamnagar is also is also known for pearl fisheries, naval base and tie & dye fabrics.
MODE OF COMMUNICATION:
Airport: Jamnagar Airport, Jamnagar (JGA), 6.5 kms away from Jamnagar city centre.
Rail: Jamnagar Railway Station, Jamnagar, 3.5 kms away from Jamnagar city centre.
Road: Well connected by road.
SIGHTSEEING AT A GLANCE:
FORT & MONUMENTS

Lakhota Palace & Tank Wankaner

HOLY CENTRE

Dwarka Dwarkadhish (Jagat Mandir) Rukmani Temple Nageshwar Mahadev

OTHERS

Solarium or Ranjit Institute of Poly Radio Therapy Rajkot

FAIRS & FESTIVALS

Makkar Sankranti

Janmasthami

Navratri
For more information visit https://www.gujarattourism.com/saurashtra/jamnagar.html
ATTRACTIONS OF JAMNAGAR
Lakhota Palace & Tank:
Fortified palace amidst the lake can be reached by an arched stone bridge.

It was built as a famine relief work in 1839–45.

A fine collection of sculptures and pottery from Saurashtra.

On the banks of the tank, near Khambhaliya Gate is another bastion like structure called as Bhujiyo Kotho.
Solarium or Ranjit Institute of Poly Radio Therapy:
It was set up in 1933, by Jam Ranjitsinhji and was one of the only three such medical centres in the world during that time.

TB, skin diseases and rheumatism etc. were curd through solar radiations.

A slowly revolving tower provides day long sunlight.
ATTRACTIONS AROUND JAMNAGAR
Rajkot:
92 kms away from Jamnagar city.

Founded in the 16th century by Kunvar Vibhoji Jadeja and was the capital of the princely state of Saurashtra.

Some of the attractions are – Karba Gandhi no Delo, the ancestral home of Gandhiji; Watson Museum and Library; Jagat Mandir; Rajkumar College, one of the oldest public schools of India; Lal Pari Lake & Randerda etc.
Wankaner:
50 kms away from Jamnagar city.

Famous for the Wankaner Palace, which has now been converted into a heritage hotel.
Dwarka:
145 kms away from Jamnagar city.

Abode of Lord Krishna is one of the "Char Dhams" of Hindu pilgrimage.

Lord Krishna settled and established his kingdom here after leaving Mathura.

Archaeological excavations reveal that the present day Dwarka is the sixth city on the site; the other five have submerged under the sea, which probably includes the Dwarawati of the Krishna Leela.

It is also fine beach resort.
Dwarkadhish (Jagat Mandir):
Sacred temple of Lord Krishna is an excellent architectural monument.

Shrine consists of Nij Mandir and a multipillared Sabha Griha that leads to the main sanctum, which is said to be 2,500 years old.

A conical spire atop the temple rises up to 157 metre that dominates the skyline.
Rukmani Temple:
It is dedicated to Lord Krishna's wife.
Nageshwar Mahadev:
17 kms away from Jamnagar city.

Important Shiva Temple enshrines one of the twelve jyotirlingas of Lord Shiva.