AHMEDABAD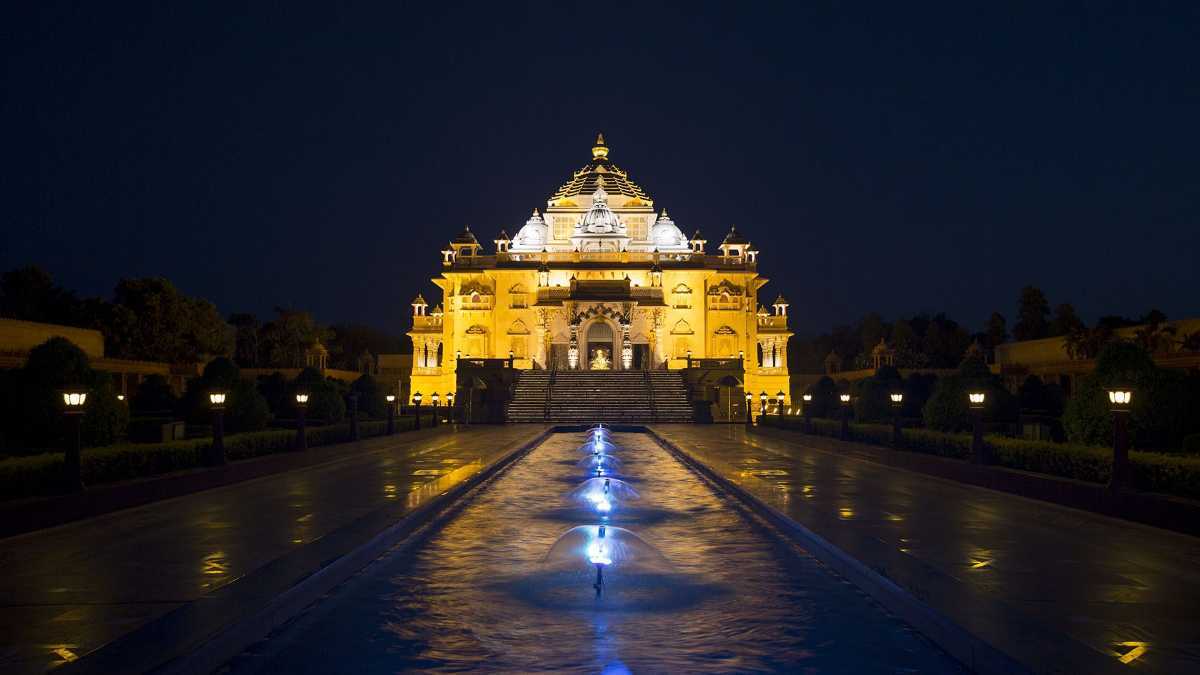 ABOUT AHMEDABAD:
The commercial and cultural nerve centre of Gujarat is a fine blend of ancient heritage and vibrant present.

Originally, a township named as Karnavati was founded by King Karan Solanki in 1063 – 1093, on the bank of river Sabarmati.

Present city was built by Sultan Ahmed Shah in 1411, on the ruins of Karnavati.

Sir Thomas Roe, the British envoy to Jehangir's court was so impressed by the glory of Ahmedabad that he referred it as "the handsomest town in Hindustan, perhaps in the worlds.

City gained an important position in the field of textiles and was referred as the "Manchester of the East".

Today, this 'Gateway to Gujarat' teems with splendid monuments, mosques, pavilions and mausoleums.
MODE OF COMMUNICATION:
Airport: Sardar Vallabhbhai Patel International Airport, Ahmedabad (AMD), 9 kms away from Ahmedabad city centre.
Rail: Ahmedabad Railway Station, Ahmedabad, 5 kms away from Ahmedabad city centre.
Road: Well connected by road.
SIGHTSEEING AT A GLANCE:
FORT & MONUMENTS

Shaking Minarets Bhadra Fort Gandhi Ashram Sarkhej Roza Adalaj Vav Gandhinagar

HOLY CENTRE

Shaking Minarets Jumma Masjid Siddi Saiyad Mosque Rani Sipri's Mosque Rauza of Shah Alam Hatheesing Temple Bhadra Fort Akshardham Ambaji & Kumbharia Madhera Patan Taranga Hill

MUSEUM & AUDITORIUM

Gandhi Ashram Calico Textile Museum

SCENIC SITE

Taranga Hill

PARK & GARDEN

Gandhinagar Indroda Park

LAKE

Kankaria Lake

HISTORIC SITE

Lothal

FAIRS & FESTIVALS

Makar Sankranti

The International Kite Festival

Tarnetar Fair

Mahashivaratri

Holi

Janmashtami

Eid-ul-Fitr

Navaratri

Dassehra

Kuchh Mohostav

Diwali

New Year's Eve
For more information visit https://ahmedabad.nic.in/tourism/
ATTRACTIONS OF AHMEDABAD
Shaking Minarets:
These two unique minarets at the Siddhi Bashir mosque are the most popular monuments at the city.

Three storeyed minarets are girdled by carved stone balconies.

Designed in a way that when one minaret is shaken the other one vibrates too.
Jumma Masjid:
Fine mosque set in the heart of the old city.

Built by Sultan Ahmed Shah in 1423.
Siddi Saiyad Mosque:
Beautiful mosque built in Indo-Saracenic Style lies near the Lal Darwaza.

It is world renowned of its exquisite stone window tracery.
Rani Sipri's Mosque:
This architecture masterpiece was built in 1514, by Rani Sipri, a queen of Mehmud Begarha.
Rauza of Shah Alam:
Exquisite tomb and mosque commemorates a Muslim saint Shah Alam.

It was built by Asaf Khan, the brother of Mughal empress Nur Jehan.
Hatheesing Temple:
Ornately carved Jain temple dedicated to Lord Dharmnath, the 15 tirhankar.

I was built in 1848, by Shri Kesarisimha Hatheesing Shah.

It has 52 small shrines around the spacious courtyard.
Bhadra Fort:
Foundation of the fort was laid in 1411.

It had royal palaces and gardens and a chamber here was converted into the Bhadra Kali temple by the Marathas.
Gandhi Ashram:
It was setup by Gandhiji in 1915, on the banks of river Sabarmati.

Humble ashram became the beacon of freedom struggle.

Hriday Kunj the simple cottage of the Mahatama is now a national monument and houses a small museum.

A sound and light spectacle based on Mahatama's life is held here in the evenings.
Kankaria Lake:
Beautiful polygonal lake was built by Sultan Qutb-ud-Din in 1451.

Lake has an island-garden with a summer palace known as Nagina Wadi.
Calico Textile Museum:
Unique museum houses a rich and rare collection of antique textiles from 17th century onwards.
Sarkhej Roza:
About 8 kms from the city and is known for the elegant architectural complexes.

Important buildings are – tomb of Ahmed Khattu Ganj Baksh, the mosque, the tombs of Mehmud Shah Begada and his queen and the palace and pavilions built around the tank of Sarkhej.
ATTRACTIONS AROUND AHMEDABAD
Adalaj Vav:
Located on the outskirts of Adalaj Village, 19 kms away from Ahmedabad city.

Famous step well (vav) was built in 1499, by Queen Rudabai.

Intricately carved step well is built several stories in depth and is a unique specimen of architecture.
Gandhinagar:
25 kms away from Ahmedabad city.

Capital city of Gujarat is the second planed modern city of India.

State Government complex lies at the centre around which are thirty self-sufficient sectors.

A lot of space has been provided for parks and gardens, which makes Gandhinagar, the greenest capital of the world.
Akshardham:
Architectural wonder of 20th century is the most famous temple of the Swaminarayan sect, one of the richest religious sects in the world.

Temple complex sprawls across an area of 23 acres.

The main shrine stands 108 feet tall amidst lush green lawns.

About 6,000 tonnes of pink sandstone was used to create this giant edifice and no steel or any other metal was used in the building.

Shrine houses a marvellously sculpted 7 feet high gold leafed statue of Lord Swami Narayan.

There is also an amusement park, a museum, picture gallery and library.
Indroda Park:
Covers an area of over 168 hectare across the once barren ravines of the Sabarmati River.

There is a deer park, camp site, botanical garden, a walk-in-aviary, while skeleton enclosure, snake house, crocodile ponds, tortoise and turtle pits and several other animal enclosures.
Ambaji & Kumbharia:
178 kms away from Ahmedabad city.

It is one of the most important pilgrim centres of Gujarat.

Famous shrine of Goddess Ambaji, built over Arasur hill is one of the 'Shakti Peeths'.

Famous Kumbharia Jain temples are located nearby.
Lothal:
80 kms away from Ahmedabad city.

It was an important port town of the Harappan era, dating back to 2nd century BC.

A well planned city was discovered under the mound near Saragwala village in 1954.

Mound was called Lothal, which means dead in the local dialect.

Presence of a dockyard and terracotas showing an Assyrian.

An Egyptian mummy indicates trade links with Mesopotamia (Iraq) and Egypt.
Madhera:
102 kms away from Ahmedabad city.

Sun Temple here is one of the finest monuments of Gujarat and the best example of Solanki temple architecture.

Ornately carved temple was built in 1026-27 by Bhimadev I and is dedicated o Lord Surya or Sun God.

It was destroyed by Mahmud of Ghazni.

Adjacent to the temple is a huge 'Sun Kund' (Rama Kund) surrounded by step-terraces with 108 smaller temples.
Patan:
125 kms away from Ahmedabad city.

Jain and Hindu pilgrim centre was a great centre of art, culture, literature and education under the Solankis.

It is dotted with several Jain and Shaivite shrines.

Shastraling Lake built by King Siddhraj Jaising is surrounded by 1000 Shiva temples.

Patan is also renowned as a Patola weaving centre.
Taranga Hill:
127 kms away from Ahmedabad city.

Jain pilgrim centre amidst the hills of Taranga is known for the temple of Lord Ajinath, the 22nd tirthankara.

Famous for exceptional scenic surroundings and excellent architecture.