VASCO-DA-GAMA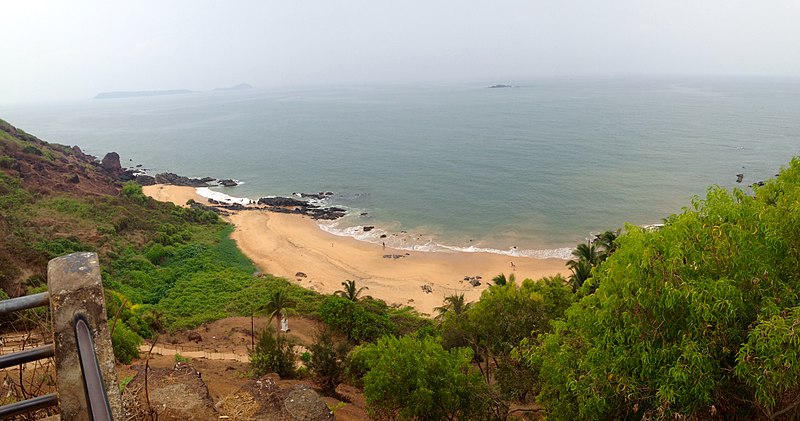 ABOUT VASCO-DA-GAMA:
Headquarters of Mormugao taluka was named after Vasco Da Gama, the discover of sea route to India.

Also known as Vasco, the town is set on the western tip of Mormugao peninsula overlooking the left bank of the mouth of River Zuari.

Vasco first come under the Portuguese rule in 1543 and went on to become one of the busiest ports on India's western coast.

In 1684, due to the increasing threats of Maratha invasion over Old Goa, the woman folk and non-combatant men were shifted here for safety.

Construction of the town was finally completed in the late 18th century.

The residential and commercial portion of the Mormugao Port, which by then had become Goa's major harbour.
MODE OF COMMUNICATION:
Airport: Goa International Airport, Dabolim (GOI), 4 kms away from Vasco-Da-Gama centre.
Rail: Vasco-Da-Gama Railway Station, Vasco-Da-Gama, 4 kms away from Vasco-Da-Gama city centre.
Road: Well connected by road.
SIGHTSEEING AT A GLANCE:
FORT & MONUMENTS

Mormugao Fort

BEACHES

Hansa Beach Bogmalo Majorda Betalbatim Colva Benaulim Varca & Cavelossim Mobor Betul Agonda Palolem Galjibaga Beach Polem

SCENIC SITE

Pilot Point

OTHERS

Mormugao Mormugao Harbour

FAIRS & FESTIVALS

Christmas

Diwali

Feast of Three Kings

Food Festival

Ganesh Chaturthi

Goa Carnival

Good Friday

Sao Joao Festival

Shigmotsav

St. Francis Xavier's Feast
For more information visit https://www.goa.gov.in/places/vasco/
ATTRACTIONS AROUND VASCO-DA-GAMA
Mormugao:
4 kms away from Vasco-Da-Gama city centre.

An important commercial port town on the western coast of India.
Mormugao Harbour:
Natural harbour is one of the finest anchorages on the western coast.

Several steamers and vessels can be seen anchored in the stream, which carry iron ore and bauxite mined from the hills of Goa.

Ferry service ply from Mormugao to Dona Paula across the Zuari River.

From the bay relics of 17th century Portuguese fort, chapel and colonial villas nestled atop a promontory can be seen.
Hansa Beach:
It is lies inside the Naval base (INS) Hansa.
Mormugao Fort:
Fort overlooking the harbour is now in ruins.

Only parts of the ramparts and a small chapel are visible.
Pilot Point:
It lies at the base of the Old Mormugao fort.

Affords a fine view of the river Zuari, Dona Paula and the Mormugao Harbour.
Dabolim:
4 kms away from Vasco-Da-Gama city centre.

Dabolim has the only airport of Goa, which is actually a naval aviation base.

Houses the headquarters of the Indian Navy's aviation arm, as well as Museum.

During the Navy week (end of November to early December), the base is opened for tourists and spectacular aviation shows are held here.
Bogmalo:

Silvery beach just 4 kms south of the Dabolim Airport and 8 kms away from Vasco-Da-Gama.

It has water sports facilities like windsurfing, water-skiing etc.
SOUTH GOA BEACHES
South Goa is also endowed string of beautiful beaches. The beach journey can be commenced from Margo, which is a railway junction.
Majorda:
Tranquil beach has some excellent resort complexes.
Betalbatim:
It lies to the south of Majorda, near the famous Colva beach.
Colva:
This beautiful beach is 6 kms west of Margao.

It is also known for the Church of Our Lady of Mercy.
Benaulim:
Tranquil beach is just 2 kms south of Colva and 4 kms from Margao.

Benaulim village is also famous for exquisitely carved wooden furniture.
Varca & Cavelossim:
Fine coastline extending for about 10 kms south of Benaulim beach is dotted with some charming beaches.
Mobor:
Sal estuary meets the sea over here.
Betul:
It is 22 kms from Margao.
Agonda:
Picturesque beach flanked by lush hills is 7 kms from Chaud and 14 kms south of Cabo Da Rama.
Palolem:
Secluded palm fringed beach flanked by hills is the one of the most enchanting spots of Goa.

It is about 37 kms from Margao.
Galjibaga Beach:
It lies towards the south bank of Talpona River.
Polem:
It is the southernmost beach of Goa, about 30 kms south of Chaudi.

Solitary beach is a strip of smooth white sand and is very clean.

It is visited regularly by dolphins and fish eagles.