PONDA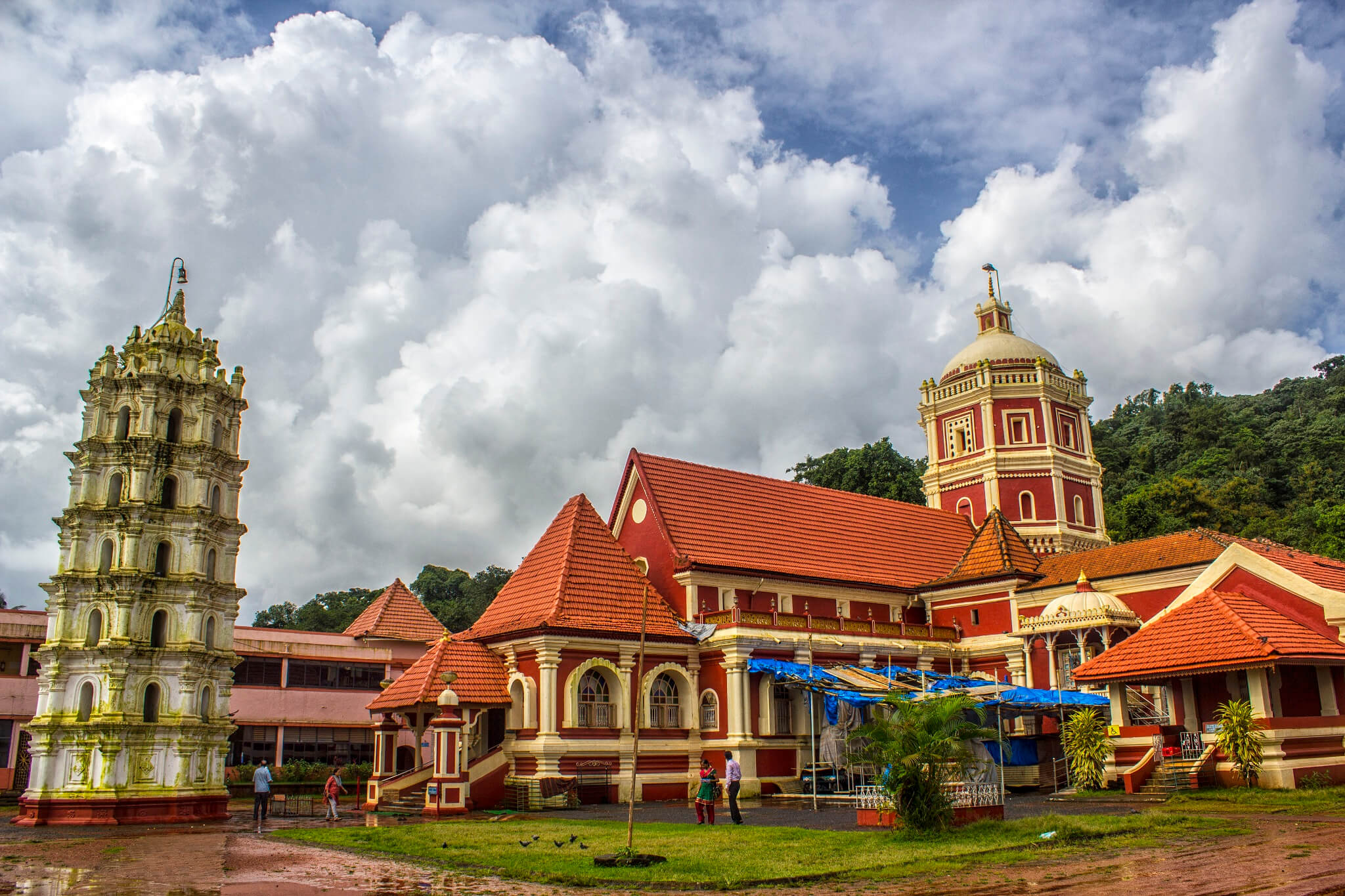 ABOUT PONDA:
Busy commercial town is experiencing an economic boom due to its proximity with some large iron-ore mines of the State.

Around Ponda are a number of important Hindu shrines set amidst lush landscape full swaying palms, numerous spice plantations and the wildlife sanctuaries of East Goa.

Portuguese could not occupy Ponda for nearly two and a half centuries, after their arrival in Goa.

It became a haven of the Hindus, who escaped the Inquisition in the old Conquests (Velhas Conquistas) and crossed the river to settle down here.

Came under the Portuguese in 1791, by then had become more tolerant towards other religious.
MODE OF COMMUNICATION:
Airport: Goa International Airport, Dabolim (GOI), 45 kms away from Ponda city.
Rail: Karmali Railway Station, Karmali, 17 kms away from Ponda city.
Road: Well connected by road.
SIGHTSEEING AT A GLANCE:
FORT & MONUMENTS

Ponda Fort

HOLY CENTRE

Safa Masjid Shri Shantadurga Temple Shri Mahalaxmi Temple Lakshmi Narasimha Temple Shri Mahalsa Temple Shri Manguesh Mandir Tambdisurla Temple

WILD LIFE

Bondla Sanctuary Bhagwan Mahaveer Wildlife Sanctuary

SCENIC SITE

Keri

WATERFALLS

Dudhsagar Waterfalls

FAIRS & FESTIVALS

Christmas

Diwali

Feast of Three Kings

Food Festival

Ganesh Chaturthi

Goa Carnival

Good Friday

Sao Joao Festival

Shigmotsav

St. Francis Xavier's Feast
For more information visit https://www.goa.gov.in/places/ponda/
ATTRACTIONS OF PONDA
Ponda Fort:
Originally built by Adil Shahi rulers and was destroyed by the Portuguese in 1549.

Shivaji conquered the town in 1675 and rebuilt the fort and was again destroyed by the Portuguese.

Within the fort ruins lies the mausoleum of Saint Ghazi Abdullah Khan Shaheed.
Safa Masjid:
Safa or the Shahouri was built in 1560, by Ibrahim Adil Shah of Bijapur.

The best preserved Muslim monument of Goa.
ATTRACTIONS AROUND PONDA
Shri Shantadurga Temple:
3 kms away from Ponda city centre.

Largest and popular temple of Goa was built in 1713.

Dedicated to Shantadurga, a manifestation of Parvati or Durga.

According to mythological legends once Lord Vishnu and Shiva were engaged in a fierce battle.

Beautiful pagoda like temple is peculiar to Goa.

It is Neo-Classical in design with distinct influence of European architecture.

In front of the entrance is the six storeyed deepmal or Lamp Tower.

Marble has been used extensively in the interiors of the temple fine chandeliers add to the beauty of the shrine.
Shri Mahalaxmi Temple:
4 kms away from Ponda city centre.

Considered to be the abode of the original Goddess of the Shakti cult.

Stone plaques found in the temple indicate that the shrine has been in existence since 1413.

Temple was rebuilt in 1913, but the old outline and the architectural style was retained.

Unique image Mahalaxmi has a representation of linga on her head and it is considered a peaceful or Satvik from the goddess.
Lakshmi Narasimha Temple:
One of the most picturesque temples located 5 kms away from Ponda city.

Idol of presiding deity, Laxshmi-Narasima devta was brought here from Salcete in 157.
Shri Mahalsa Temple:
Just 1 km away south of Mangueshi temple along the Panaji-Ponda road and 7 kms away from Ponda city.

Dedicated to Mohini, a female attribute of Lord Vishnu.

Beautiful temple was constructed in 1567.

A seven storeyed deepmal or lamp tower in the courtyard and a 12.5 metres high dipa stambha or oil lamp made of five metals (panchalayi).

Dip stambha is considered to be the largest of its kind in the world and symbolises the mythological churning of sea.
Shri Manguesh Mandir:
7.5 kms away from Ponda city centre.

Temple dedicated to Shri Manguesh, a magnificent lord Shiva.

One of the most important Hindu shrines in Goa.

Present shrine situated on the side of a hill was built in 1565 and enlarged in the mid-18th century.

Its architecture reflects typical Goan style, with Christian and Muslim influences.

Courtyard has a 7-storeyed deepdaan or Lamp Tower, which is undoubtedly, the most impressive in Goa.

The majestic white tower at the entrance is a special feature of Hindu temples in Goa.

Interior is illuminated with graceful chandeliers, which is quite unlike Hindu temples and gives a church like appearance.

Manguesh linga is placed in the main silver sanctum, flanked by a solid idol and is illuminated by oil lamps.

There are also shrines dedicated to Laxmi Narayan, Satiri and Mulkeshwar behind the main temple.
Keri:
8 kms away from Ponda city centre.

Typical Goan village is endowed with exceptional scenic beauty.

It has a rich heritage in Ayurveda, Indian classical music as well as cottage industries.

Vaidya family has been practicing the Ayurveda for generations.

Parvati Madhav Plants Park, Arya Cashew Products Factory, Laterite Stone Mines and Sri Vijayadurga Temple are worth visiting sites.
Bondla Sanctuary:
The lush foothills of Western Ghats 20 kms away from Ponda city.

Small sanctuary covers an area of 8 sq. kms.

A major attraction for nature lovers as well as children.

There is also a Mini Zoo, Deer Safari Park, Gardens Botanical Gardens and Eco-Tourism Cottages.
Bhagwan Mahaveer Wildlife Sanctuary:
Sanctuary set in the foot hills of picturesque Western Ghats, 28 kms away from Ponda city and spread across 240 sq. kms.

It is semi-evergreen and moist deciduous forest dotted with clearings of grasslands and occasional tribal village.

Key fauna – gaur, sambar, spotted deer, slender loris, jungle cat, leopard and monkey.
Tambdisurla Temple:
Famous temple just 40 kms away from Ponda city.
Dudhsagar Waterfalls:
Fabulous falls to the south-east of Molem lie within the Bhagwan Mahavir Sanctuary.

It is the second highest falls in the country.

A tributary of the Mandovi River plunges down majestically from a height of 603 metres.

Creates a foaming torrent that splits into three streams, which cascades down a near-vertical cliff face into a deep green pool full of lush foliage.

Best time to visit the falls is just after the monsoons from October to mid of December.

Devil's Canyon at the base of the falls, is a very charming with a deep pool formed between the steep-sided rocks and excellent site to view wildlife.