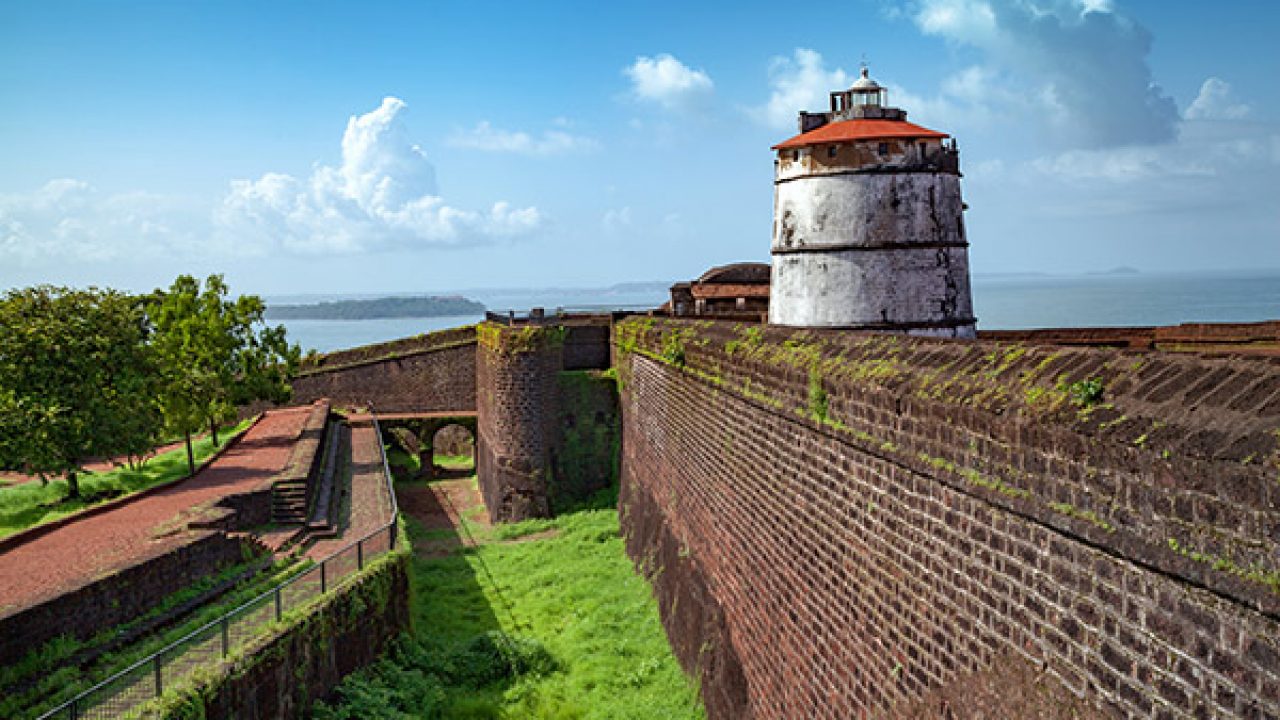 ABOUT PANAJI:
Picturesque Panaji, the capital city of Goa sprawls along the southern bank of the river Mandovi.

It is dominated by a wooded hill, called Altinho.

Well planned town is noted for its beautiful red-roofed houses in Latin style.

A network of streets laid out at right angles, which are lined with gulmohar, acassia and other ornamental trees.

Area between the bus terminal and town centre is marked by the Church Squqre.

The Municipal Garden and is indeed the most pleasant part of Panaji.
MODE OF COMMUNICATION:
Airport: Goa International Airport, Dabolim (GOI), 29 kms away from Panaji city.
Rail: Karmali Railway Station, Karmali, 15 kms away from Panaji city.
Road: Well connected by road.
SIGHTSEEING AT A GLANCE:
FORT & MONUMENTS

Secretariat Building (Idalcao Palace) Aguada Fort Gateway of Adil Shah's Palace

BEACHES

Miranar Beach (Gaspar Dias) Mapusa Sinquerim Candolim Calangute Baga Anjuna Vagator Chapora Arambol (Harmal) Querim

HOLY CENTRE

Church of the Lady of Immaculate Conception Jama Masjid Main Square & Se Cathedral Chapel of St. Catherine Bbasilica of Bom Jesus Church of St. Cajetan Pilar

MUSEUM & AUDITORIUM

Azad Maidan Menezes Braganza Institute & Central Library State Archaeology Museum Sculpture Gallery Archaeological Museum & Portrait Gallery

WILD LIFE

Dr. Salim Ali Bird Sanctuary

SCENIC SITE

Dona Paula Pilar

PARK & GARDEN

Municipal Garden

HISTORIC SITE

Old Goa Viceroy's Arch

OTHERS

Statue of Abbe Faria River Cruises

FAIRS & FESTIVALS

Christmas

Diwali

Feast of Three Kings

Food Festival

Ganesh Chaturthi

Goa Carnival

Good Friday

Sao Joao Festival

Shigmotsav

St. Francis Xavier's Feast
For more information visit https://www.goa.gov.in/places/panaji-also-known-as-panjim/
ATTRACTIONS OF PANAJI
Secretariat Building (Idalcao Palace):
Occupies the site of the castle built by Yusuf Adil Shah of Bijapur in 1510.

The oldest building in this part of Goa.

Portuguese rebuilt the castle in 1615, to defend the mouth of the river Mandovi.

Fort becomes the official residence of the Viceroy in 1759, which was shifted to Cabo Raj Bhawan in 1918.

In 1843, the Secretariat was shifted here and now it houses the Passport Office.
Statue of Abbe Faria:
Bronze statue of Abbe Faria, located next to the Secretariat is an important landmark of Goa.

Portrays Faria, regarded as the 'Father of Hypnotism' in an act of mesmerising a woman patient.
Church of the Lady of Immaculate Conception:
Imposing church at the main square in the heart of the town.

Originally built in 1540 and was rebuilt from the foundation in 1619.

Modelled on the church of Reis Magos and has tall twin towers in Portuguese Baroque style.
Municipal Garden:
Well laid out garden at the city centre has an Ashoka pillar at its centre.
Jama Masjid:
Domeless mosque lies just south of Municipal Gardens.

Built by Suleiman Shet and Aba Shet, about 200 years ago and was recently renovated.
Azad Maidan:
Venue for flower shows and also has a small pavilion where modern Indian sculptures are displayed.
Menezes Braganza Institute & Central Library:
Located to the north-west corner of Azad Maidan.

Established in 1871, as a scientific and literary institution.

Institute also has a small art gallery some rare prints and paintings.

Central Library at the lower floor of the building was set up in 1832 and is the oldest public library in India.
State Archaeology Museum:
It was initially located at St. Iniz and has now been shifted at Patto Plaza.

Museum has about 8,000 exhibits, which includes sculptures, wooden articles, bronzes, paintings, manuscripts, numismatic collection etc.
Sculpture Gallery:
It has Hindu carvings and bronzes dating back to 4th century.
River Cruises:

River cruises on the Mandovi River are a must for every visitor.

There are different kinds of cruises – daytime, sunset, and moonlight.

Two types of day cruises ply from the Panaji jetty, down the Mandovi into the Zuari bay and up the Mandovi to Aldona and a mineral water spring.
ATTRACTIONS AROUND PANAJI
Aguada Fort:
18 kms away from Panaji city centre.

Built by the Portuguese in 1609 – 1612, to guard the entry into river Mandovi.

Today, it houses the central Jail.

A lighthouse is located nearby.
Dona Paula:
9 kms away from Panaji city centre.

Set on the scenic headland between the Zuari and Mandovi estuaries.

Named after Dona Paula de Menezes, whose tombstone can be seen at the chapel in Cabo.

Site is associated with various myths of Dauna Paula and has earned the epitaph of 'Lover's Paradise'.

Delightful Dauna Paula Bay, where Goa's two most famous rivers Zuari and Mandovi meet the Arabian Sea, is an important tourist attraction.

One can enjoy picturesque view of the Zuari estuary and Mormugao harbour.

Ferry service is available between Dona Paula Jetty and Mormugao, except during the monsoons.

Water-scooter and boat rides here are very popular among the tourists.
Miranar Beach (Gaspar Dias):
3 kms away from Panaji city centre.

Lovely golden beach beyond a small forest attracts a large number of locals and tourists.

It is not ranked among the safe beaches for swimmers.
Mapusa:
On the Mumbai-Goa National Highway 17, 13 kms away from Panaji.

One of the most important towns of northern Goa, especially for the tourist holidaying on the beaches of northern Goa.
Old Goa:
9 kms away from Panaji city.

Former capital and the principal city of Portuguese eastern empire was known as the 'Rome of the East' and the 'Pearl of the Orient'.

Set on the southern bank of Mandovi River and is a splendid showcase of the massive and overpowering Portuguese presence in India.

Old Goa studded with majestic cathedrals and monuments, reflecting the rich history and glory of the bygone era.

Impressive monuments of Old Goa are considered to be the finest examples of Renaissance architecture in the world.

A visit to Goa is rendered incomplete without visiting this religious historic town.
Main Square & Se Cathedral:
Set in the heart of Old Goa and flanked by the Basilica of Bom Jesus to the south.

The Se Cathedral, Church of St Francis Assisi and an archaeological museum to the north.

Imposing Se Cathedral dominates the main square and is the largest church in entire Asia.

Measuring 35.56 metres high on the façade, 76.2 metres in length and 55.16 metre in width.

Dedicated to St. Catherine and is built in Portuguese-Gothic style, with Tuscan-Doric exteriors and Corinthian interiors.
Archaeological Museum & Portrait Gallery:
It is housed in the convent behind the Church of St Francis of Assisi.

Building has two floors, the lower one has an Archaeological Museum, exhibiting sculptures and bronzes.

Portrait Gallery on the upper floor has several paintings and portraits of the Portuguese viceroy's to India.
Chapel of St. Catherine:
Located just west of the Archaeological museum.

Originally built in 1510, by Albuquerque to commemorate his victory of Goa on the St. Catherine's Day.
Bbasilica of Bom Jesus:
Most popular church of Goa is dedicated to 'Bom Jesus' – meaning 'good or infant Jesus'.

Located to the south of the main square and houses the uncorrupted remains of the holy apostle St. Francis Xavier.

Historical church was declared a 'World Heritage Monument' by the UNESCO.

Construction of the basilica started in 1594 and was completed in 1605.

Built in cruciform plan, it is an excellent example of Jesuit architecture.

An amazing blend of neoclassical restraint and Baroque extravagance.

Magnificent three-tiered façade adorned with intricate carvings, has elements of Ionic design at the lowest level, Doric in the middle and Corinthian design at the top.
Viceroy's Arch:
Ceremonial gateway was built by Governor Francisco da Gama (1597 – 1600), in honour of his great-grandfather Vasco da Gama.

Marks the traditional entrance to old Goa from the Mandovi River front.

It was used as the main entry point for the Portuguese viceroys.

Arch was rebuilt in 1954 and stands in regal majesty, although few traces of the original arch are present.
Gateway of Adil Shah's Palace:
It lies to left of Viceroy's Arch and is the only surviving part of the magnificent palace of Adil Shah.

After the independence of Goa, the Archaeological Survey of India erected this gateway by piecing together the ruins.
Church of St. Cajetan:
Built in 1655, by the Italian friars of the Order of Theatines, on the lines of St Peter's Church in Rome.

Other important churches at Old Goa are – Church of Our Lady of the Mount, Church of Carmelites, Convent & Church of St John of God, Church & Convent of St Monica, Chapel of St Anthony, Church of Our Lady of the Rosary etc.
Pilar:
11 kms away from Panaji city centre.

It was an important religious and educational entre of Christian Missionaries.

Church, Seminary and School perched atop a hillock afford a panoramic view of the Mormugao Harbour, Zuari River and the scenic countryside.
Dr. Salim Ali Bird Sanctuary:
3 kms away from Panaji city centre.

Beautiful sanctuary sprawls over an area of 1.78 sq. kms on the south-western trip of Chorao Island along Mandovi River.

Covered by lush mangrove vegetation criss-crossed by a network of tributaries and inland streams.

Although small in size, the sanctuary plays host to several species of local as well as migratory birds.

Aptly named after Dr. Salim Ali, Indian's most celebrated ornithologist.
NORTH GOA BEACHES
A 30 kms stretch of beautiful beaches starting northwards from Front Agauda near Panaji has made Goa a popular tourist destination.
Sinquerim:
It is 16 kms from Panaji and the first among the string of beaches starting from Fort Aguada.
Candolim:
Sinquerim-Candolim beach stretch is dotted with excellent resorts.
Calangute:
'Queen of Goan Beaches' is the most commercial and busy beach resorts.
Baga:
18 kms away from Panaji city centre.

Beautiful Baga is a continuation of Calangute and is bounded by a wooded escarpment in the north and a fresh rivulet merges into the sea here.
Anjuna:
Most interesting and exciting part of Goa's coastline begins beyond the Baga River from Anjuna onwards.

Cool waves washing the white sands of the shores, lined with palm trees present one of the most fascinating views.
Vagator:
Beautiful beach is about 22 kms away from city centre.

Its northern half faces a bay, which curves from the headland to the hillock crowned by the Chapora Fort.
Chapora:
Beach amidst dense coconut palms is dominated by the Chapora Fort.
Arambol (Harmal):
Unique beach is a rocky as well as sandy beach.

There is also a fresh water lagoon, extending right up to the shore.

Banks of the lagoon are lined by hot spring.
Querim:
Virgin white sand and foamy beach is fringed with fir trees.