DIU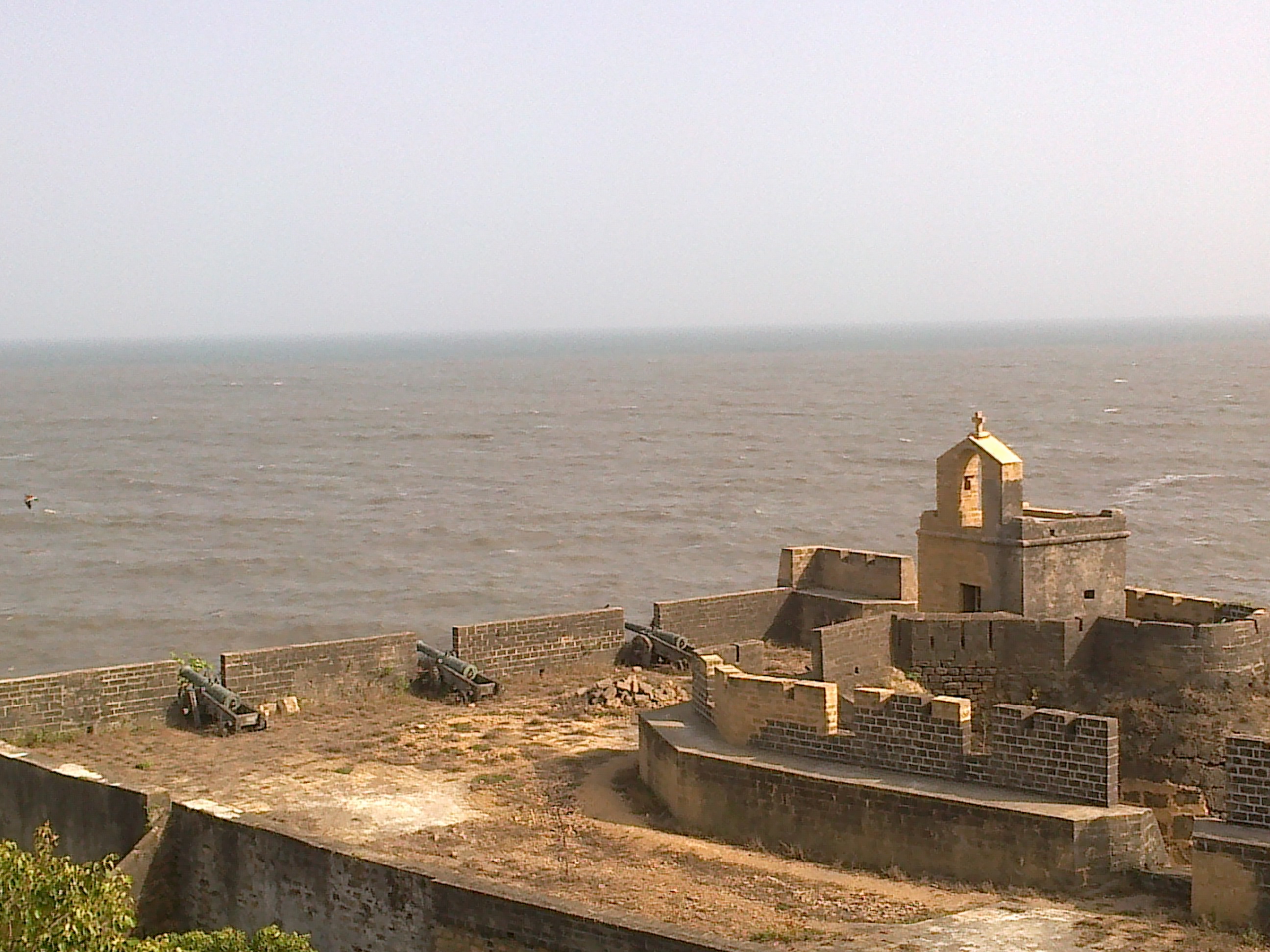 ABOUT DIU
Daman and Diu comprises two districts namely Daman and Diu. Both Districts are situated on western coast of India at a distance of about 700 kms.

A portion of Diu District is on main land which is named as Ghoghla.

A small part of Diu known as Simbor is situated in Gujarat at a distance of 25 kms from Diu.

Diu District is an island on southern portion of Gujarat Peninsula. It is joined with Una District of Gujarat State by two bridges over a sea creek.
MODE OF COMMUNICATION
Airport: Rajkot Airport (RAJ) is the nearest airport of diu which is 178m away.
Rail: Delwada at the distance of 9 kms from Diu. But important trains are linked with Veraval which is 90 kms from Diu.
Road : Well connected by road
SIGHTSEEING AT A GLANCE:
FORT & MONUMENTS

Diu Fort INS Khukhri Memorial

HOLY CENTRE

Gangeswar Temple, Saint Paul's Church

MUSEUM

Sea Shell Museum

BEACHES

Goghla Beach, Nagoa Beach

OTHERS

Naida Caves

FAIRS & FESTIVALS

Liberation Day & Festival
Navratri on the Beach
For more information visit http://diutourismgov.in/
ATTRACTIONS AROUND DIU
Diu Fort
The Fort of Diu occupies a prominent position. It is an expensive and imposing structure, situated on the coast of the island

The fort commands a magnificent view of the sea. It was constructed between 1535 and 1541 AD

The fort is skirted by the sea on the three sides. On the Fort stands a giant structure now housing a Lighthouse.

It is more conspicuous during winter nights when fog spreads all around, and the lighthouse gives off a misty light.
INS Khukhri Memorial
Indian Naval Ship Khukri was a frigate of the Indian Navy

During the Indo Pak War in 1971, it fell prey to three torpedoes fired by a Pakistan submarine on 9/12/1971 and sank 40 nautical miles off the coast of Diu taking down with her a crew of 18 Officers and 176 Sailors.Captain MahendraNathMulla, Mahavir Chakra (Posthumous) of the Indian Navy, the then Commanding Officer of the ship, chose to go down with the warship.

The INS Khukri Memorial was inaugurated on 15th December, 1999 and is found erected on the hillock at Chakratirth beach. It is a replica of the INS Khukri Naval Ship.
Gangeswar Temple
Gangeshwar Temple is situated 3 kms away from Diu in Fudam Village. Shivlinga known as Gangeshwar is seen in the midst of the rocks on the seashore. As it is situated on the beach, the gentle sea waves offering their obeisance to the "Shiv Lingas" in stone have a mystic aura around them in the cave temple of Gangeshwar where the Lord makes his presence felt. It is believed that the 5 Pandavas during their exile worshiped Lord Shiva in this temple.
Saint Paul's Church
St. Paul Church, as it is widely known is also called the Church of Immaculate Conception. It has both historical as well as religious importance.

The layout plan of this awesome monument was designed by none other than a Jesuit Priest Rev. Fr. Gaspar Soares.

The construction work was completed and consecrated for religious use in the year 1610. This Church is dedicated to Our Lady of Immaculate Conception.

The Church is considered as one of the most beautiful Portuguese Churches in India. In front of every Christian Church there is a Cross to welcome the visitors.
Sea Shell Museum
The sea shell museum is just on the way to Nagoa Beach close to the Airport. Few have heard about this seashell museum, but it is a museum with a difference. The collection displayed at the museum are very beautiful and rare. You will not find such collection anywhere else in India. As an hobby of shell collection the owner has transformed into a museum.
Goghla Beach
Ghoghla offers comfortable designed world class bio-toilet blocks, change rooms facilities with integrated shower panels, pure drinking water facilities, tourist information boards along with recreational amenities such as open gymnasium, children park area and gardens. Designated 'Safe Swim Heaven', availability of trained life guards with water rescue equipment along with security guards are key features for safety and security of tourist.
Nagoa Beach
Among the 5 beaches, Nagoa is the most beautiful and popular beach. It is located in Nagoa hamlet of Village Bucharwada and is 8 kms away from Diu. Nagoa is a perfect semi circle beach where the gentle lapping waves beckon you to wade into them for a fun filled time of swimming, gambolling or just lolling around the soft sandy shores or find you napping under the rare palm trees filled with the soothing breeze. This beach can be compared with the best of the beaches of Goa.
Naida Caves
Naida caves in Diu are located within a short distance from the Diu town. Diu's greatest glory is the huge fort, a sight that justifies the long trip here. The northern side of the island, facing Gujarat, is tidal marshland and saltpans while the southern coast alternates between limestone cliffs, rocky covers and sandy beaches.
Gomtimata Beach
Gomtimata beach is situated to the extreme west side of the island, located 13 kms from Diu in village Vanakbara. It is one of the best beaches of Diu.