PATNA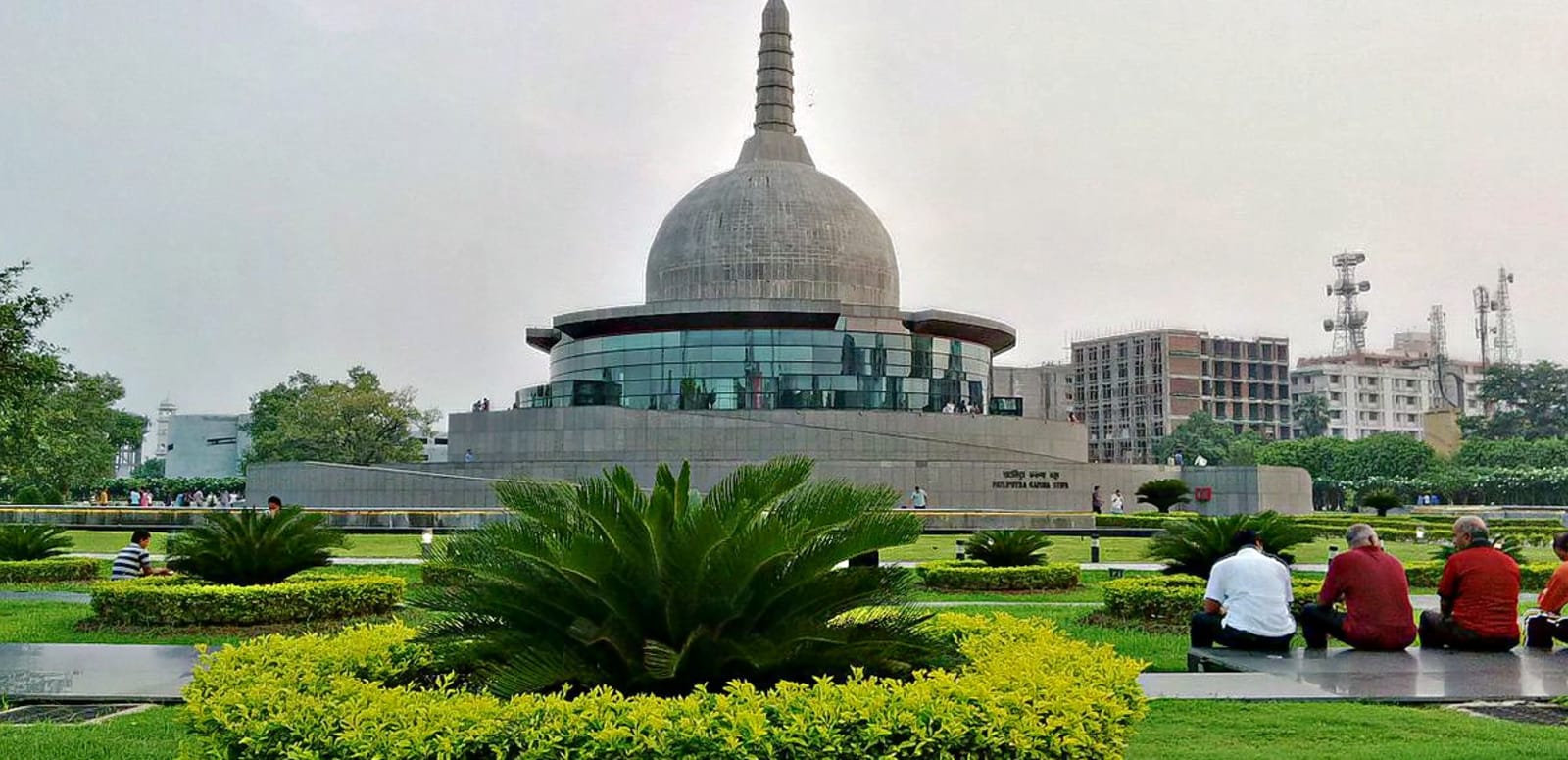 ABOUT PATNA:
Imperial city of Patna sprawling on the banks of the sacred river Ganga is among the world's oldest capital cities with a continuous history of over two millennia.

It remained the seat of power of many dynasties and was known by different names like, Kusumpura, Pushpapura, Pataliputra and Azeemabad.

Ajatshatru, the Magadha king first built a small fort in Pataligram, on the banks of the Ganga in 6th century BC.
Pataliputra, one of the greatest cities of Asia dominated the political fortunes of the whole of north India between 6th century B.C. and 5th century A.D.
City regained its lost glory in 16th century, under the Afghan king Sher Shah Suri, who is said to have established the present day Patna.

With the decline of the Mughal power, the region fell into the hands of British, who made Patna a regional capital and built a modern extension to this ancient city known as Bankipore.

Today, Patna is a fine blend of ancient traditions and modernity and is an important business centre in eastern India.

It is also the gateway to the Buddhist and Jain pilgrim centres of Bodhgaya, Nalanda, Vaishali, Rajgir and Pawapuri.
MODE OF COMMUNICATION:
Airport: Lok Nayak Jayaprakash Airport, Patna (PAT), 17 kms away from Patna city centre.
Rail: Patna Railway Station, Patna, 25 kms away from Patna city centre.
Road: Well connected by road.
SIGHTSEEING AT A GLANCE:
| | |
| --- | --- |
| FORT & MONUMENTS | Golghar |
| HOLY CENTRE | Har Mandir Takht Pathar Ki Masjid Sher Shah Suri Masjid Ara Maner |
| PARK & GARDEN | Sanjay Gandhi Biological Park |
| MUSEUM & AUDITORIUM | Patna Museum Khuda Baksh Oriental Library Jalan Museum, Qila House Modern Planetarium |
| HISTORIC SITES | Martyr's Memorial Agam Kuan or the Unfathomable well Kumhrar |
| OTHERS | Sadaqat Ashram Gandhi Setu |
| FAIRS & FESTIVALS | Chhath Festival Sonepur Mela |
For more information visit https://patna.nic.in/tourism/
ATTRACTIONS OF PATNA
Golghar:
Huge beehive shaped granary is the 'icon' of Patna and was built in 1786, by Captain John Garstin for the British army after the famine of 1770.

Massive structure is 125 metres wide at the base and gradually tapers up to a height of 29 metres.

Its walls are 3.6 metres wide at the base and have two external stairways that spiral upwards around the monument.

Top of the dome affords a fine view of the city and the river Ganga flowing nearby.
Martyr's Memorial:
Commemorates the seven freedom fighters, who sacrificed their lives during the Quit India Movement of August 1942.
Har Mandir Takht:
Sacred Sikh shrine (Gurudwara) is regarded as one of the five 'Akal Takhts' of Sikhism.

Guru Gobind Singh, the tenth Guru of the Sikhs, was born here in 1660.

Original structure was built by Maharaja Ranjit Singh of Punjab.
Patna Museum:
Exhibits splendid metal and stone sculptures dating back to the Maurya and Gupta periods as well as archaeological finds recovered from Nalanda.
Pathar Ki Masjid:
Beautiful mosque near Har Mandir Takht was built by Parwez Shah, the son of Mughal emperor Jehangir.
Khuda Baksh Oriental Library:
Magnificent library was established in 1900 and is one of the national libraries in India.

It has excellent one man collection of rare Arabic and Persian manuscripts, Rajput and Mughal paintings, 25 mm wide Koran and books from the Moorish University of Cordoba, Spain.
Jalan Museum, Qila House:
It was built on the foundations of Sher Shah Suri's fort and houses an impressive private collection of antiques.
Sher Shah Suri Masjid:
It was built in 1545, by Sher Shah Suri in the Afghan architectural style.
Sadaqat Ashram:
It is the headquarters of Bihar Vidyapeeth, a national university.

Dr. Rajendra Prasad, the first President of India, resided here after his retirement.

A small museum here exhibits some of his personal belongings.
Agam Kuan or the Unfathomable well:
Important archaeological relic is believed to be associated with Mauryan emperor Ashoka, the great.
Gandhi Setu:
7.5 kms long bridge over river Ganga is one of the longest roadway bridge in the world.
Sanjay Gandhi Biological Park:
It was established in 1969 and is now one of the 16 largest zoos in the country, housing more than 70 species of animals.
Modern Planetarium:
Excellent planetarium at India Gandhi Science Complex is one of the most important attractions of Patna.
Kumhrar:
Archaeological site has relics of Patliputra, the glorious capital of Ajatasatru, Chandragupta and Ashoka.

Excavations have revealed the rich historical legacy of Patna, dating between 600 BC to 600 AD.
ATTRACTIONS AROUND PATNA
Ara:
55 kms away from Patna city.

This home of ancient Jain temples is well known as the 'Jain City'.
Maner:
30 kms away from Patna city.

Beautiful site is well known for the Dargah of the 13th century sufi saint Hazrat Makhdoom Yahiya Maneri.

Tomb of his disciple is located nearby.

A large number of devotes visit the shrine during the annual Urs celebrations.