VISAKHAPATNAM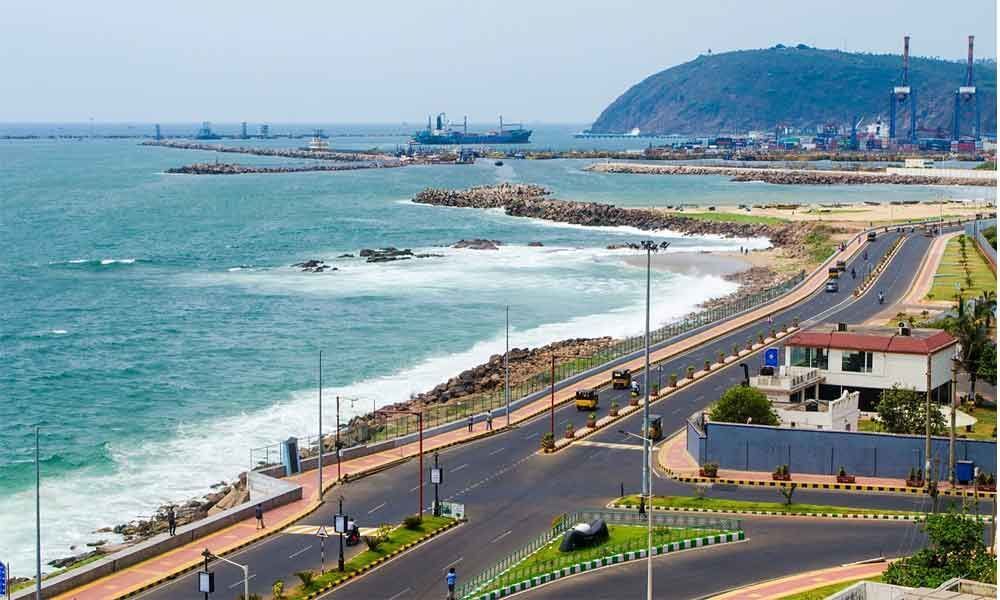 ABOUT VISAKHAPATNAM:
Vibrant Visakhapatnam, the 'jewel' of the east coast of India.

A harmonious blend of the magical past and bustling present.

Breathtaking city of golden beaches, lush fields, verdant valleys and splendid monuments is named after 'Visakha', the god of Valour.

Antiquity can be traced back to emperor Ashoka (273 – 232 BC) and was later ruled by the Andhra Kings of Vengi, the Cholas and the Gangas.

Visakhapatnam or Vizag has now emerged as an important port, industrial as well as tourist centre.
MODE OF COMMUNICATION:
Airport: Visakhapatnam Airport, Visakhapatnam (VTZ), 10 kms away from Visakhapatnam city centre.
Rail: Visakhapatnam Railway Station, Visakhapatnam, 14 kms away from Visakhapatnam city centre.
Road: Well connected by road.
SIGHTSEEING AT A GLANCE:
HOLY CENTRE

Rishikonda Ross Hill (Kanyamarykonda) Darga Konda Sri Venkateswara Swamy Konda Simhachalam

MUSEUM & AUDITORIUM

Visakha Museum Submarine Museum

SEA BEACH

Ramakrishna Beach Lawson's Bay Rishikonda

CAVE

Borra Caves

SCENIC SITE

Ross Hill (Kanyamarykonda) Kailasagiri Araku Valley

HISTORIC SITE

Bheemunipatnam or Bheemli

OTHERS

Dolphin's Nose

FAIRS AND FESTIVALS

Visakha Utsav

Rishikonda Beach Festival

Lumbini Festival

Chandanotsavam

Navy Day

ISKCON Utsav

Vijay Diwas

Visakhapatnam Music Festival
For more information visit : https://visakhapatnam.ap.gov.in/tourism/
ATTRACTIONS OF VISAKHAPATNAM
Ramakrishna Beach:
Magnificent beach occupies the largest part of the sea front.

One of the most popular sites of the town.

Ramakrishna Mission is located nearby and there is also an imposing Kali Temple near the beach.

An aquarium here is also worth visiting.
Lawson's Bay:
Located to the north of Vishakhapatnam and is considered ideal for swimming as well as surfing.
Rishikonda:
Excellent beach resort 8 kms from the town is located against the backdrop of lush Rishikonda hill on the Visakhapatnam-Bheemunipatnam beach road.

14th century temple of Sri Sapta Rusheswara is also located here.
Ross Hill (Kanyamarykonda):
Highest hill on the Eastern Ghats is named after Mr. Ross.

Built a house here in 1864, which was converted into a church.
Darga Konda:
Magnificent hill has a mosque and a shrine dedicated to the Muslim saint Ishaque Madina, who is revered for his prophecies.
Sri Venkateswara Swamy Konda:
Third important hillock of the city has a temple dedicated to Lord Venkateswara.

According to the Telugu inscriptions, a British soldier Captain Blackmoor built this temple in 1886.
Kailasagiri:
Charming hill on the sea front affords breathtaking scenic view especially towards Bheemli.

Well laid out hill park sprawls over an area of 350 acres, teeming with enchanting flora and tropical trees.

Magnificent statues of Shiva – Parvati, which are illuminated at night.

40 metres high Sankham, Chakram and Namam are illuminated in the night can be seen from most parts of the city.
Dolphin's Nose:
Massive dolphin shaped promontory jutting into the sea is located in the southern part of the town.

Most conspicuous landmark of Visakhapatnam is 174 metres high and have a very powerful lighthouse.
Visakha Museum:
Housed in a 150 years old "Dutch Bungalow" on the beach road.
Submarine Museum:
Unique museum is housed in the INS Kusura.

A Russian built submarine and is the first of its kind Asia.

Located at the Ramakrishna Beach and was set-up on 27th Feb 2001.
ATTRACTIONS AROUND VISAKHAPATNAM
Araku Valley:
115 kms away from Visakhapatnam city.

Picturesque valley in the Eastern Ghats is popularly known as Andhra's Ooty.

Extends over an area of 36 sq. kms and is rich in exotic flora and fauna.

Valley is inhabited by 17 colourful tribes still untouched by modern civilization.

A favourite out-door location for the Telugu film makers.
Borra Caves:
Located on the way to Araku valley 90 kms away from Visakhapatnam city.

Spectacular caves believed to be over 1 million years old.

Caves cover an area of over 2 sq. kms and were formed as a result of action of the waters of Gosthani River on the limestone terrain.

Fascinating stalagmite and stalactite in the caves are truly amazing.
Bheemunipatnam or Bheemli:
Historical town at the mouth of river Gosthani and 24 kms away from Visakhapatnam city.

Named after Bhima, one of the five Pandava brothers of Mahabharta epic.

He believed to have killed demon Bakasura over here and installed an idol of Lord Narasimha at the temple atop the Narasimha hill.

Bheemli was under the Dutch occupation during 17th century and has some relics of a Dutch fort and settlement.

Cemetery here has tombs embossed with the skull-and-cross bones motif of the sea pirates.

Tranquil Bheemunipatnam beach is very safe for swimmers.
Simhachalam:
16 kms away from Visakhapatnam city.

Simhachalam or the 'Lion's Hill' is famous for the 11th century Varaha Lakshmi Narasimhaswami temple.

One of the most important shrines of Lord Vishnu.

During the Chandanayatra Festival (March/ April), the sandal paste is removed and the real shape of idol is visible.

One of the best sculpted shrines in Andhra Pradesh.