VIJAYAWADA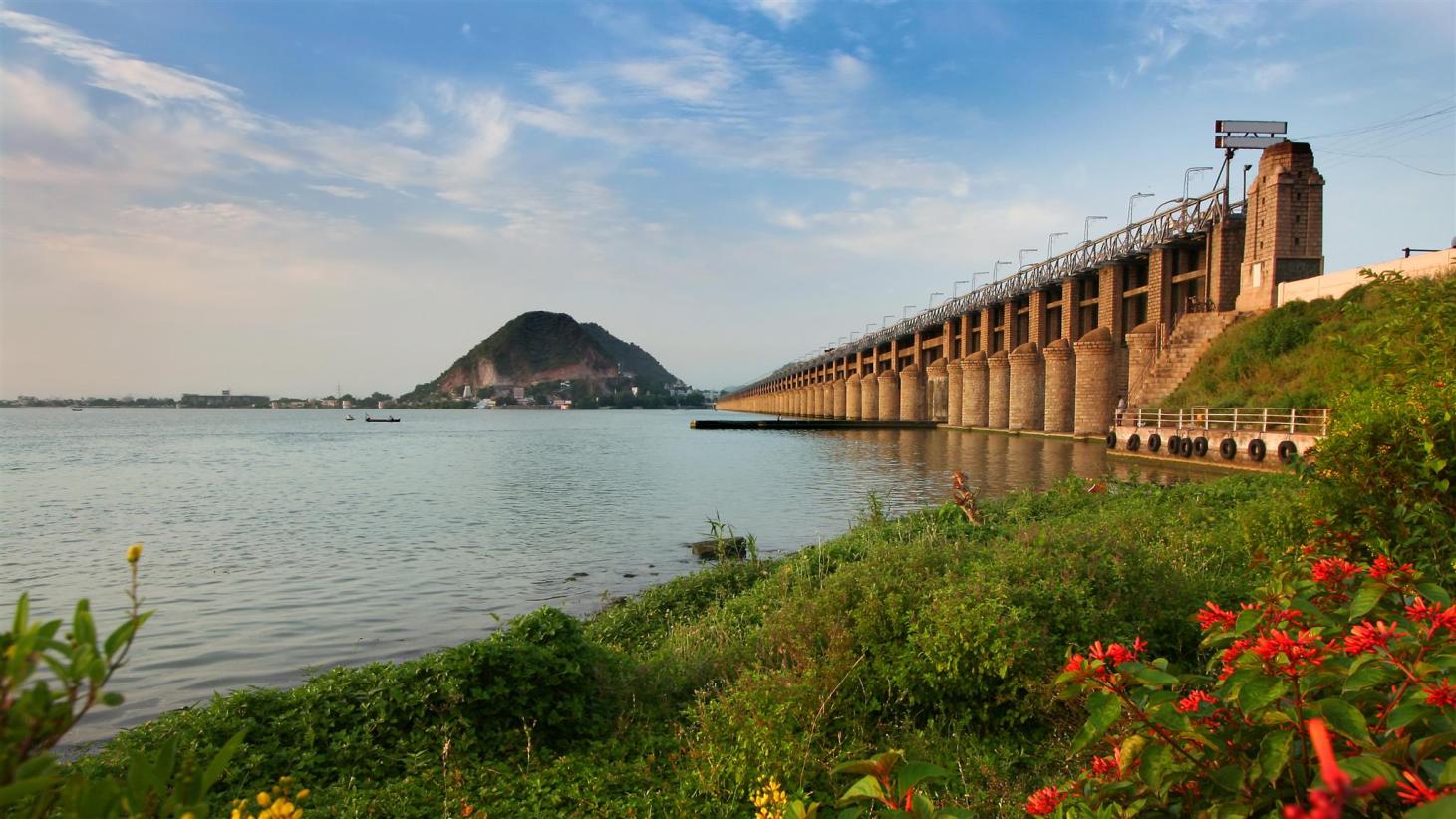 ABOUT VIJAYAWADA:
The 'City of Victory' is set amidst scenic surroundings on the banks of river Krishna and is picturesquely ringed by beautiful hills.

'Cultural Capital' of Andhra Pradesh is an important historical, cultural, political, pilgrim, education and commercial centre.
MODE OF COMMUNICATION:
Airport: Vijayawada Airport, Vijayawada (VGA), 20 kms away from Vijayawada city centre.
Rail: Vijayawada Railway Station, Vijayawada, 6 kms away from Vijayawada city centre.
Road: Well connected by road.
SIGHTSEEING AT A GLANCE:
| | |
| --- | --- |
| FORT & MONUMENTS | The Gandhi Hill (Orr Hill) |
| HOLY CENTRE | Kanaka Durga Temple St. Mary's Church Hazrat Bal Mosque Amaravati Mangalagiri Hinkar Thirtha Machilipatnam |
| MUSEUM & AUDITORIUM | Victoria Museum |
| BEACH | Machilipatnam |
| PARK & GARDEN | Rajiv Gandhi Park |
| OTHERS | Prakasam Barrage |
| FAIRS AND FESTIVALS | Navaratri and Dussera |
For more information visit https://krishna.ap.gov.in/
ATTRACTIONS OF VIJAYAWADA
Kanaka Durga Temple:
Sacred shrine perched atop the Indrakila Hill by the River Krishna is an icon of Vijayawada.

Dedicated to Goddess Kanaka or the golden deity, who is beloved to be the protector of Vijayawada.

Shrine abounds in numerous interesting legends and is a must visit site.

Dasara festival (September/ October) celebrated here is one of the most popular events of Vijayawada.

Indrakila hill is also dotted with several rock-cut temples.
The Gandhi Hill (Orr Hill):
Perched atop hill is the first Gandhi Memorial with seven stupas in the country.

Impressive monument is 15.8 metres high and is the tallest structure in the city.

It also houses a library and a planetarium.

A sound and light show featuring Mahatma Gandhi's life is organised here.
St. Mary's Church:
Magnificent church is set on a hillock on the eastern side of the city.
Prakasam Barrage:
Gigantic engineering marvel built across the river Krishna is the pride of Vijayawada.

Barrage creates a panoramic lake and three canals from it flow through the city giving Vijayawada its Venetian looks.
Rajiv Gandhi Park:
Well-laid out park has an impressive horticultural network.

There is also a mini zoo and a musical water fountain.
Victoria Museum:
A rich collection of ancient sculptures, paintings, idols, weapons, cutlery and ancient inscriptions.
Hazrat Bal Mosque:
Houses a holy relic of the Prophet Mohammed, which is displayed once a year.
ATTRACTIONS AROUND VIJAYAWADA
Amaravati:
Major Buddhist pilgrim centre on the banks of river Krishna, 60 kms away from Vijayawada.

Former capital of the Satvahanas and one of the four important places of Buddhist worship in the country.

2000 years old Mahastupa, locally known as Deepaladinne or 'Hillock of Lamps'.

Largest stupa in India, measuring 36.5 metres wide and 16.5 metres high.

Besides this, only few scattered ruins are all that remains of the once grand city.

A small replica of the Mahastupa can be seen at the nearby museum.

The Amareswara temple dedicated to Lord Shiva is another famous holy site.
Mangalagiri:
12 kms away from Vijayawada.

Famous for the sacred shrine of Lord Narasimha (Vishnu) perched atop a hill.

Mouth of the unique idol of the presiding deity accepts half the quantity of Panakam (jiggery dissolved in water) offered by devotees, irrespective of the quantity offered.
Hinkar Thirtha:
Newly built shrine at Mangalagiri is the biggest Jain temple of the region.

Magnificent shrine is noted for great artistic work.
Machilipatnam:
70 kms away from Vijayawada sea-side Township was an important trading post.

Birth place of Kalamkari art of textile printing.

Manginapudi beach near the town is simply irresistible and is very safe for bathing.

Thousands of pilgrims take a holy dip in the sea during Magha Poornima.

Panduranga Swamy temple here is a famous Hindu pilgrim centre.